Healthy Mummy Smoothies
A Weight Loss Smoothie Created Just For Mums
About the Healthy Mummy Smoothie
Being a mum can be hard work, leaving you too tired to eat the right foods and maintain good nutrition.  The Healthy Mummy Smoothie has been created to help mums with the benefit of plant-based ingredients.
High in protein and fibre, and packed with over 22 vitamins and minerals, they contain only 205 calories.  The Healthy Mummy Smoothie is perfect to assist with weight loss and to support your overall health.
We chose to use quality raw ingredients to ensure we give you the best product created for the needs of mums – plus we offer a 30 Day Money Back Guarantee!
Mums are transforming their bodies and health!
Melissa lost 5.5st 
She says " The Healthy Mummy Smoothies are delicious and convenient. I love them, keep you on track with calories, works on your sweet cravings." Melissa credits the use of the Healthy Mummy smoothies for getting rid of her eczema which made her skin bleed – look at her now!
Samara has lost 2.7st. 
Samara says " I absolutely love THM smoothies for the convenience.  I am no longer skipping meals, but instead enjoying a healthy and nutritious breakfast every single day.  No matter how rushed I am with Mum life, there's always enough time for a smoothie!"
The Healthy Mummy Smoothie are:
√ A meal replacement weight loss smoothie that has been formulated by leading nutritionists
√ Nutrient dense with 22 vitamins and minerals
√ Free from fillers, caffeine, and added sugar
√ Breastfeeding friendly
√ Wheat free
√ High in protein and fibre
Healthy Mummy Nutritionist Reviews
"The healthy mummy smoothie is a favourite of mine as it contains so many superfoods not found in any other meal replacement shake. It has been specifically designed for the busy mum and it contains great nutrients to help provide extra macro and micronutrients needed while lactating.
The great thing about The Healthy Mummy smoothie is that it is also very filling thanks to the added fibre – and it also tastes great.  I would recommend this product to anyone looking to boost their weight loss or to simply snack less and eat healthier." Elisha
"The Healthy Mummy Smoothie is a fantastic tasting meal replacement. As part of a healthy eating plan, it is a nutritionally balanced way to help with weight management. It's naturally sweetened with the herb stevia and has other herbs in it that aid digestion.
The best thing is that they are safe to take when breastfeeding, it even includes herbs that might help with milk production. The Healthy Mummy Smoothie will help you feel fuller for longer while providing you with a good source of protein and fibre. It's a thumbs up from me!" Cheree
The smoothies are made with whole foods and are free from additives, fillers, caffeine and weight loss accelerants.
INGREDIENT BENEFITS
Apple pectin: a source of soluble fibre that forms gel naturally
Rice bran fibre: a highly fibrous ingredient
Cellulose: a major component of cell wall in plants
Psyllium husks: a water-soluble fibre to aid digestion
Inulin: a natural vegetable fibre to aid digestion
Flaxseed meal: healthy fats (omega3 fatty acids) & high fibre making it an ideal ingredient for post birth nourishment
Pumpkin seed meal: adds bulk to assist a sense of fullness & contains a high level of essential fatty acids, protein, zinc & iron.
Dandelion Root and Fenugreek: aids gut health and digestion]
FULL INGREDIENT LIST
Ingredients: Soy Protein Isolate, Vitamins & Minerals (Tripotassium Citrate, Trisodium Citrate, Dicalcium Phosphate, Monopotassium Phosphate, Magnesium Oxide, Ferric Pyrophosphate, Zinc Citrate, Vitamin C, Vitamin E Acetate, Folic Acid, Potassium Iodate, Nicotinamide, Vitamin A Acetate, Copper Gluconate, Sodium Selenite, Calcium Pantothenate, Manganese Sulphate, Vitamin D3, Pyridoxine HCL, Riboflavin, Biotin, Thiamine Mononitrate, Vitamin B12), Rice Bran Powder, Fat Concentrate Powder (Soy, Milk), Apple Pectin, Microcrystalline Cellulose, Emulsifier (Soy Lecithin), Fat-Reduced Cocoa Powder, Psyllium Husk Powder, Natural Flavouring, Flax Seed Powder, Natural Sweetener (Stevia), Inulin, Pumpkin Seed Powder, DL-Methionine, Bromelain (from Pineapple), Fenugreek Seed Extract, Dandelion Root Extract, Protease Enzyme (from Aspergillus), Ginger Root Extract
CHECK OUT OTHER HEALTHY MUMMY SMOOTHIE FLAVOURS
Our LIMITED EDITION grey bobble beanie will be sure to keep you warm this winter.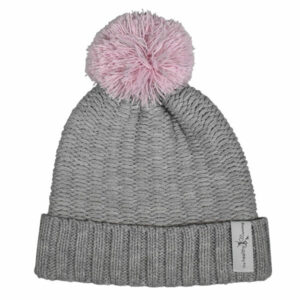 Fabricated from a soft 100% acrylic material which is perfect for a quick wash.  Fashioned with a Healthy Mummy logo at the front and will make the perfect addition to your new season essentials.
Immunity Boosting eBook
We understand that when you have a young family, you want to do all that you can to keep colds and flu out of your home.
By building up your family's immune system, you can do your bit to fight off the germs that can make you ill. Eating a diet loaded with healthy whole foods can boost the immune system, helping us to fight off colds and flu before they strike or just keeping us feeling our best. Choosing foods to boost your immunity is easy.
Don't just think oranges and lemons: ensure your immune system is at its peak with lean protein like red meat and seafood; fresh vegetables including peppers, mushrooms, spinach, kale, ginger, garlic and onions; nuts; spices like turmeric; and dairy including natural yogurt and cheese.
  In this cookbook, we've included some information on the immune system, including easy ways to boost it and which foods are best to include in your diet to help you feel at your optimum level. There's also a selection of our favourite, easy to prepare, immunity-boosting recipes that will keep you loaded up with nutrients, hydrated and bursting with energy for a strong immune system.
Another way to help reduce your risk of illness is to incorporate regular exercise into your schedule: a short workout in the living room, a brisk walk outside if the weather permits, or an extra-strenuous session with the vacuum cleaner will all help to keep your immune system boosted. We hope you love the delicious meal ideas plus immunity-boosting tips we've included in this cookbook, to help you and your family feel healthier and more energised.
(2Smoothie, beanie, immunity ebook)