Do you have questions about how the Healthy Mummy Smoothie can help you on your health and weight loss journey?
We have compiled a list of the most frequently asked questions to help you.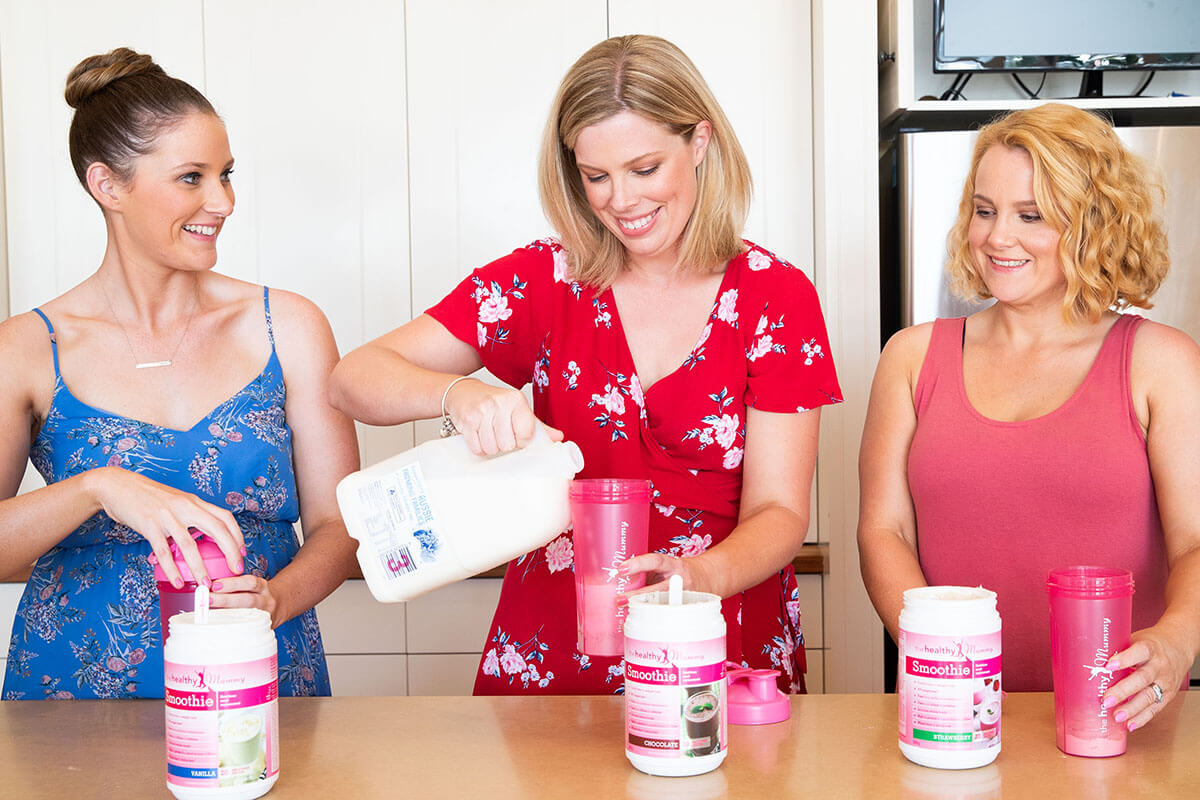 How does the Healthy Mummy Smoothie help Mums lose weight?
The Healthy Mummy Smoothies are a meal replacement weight loss smoothie.

Ingredients such as plant based protein, pumpkin seed meal, and fibre help provide a feeling of fullness and assist with weight loss and moving things along.

Our Smoothies are a formulated meal replacement created by our team of nutritionists.

Our Smoothies have also passed International Food Standards.

They provide your body with over 22 vitamins and minerals and the focus is on optimal nutrition.
Why are the Healthy Mummy Smoothies made for Mums?
The Healthy Mummy Smoothies have been formulated by leading nutritionists to be the perfect companion to a busy mum's life when trying to lose weight. When you are too busy to make a breakfast or lunch they are a convenient and healthy way to have a nutrient packed meal.

Each flavour is an excellent source of 22 essential vitamins, minerals, nutrients and important antioxidants.
Are the Healthy Mummy Smoothies breastfeeding friendly?
Yes! The Smoothies have been created to be hypoallergenic. They have also been created to be safe in breastfeeding. They also have ingredients to help support breastmilk supply – such as fenugreek, flaxseed and pumpkin seeds.
Are the Healthy Mummy Smoothie dairy and wheat free?
Our Smoothies are free of wheat, and contain just 1% dairy.
What is the difference between a formulated meal replacement & protein shake or supplement?
Our Healthy Mummy Smoothies are a formulated meal replacement and have passed International Food Standards. They provide your body with over 22 vitamins and minerals and the focus is on optimal nutrition. Some other 'shakes' on the market are only a protein shake or supplement.

This means other shakes cannot be used as a meal substitute, as they do not contain enough nutrients and energy to fuel your body. Consumers can often be mislead into thinking a product called a shake is a meal replacement when it is not.

Natural ingredients in our smoothies help give a gentle sensation of feeling fuller for longer, helping to avoid eating large meals or over snacking. They help to bulk the stool & aid bowel eliminations.
Are there any 'Nasties" in the Healthy Mummy Smoothies?
We are proud to say that our Smoothies are free from any fillers, weight loss accelerators, added sugar and artificial ingredients – and they are safe for use if you are breastfeeding

Many weight loss shakes contain fillers and weight loss accelerants to trick your body into short-term – and unhealthy weight loss.

These artificial fillers make your tummy feel temporarily full are not natural and the long-term effects are not yet known.

They can also lead to a lot of the side effects associated with 'shakes'.
What are the healthy fats in the Healthy Mummy Smoothie?
The Healthy Mummy Smoothies contain Flaxseed which is full of Omega 3 and 6. These are healthy fats and are important to your overall health.
Why are Healthy Mummy Smoothies good for my digestion?
With 3+ of fibre per serve from a variety of different sources, our smoothie is designed to help things move along.
What do the 22 vitamins and minerals do to help me feel healthy?
The Healthy Mummy Smoothie contains 22 vitamins and minerals that assist Mums in a few areas including;

Helps to maintain the health of hair, skin and nails (zinc)

Helps to maintain normal hair pigmentation/colouring (copper)

Supports normal collagen formation for the normal function of skin, teeth and gums (vitamin C)

Helps to regulate hormonal activity (vitamin B6)

Helps to reduce tiredness and fatigue (Magnesium)
Get Your Healthy Mummy Smoothies Here
We have a range of flavours in both our Tummy & Dairy Free smoothie ranges.
Real Mum Reviews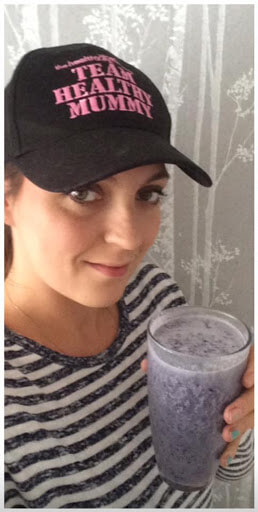 Katie Kirkham
Hi I'm Katie a mum of two from Leeds, I first started having smoothies for breakfast a couple of weeks before I got married in July to help my dress fit better and I lost an extra 6 pounds doing this and it made all the difference when I had my final dress fitting!
I love the convenience and ease of the smoothies they are perfect for me because I used to always skip breakfast, but now I can make a smoothie in under 5 minutes and take it with me! Since starting having smoothies on a morning I have noticed my energy levels are so much higher too.
I love the fact that I can go into the hub and look through over 100 different smoothie recipes, the hardest part is choosing one! The chocolate ones are my all time favourite especially sneaky snickers smoothie and mood boosting smoothie.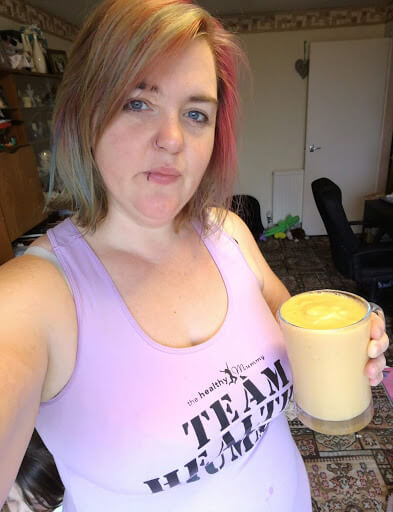 Amy Bounce
What I love about the Healthy Mummy Smoothies is that I know that they are full of natural and healthy ingredients. They work by keeping you full by using fibre and protein etc not chemicals that trick your body into thinking it is full.
They taste amazing and don't have artificial sweeteners or weight loss accelerants in them. So I can also relax and know that they are safe when my toddler gets her hands on it when my back is turned!

I have noticed that my days seem to go better and I stay on track better when I start the day with a smoothie.  I think it's because they not only fill me up straight away but keep me full too. So by the time morning snack time comes around I am only peckish and not hungry. It may sound like a small difference but it makes a huge difference to my weight loss journey.

Another thing I love about the smoothies is how versatile they are. I have a favourite flavour for every occasion:  chocolate doughnut for an indulgent treat, apple pie when I need something warm, banana oat buster as an everyday go to smoothie.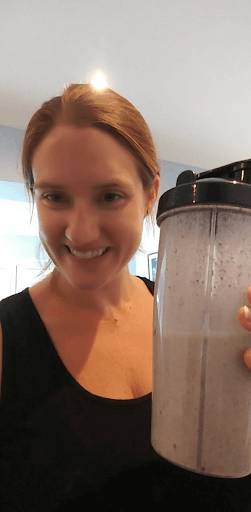 Kate Hernández
I'm Kate, mum to a 3 year old girl and a 7 month old boy.  I started my Healthy Mummy journey in April and since then I have lost 2.5 stone and 60 cm.
I tried my first HM smoothie in July and it really is a game changer for me. I have one smoothie a day (instead of a chocolatey snack) and I absolutely love them! They are not only suitable for breastfeeding but they are filled with different nutrients that support my weight loss journey and nourish my baby.
There are so many tasty flavours which taste naughtier than they are! They are a good help to increase my water intake and they fill me up. I often have an extra 300 calories to consume a day and having a smoothie ensures I am fuelling my body correctly whilst enjoying a refreshing snack!