For a budget friendly meal that is easy to prepare and sure to please the whole family, try this recipe from the 28 Day Weight Loss Challenge.
Use a lean sausage, preferably from the butcher to avoid preservatives and additives.
This is a 20 minute BUDGET recipe from the 28 Day Weight Loss Challenge. We believe that healthy eating doesn't mean you need to spend a fortune on groceries.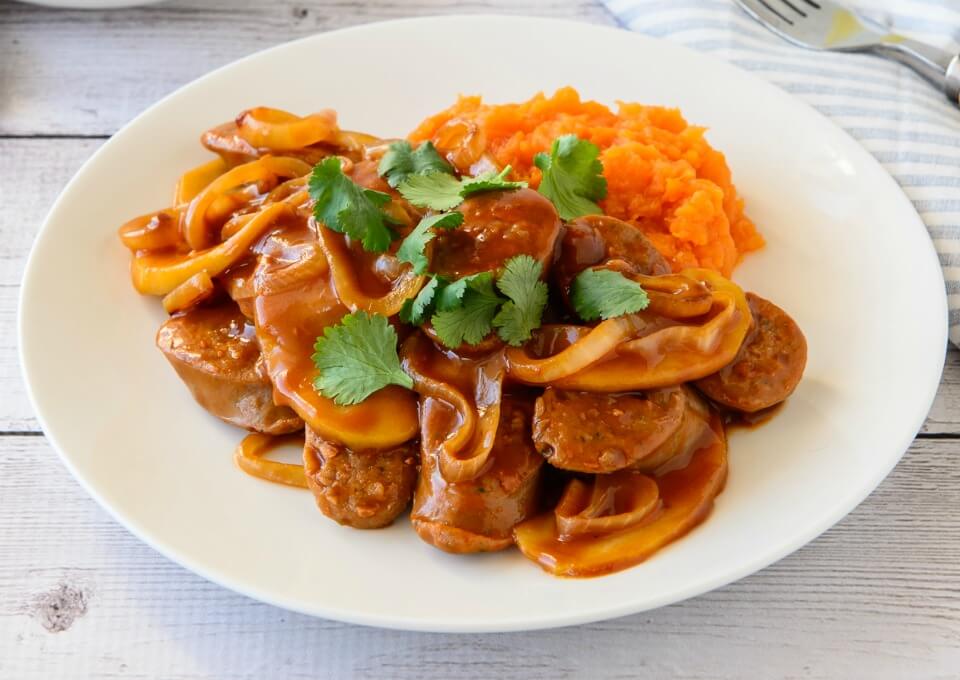 Ingredients
1 teaspoon mustard powder (1 grams)
1 tbsp Worcestershire sauce (15 mls)
1 tsp soy sauce, salt reduced (5 mls)
1 tbsp cornflour (10 grams)
1 cup water (250 mls)
1 tablespoon tomato paste (16 grams)
8 lean sausages of choice (560 grams)
1 brown onion (100 grams)
1 small apple, peeled cored and thinly sliced (100 grams)
3 small sweet potatoes, peeled and chopped (480 grams)
pepper
2 cups green beans, trimmed (240 grams)
2 cups cauliflower (200 grams)
2 medium carrots, peeled (140 grams)
Method
Slice onion into rings.
Whisk together mustard, Worcestershire, soy sauce, corn flour, tomato paste and water in a mixing bowl and set aside.
Heat 2 tablespoons of water (per serve) in a large fry pan, add sausages and poach evenly on all sides for about 5 minutes, until just cooked. Remove the sausages from the pan and chop into bite sized slices and set aside (don't worry if the sausage is a little under cooked as they will be returned to the heat).
Add the onion to the frying pan and sauté until soft. Return sausage pieces and add apple slices to the pan. Pour over the mustard sauce mixture.
Allow to simmer, while stirring, for 5 minutes or until the sausage is cooked thoroughly and sauce has slightly thickened.
While simmering the sausages boil the sweet potato in water until soft, then mash. Season with pepper.
Slice carrots into rounds and steam with beans and cauliflower in the microwave or in a steaming basket on the stove top until tender.
Serve sweet potato mash with devilled sausages and sauce and steamed vegetables on the side.
Recipe serves 4 people, at 408 calories per serve
Want access to more healthy recipes?
Check out the 28 Day Weight Loss Challenge. With over 4,000 recipes, 350 fat burning exercises and 24/7 support, The Healthy Mummy can help YOU hit your goal weight faster.
Our Challenge includes:
28 days of at home exercise routines (no gym needed) – with video instruction
New CHALLENGE THEME each month – so you'll NEVER get bored
Customisable and breastfeeding friendly meal plans
Time-efficient exercises for busy mums – under 30 mins
Challenge combines Pilates exercises with interval and circuit
training (HIIT)
Suitable for basic to advanced fitness levels
Home to thousands of EASY-TO-MAKE recipes!