When a snack looks this good, you'd be forgiven for thinking that there's no way it could be part of a healthy eating plan.
But this Raspberry Coconut Slice is actually packed with healthy ingredients such as nuts, dates and coconut, so you can enjoy it as part of the 28 Day Weight Loss Challenge.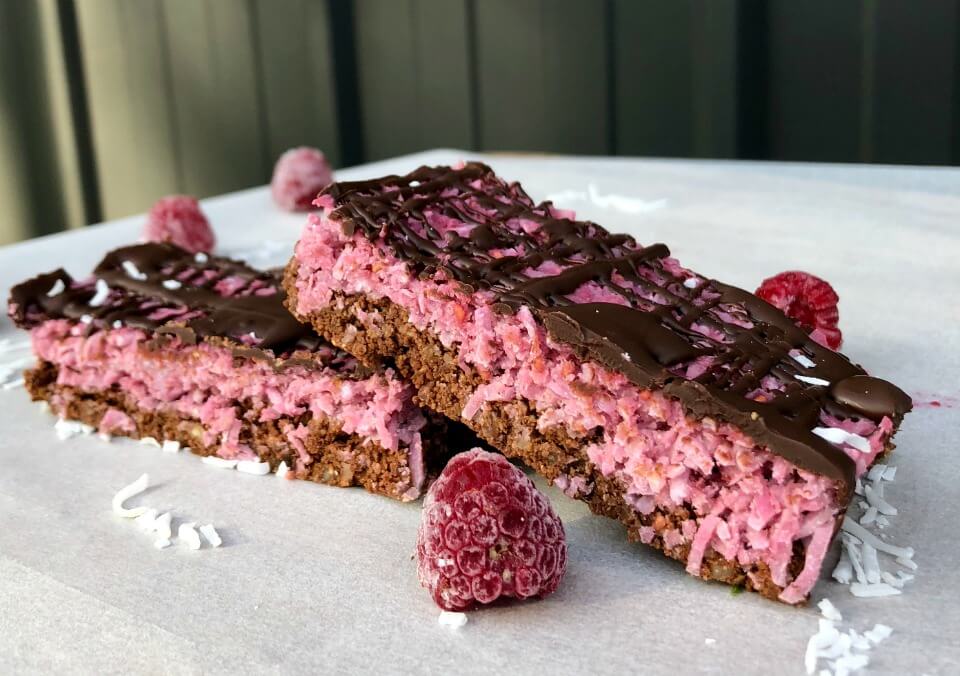 A big thank you to 28 Day Weight Loss Challenge member Cassie for sending this gorgeous recipe in to us.
Cassie says, 'This Raspberry Coconut Slice tastes so good it's hard to believe it's actually good for you! Packed full of wholesome ingredients it will have the kids begging you to make more!'
Making your own healthy snacks is a great way to enjoy the things you love. When you make them yourself you know exactly what's in them, and you know that they aren't filled with sugar and additives that could derail your weight loss.
Raw raspberry coconut chocolate slice
Ingredients
Base
1/2

 

cup

 

dried dates

 

pitted (85 grams)

1/2

 

cup

 

cashews (60 grams)

3/4

 

cup

 

boiling water (200 mls)

3/4

 

cup

 

coconut flour (90 grams)

1/4

 

cup

 

cacao powder (24 grams)
1.5

 

cups

 

shredded coconut (15o grams)

1

 

cup fresh or

 

frozen raspberries (240 grams)

1/4

 

cup

 

coconut oil (60 mls)

2

 

tbsp

 

maple syrup (30 mls)
50

 

grams

 

dark cooking chocolate

 

70% cocoa

2

 

tsp

 

coconut oil (10 mls)
Method
Soak dates and cashews in boiling water for 10-15 minutes.

Place dates, cashews and water into food processor, add remaining base ingredients.

Blitz on high for 1 minute until smooth.

Pour mixture into the base of a lined 20 x 30cm baking tray.

Press mixture down firmly, and then place in refrigerator to harden.
Place coconut oil, maple and raspberries into small pot, simmer on low heat for 5 minutes.

Add shredded coconut and mix well before pouring raspberry mixture on top of base.

Spread mixture out evenly and return to refrigerator.
Melt dark chocolate and coconut oil together in a small bowl in the microwave on low heat.

Drizzle chocolate over the slice and return to refrigerator for 1 hour before slicing.

Slice into 12 pieces, storing in an airtight container in the fridge for up to 5 days
Makes 12 serves at 190 calories per serve
Join the 28 Day Weight Loss Challenge to access more delicious sweet slices like this one. Think Carrot Cake Slice, Caramel Slice, and even a Peppermint Chocolate Slice (all made healthy!).
If you would like a sneak peek at some of the meals, snacks and exercises from the 28 Day Weight Loss Challenge you can download our FREE recipe packs HERE.
Access thousands of recipes on the 28 Day Weight Loss Challenge!
Our 28 Day Weight Loss Challenge is a family-friendly, breastfeeding-safe program designed FOR MUMS to help them tackle their health and lose the baby weight. 
Every week you are given a different meal plan to follow and we have over 4,000 family- friendly recipes and over 350 at home exercises – all created for mums.
Learn more about our 28 Day Weight Loss Challenge HERE.