This simple recipe from the 28 Day Weight Loss Challenge is so easy to throw together, while the paprika and chorizo give it the Spanish flavour.
To save even more time with this meal, prepare the rice beforehand and reheat to steaming before use.
We love using brown rice as a budget friendly ingredient in the 28 Day Weight Loss Challenge recipes.
Join today and access delicious recipes such as Brown Rice Sushi with Rainbow Vegetables, Chicken and Brown Rice Soup, or Easy Chilli con Carne with Rice.
All of the meals on the 28 Day Weight Loss Challenge are delicious and can help you lose weight in a healthy way.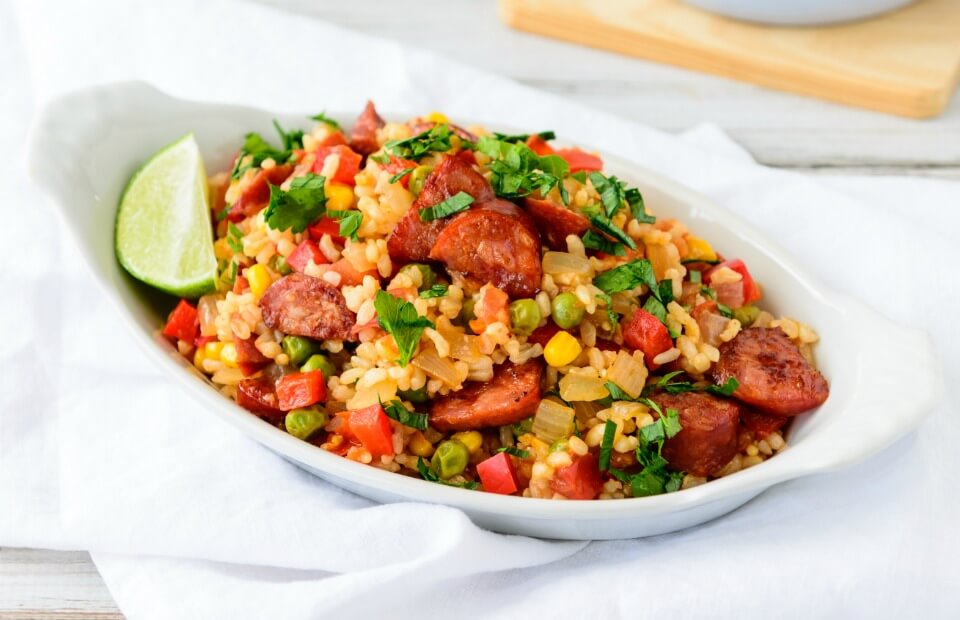 Ingredients
1 cup brown rice, uncooked (160 grams)
2 chorizo sausages, chopped (280 grams)
1 brown onion, diced (100 grams)
1 tsp smoked paprika (1 gram)
4 tomatoes, diced (400 grams)
1 cup frozen peas (160 grams)
1 cup corn kernels, fresh or tinned (160 grams)
1 red pepper, diced (100 grams)
1 tablespoon fresh parsley (5 grams)
4 limes (120 grams)
Method
Cook brown rice according to packet instructions.
Place a non-stick fry pan over a medium heat and cook chorizo slices on both sides for approximately 3 minutes until edges are crisp. Transfer to a plate and set aside.
Add onion to the pan and cook for 2 minutes or until it starts to turn golden. Add tomatoes, vegetables and paprika. Toss to combine and cook for 3 minutes or until vegetables are lightly tender.
Add cooked rice and return chorizo to the pan. Toss together and garnish with parsley.
Arrange on serving plate with a wedge of lime.
Recipe serves 4 at 409 calories per serve.
Want to access thousands more healthy recipes like these?
Love the sound of these delicious recipes? Want access to thousands and thousands MORE healthy recipes just like it? Then be sure to check out our 28 Day Weight Loss Challenge.
Our 28 Day Weight Loss Challenge is a family-friendly, breastfeeding-safe program designed FOR MUMS to help them tackle their health and lose the baby weight. 
Every week you are given a different meal plan to follow and each month we add 100+ NEW recipes to our Challenge Recipe Hub. That way, you'll never get bored and stay on weight loss track while digging into healthy, yummy recipes.
Learn more about our 28 Day Weight Loss Challenge HERE. When you join you get instant access to over 4,000 recipes, and 350 workouts.