Throughout this month's 28 Day Weight Loss Challenge, these mums (and so many more!) will be here to give you advice, guidance and some great motivation tips when you need it.
Make sure you join our great supportive Community (HERE) to help you on your journey.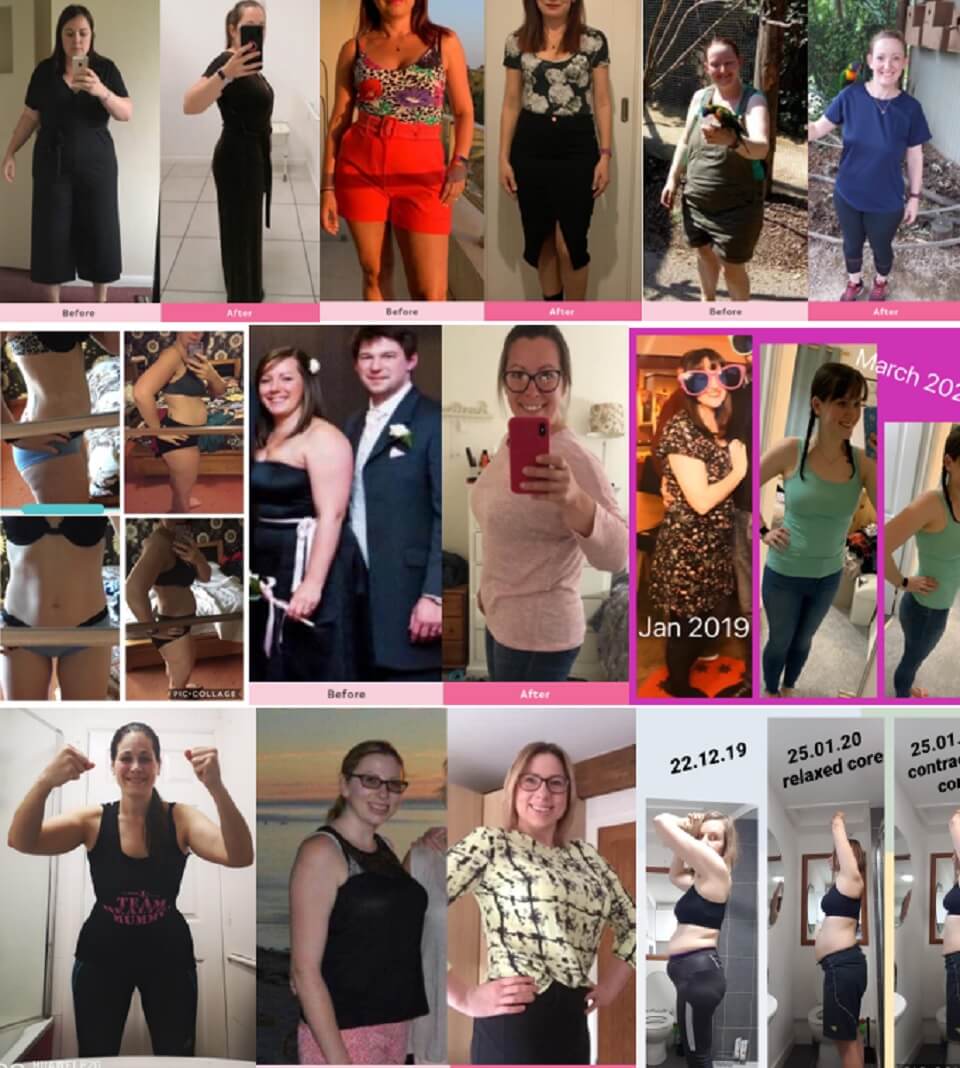 Join thousands of mums and change your life with The Healthy Mummy's 28 Day Weight Loss Challenge.
Today we introduce you to your MOTIVATING MUMS for March. These mums are here to help you stay on track, stay motivated and help you kick your goals during the latest challenge!
Meet, Amy Adams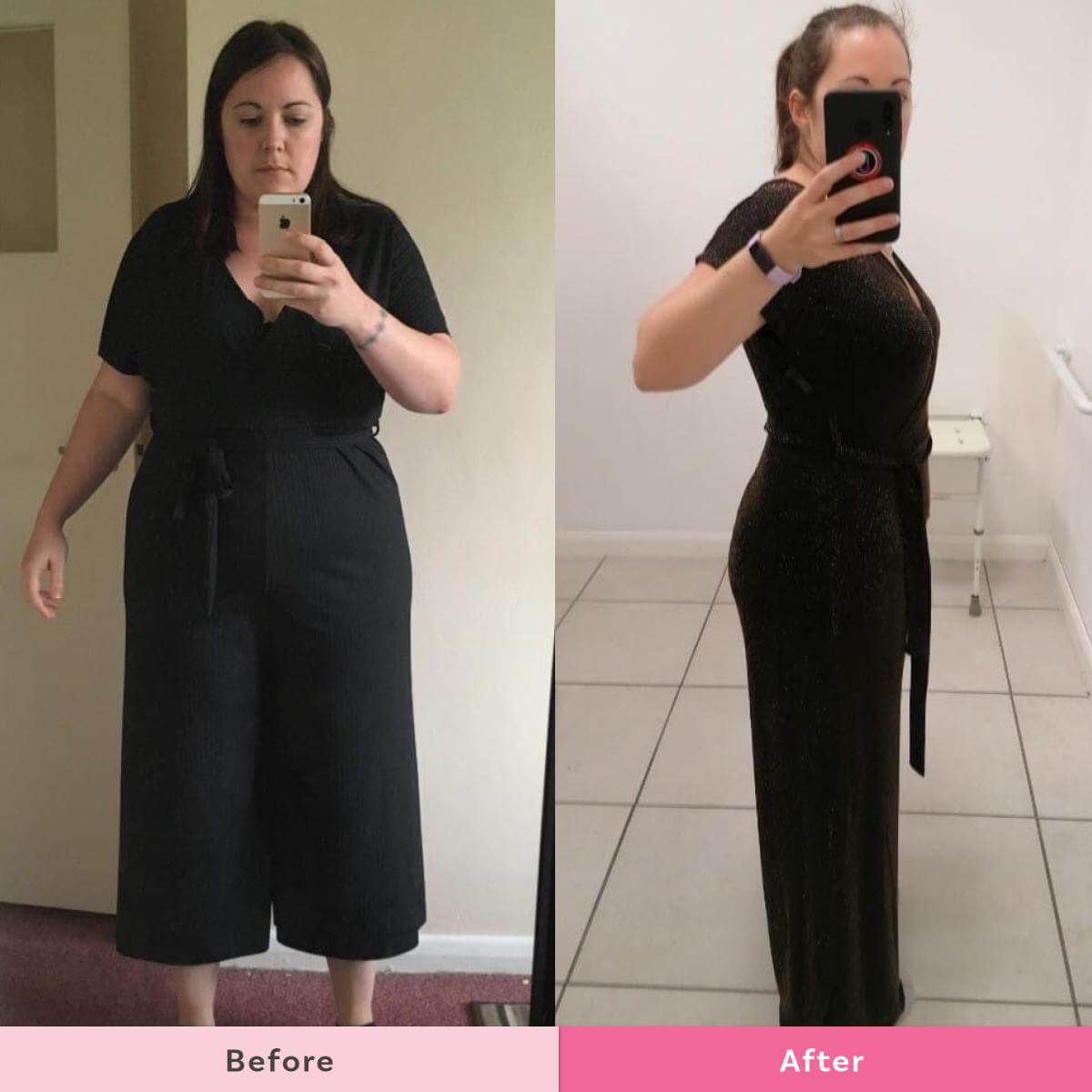 "Hi, my name is Amy, I have a daughter aged 4 (going on 15), and I live in Southampton and I'm currently 13 weeks pregnant with my 2nd child. (Congratulations, Amy!)
"I've been with The Healthy Mummy since Aug 2018 but it took me a couple of months to get on board so I've been with the 28 Day Weight Loss Challenge since Oct 2018.
By the end of Dec 2019, I had lost 2.5 stone which equated to 2-3 dress sizes. I noticed that my skin was more consistent (less variability throughout the month), I had fewer stomach aches and slept better.
The Healthy Mummy Community enabled me to start exercising regularly and I've now been a steady user of the gym for 13 months, with a PT for 8 months and supplement with HM workouts.
I love the Healthy Mummy Smoothies and until pregnancy nausea kicked in, I was having at least one a day, sometimes two. I'm hoping shortly to be able to have them again.
I'm really excited about being a Motivating Mum this time around because my perspective is different. Obviously, I won't be trying to lose weight, but I want to be as healthy as possible to give myself a running start after I give birth!"
Amy's tips to any new starters (or indeed any restarters!)
Take the plan at your own pace. If you try and change all at once it will become overwhelming.
Remember this is your journey and don't compare yourself to the other mums… None of us are the same (though please, please take inspiration).
Forget about not being "allowed" certain things – everything in moderation!!!
Meet, Carrie Ridley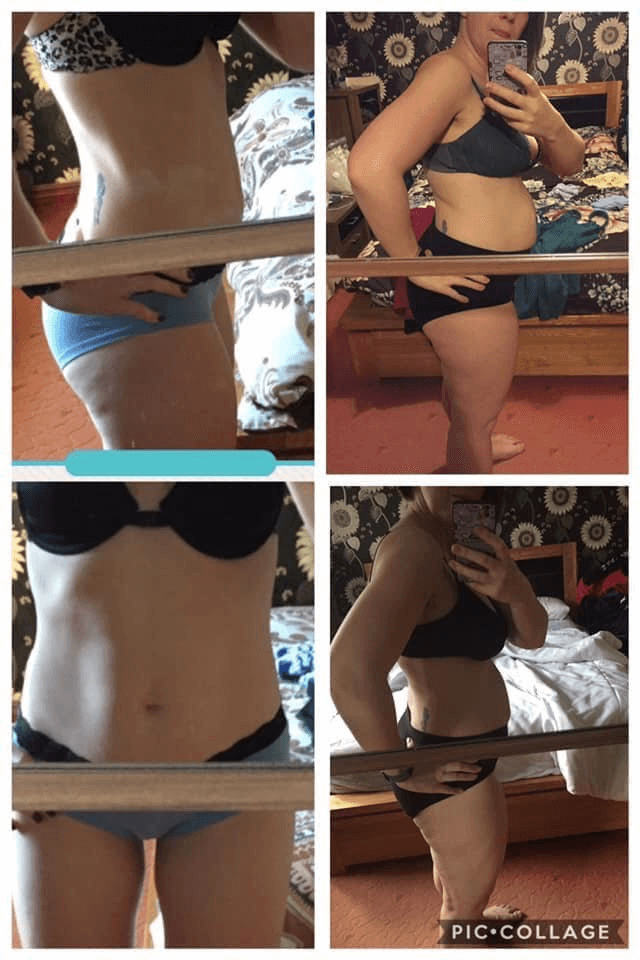 "I'm Carrie, mum to two gorgeous boys, one aged five months and the other four years old. I live in a lovely village called Cilgerran in West Wales.
Since starting in January I've lost 12lb and am hoping this month to continue working on my weight loss goal to lose two stones. I also want to improve on my running this month by doing the couch to 5k challenge.
This is my second time doing The Healthy Mummy and started in January after having my second son. I feel much healthier and fitter and can see a reduction in my tummy.
My photo shows my result from the first time I did Healthy Mummy, on the left. The right top photo was me in January when I started for the second time and below is now. I want to work towards getting those toned abs again."
Carrie's tips
Prep, as this helps keep on track.
Exercise when you can even if it's just a small workout.
Take photos often, sometimes the scales don't reflect your results.
"Can't wait to start the March challenge and of course be a motivating mummy!"
Meet, Kate Muckenbeck Stannard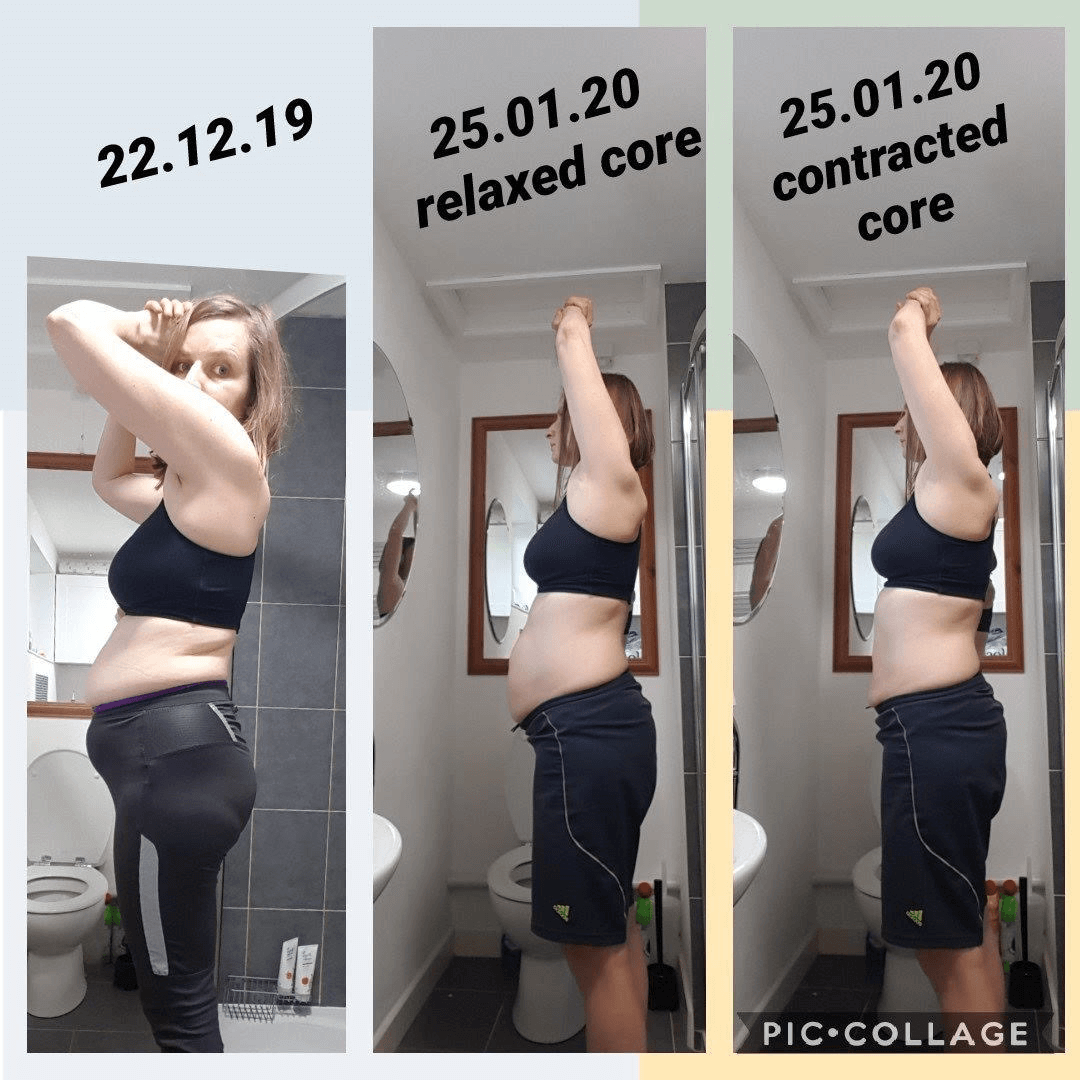 "Hi, I am Kate. I am 39 and live in Somerset. I have two boys age 11 and 8.
I have been a Healthy Mummy member since October 2018 and while my weight hasn't changed much in that time, partially due to difficulty in losing weight from an underactive thyroid, I have changed shape and grown a great deal stronger, with more energy.
I also used to be a big meal skipper, hardly eating through the day which was terrible for thyroid and didn't help me with weight – I rarely lost any weight by not eating properly.
My goals for March are all about the belly fat blaster, as this is where I carry all my weight. I will be so focused on keeping to calorie allowance, exercising every day and increasing my water intake.
It's time to convince my thyroid that we don't need to keep the belly fat anymore!
I am also 40 in May, and although it's just a number, I have a mental goal to feel and look as close to my pre-children self as I can by this landmark birthday.
I have been doing to 28 Day Weight Loss Challenge for 2 years but not committing fully with regards to meal planning and prep, rather roughly counting calories. This changes this month!
I have seen many physical and mental benefits from Healthy Mummy, the exercise has improved my thyroid condition! I now have more energy, more get up and go and strength to exercise. I have fewer fatigue days than I used to get with my thyroid. I have a healthier approach to family meals and cook more variety of foods.
I am excited about the March challenge because this is my target area, the belly fat, and I am determined my after photo will show a difference at the end of this month! I would like to lose a stone by May, the more I can do this month the better!"
Kate's tips for not giving up:
Exercise at the beginning of the day! It's too easy to make excuses in the evening when you are tired after a long day at work or with kids. Set your alarm early, you will soon get used to carving out time for morning exercise and feel better throughout the day for it!
If you are tired and don't want to exercise, try yoga or a low-level exercise video from the app. Once you have done this, you will surprise yourself by having the energy to go on and do more.
Pick 2 or 3 emergency snacks to go to. If you've failed to prepare a snack you can easily grab something like an Apple and peanut butter, or celery boats from the app. These save you from falling off the wagon!
Meet, Sarah Cryer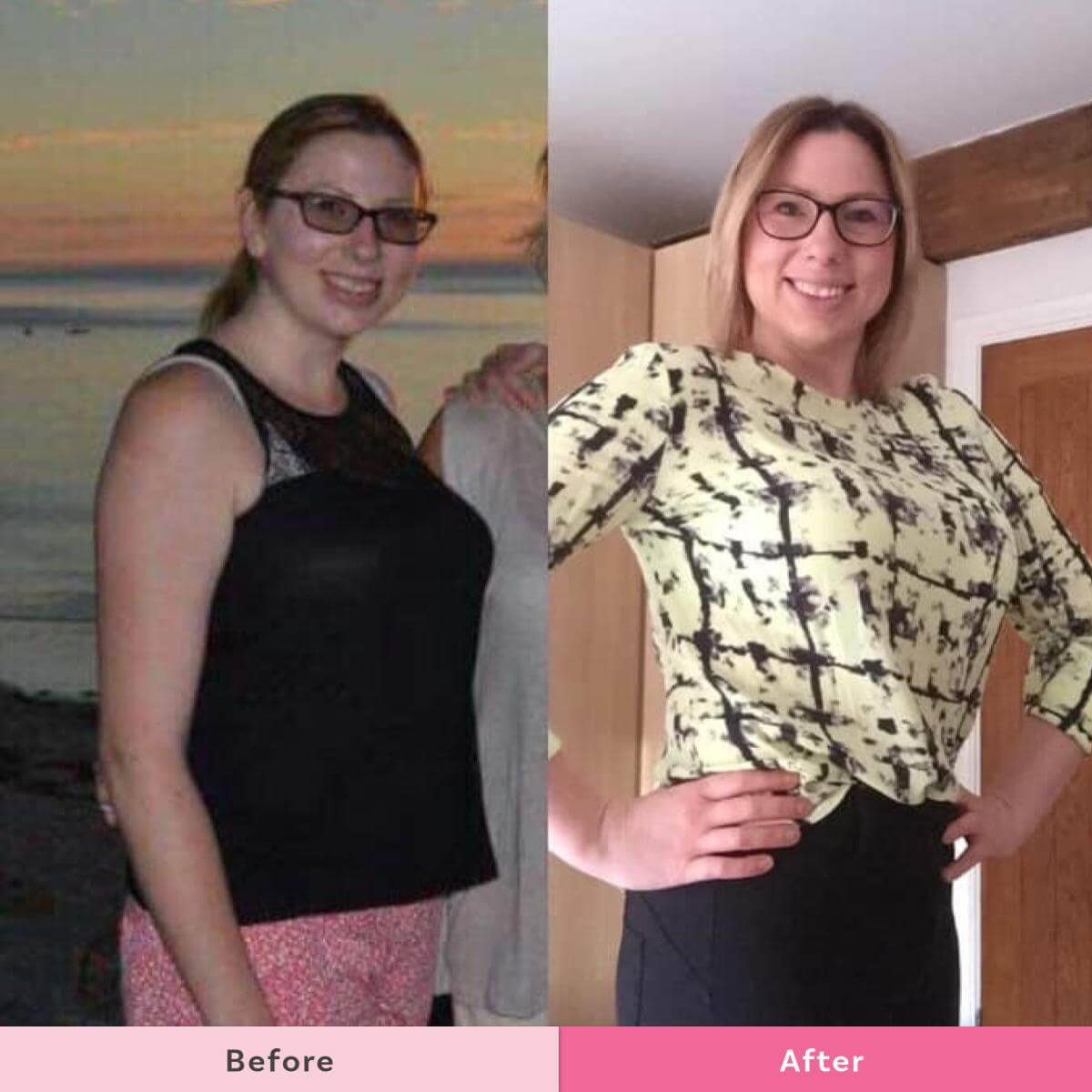 "Hi, lovely ladies!! My name is Sarah, I am a mum of three gorgeous children Harry 8; Joseph 6 and Annabelle 4 we live in West Yorkshire together with my husband Adam and Labrador Maisy.
My Healthy Mummy journey began back in September 2017. What started out as me wanting to lose 2 stone has resulted in me throwing the scales away (6 months into my journey) after losing 18lb and having turned my mindset from wanting to be skinny to wanting to be HEALTHY; I now focus on progress photos and measurements!!
My goal for March is to get stronger and to tone up, motivate and make sure that this body is the fittest and healthiest it has ever been after all Summer bodies are made in Winter (I know it's almost spring but the weather has me feeling otherwise).
I cannot wait to start the March fat blaster challenge and have already got my prep on today making mainly our family favourites… I promise I'll be cooking up some new recipes too this week!
The Health benefits since starting the challenges have been incredible – what I have lost in weight I have gained in energy and confidence; I sleep better and the condition of my hair, skin, and nails has improved dramatically!
Sarah's tips
I use the Healthy Smoothies daily they make an ideal snack substitute and are great for breakfast on the go!
If you are just starting out I cannot recommend utilising the Healthy Mummy Support Group enough!
Take your time to get used to the app and pick out recipes that are already on your family's favourites list and try the healthier version – I can guarantee they will love them!
The main thing that helped me was to meal plan and meal prep – having a fridge/freezer filled with delicious meals and snacks helps stop me from reaching for takeaways or biscuits!
We all have moments where we feel like giving up – if you find yourself in this situation remember your reasons why…… why did you start your journey; what makes you want to keep going? If need be, go back to basics – recalculate that BMR, make sure you're drinking enough water; make sure you are eating your calories even try out some new workouts!
Dig out your before pictures – look at how far you have come and use photos as motivation!!
Looking forward to motivating you lovely ladies this month!"
Meet, Meredith Carrington Stait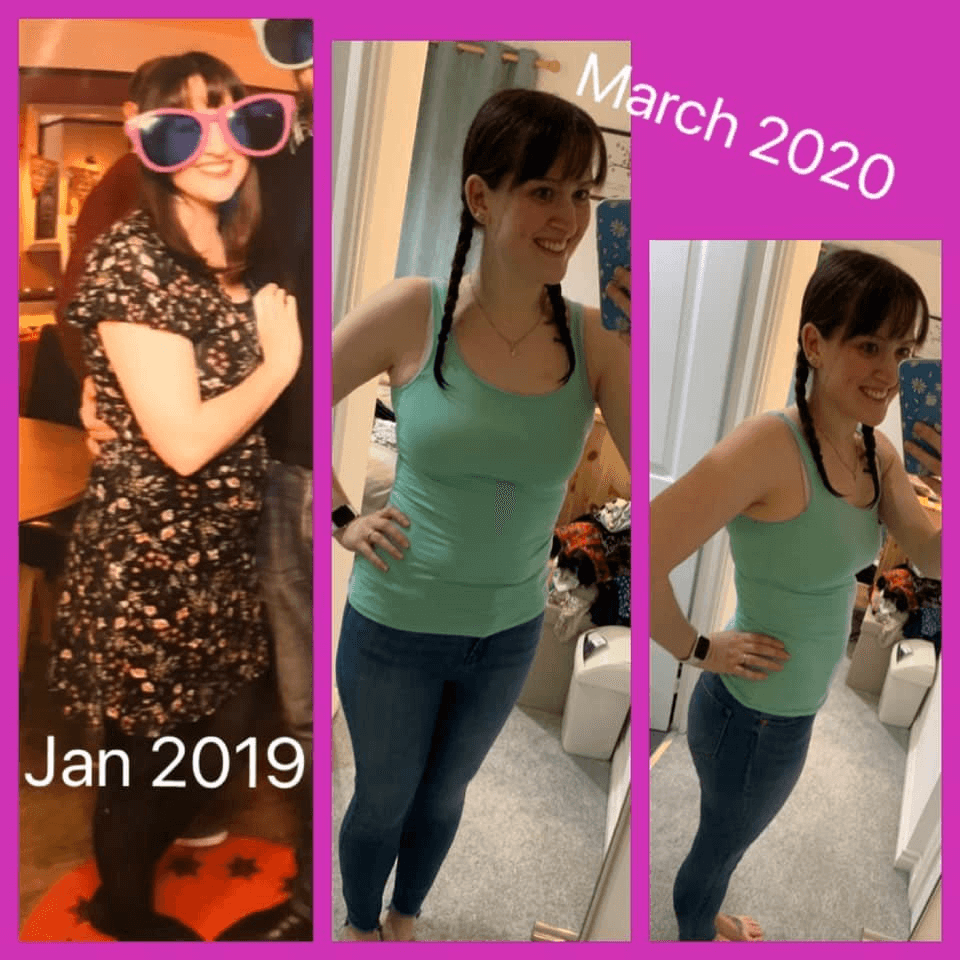 "My name is Meredith, I'm 31 and I live in Gloucester. I have a daughter who is nearly 2.
I've been following The Healthy Mummy since March 2019, it took me a few months to get on board and after 3 holidays I decided it was time to get serious!
The Healthy Mummy community helped support me to start exercising on a more regular basis, going from exercising 3 times a week for 30 mins, to 30 mins every day to 45-60 mins every day!
I have seen so many health benefits since joining, I drink at least 2 litres of water every day which has improved my dry skin significantly. I'm sleeping better due to doing more exercise than I ever have! Physically I'm stronger and healthier.
During the last year, I've lost nearly 2 stone and my size 12 jeans are too big I've just had to go and buy some size 10s! I can't remember the last time I wore a pair of jeans in a size 10!
I joined Healthy Mummy to get fit and try healthier meals and snacks. I've also been able to share my journey with my family, my daughter eats all the same meals as me and my husband.
I have been using the Healthy Mummy Smoothies for 5 months now, I love that you can search the app for different smoothies with ingredients you already have. I have one every day for breakfast and sometimes as a snack.
My goal is to hit my target weight of 9 stone… just 9lbs to go!"
Meredith tips for anyone getting starting out or struggling to stay motivated
Start small– I found it a bit overwhelming when I first signed up, but after seeking advice from the group I started out making a few snacks and meals I felt more confident about (macaroni cheese, fajitas) then built it up week by week!
Ask for support from other mums in the groups- we are all in this together and the help and guidance I received has truly made this a great experience and helped me achieve so much.
Take lots of photos for comparisons – I still get so surprised when I compare my before and after photos!
Find something that really motivates you to keep on track- for example I use an Apple Watch and I've challenged myself to close the 3 'rings' every day! Something visual is usually really helpful.
Meet, Becki Drewett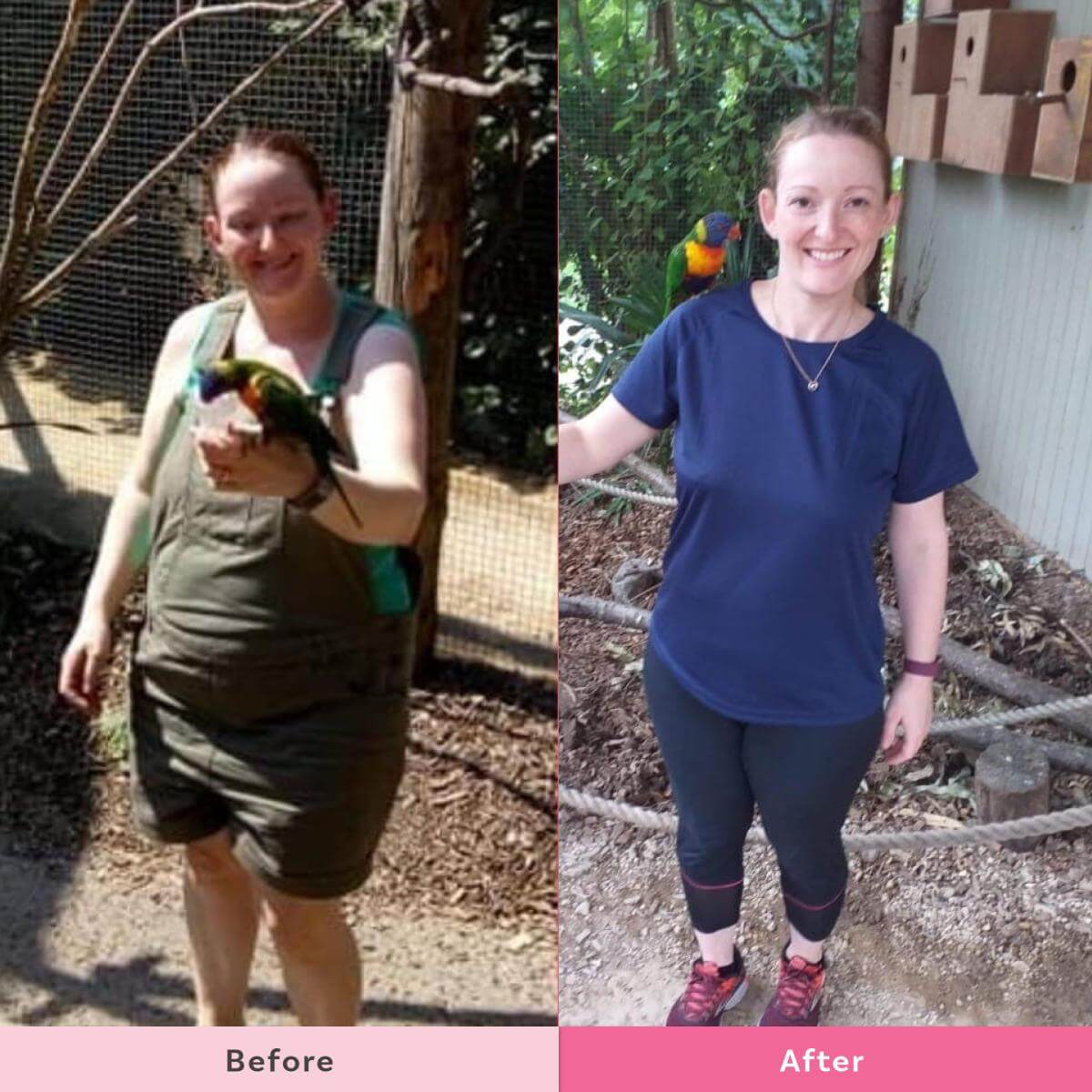 "Hi, I am Becki and I have 3 minis, my eldest is 3 and twins are 2 and I'm based in Gloucestershire.
I had lost 49 lbs from July 2018 to Aug 2019 but had some weight gain since.
My goal for March is to get back on track and continue my healthier lifestyle. I had been completing the 28 Day Weight Loss Challenge for 16 months then too. 
The benefits I  have noticed since not giving it 100%, I had better skin, nails, and energy when I was following the Healthy Mummy.
I enjoy the food, the planning and prepping, the Healthy Mummy community and most importantly I enjoy trying to be healthy.
I have a Healthy Mummy Smoothie every day. My favourite flavour mixes are caramel and vanilla.
"My reason why, is I totally believe 100% that you only get one shot, one shot at being the best you, make it count , make it happen."
Becki's tips:
Meet, Michelle McKenzie Ellis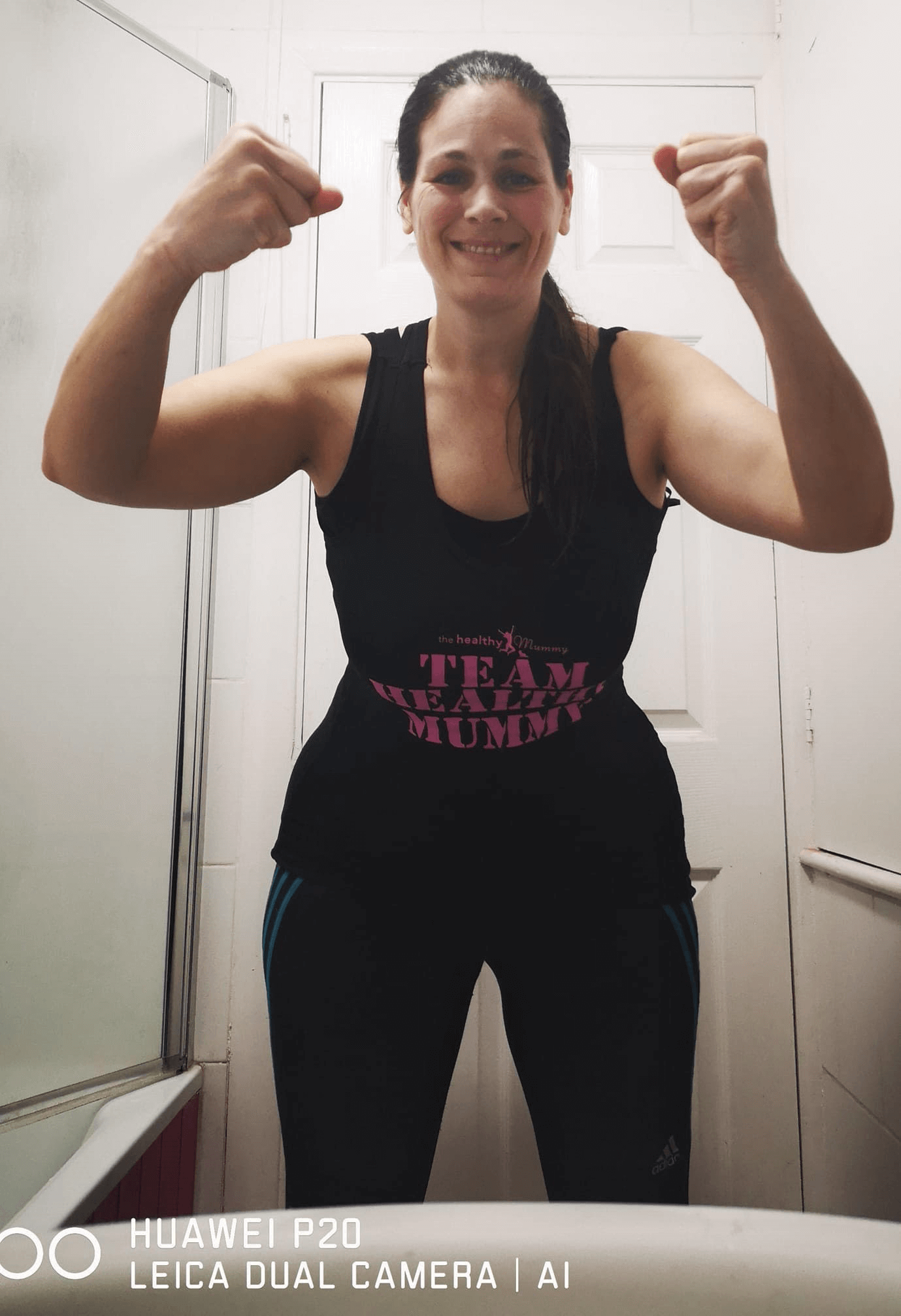 "I'm so excited to be a motivating mum, I am 41 and a mum 2 beautiful girls 12 and 10.
Over the years I tried many diets that worked for a short time. I then get bored and start eating again and the weight piles back on.
I joined Healthy Mummy in July 2018 and its the best thing I've ever done for my family!!
Unfortunately, in October I took a bit of a back seat for one reason or another but I truly wish I hadn't!!
I've put a bit of weight back on as I wasn't eating enough. But over the past couple of months, I've gradually been getting back on track and now on it 100%. I have cut bread and wraps out of my diet as I felt so much better during detox week. I'm not missing it at all.
My aim for March is to be fully committed, to lose some weight and gain my fitness back.
I can only do this with the help of my trusted Healthy Mummy Smoothies... I will do this
Michelle's tips
Make The Healthy Mummy work for your family, each recipe is perfectly adaptable to all your needs and tastes.
Keep up your water intake by filling a 2 litre bottle up every single morning and gradually drink it through the day.
Share with the Healthy Mummy support group, there is nothing more motivating than amazing comments from other mums.
Meet, Anne Saxby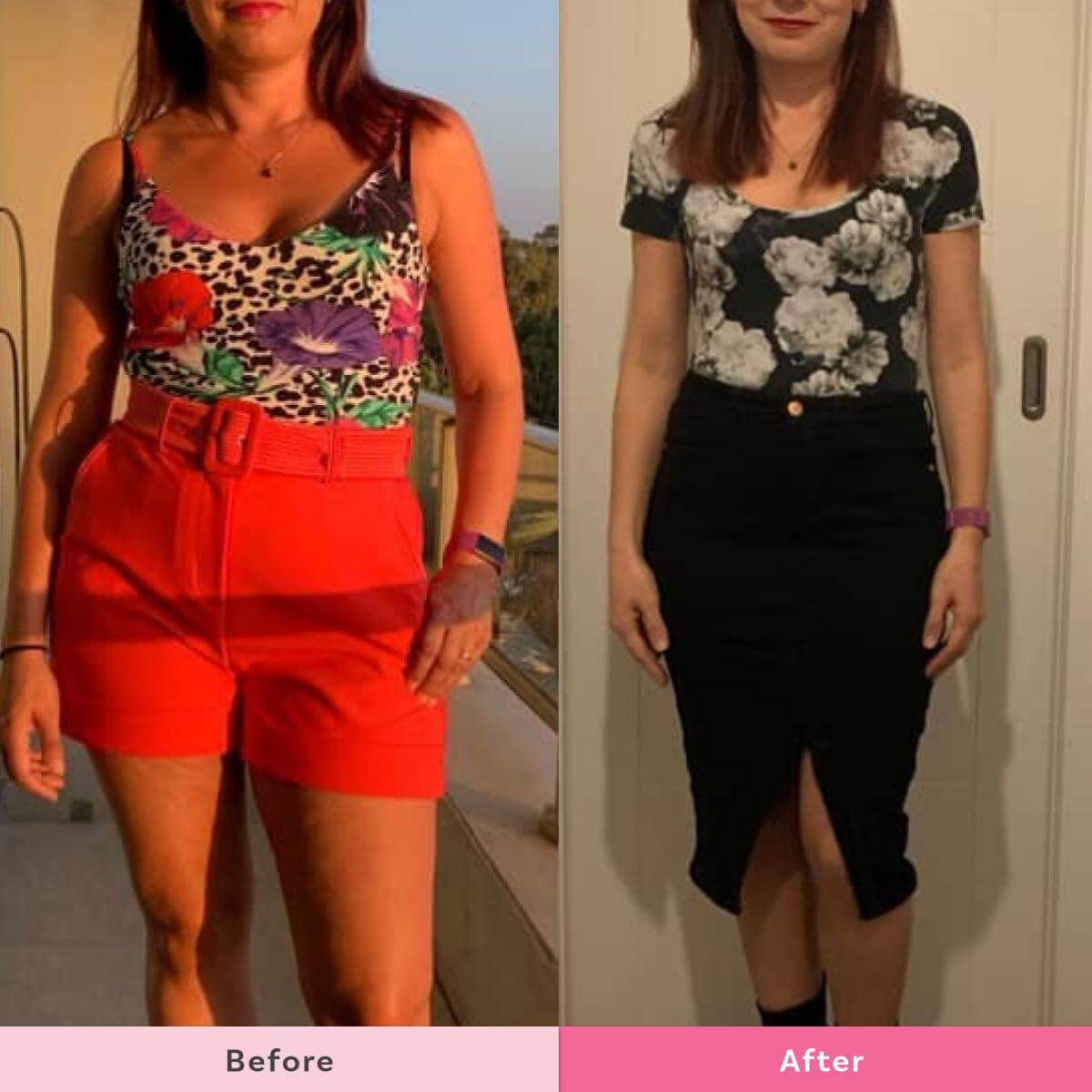 "Hi! I'm Anne, 42-year-old mum to 4 kids aged 14, 12, 9 and 6. We live in Gibraltar with my hubby and I'm a full-time teacher.
I've been following Healthy Mummy since August 2019 and have gone from a size 12/14 to a size 8/10z. I have 0.5kg to get to my goal weight and then my goal is to maintain and continue to tone up.
Healthy Mummy is not just a physical transformation but a mental one. I'm much happier and confident now and making healthy choices makes me feel good about myself.
I'm doing Healthy Mummy to be fit and healthy myself and to inspire my kids to make healthy choices too. They have been eating Healthy Mummy stuff and love it!
I have been using the Healthy Mummy Smoothies and have 1-2 a day. I think I'm a bit addicted to them. I have 6 open and another 10 in the cupboard plus another order on the way. The offer back in January was too good to miss out on!!!"
Anne's tips for those mums starting out
Drink at least 2 litres of water a day
Prepare snacks in advance
Plan your week ahead
Meet, Elizabeth Flewitt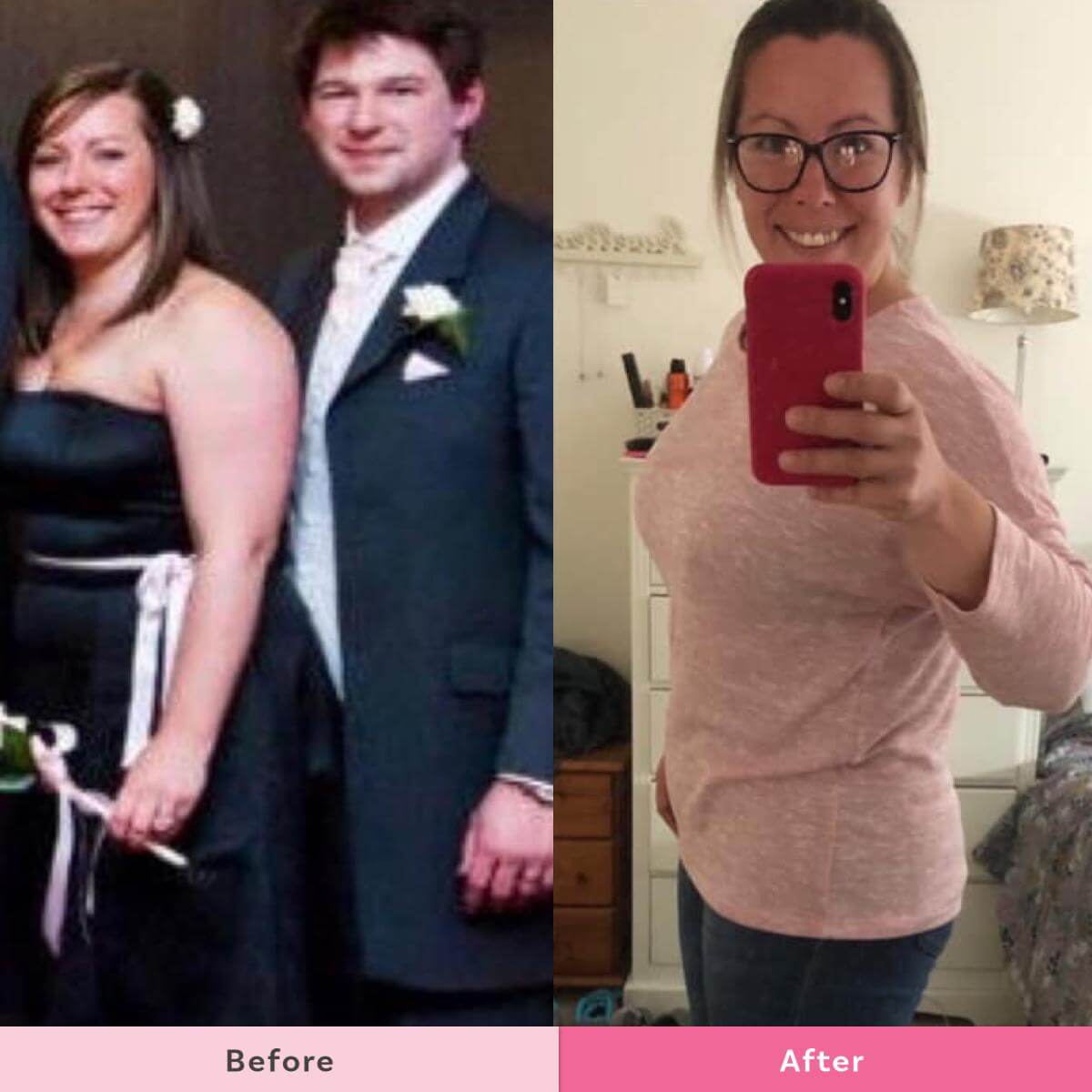 "My name is Elizabeth and I am a 39-year-old Mum from Woking, Surrey. I have a 6-year-old son, Elliot and my husband George.
I joined The Healthy Mummy in September 2018 after looking for something that would help me gain a healthy outlook on life.
I had suffered a missed miscarriage in 2016 and was at my largest, size 18. I lost a lot of weight following this taking me to a size 12/14 but was unable to maintain. I was in a real rut of unhealthy/negative habits and was suffering from migraines and anxiety more frequently.
Since being with The Healthy Mummy I have maintained a size 12 but am on the road to dropping another dress size. That is my goal!
I have learned how to eat/drink/move in a way that is healthy, positive and achieves that healthy lifestyle I was after, without missing out on anything I like!
I don't suffer from anxiety attacks at all now and my migraines are few and far between. This I put down to not only my diet but the support and motivation given through The Healthy Mummy Community. It has helped me with building up my confidence and self-belief.
I have been using the Healthy Mummy Smoothies now for a year. They are amazing. From a non-milk, non-smoothie lover, I am now addicted!! I no longer miss breakfast or snack time. I used to suffer quite badly with bloating but since using the smoothies, this seems to have calmed down and my digestive system on a whole is much better."
Elizabeth's tips for anyone starting out or struggling to keep going:
Take measurements and photos, these will really boost your motivation if the scales don't move.
Lean on the Healthy Mummy support group for advice and to get that inspiration. There will always be someone there to help or who will say something that inspires you.
Make the snacks and meals that are family favourites, if it is a familiar meal but made the healthy way, you won't feel it a struggle.
Get the family involved! Get moving together, get baking together. That way you won't feel you are doing it on your own.
Join the 28 Day Weight Loss Challenge NOW!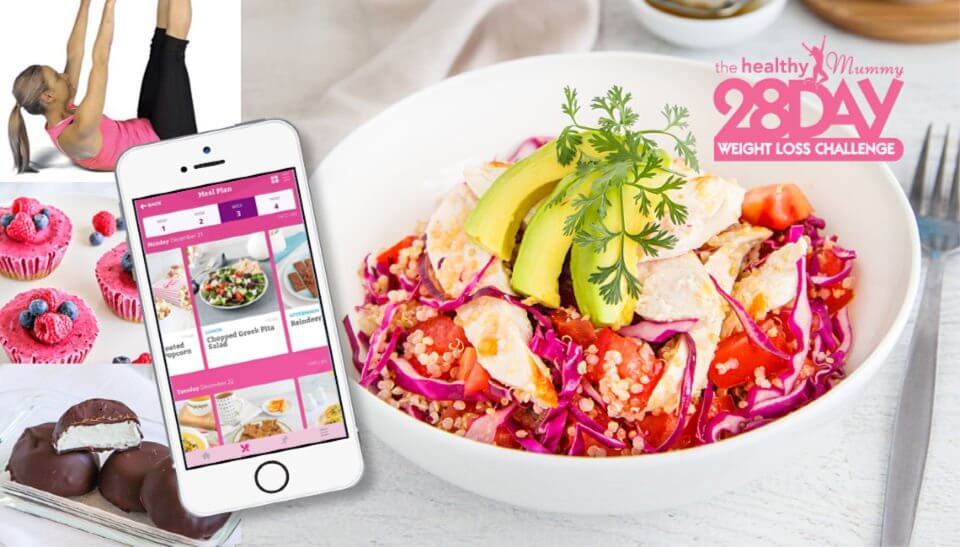 The #1 mums-only weight loss brand has helped mums lose over 450,000 stone!
Our 28 Day Weight Loss Challenge is made for busy mums!
We offer customisable, affordable and family friendly meal plans that make healthy eating easy and sustainable.
We have over 350 full length workout videos that are perfect for busy mums and also cater for postpartum mums.
Get Stronger in 28 days – Take part from just over £4 per month. What are you waiting for??