Brrrrr it's cold out there! Time to snuggle down under the duvet and enjoy these healthy desserts with your family.
Thanks to the oven and slow cooker, a healthier dessert is easily within reach.
These four recipes come straight from the 28 Day Weight Loss Challenge and show you just how delicious the meals are on our plans.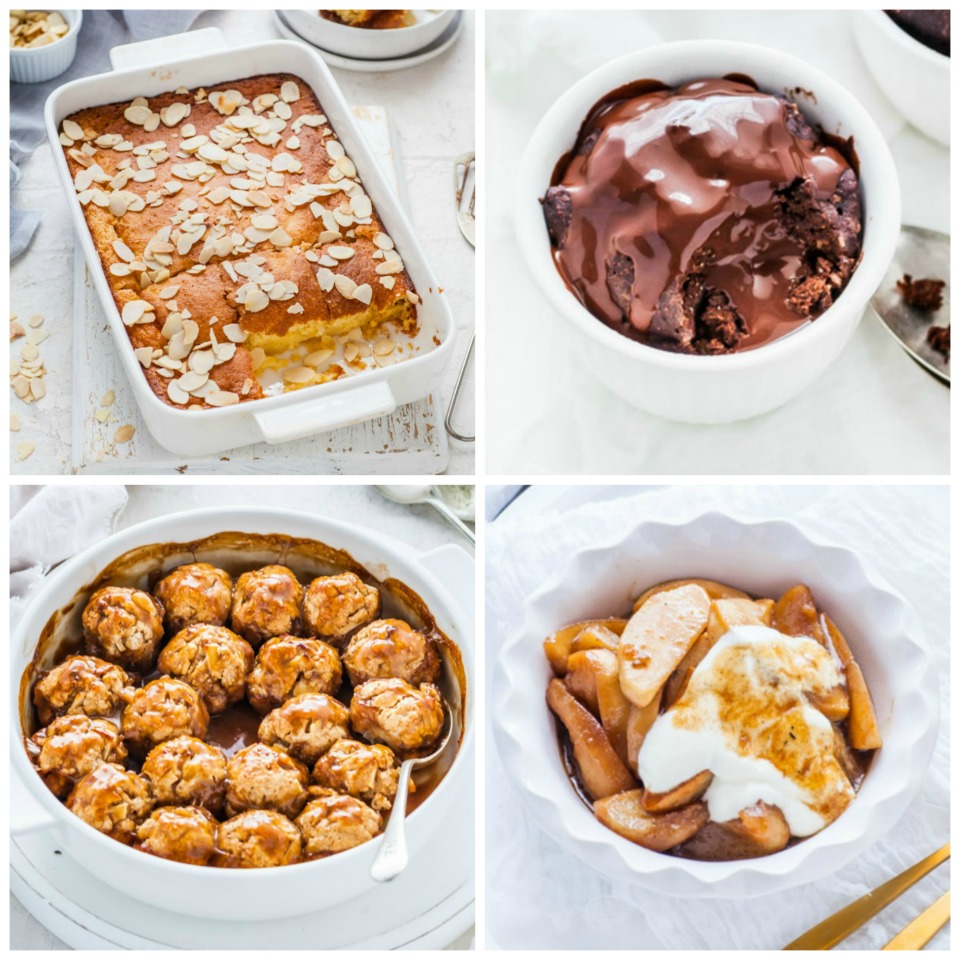 Cold weather desserts to warm you up
Enjoy sweet treats like this while you lose weight with thousands of other women, on the mums-only 28 Day Weight Loss Challenge.
1. Rum & Raisin Chocolate Lava Cake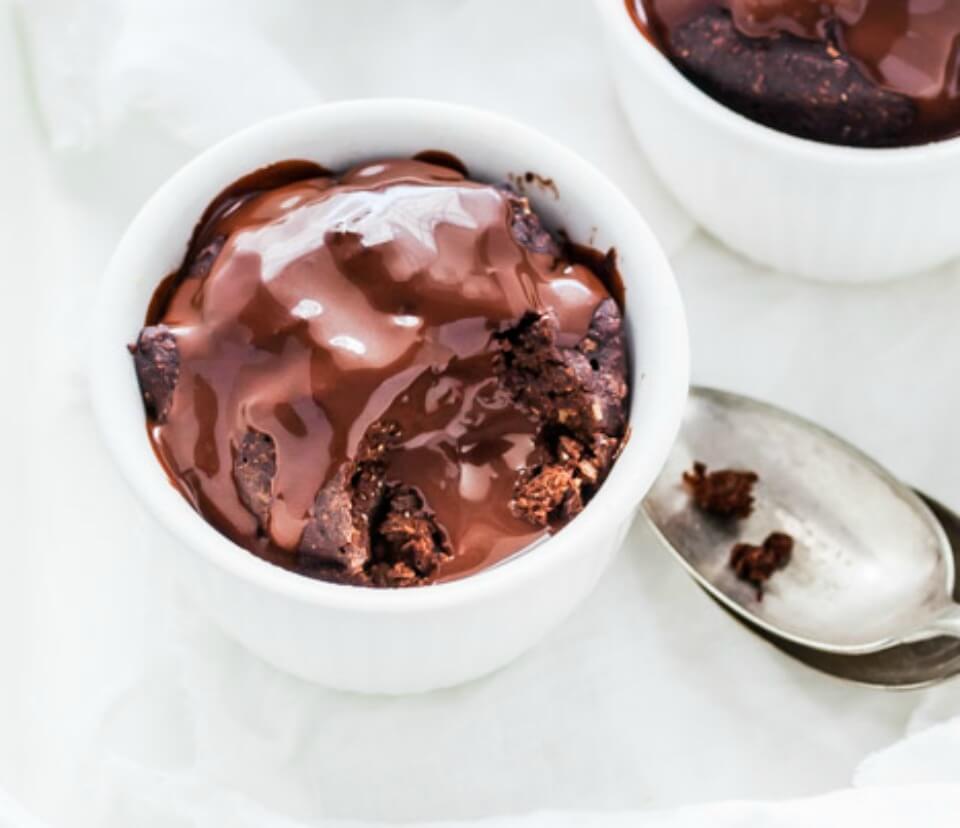 This feels like SUCH an indulgent dessert, and at just 72p per serve you can enjoy it knowing that you are saving your pennies.
Compared to the less-than-healthy desserts sold at the supermarket, this is much better for you, and doesn't compromise on taste.
Ingredients (serves 4 at 308 calories per serve)
4 tsp raisins (20 grams)
40ml brown rum, or use rum essence
1 cup plain wholemeal flour (120 grams)
1 tsp baking powder (2.5 grams)
4 tsp Natvia, available from Tesco (16 grams)
1/3 cup cacao/cocoa powder (32 grams)
2 tsp vanilla extract (10 mls)
240ml water
240ml reduced-fat coconut milk
80 grams dark chocolate (70%)
Method
Soak raisins in the rum or rum essence for 10 minutes.
Heat coconut milk, half the cocoa/cacao powder and the dark chocolate in a microwavable cup for a minute. Stir contents until smooth and heat for a further 30 seconds to a minute until warm and runny. Set aside.
Combine soaked raisins and rum with flour, baking powder, Natvia, remaining cocoa/cacao, vanilla extract and water and place in an individual ramekin (one per serve).
Microwave on high for 1 and 1⁄2 minutes, checking to see if cooked through. If not, cook for a further 30 seconds until cooked through.
Serve immediately drizzled with the chocolate sauce.
2. Slow Cooked Lemon Pudding
Cakes and pudding don't need to be off limits, thanks to the recipes on the 28 Day Weight Loss Challenge. This classic pud is sure to put a smile on everyone's face when you serve it up.
Get the Slow Cooked Lemon Pudding recipe here
3. Vegan Dumplings with Salted Caramel Syrup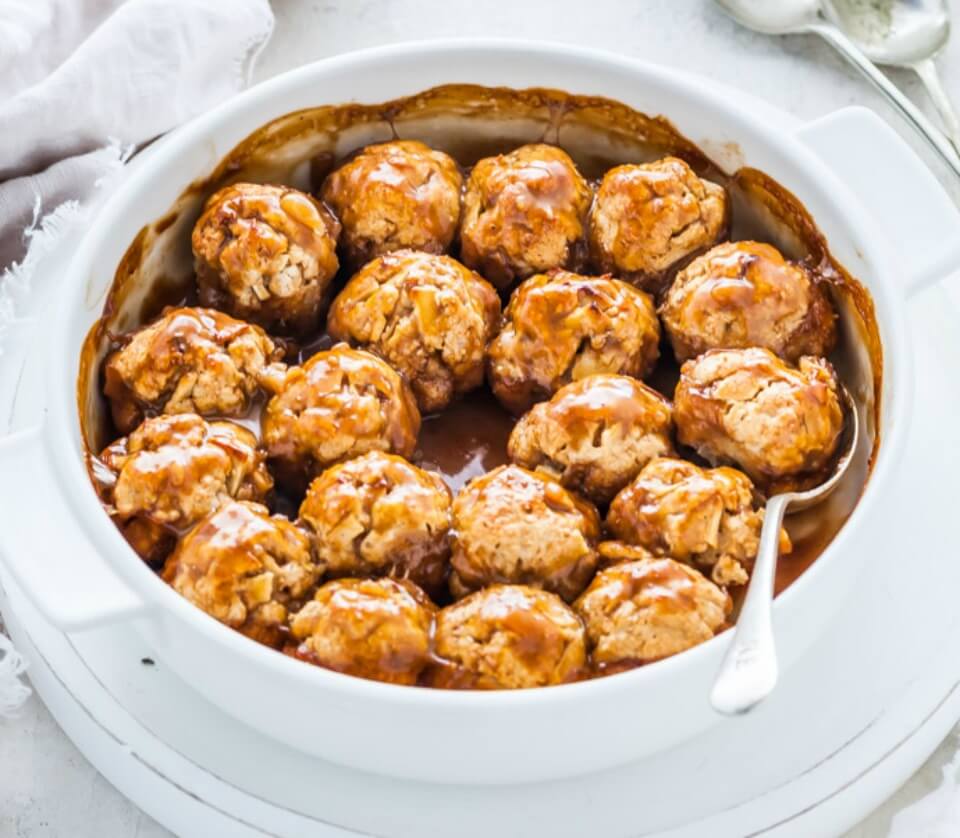 Want to cook a big batch healthy dessert for friends or the whole family? This sweet and sticky option not only looks fantastic, it's also SUPER budget friendly and delicious too.
Ingredients (serves 8 at 143 calories per serve)
cooking oil spray
1 tsp chia seeds (4 grams)
20ml water
60ml coconut oil
1 cup plain wholemeal flour (120 grams)
1 tsp baking powder (2.5 grams)
1 small apple, cored, peeled & sliced (100 grams)
4 tsp coconut sugar (16 grams)
1/4 tsp salt (0.25 grams)
50 mls almond milk, unsweetened
50 mls reduced-fat coconut milk
1 tsp vanilla extract (5 mls)
Method
Preheat oven to 190C / gas mark 5 and lightly spray a baking dish with cooking oil spray or line with baking paper.
Soak the chia seeds in the water for 5 minutes.
Rub the coconut oil into the flour and baking powder, add the chia and water mix and combine with your fingers to make a dough. Add a little more water if required, for the ingredients to combine.
Stir in the apple slices, then divide the dough into 8 small balls. Place these dumplings into the prepared baking dish.
Combine the coconut sugar, salt, almond milk, coconut milk and vanilla extract in a saucepan over a medium heat. Simmer until the sugar has dissolved. Pour this syrup over the dumplings in the baking dish.
Bake for 25-30 minutes or until the dumplings are golden brown and a skewer inserted into the centre comes out clean.
Serve one dumpling with an equal portion of caramel syrup per person.
Leftover dumplings can be stored in an airtight container in the fridge for 3-4 days to reheat as required.
4. Slow Cooked Caramel Apples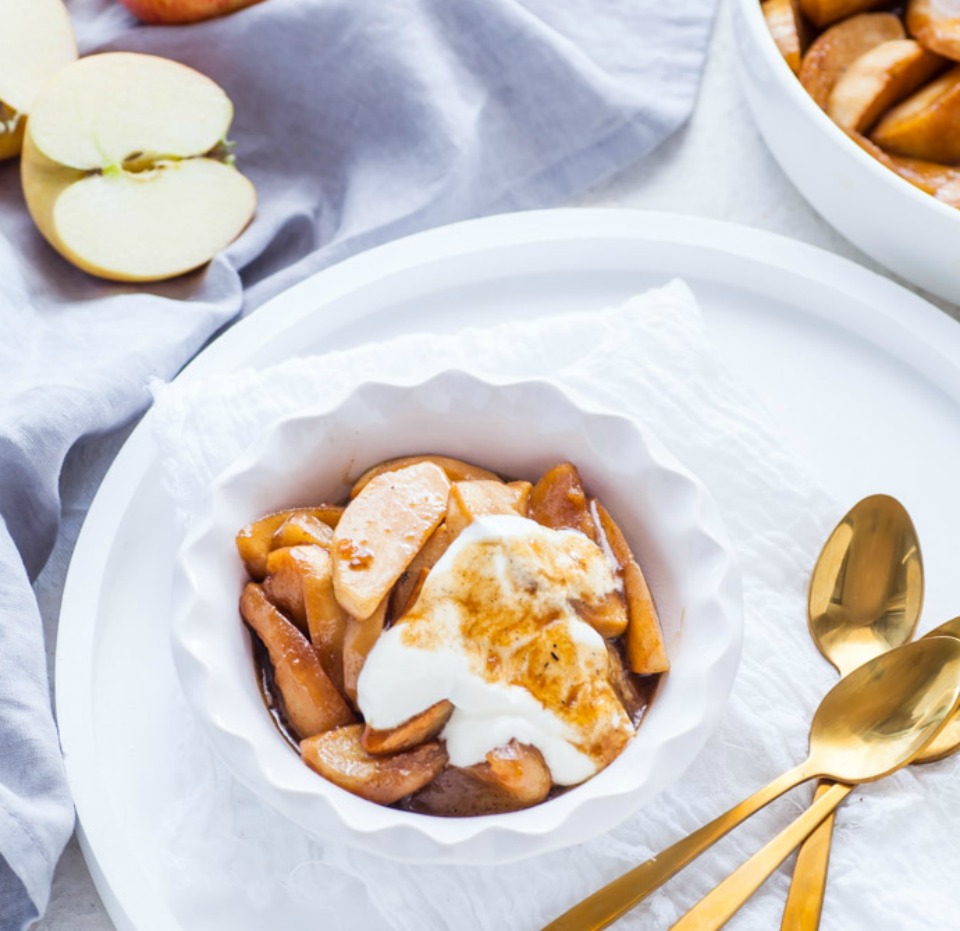 These are guaranteed to be a hit with young and old!  Prepare a big batch and then just reheat as needed.
Get the recipe for Caramel Apples here. It comes straight from the 28 Day Weight Loss Challenge.
Want access to thousands of other delicious recipes?
Check out our 28 Day Weight Loss Challenge.
With thousands of recipes, and hundreds of fat burning exercises and 24/7 support, The Healthy Mummy can help YOU hit your goal weight faster.
Our Challenge includes:
28 days of at home exercise routines (no gym needed) – with video instruction
New CHALLENGE THEME each month – so you'll NEVER get bored
Customisable and breastfeeding friendly meal plans
Time-efficient exercises for busy mums – under 30 mins
Challenge combines Pilates exercises with interval and circuit
training (HIIT)
Suitable for basic to advanced fitness levels
Home to thousands of EASY-TO-MAKE recipes!