With Halloween fast approaching, it's like a nostalgia button gets turned on, and our brains start craving toffee apples, hot dogs, pies and peas, or some gingerbread.
But if you're following the 28 Day Weight Loss Challenge and are trying to lose weight at this chilly time of the year – we can help!
Today we have a handful of deliciously warming Halloween recipes from the 28 Day Weight Loss Challenge that are sure to give you a rosy glow.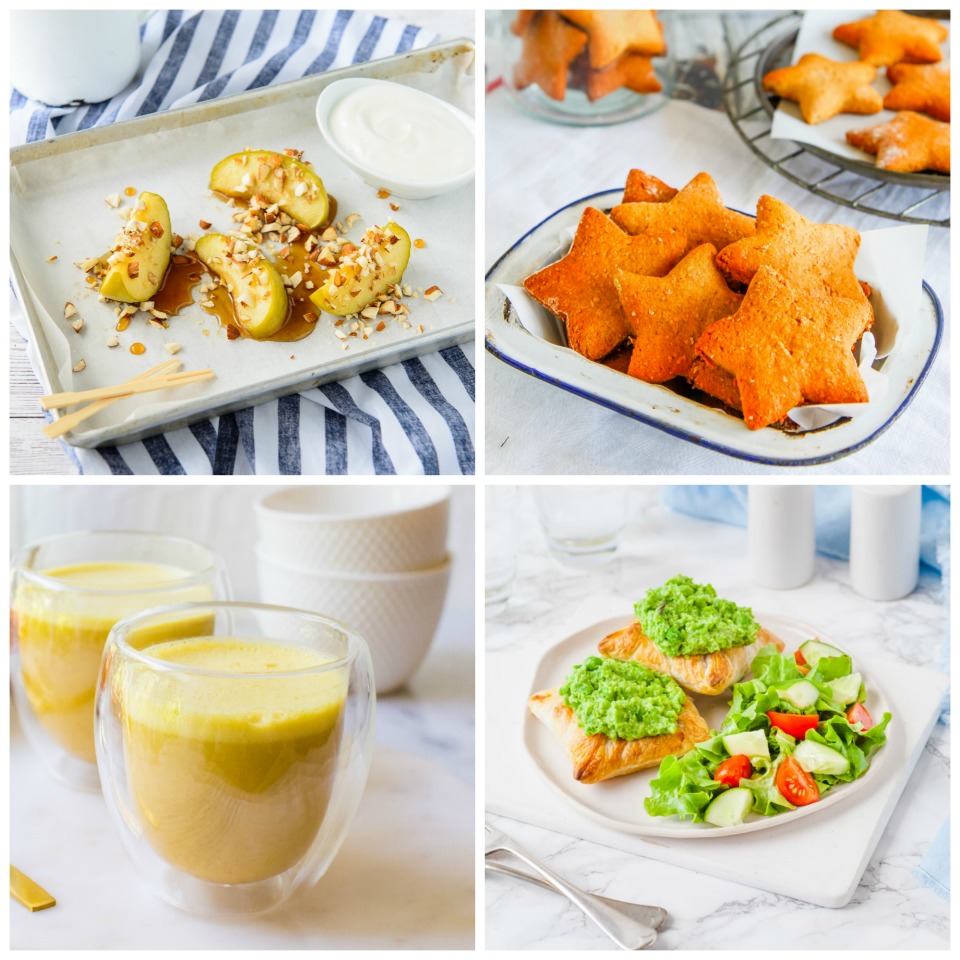 7 healthy Halloween recipes to warm you up 
Which of these will you make to keep you and your family toasty warm?
1. Warm Pumpkin Spiced Latte Smoothie (NEW recipe!)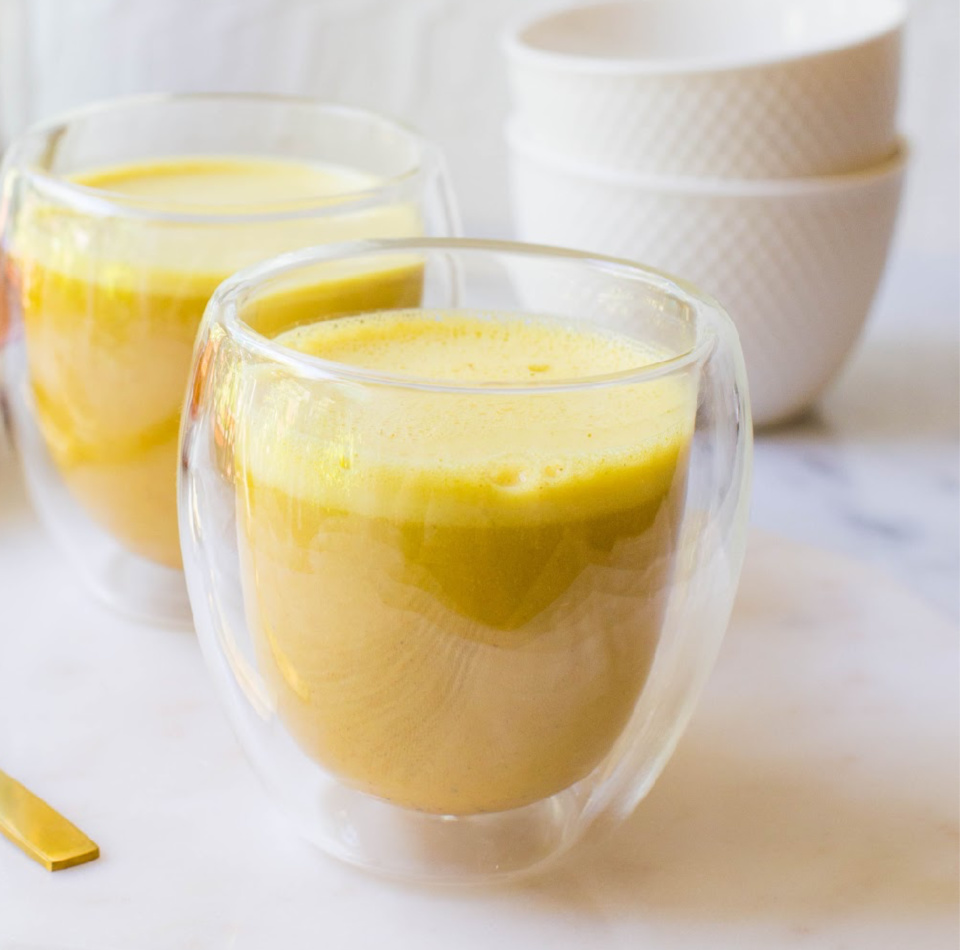 There's no need to tuck into a sugar and cream-filled drink from the café when you can make your own healthy version at home. This recipe is not in the 28 Day Weight Loss Challenge but we think you will LOVE it during the chilly months.
Now unlike in the US where you can buy pumpkin spice mix, we have to get creative and make our own! You can make it in a bigger batch (just keep the ratios similar) or to make enough for this recipe you will need:
1/2 tsp of cinnamon; 1/4 tsp ginger; 1/4 tsp nutmeg; 1/8 tsp all spice; and a tiny pinch of cloves.
Ingredients (serves 1 at 350 calories)
1 shot of coffee (30ml), optional
150ml almond milk
1/2 banana (45g)
100g pumpkin puree (or roasted pumpkin)
1 tbsp honey or maple syrup (15ml)
2 tsp vanilla extract (10ml)
2 tbsp vanilla Healthy Mummy Smoothie mix (25g)
1 tsp pumpkin pie spice (see the how-to above)
Method
Place all ingredients in a food processor or blender and mix for 2 minutes.
Pour into a saucepan over medium heat and warm through (without boiling).
Serve warm in a mug, sprinkled with some extra cinnamon.
2. Toffee Apple Crunch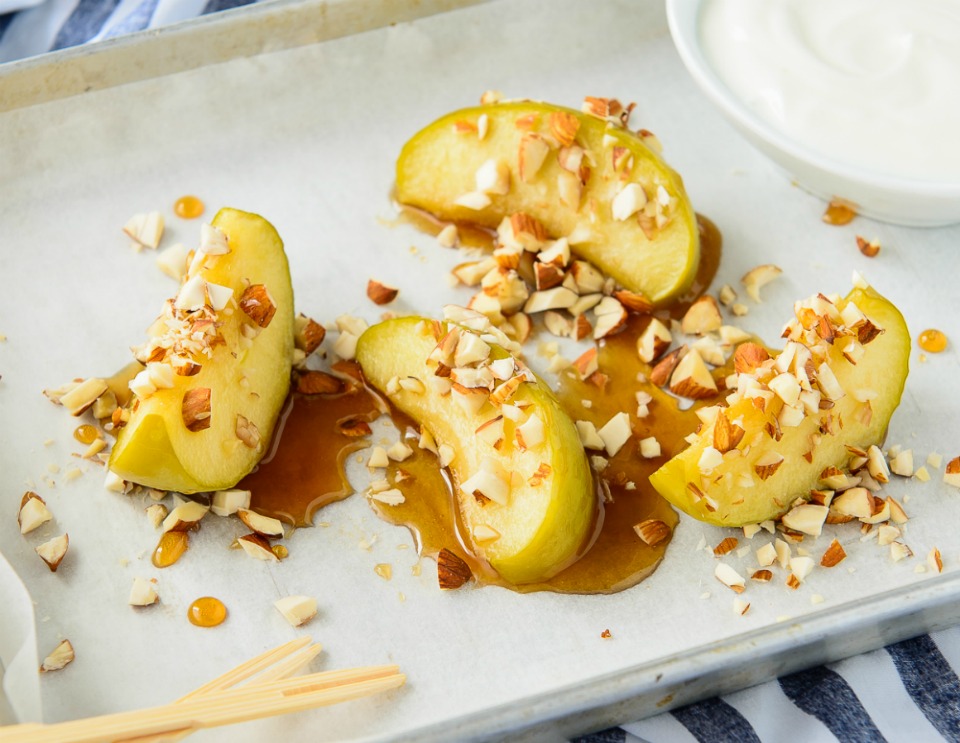 Bring back the childhood memories of toffee apples with this healthy take on the classic.
Ingredients (serves 4 at 252 calories each)
3 apples (300 grams)
1/3 cup maple syrup (83.3 mls)
1 cup almonds (120 grams)
2/3 cup reduced-fat Greek natural yogurt (173 grams)
Method
Core and slice the apple into bite sized pieces. Chop the almonds into small pieces.
In a saucepan, add the maple syrup and apple pieces, bring to a low simmer and cook for approx 3 minutes, turning the apple pieces a few times, until syrup thickens. Watch carefully to ensure the syrup doesn't burn.
Place the apple pieces on a piece of baking paper, pour over maple toffee from the pan and sprinkle with crushed almonds.
Serve with the yogurt (use a dairy free option if required) on the side.
3. Gingerbread Stars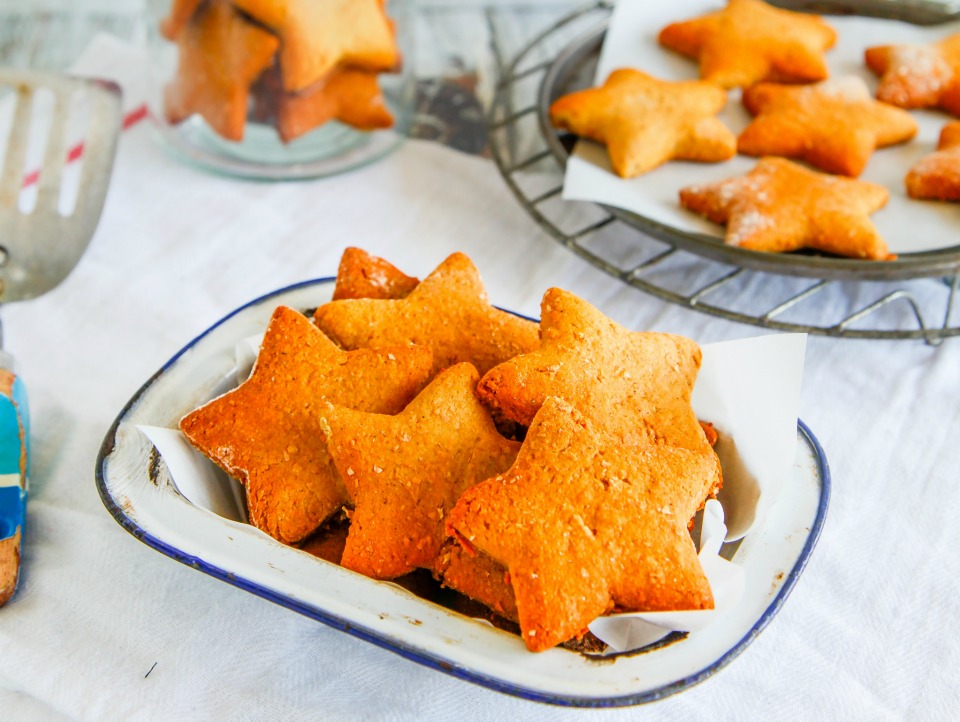 Make these into any spooky shapes you like. The kids can get involved too!
Ingredients (Makes 5 servings at 194 calories per serve)
1/2 cup plain wholemeal flour (60 grams)
1/2 cup rice flour (65 grams)
1 tsp level bicarbonate soda (2.5 grams)
1/2 tsp ground ginger (0.5 grams)
1/4 tsp mixed spice (0.3 grams)
1 tsp orange zest (4 grams)
40ml fresh orange juice
80ml honey
40ml reduced-fat milk of choice
30 grams butter
Method
Preheat oven to 160C / gas mark 3 and line a baking tray with baking paper.
Combine plain flour, rice flour and bi-carbonate soda in a bowl. Add spices and orange zest.
Place a saucepan over a low heat and add orange juice, honey, milk and butter. Stir until butter has melted. Set aside to cool.
Combine liquid mixture with dry mixture and combine well (dough will be quite firm).
Once it comes together, turn dough out onto a clean surface dusted with some flour.
Divide the dough in half and shape into 2 balls. Wrap each ball in cling film and place in the fridge for 15 minutes.
Remove from the fridge and roll out until 1cm thick. Using a small star-shaped cookie cutter, cut biscuits from dough and transfer to prepared baking tray (about 5cm apart).
Combine leftover dough, roll out and cut out more biscuits until all dough is used. You should have enough dough for approximately 10 biscuits.
Bake for 6-7 minutes until golden. Biscuits will still be soft, but will harden as they cool.
Cool on tray for 5 minutes then transfer to a wire rack. Store in an airtight container in the pantry for up to a week.
 2 biscuits makes 1 serve.
4. Healthier Hot Dog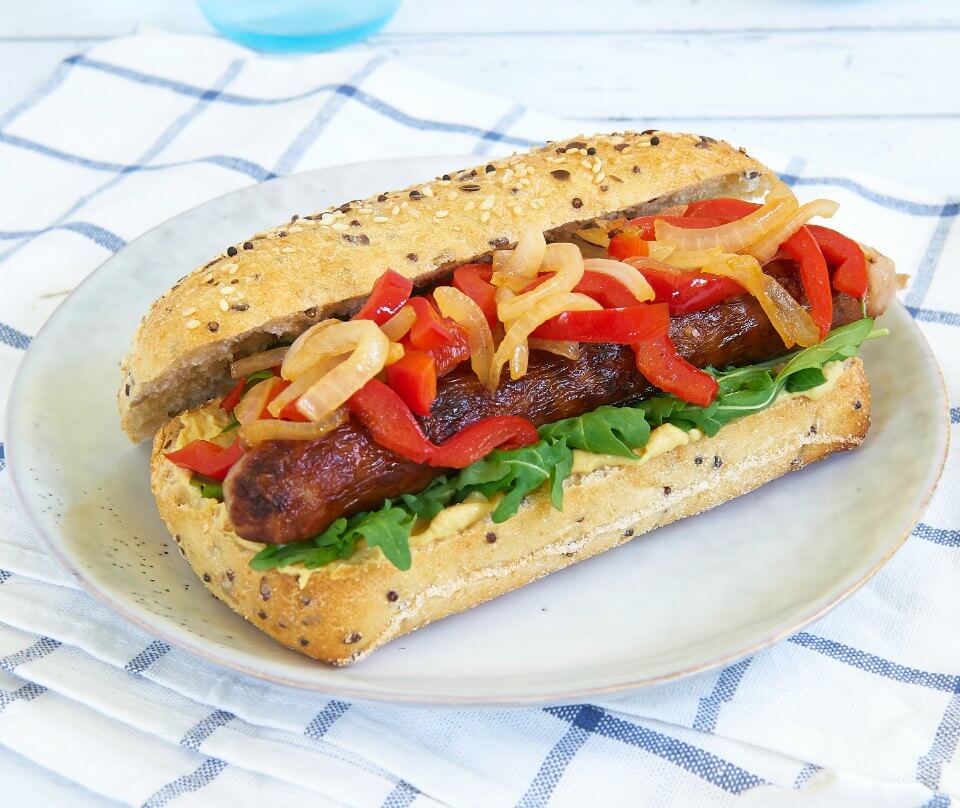 This is SUCH an easy recipe to feed the kids (and the grown ups too!).  Get the Healthier Hot Dog recipe here, it's 450 calories per serve.
5. Pumpkin Bread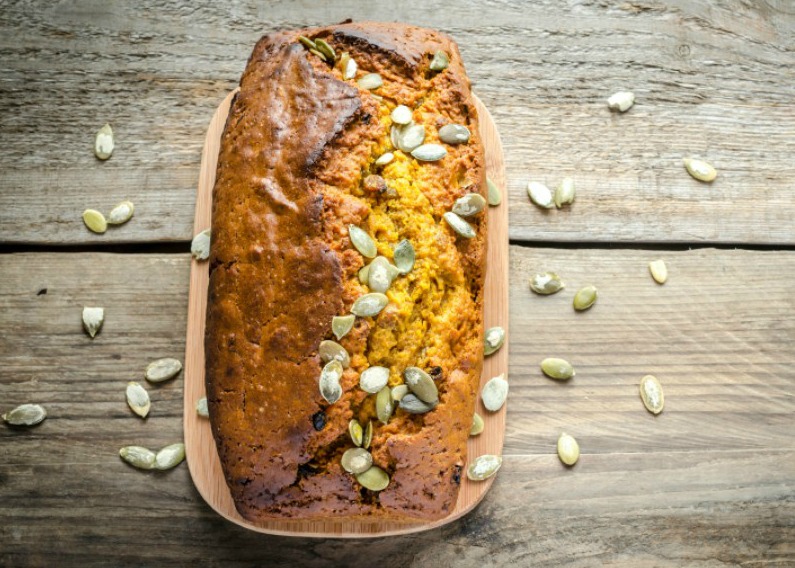 Want to make use of all that cheap pumpkin while it's on sale? This is great for sharing as it makes 16 serves.
Ingredients (Makes 16 servings at 225 calories)
420g pumpkin (or butternut squash), grated
4 free-range eggs (200 grams)
1/4 tsp ground nutmeg (0.3 grams)
60ml extra virgin olive oil
2 tsp baking powder (5 grams)
1 & 1/2 cups plain wholemeal flour (180 grams)
1 & 1/2 cups ground almonds (225 grams)
60ml maple syrup
40ml water
320 grams light cream cheese
Method
Preheat oven to 180C / gas mark 4. Line a loaf tin with baking paper.
Combine all ingredients, excluding the cream cheese, in a food processor and mix until just combined.
Pour batter into prepared tin and bake for 1 & 1⁄2 hours or until a skewer comes out clean when inserted into the centre.
Slice into 16 pieces and serve spread with a tablespoon of cream cheese.
Wrap individual slices (without cream cheese) and store in the freezer to defrost and reheat as required or store whole loaf in an airtight container in the fridge for 3-4 days.
6. Simple Beef Pie with Mushy Peas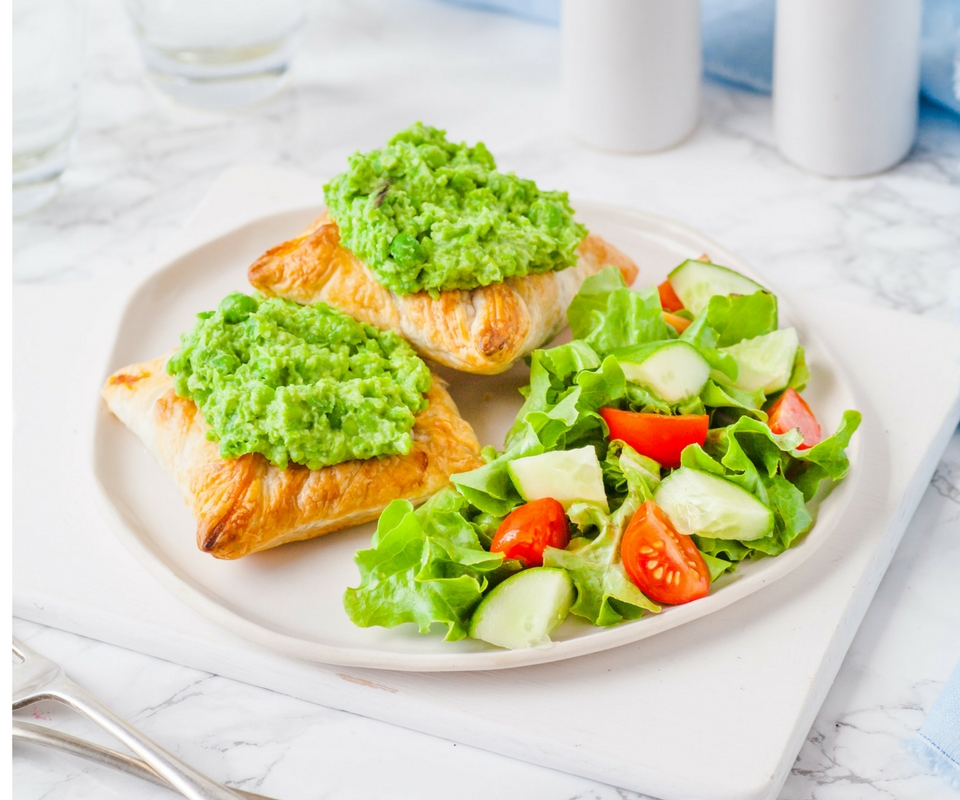 This is such a warming dish, perfect for bonfire night.
Ingredients (serves 4 at 370 calories)
20ml extra virgin olive oil
1/2 brown onion, finely diced (50 grams)
320 grams lean beef mince
2 cups mushrooms (150 grams)
4 tsp cornflour (10 grams)
40ml tomato passata
salt
pepper
1 sheet reduced-fat puff pastry (168 grams)
2 cups frozen peas (320 grams)
4 tsp reduced-fat Greek natural yogurt (20 grams)
60ml liquid beef stock, salt reduced
60ml Worcestershire sauce
4 cloves garlic, peeled and finely minced (12 grams)
Method
Preheat oven to 200C / gas mark 6.
Heat oil in a saucepan over medium-high heat, add onion and garlic and sauté for a minute or until translucent.
Add mushrooms and mince and cook, stirring to break up any lumps in the mince, for 2-3 minutes or until mince is browned.
Stir through cornflour, stock, Worcestershire sauce and tomato passata and bring to the boil.
Reduce heat to a simmer for 5 minutes until sauce has thickened slightly. Season with salt and pepper.
Lay the puff pastry on a lined baking tray, and place mince filling in the centre, bring up the sides of the pastry to form a peak and seal all the edges together.
Bake for 12 minutes or until the pastry is golden and crispy.
While pie is baking, steam peas on the stovetop or in the microwave until tender.
Mash with a fork or potato masher and combine with the yogurt.
Season with salt and pepper.
Serve pie on top of mushy peas.
7. Slow Cooked Caramel Apples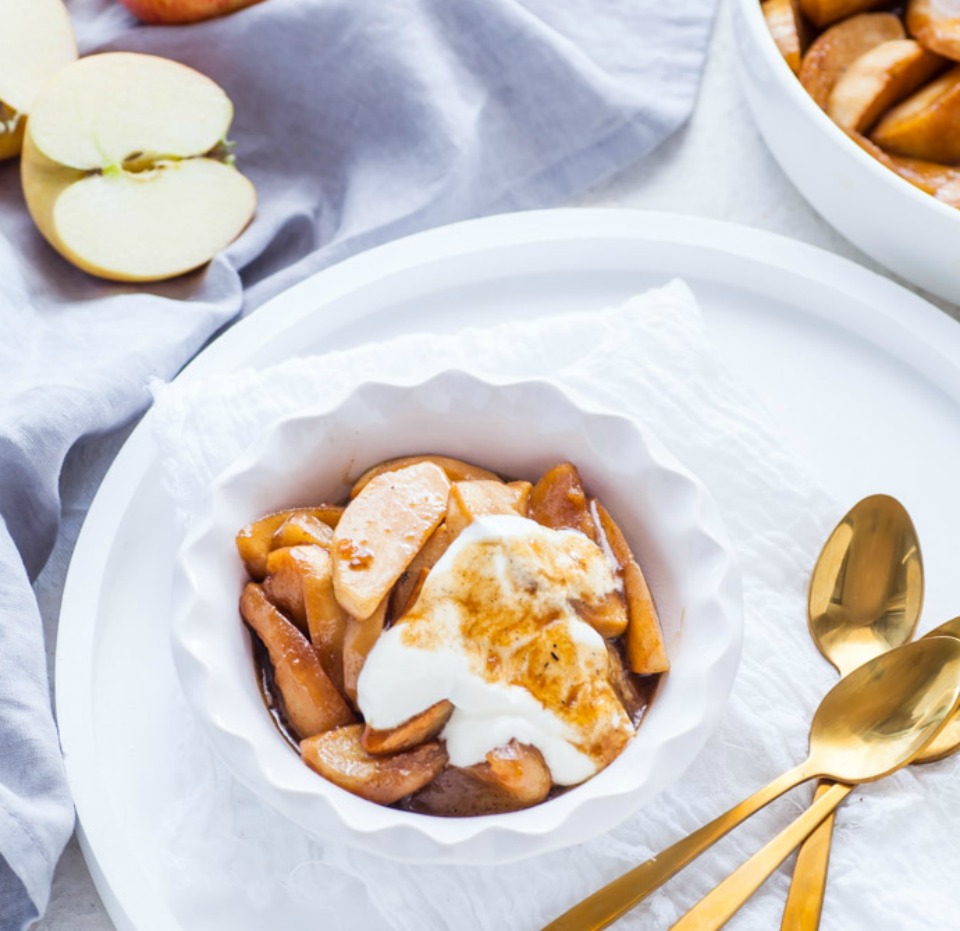 These are guaranteed to be a hit with young and old!  Prepare a big batch and then just reheat as needed.
Ingredients (serves 4 at 156 calories)
2 tbsp coconut sugar (24 grams)
4 tsp fresh ginger, grated (16 grams)
1 tsp vanilla extract (5 mls)
4 tsp butter (16 grams)
4 green apples, peeled, cored & halved (400 grams)
1/3 cup reduced-fat Greek natural yogurt (80 grams)
Method
Preheat the oven to 190C / gas mark 5.
Combine coconut sugar, ginger, vanilla, butter and apples and place in a casserole dish.
Cover and bake for approximately 1 hour, or until the apple pieces are sticky and golden.
Place apple and yogurt in bowl and drizzle with the sauce from baking to serve.
Lose weight on the 28 Day Weight Loss Challenge!
If you want to improve your overall health and wellbeing but don't have the budget for a gym membership or fancy pre-made healthy meals – our 28 Day Weight Loss Challenge is an awesome program to check out. 
Our 28 Day Weight Loss Challenge includes:
28 days of at home exercise routines (no gym needed) – with video instruction
Customisable and breastfeeding friendly meal plans
Time-efficient exercises for busy mums – under 30 mins
Challenge combines Pilates exercises with interval and circuit training (HIIT)
Suitable for basic to advanced fitness levels
Home to thousands of EASY-TO-MAKE recipes!
To learn more about our 28 DAY WEIGHT LOSS CHALLENGE CLICK HERE.