If you love American style food, you'll be happy to know that we have a TON of American-style recipes on the 28 Day Weight Loss Challenge.
And the best part is, you can enjoy things like waffles, wings, or nachos while you lose weight in a healthy way.
That's right, nothing is off limits for the 28 Day Weight Loss Challenge! Cheesecake, anyone?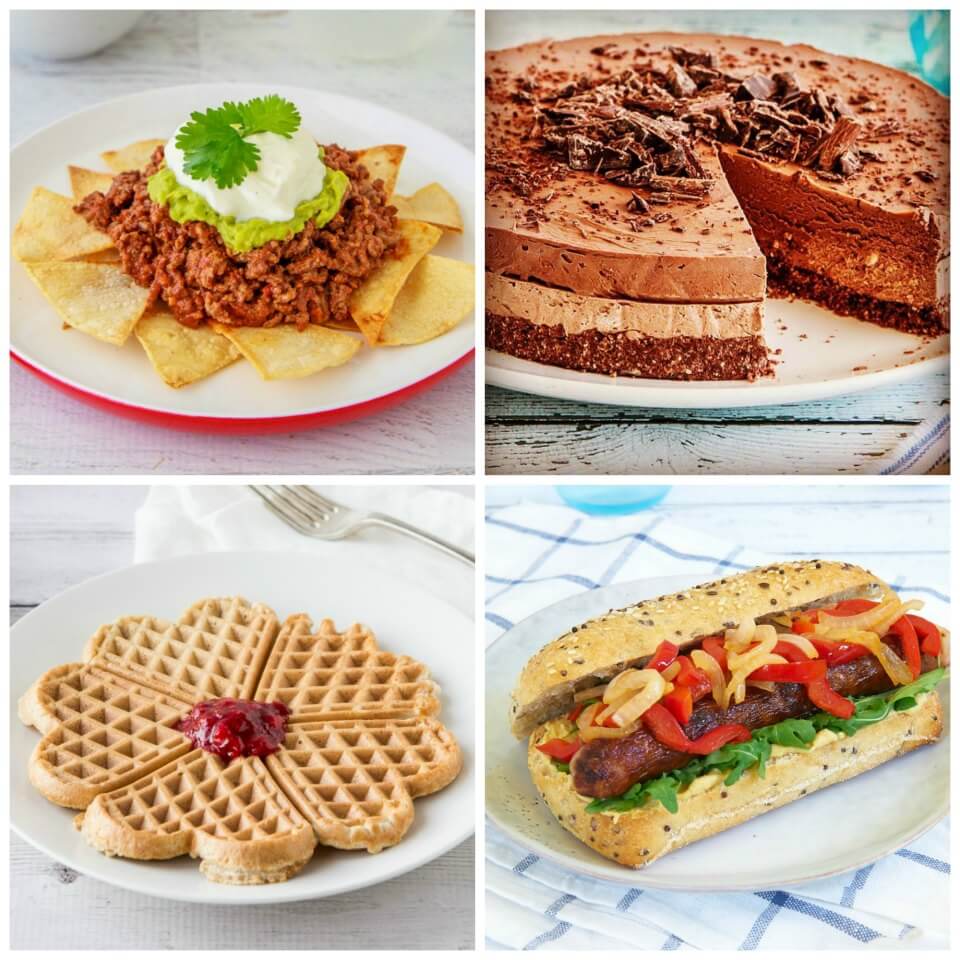 Despite the Americans being known for their love of take away style foods, you can still enjoy them even while losing weight. How so, you ask?
Well by making your own healthy versions at home, you can be tucking into the foods you love without the overdose of calories and fat that might come from the store-bought variety. All thanks to the 28 Day Weight Loss Challenge!
Guacamole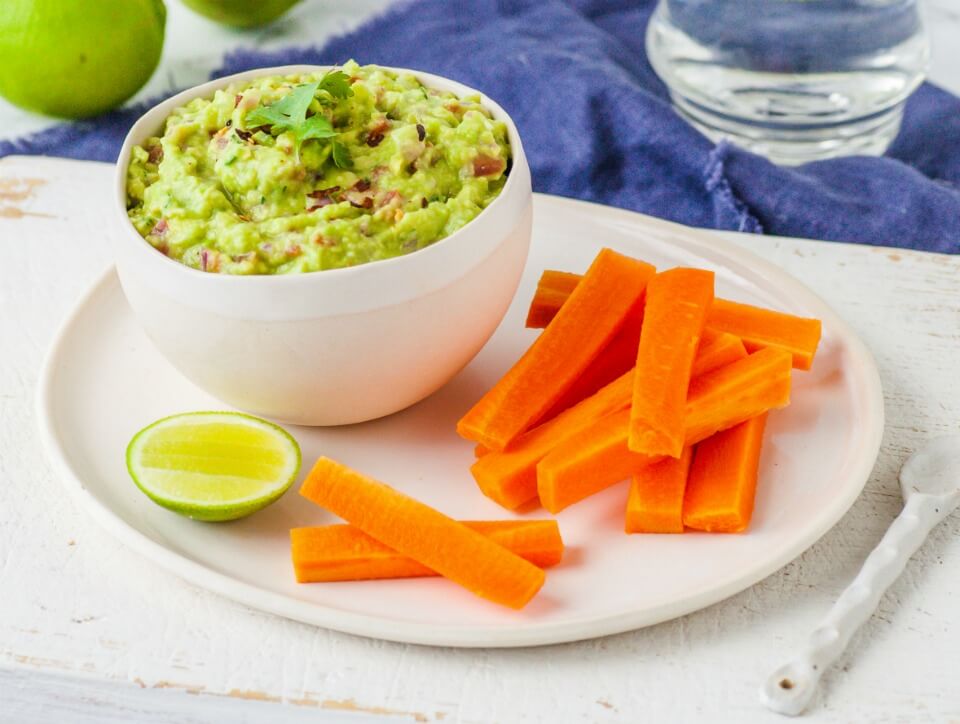 This guac has a nice kick to it from the chilli, but you can always leave that out if you prefer.
Ingredients
2 medium avocadoes, mashed (240 grams)
1/2 red onion, diced (50 grams)
2 cloves garlic, minced (6 grams)
2 tbsp lemon juice (30 mls)
2 tbsp fresh coriander, chopped (10 grams)
1 tomato, diced (100 grams)
2 tsp dried chilli flakes (2 grams)
salt
4 medium carrots (280 grams)
Method
Combine all of the ingredients, excluding the carrots, in a bowl and mix well. Season with a little salt.
Peel and slice carrots into batons and serve with the dip.
Recipe serves 4 at 161 calories per serve
Meatballs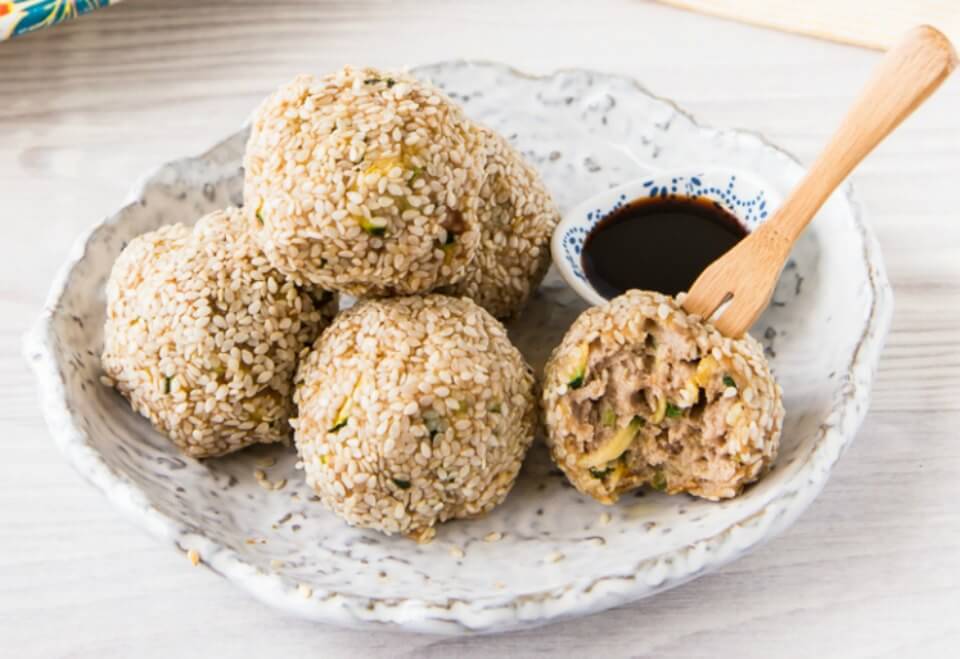 Americans love their fried meat, but we make these tasty Sesame and Chicken Balls from the 28 Day Weight Loss Challenge healthier by oven cooking them instead.
Ingredients
500 grams lean chicken mince
1 cup broccoli, the grated stem (100 grams)
1 courgette, grated (110 grams)
1 tsp fresh ginger, grated (4 grams)
1/2 clove garlic, minced (1.5 grams)
2 spring onions, chopped (30 grams)
2.5 tbsp soy sauce, salt reduced (45 mls)
1 free-range egg, lightly whisked (50 grams)
1/4 cup wholemeal breadcrumbs (15 grams)
2/3 cup black or white sesame seeds (120 grams)
2 medium carrots, sliced (140 grams)
2 cups green beans, trimmed (240 grams)
Method
Preheat the oven to 180C / gas mark 4.
Place chicken mince in a large mixing bowl and combine well with grated broccoli, courgette, ginger, garlic, spring onions, 1⁄2 the soy sauce, egg and breadcrumbs. Use your hands to mix ingredients together then roll into 24 golf-ball sized balls. Roll balls into sesame seeds to coat well and place on a lined baking tray.
Bake in oven for 15-20 minutes or until thoroughly cooked and sesame seeds have started to turn golden brown.
While meatballs are cooking, steam carrots and beans on the stovetop or in the microwave until tender.
Divide meatballs evenly between plates and serve with steamed vegetables and remaining soy sauce for dipping.
Recipe serves 6 (4 meatballs each) at 239 calories per serve
Pizza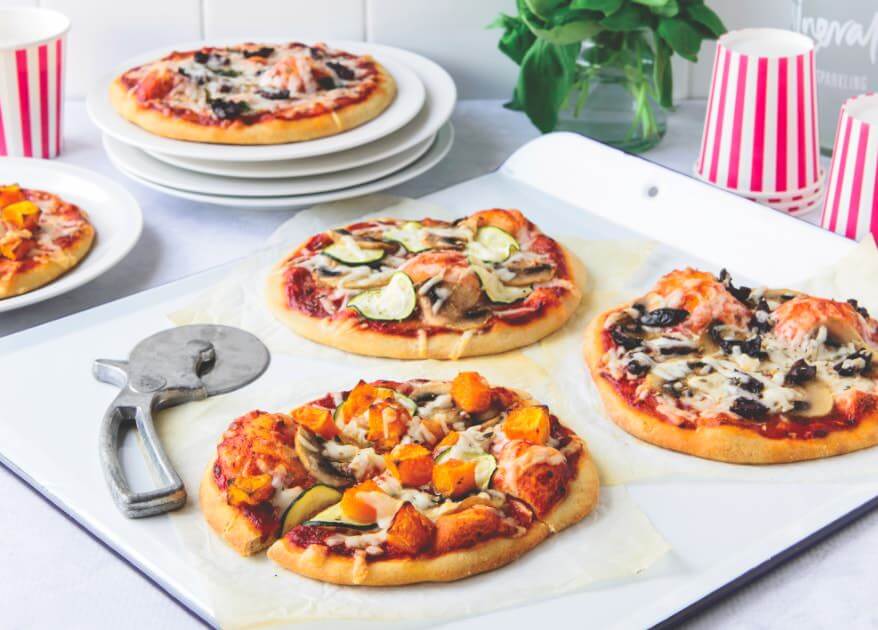 Pizza doesn't have to be an unhealthy meal – it's all about what you put on top of it (and next to it). If you aim for a few quality ingredients and not too much cheese plus a healthy salad on the side, you can't really go wrong.
Our two ingredient pizza dough recipe can be found HERE and the toppings are limited only by your imagination.
Hot Dogs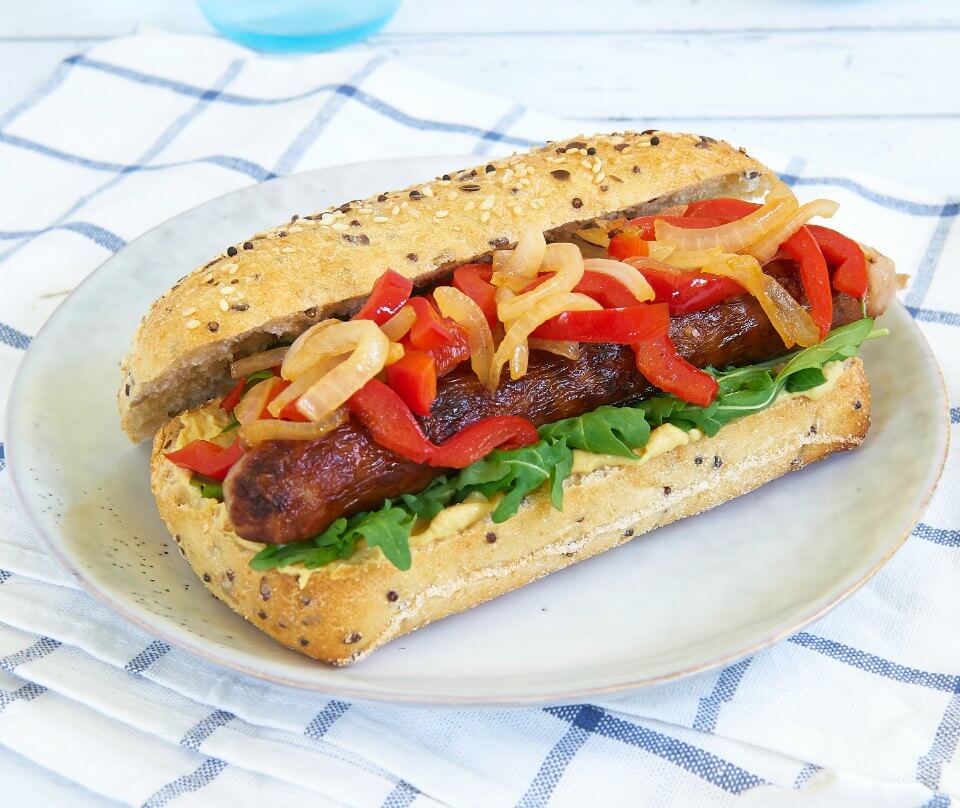 These healthier gourmet hot dogs from the 28 Day Weight Loss Challenge are great to feed a crowd when entertaining and they're delicious too. Grab some leaner sausages from the butcher to keep this recipe to just 474 calories per serve.
Ingredients
1 tbsp extra virgin olive oil (15 mls)
4 lean sausages of choice (280 grams)
2 brown onions sliced (200 grams)
2 red peppers, sliced (200 grams)
4 wholegrain long rolls (320 grams)
1 tbsp Dijon mustard (16 grams)
2 cups rocket lettuce (60 grams)
Method
Heat a frying pan or barbecue hot plate over medium-high heat. Add the oil. Add sausage and cook for 10-12 minutes or until cooked through. Remove from the pan.
Add the onion and red pepper to the pan and reduce heat to low. Cook for about 5-6 minutes or until veggies are very tender.
Slice the roll(s) down the centre and spread one side with the mustard. Add the rocket lettuce. Top with sausage and cooked onion and red pepper to serve.
Recipe serves 4 at 474 calories per serve.
Nachos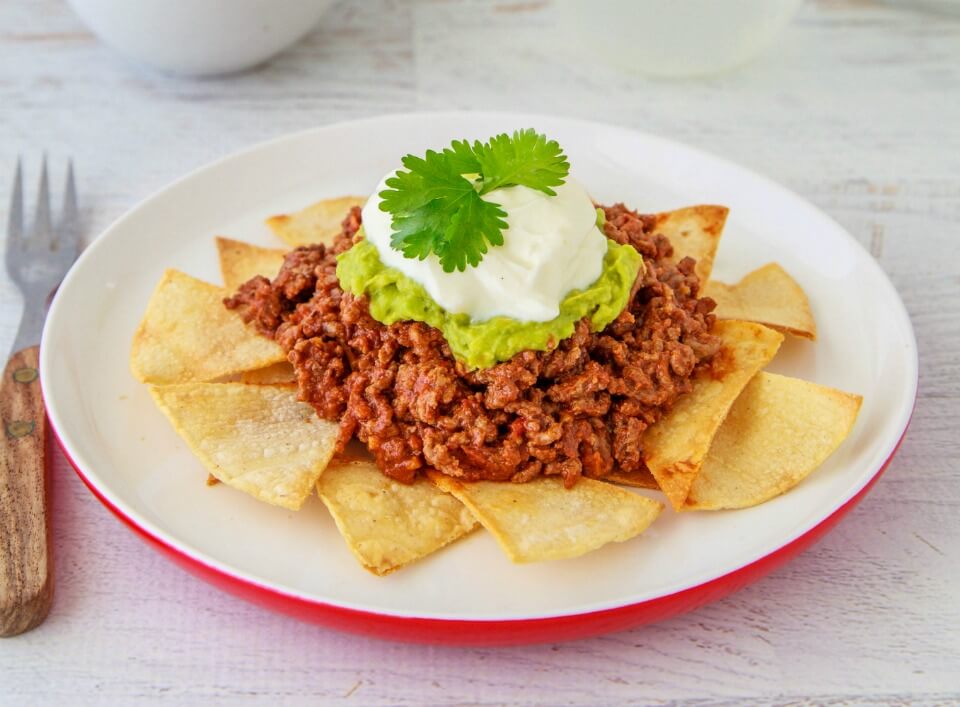 It wouldn't be a US menu without some classic nachos thrown in now would it? Perfect for sharing with the whole family, these beef nachos actually work with any type of mince that you have on hand (or use any tinned legumes to make it vegetarian).
Ingredients
400 grams lean beef mince
2.5 tbsp tomato passata (45 mls)
4 tsp Mexican spice mix (4 grams)
8 small corn tortillas (192 grams)
1 medium avocado, mashed (120 grams)
4 tbsp reduced-fat Greek natural yogurt (60 grams)
Method
Heat a non-stick frypan over medium-high heat. Lightly spray with cooking oil spray. Add mince and brown, breaking up any lumps. Add Mexican spice mix and tomato passata. Reduce heat to low and simmer for 15-20 minutes until flavours have combined.
Preheat oven to 180Cgas mark 4. Cut tortillas into triangles and place on a lined baking tray. Bake in oven for around 3-5 minutes each side, until crisp.
Place tortilla chips into a serving bowl and top with mince, mashed avocado and yogurt to serve.
Recipe serves 4 at 402 calories per serve
Wings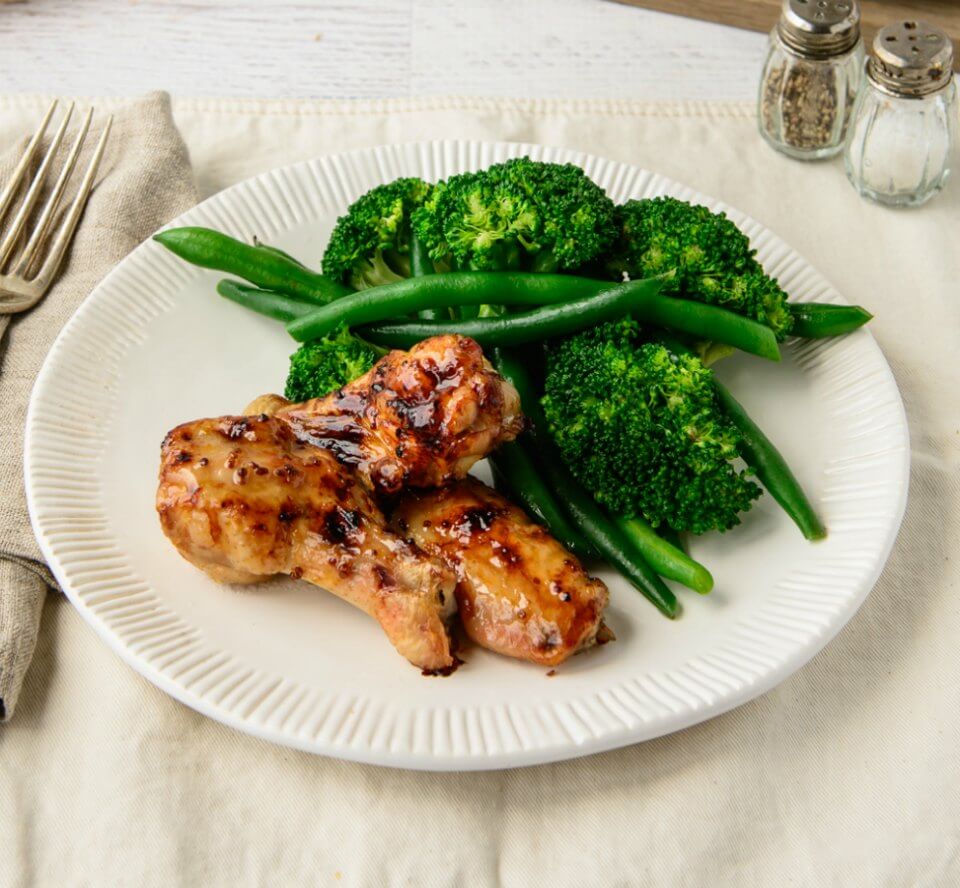 This Honey Mustard Chicken Wings recipe from the 28 Day Weight Loss Challenge can easily be doubled or even tripled to feed a crowd. Just a few simple ingredients are all you need.
Ingredients
960 grams chicken wings
cooking oil spray
1/3 cup honey (83.3 mls)
1 tbsp wholegrain mustard (16 grams)
2.5 tbsp lemon juice (45 mls)
salt
pepper
2 cups green beans, trimmed (240 grams)
2 cups broccoli (200 grams)
Method
Preheat oven to 200C. Place chicken wings on a lined baking tray and spray with cooking oil spray.
Place in the oven for 20 minutes.
While chicken is baking, place honey, mustard, lemon juice and some salt and pepper into a saucepan and heat over medium heat. Stirring until well combined, around 2-3 minutes.
After 20 minutes of baking, remove the chicken wings from the oven and coat each piece with the honey mustard sauce using a basting brush.
Return wings to the oven and bake for another 20 minutes, turning part way through cooking if required for even cooking.
When chicken wings are almost ready, steam beans and broccoli florets in the microwave or on the stovetop until tender crisp.
Serve chicken wings with green veggies on the side, drizzling over any cooking juices.
Recipe serves 4 at 435 calories per serve
Cheesecake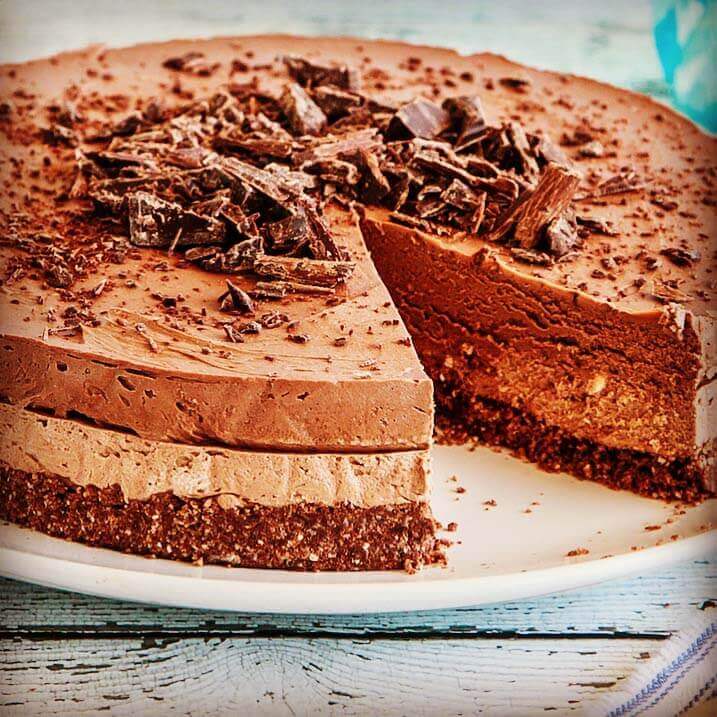 Not just any cheesecake, but our famous TRIPLE chocolate cheesecake from the 28 Day Weight Loss Challenge.  Using healthy ingredients it comes in at only 200 calories per serve – so go ahead and treat yourself!
Waffles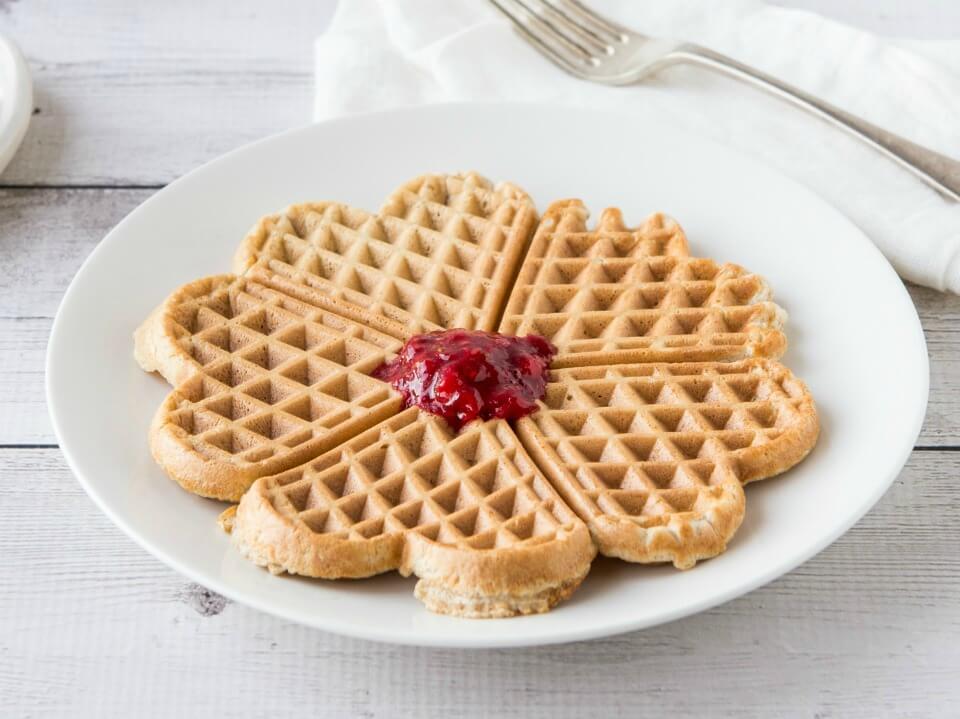 Heat up your waffle iron because this American classic is going to be popular with your whole family! If you don't have a waffle maker for these Vanilla & Cinnamon Waffles you can just cook them like pancakes in a frying pan instead.
Ingredients
1/3 cup plain wholemeal flour (40 grams)
1 tsp baking powder (2.5 grams)
1/2 cup reduced-fat milk of choice (125 mls)
1/2 tsp cinnamon (0.5 grams)
1 tsp vanilla essence (5 mls)
1 free-range egg (50 grams)
3 tsp strawberry jam, sugar free or low sugar (12 grams)
Method
Whisk flour, baking powder, milk, cinnamon, vanilla essence and egg until smooth.
Heat a waffle maker as per directions and pour in a third of the batter, cooking for 5 minutes or until golden and crispy. If you don't have a waffle maker heat a frypan over medium-high and lightly spray with cooking oil. Pour in a third of the batter and cook until bubbles form on the surface, then flip over and cook on the other side for a minute or two, until golden. Repeat with remainder of the batter to make 3 waffles (or pancakes).
Spread each waffle (or pancake) with a teaspoon of jam to serve. One waffle (or pancake) is one serve
Recipe serves 3 at 144 calories per serve