The 28 Day Weight Loss Challenge has over 350 exercise routines plus full-length guided video workouts that can be completed at home or on the move – all available in our amazing 28 Day Weight Loss Challenge App.
There are workouts for all types of mums; postnatal or those with older children, as well as levels for beginners through to advanced. Challenge workouts focus on all areas of the body including the core, butt and thighs, and lower and upper body. Inside the Challenge App you can try HIIT, Pilates, TABATA, DanceFit, and much more.
PLUS YOU NOW WILL GET 6 NEW BOX JUMP WORKOUTS! 
And for a LIMITED TIME, you can join for a SUPER LOW RATE come see what everyone is talking about on the 28 Day Weight Loss Challenge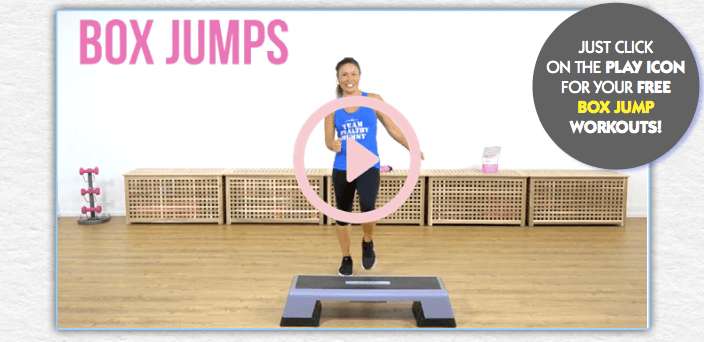 Box jump workouts – ideal for busy mums who want to burn calories FAST
The Healthy Mummy Box Jump workouts are short routines, ideal for busy mums who want to work on burning more calories in a short period of time, building strength and increasing calorie burning even after the workout has finished.
You don't need specific equipment to complete these workouts, you can use a low wall, park bench, a step or a solid piece of outdoor furniture.
Plyometric (box jump) training is great to build strength and helps to burn fat in a shorter period of time as the high intensity interval training (HIIT) style of the workouts creates a longer calorie after burn. With a HIIT workout you will burn more calories in a shorter amount of time compared with doing a basic cardio session, as well as burning calories for up to the next 36 hours afterwards.
The Healthy Mummy Box Jump workouts on the 28 Day Weight Loss Challenge are made up of powerful speed strength moves. These help to build lean muscle and burn more fat for a toned and healthy body.
Each workout is approximately 5 minutes long so are great to fit in after a walk, jog or other cardio activity you may include in your day. They are a different style of workout, so are fun and perfect to do outdoors, at the park, getting the kids to copy you too!