The 28 Day Weight Loss Challenge has over 350 exercise routines plus full-length guided video workouts that can be completed at home or on the move – all available in our amazing 28 Day Weight Loss Challenge App.
There are workouts for all types of mums; postnatal or those with older children, as well as levels for beginners through to advanced. Challenge workouts focus on all areas of the body including the core, butt and thighs, and lower and upper body. Inside the Challenge App you can try HIIT, Pilates, TABATA, DanceFit, and much more.
PLUS YOU NOW WILL GET 6 NEW BOX JUMP WORKOUTS! 
And for a LIMITED TIME, you can join for a SUPER LOW RATE come see what everyone is talking about on the 28 Day Weight Loss Challenge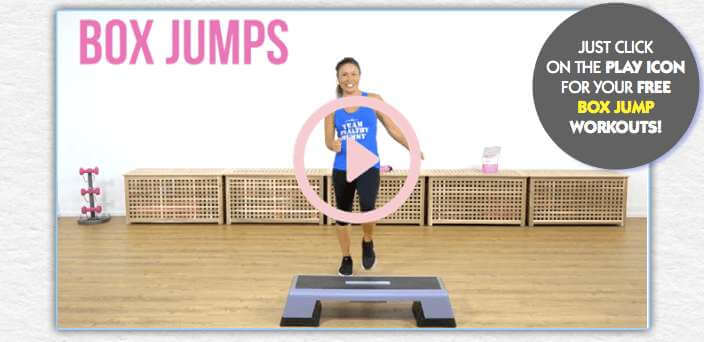 Box jump workouts – ideal for busy mums who want to burn calories FAST
The Healthy Mummy Box Jump workouts are short routines, ideal for busy mums who want to work on burning more calories in a short period of time, building strength and increasing calorie burning even after the workout has finished.
You don't need specific equipment to complete these workouts, you can use a low wall, park bench, a step or a solid piece of outdoor furniture.
Plyometric (box jump) training is great to build strength and helps to burn fat in a shorter period of time as the high intensity interval training (HIIT) style of the workouts creates a longer calorie after burn. With a HIIT workout you will burn more calories in a shorter amount of time compared with doing a basic cardio session, as well as burning calories for up to the next 36 hours afterwards.
The Healthy Mummy Box Jump workouts on the 28 Day Weight Loss Challenge are made up of powerful speed strength moves. These help to build lean muscle and burn more fat for a toned and healthy body.
Each workout is approximately 5 minutes long so are great to fit in after a walk, jog or other cardio activity you may include in your day. They are a different style of workout, so are fun and perfect to do outdoors, at the park, getting the kids to copy you too! 
BOX JUMP SAFETY
As always, before starting any new form of exercise, be sure to get the all clear from your medical practitioner. Do not perform the Box Jump workouts if you've had any recent back or knee inuries, until you've had the all clear by your physio, GP or specialist.
With the Box Jump workouts, be sure to follow the instructions from Wendy Smith, our fitness trainer, as she'll advise you of correct positions and technique. 
Box Jump workouts are well suited to those with a high level of fitness but will also suit a beginner level – just start things slowly and continue with the Beginner workouts until you feel ready to move to the Intermediate/Advanced options.
At any stage during the workouts, if you feel pain in your back or joints, please pause and rest, choose an easier option provided, or just stretch until the next exercise.
HOW OFTEN TO INCLUDE A BOX JUMP WORKOUT
Try and add a Box Jump workout twice a week when scheduling in your weekly exercise. Have a day off in between each Box Jump workout and as you increase your fitness and strength you can increase to 3-4 days with one of these workouts.
Start with a warm up of a short walk, slow jog or similar, perform a round or two of the Box Jump workout and then finish with some stretching and another cool down walk/jog/swim etc.
GIVE THIS WORKOUT A GO TODAY…FOR FREE
If you LOVE this work out click on the link to learn more about the 28 Day Weight Loss Challenge