Here at The Healthy Mummy HQ we are all busy mums like you. So when a recipe like this 2 Ingredient Homemade Pizza Dough comes along on the 28 Day Weight Loss Challenge, we just HAVE to share it.
If you haven't got yeast in the house, or don't have time to wait around for dough to rise, or you just love the flavour – this is your new go-to recipe.
On the 28 Day Weight Loss Challenge, we have SO MANY pizza recipes that are healthy and family-friendly! Use this recipe as your base and let your imagination run wild for the toppings.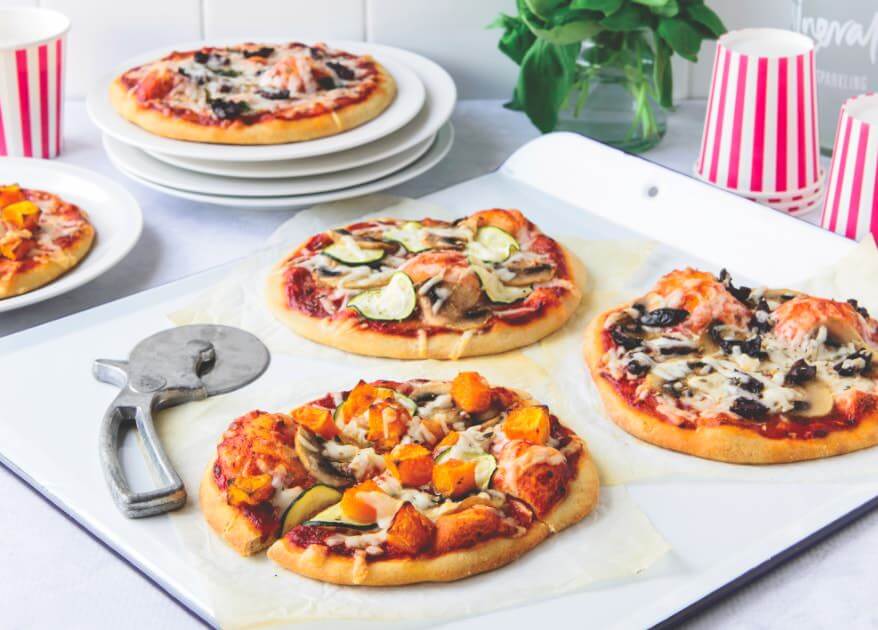 Just self raising flour and natural or Greek yogurt is all you need to make this 2 Ingredient Homemade Pizza Dough from the 28 Day Weight Loss Challenge. The kids will love mixing this up in a big bowl, kneading it, and then rolling it out into the traditional pizza shape.
Who knew making your own pizza dough could be so easy? Pizza doesn't have to be an unhealthy meal.  It's all about what you put on top of it (and next to it).
If you aim for a few quality ingredients + not too much cheese + a healthy salad on the side + sparkling water to wash it down = you can't really go wrong.
Ingredients
1

cup

self raising flour,

plus extra for kneading (120 grams)

1

cup

Greek or natural yogurt (260 grams)
Method
Combine the ingredients in a large bowl and bring together with your hands.

On a floured surface, knead the dough for around 5 minutes until it feels stretchy. Add a little more flour if it seems too wet.

Use a floured rolling pin to roll the dough out.

Top with your favourite toppings and bake in the oven at 180C until golden brown.
Recipe makes one pizza, to serve 4 people, at 151 calories per serve (base only).
Get your FREE Meal Prep Recipe Pack
If you want to get into meal prep join our 28 Day Weight Loss Challenge.