The mums from Healthy Mummy HQ have a plan. We want to encourage you to join us to try marketing pumpkin to kids as the must-have vegetable for Halloween.
Renaming your recipes is a (slightly sneaky) way to encourage little ones to try new things. Why not try some of these recipes out and see if you can get them hooked on the sweet flavour of pumpkin?
Check out these recipes from the 28 Day Weight Loss Challenge!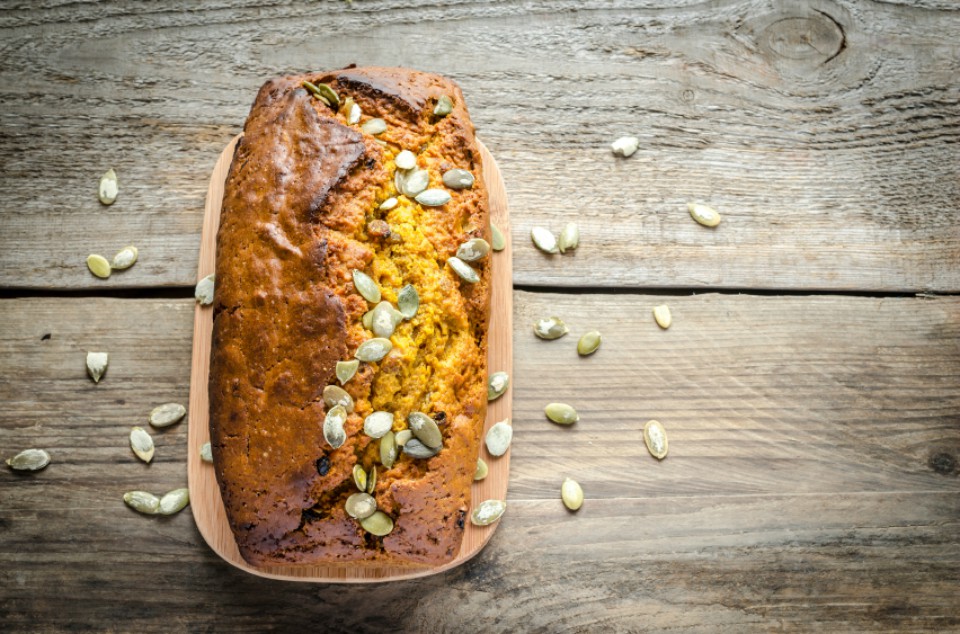 5 deliciously healthy pumpkin recipes for Halloween
1. Spooky Pumpkin Pizza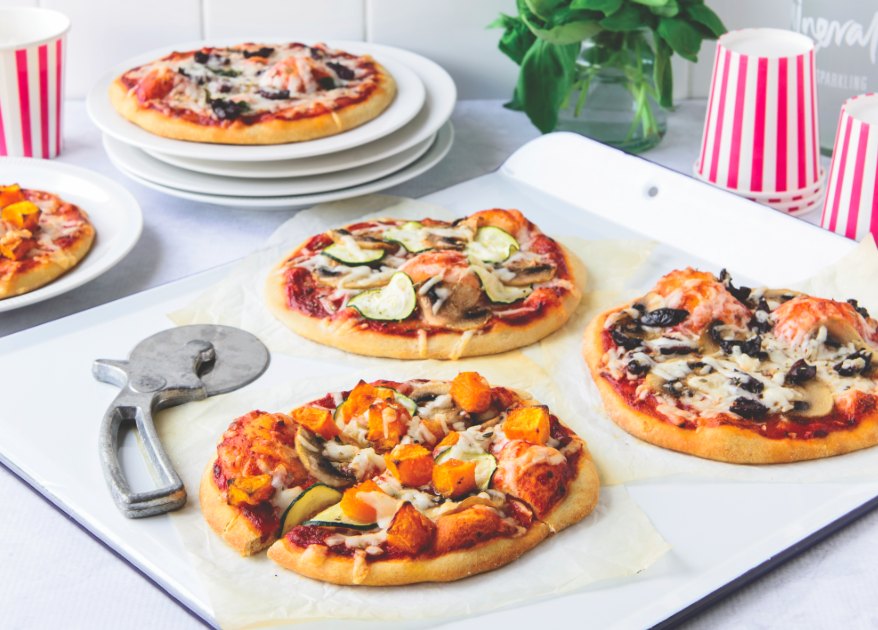 Pizza doesn't have to be an unhealthy meal if you make it yourself. Our pizza dough needs just two ingredients, and then you just top it with tomato paste, roasted pumpkin, and grated cheddar before baking.
Get the recipe HERE.
2. Ghoulish Chocolate Pumpkin Mud Cake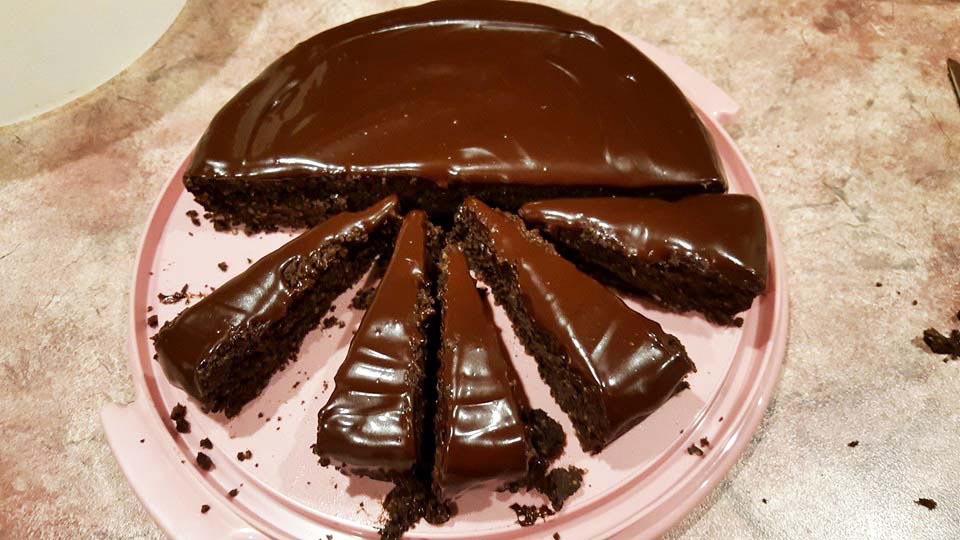 Here's a creative, healthy and delicious baking recipe that you could serve up over Halloween. Most people wouldn't be able to guess the secret ingredient!
Ingredients (makes 20 servings)
1kg pumpkin (or butternut squash)
cooking oil spray
250 grams dark chocolate (70%)
120ml coconut oil, melted
145ml rice malt syrup or honey
3 tsp vanilla extract (15 mls)
1 cup cacao/cocoa powder (100 grams)
2 cups rolled oats (200 grams)
2 tsp baking powder (5 grams)
1/4 cup water (62.5 mls)
Method
Preheat oven to 180C / gas mark 4.
Remove peel and seeds from pumpkin and chop into 2.5cm cubes. Place on a lined baking tray and lightly spray with oil. Roast in preheated oven for 45 minutes to 1 hour (depending on size of pieces) until pumpkin is dark orange and can easily be mashed. Place pumpkin in a bowl and use a stick mixer or food processor or simply mash by hand to form a puree.
Line a cake tin and lightly spray with oil (use a springform tin if you have one).
Place half the chocolate, coconut oil, 130ml of the rice malt syrup and 2 teaspoons of vanilla extract in a saucepan over medium heat and stir occasionally until chocolate has melted and ingredients are well combined.
Remove from heat and mix in pumpkin puree.
Place oats, cocoa, and baking powder in a food processor and blitz to a fine powder.
Combine wet and dry ingredients to make the cake batter.
Pour into the prepared tin and level out. Bake in the preheated oven for 25 minutes or until cake top bounces back when touched. Let cool for 10 minutes in the pan before turning out on a wire rack.
While cake is cooling, add remaining chocolate with the water to a saucepan over medium heat and stir until chocolate has melted and has thickened slightly.
Add remaining tablespoon of rice malt syrup and teaspoon of vanilla extract and combine well. The mixture should resemble a ganache.
Spread over cooled cake.
If you like a really dense cake, refrigerate for 30 minutes before serving.
Slice into 20 pieces. 1 piece is 1 serve. Can be served with a dollop of Greek yogurt if you like.
208 calories per serve
3. Sweet and Scary Sticky Pumpkin Muffins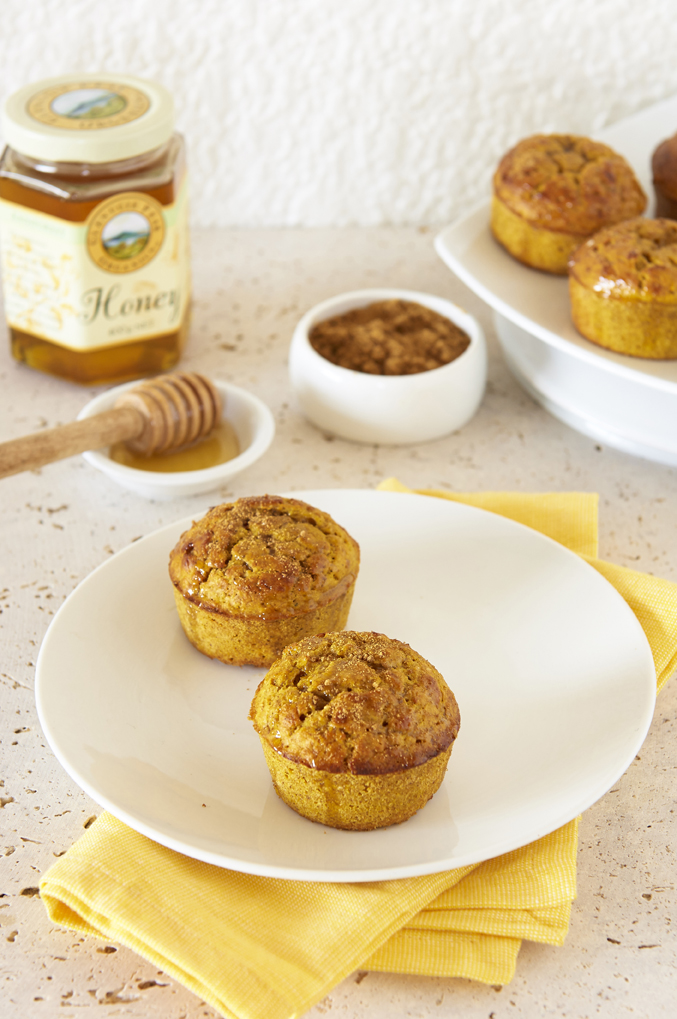 These delish muffins work equally well as a morning or afternoon tea. Sweet and sticky, little hands won't be able to resist giving them a go.
Ingredients (makes 12)
1 cup pumpkin or butternut squash (120 grams)
cooking oil spray
3 tsp cinnamon (3 grams)
2 free-range eggs (100 grams)
3 tbsp reduced-fat Greek natural yogurt (45 grams)
3 tbsp coconut oil (45 mls)
1 tsp ground nutmeg (1 grams)
3/4 cup reduced-fat milk of choice (180 mls)
1 tsp vanilla extract (5 mls)
2 tbsp Healthy Mummy Smoothie Mix Vanilla (25 grams), optional
3 tbsp honey (45 mls)
4 tsp Natvia (available from Tesco) (16 grams)
1 & 1/4 cups wholemeal self-raising flour (150 grams)
2 tsp coconut sugar (8 grams)
Method
Preheat oven to 140C / gas mark 1.
Lightly spray 12 holes of a muffin tray.
Steam butternut squash until tender.
Place one teaspoon of the cinnamon, eggs, yogurt, coconut oil, nutmeg, milk, vanilla extract, smoothie powder, half of the honey, steamed squash and Natvia into a blender or food processor. Blend until well combined.
Pour batter into a bowl, and slowly fold in the self-raising flour.
Divide batter evenly into prepared tray holes and bake for 15 minutes or until slightly browned.
Warm remaining honey. Turn muffins out onto a cooling rack and drizzle with warmed honey, and then sprinkle with coconut sugar and remaining cinnamon.
1 muffin is 1 serve.
Store leftovers in an airtight container in the fridge for 2-3 days. Can reheat muffins in the microwave and drizzle over toppings when ready to serve.
115 calories per serve.
4. Scary Pumpkin Bread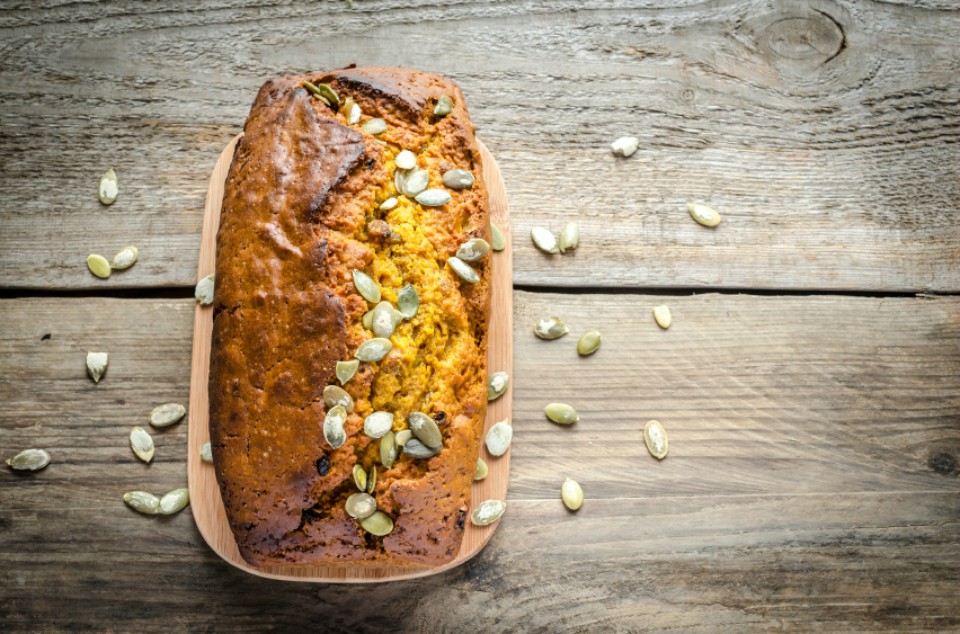 For a great morning tea idea, this healthy bread is sure to be a hit with all ages. It also freezes well.
Get the recipe HERE.
5. Totally Creepy Roasted Pumpkin Hummus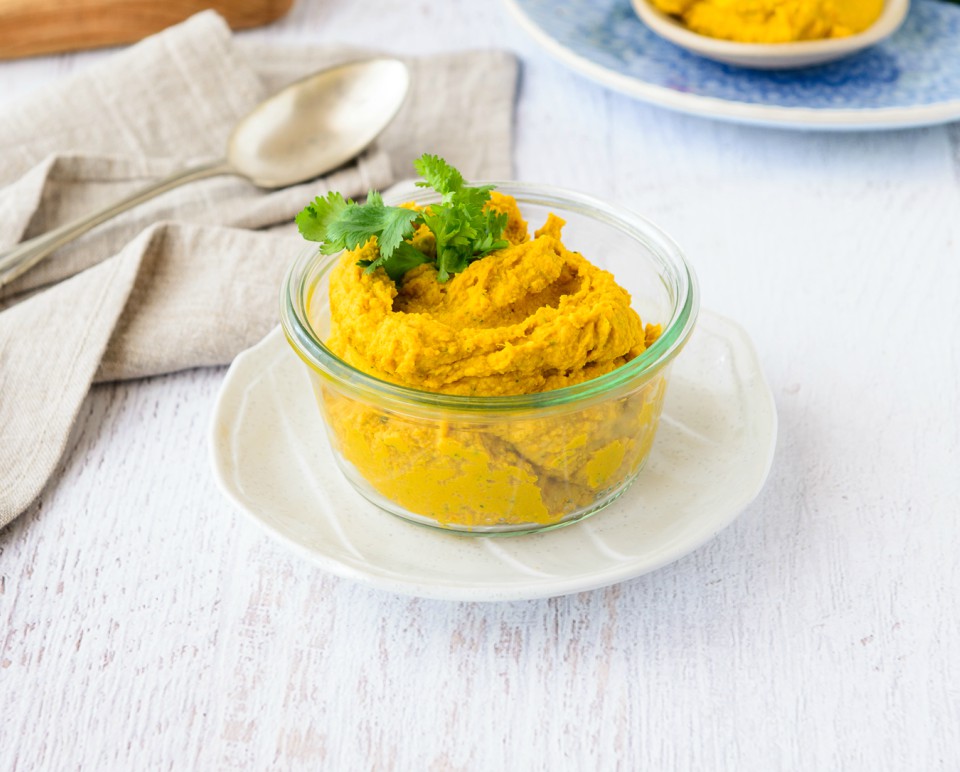 If you want to mix things up from the traditional hummus, this dip is a great option.
Ingredients (makes 4 serves)
1 & 1/2 cups pumpkin or butternut squash (180 grams)
cooking oil spray
200 grams tinned chickpeas
1/2 clove garlic (1.5 grams)
1 tablespoon tahini (16 grams)
2 tsp lemon juice (10 mls)
1/2 tsp ground cumin (0.5 grams)
1/2 tablespoon fresh coriander (2.5 grams)
2 red peppers (200 grams)
1 cucumber (200 grams)
Method
Preheat oven to 180C / gas mark 4.
Cut and peel the pumpkin, spray lightly with cooking oil and roast on a lined baking tray for 25 minutes.
Add garlic to pan for the last 10 minutes of roasting.
Remove tray from the oven and place butternut squash and chickpeas in a food processor.
Squeeze roasted garlic out of it's skin and add to processor with tahini, lemon juice, ground cumin and coriander.
Process on high until smooth, adding a bit of water if necessary.
Divide into quarters and store in the fridge or freezer in airtight containers.
Serve one portion of dip with a 1/4 of a sliced cucumber and 1/2 of a red pepper cut into batons.
127 calories per serve
Lose weight on the 28 Day Weight Loss Challenge!
If you want to improve your overall health and wellbeing but don't have the budget for a gym membership or fancy pre-made healthy meals – our 28 Day Weight Loss Challenge is an awesome program to check out. 
Our 28 Day Weight Loss Challenge includes:
28 days of at home exercise routines (no gym needed) – with video instruction
Customisable and breastfeeding friendly meal plans
Time-efficient exercises for busy mums – under 30 mins
Challenge combines Pilates exercises with interval and circuit training (HIIT)
Suitable for basic to advanced fitness levels
Home to thousands of EASY-TO-MAKE recipes!
To learn more about our 28 DAY WEIGHT LOSS CHALLENGE CLICK HERE