There is nothing better than a delicious turkey or ham on Christmas day. All too often though, we find ourselves drowning in leftovers come Boxing day. Coming up with new and inventive ways of reusing the leftovers from the Christmas feast can be a challenge. The trick is to use them in a completely different way to how you first served them, creating a whole new meal.
If you need some inspiration for putting all those leftovers to good use,  here are 6 great recipe ideas to help you transform your leftover turkey or surplus ham into delicious and healthy meals.
1.Creamy Leftover Turkey Spaghetti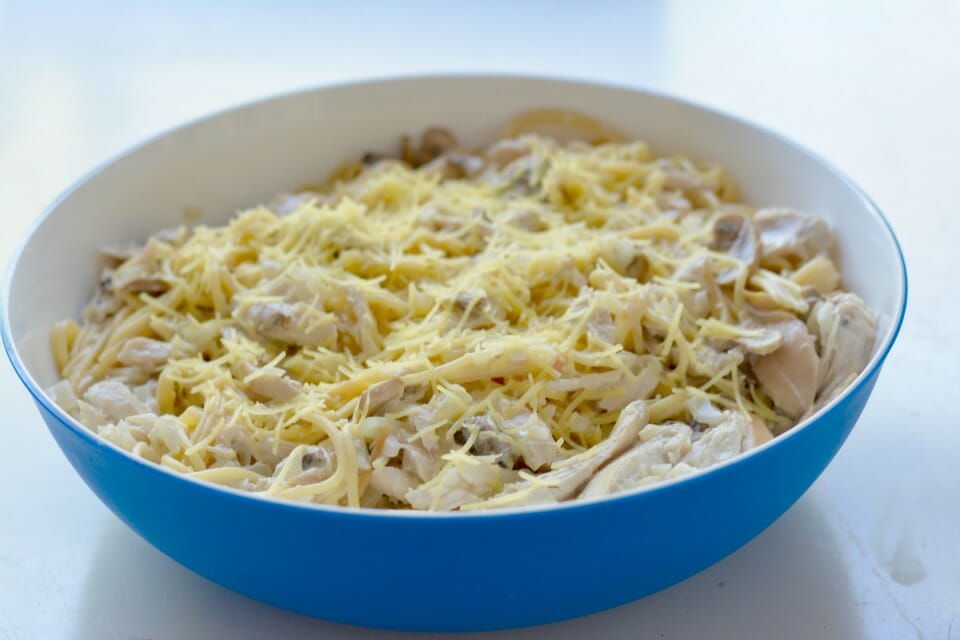 This delicious Turkey Spaghetti is beautifully creamy but won't undo all of your hard work of eating well over the festive season. You can also use chicken if you prefer. A perfect quick dinner for those busy days after Christmas.
As part of our 28 Day Weight Loss Challenge, you can enjoy lots of festive recipes that are suitable for the whole family.
Ingredients
250g spaghetti (or any pasta, wholemeal is best)
1 large onion, peeled and diced
2 sticks chopped celery
4 cloves garlic crushed
1 tsp olive oil
1 cup sliced mushrooms
2 cups light milk
sea salt and pepper
1/2 cup Philadelphia light cream cheese
1/6 cup grated Parmesan Cheese grated
3 cups flaked cooked turkey breast
Instructions
Cook the spaghetti. Then in a large pan lightly cook the onion, celery and garlic in the olive oil. Next add the mushrooms and stir in the milk, bringing to the boil.
Next add in the turkey and cream cheese and stir to combine well. Drain the spaghetti then add into the sauce with the Parmesan cheese. Season to taste. When all of the cheese is melted it is ready to serve.
Recipe serves 6 at 420 calories per serve.
2. 5 Minute Microwave Ham and Cheese Quiche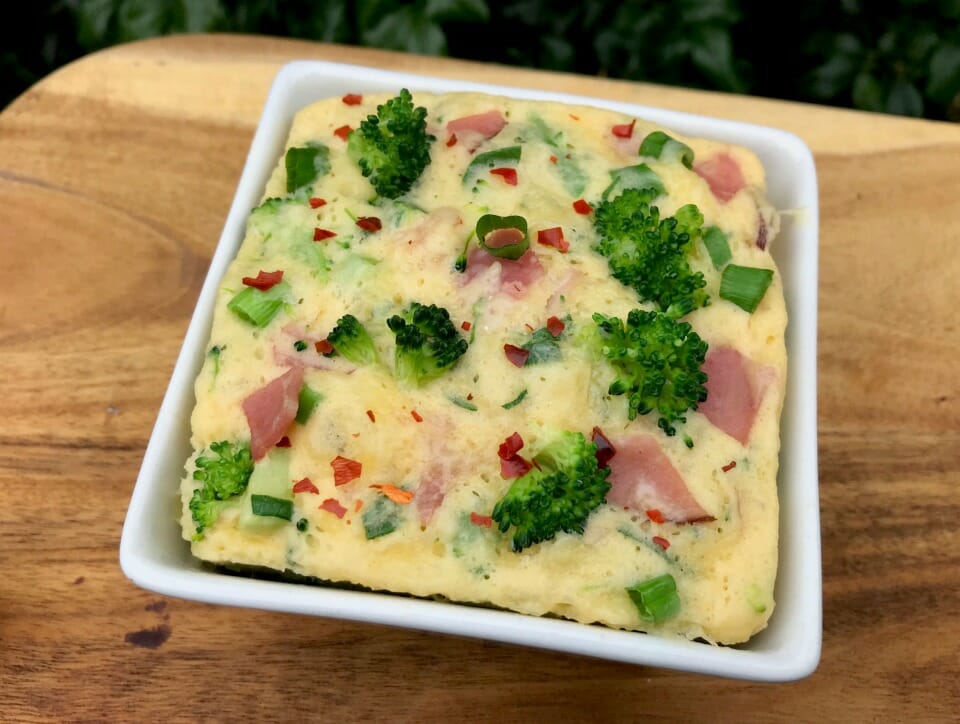 This super simple microwave quiche cooks in just 2.5 minutes! Customise to your heart's content, using leftover roast meat, some roasted sweet potato, leftover steamed greens, or add some cherry tomatoes. We love quiche on the 28 Day Weight Loss Challenge. Members can access tasty quiche recipes such as Asparagus and Chicken Mini Muffin Quiche, Sweetcorn and Bacon Crustless Quiche, or Sweet Potato and Caramelised Onion Quiche.
Ingredients
2 large eggs
1 tbsp self raising flour
40 grams ham chopped
40 grams broccoli chopped and lightly steamed
1/4 small onion or 1 shallot diced
2 tbsp tasty cheese grated
2 tbsp Parmesan cheese grated
2 tbsp flat leaf parsley
Salt and pepper to taste
Chilli flakes, to serve optional
Instructions
In a mixing bowl, whisk the eggs, add the flour and combine well with a wooden spoon.
Add all remaining ingredients and mix until well combined.
Pour into a single ramekin and microwave on high for approximately 2.5 minutes or until cooked through. Cooking times may vary between microwaves.
Sprinkle with chilli flakes, if using
Serves 1 at 357 calories per serve
3. Leftover Christmas Ham Pizza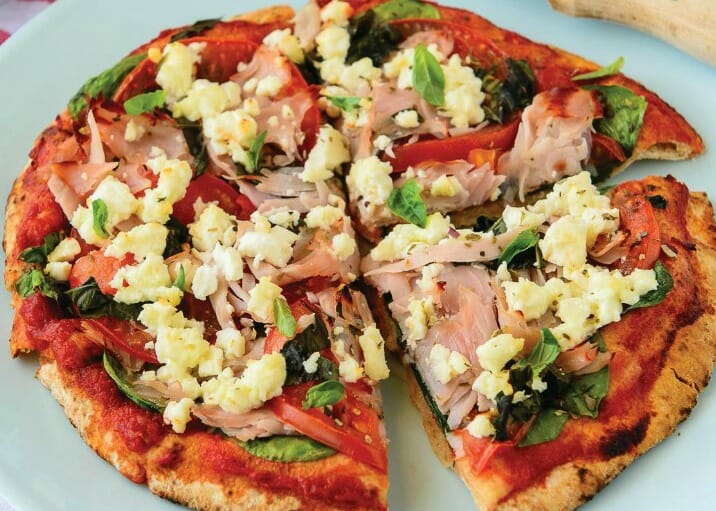 Here's a great recipe to use up the mountains of Christmas ham that you will most likely have left over on Boxing Day: Leftover Christmas Ham Pizza! Re-purposing your leftovers is not only a great way to save a few dollars after the festive season madness, it also allows you to get creative in the kitchen and come up with some delicious and nutritious new recipes, ideal if you're part of the 28 Day Weight Loss Challenge. 
Ingredients
Pizza dough
1 cup wholemeal self raising flour
1 cup Greek yoghurt
Pizza
1/2 cup tomato paste
1/2 cup low fat cheese cheddar, mozzarella or ricotta
1 cup thinly sliced leg ham
1/2 cup fresh basil leaves
Instructions
Preheat your oven to 180C and line a baking tray with paper.
Make your dough by placing the flour and yoghurt in a large mixing bowl.
Mix well with your hands before tipping out onto a floured surface.
Knead for 5 minutes until the dough is soft and elastic.
Use a floured rolling pin to roll the dough out to the size of your baking tray
.Dollop with tomato paste and spread out to reach the edges of the dough.
Sprinkle over your chosen cheese, then add the ham and any other toppings.
Bake in the oven until golden brown.
Add the basil leaves just before serving.
The recipe makes 1 pizza with 285 Calories
4. Tasty Mexican Chicken Quesadilla's using leftovers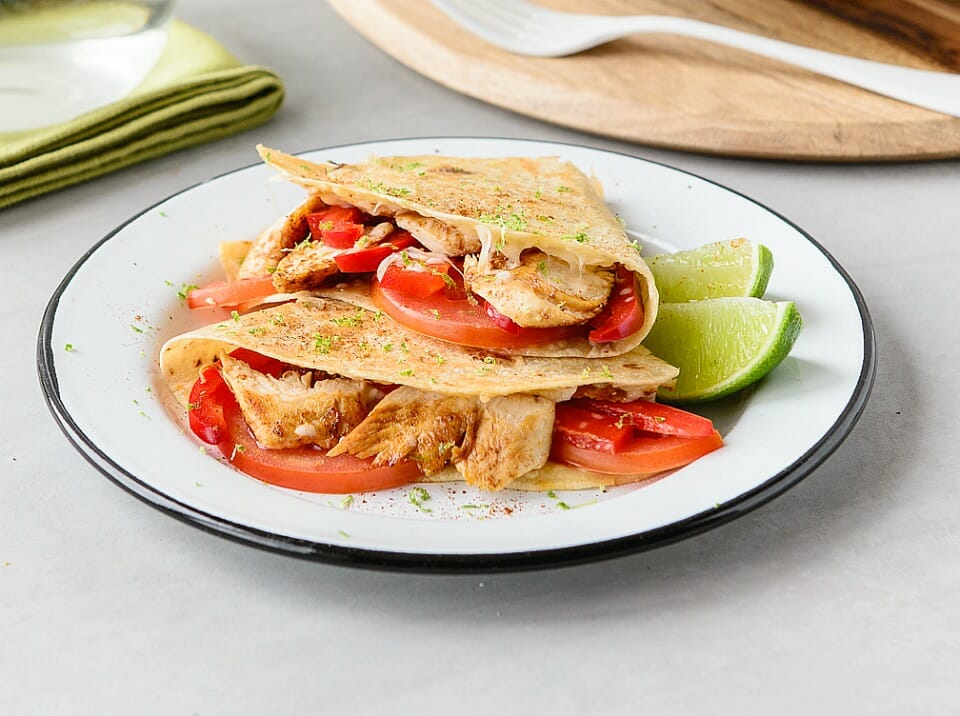 These Tasty Mexican Chicken Quesadillas are the perfect, family friendly recipe and ideal if you're part of the 28 Day Weight Loss Challenge. You can also use leftover turkey, or even ham if you have some left.
We love how quick and easy these quesadillas are to whip up, especially great for warm nights when you really don't want to have to turn on the oven. You can even 'cook' these quesadillas using a sandwich press!
Ingredients
4 wholemeal tortillas
2 cups cooked chicken shredded
1 red capsicum cut into strips
1 tomato sliced
1 cup grated tasty cheese
1/2 red onion diced
Olive oil spray
1 lime
Instructions
Spray your frypan or a sandwich press with olive oil spray and heat to medium.
Lay tortilla out flat in the pan and top half of it with cooked chicken, capsicum, tomato, red onion and cheese.
Fold the tortilla over in half to enclose the filling.
Gently push down on the filled tortilla in the frypan (or you can place it in a heated sandwich press).
Cook for approximately 5 minutes or until the cheese has melted.
If using a sandwich press, remove from heat and set aside to cool slightly. If using a frypan, gently flip to cook other side.
Once cooked through, remove from frypan and set aside to cool slightly.
Cut into triangles to serve with a sprinkling of lime zest and some lime wedges for a Mexican kick.
Recipe serves 4 with 256 calories per serve.
5. Shepherd's Pie Using Christmas Turkey Leftovers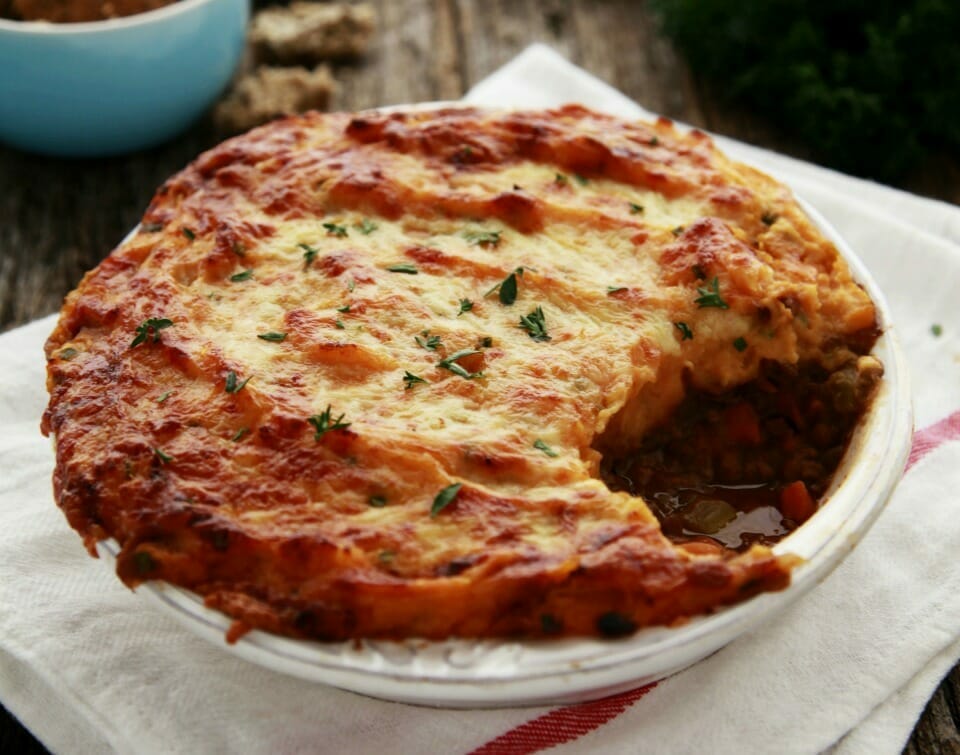 The trick with leftovers is to turn them into something a bit different than how they were originally served. This will keep things interesting as well as avoid wastage. This is a perfect recipe for leftover Christmas turkey the whole family will love. It will leave you and the family heartily satisfied, but even if you are following the 28 Day Weight Loss Challenge you will still be staying on track.
Ingredients
2 sweet potatoes large, peeled and chopped into chunks
1 tsp olive oil
1 cup celery diced
1 large onion peeled and diced
1 1/2 cups chicken stock
4 cups chopped up cooked turkey
1 tsp chopped garlic
1/4 cup low fat sour cream
1/6 cup Philadelphia light cream cheese
Cracked black pepper
Sea salt
1/2 cup low fat shredded cheddar cheese
Instructions
Boil the potatoes until soft, drain and set aside. Mash well until smooth.
Lightly fry the celery and onion in the oil until tender.
In a bowl, combine the turkey, stock, garlic and sour cream before adding in the onion and celery. Then add the philadelphia, pepper and salt and mix well.
Place mixture into an ovenproof dish. Top with the mashed sweet potato and sprinkle with cheese.
Bake, uncovered, at 180C for 30-35 minutes or until golden on top.
Recipe serves 8 at 252 calories
6. Ham and Pea Pasta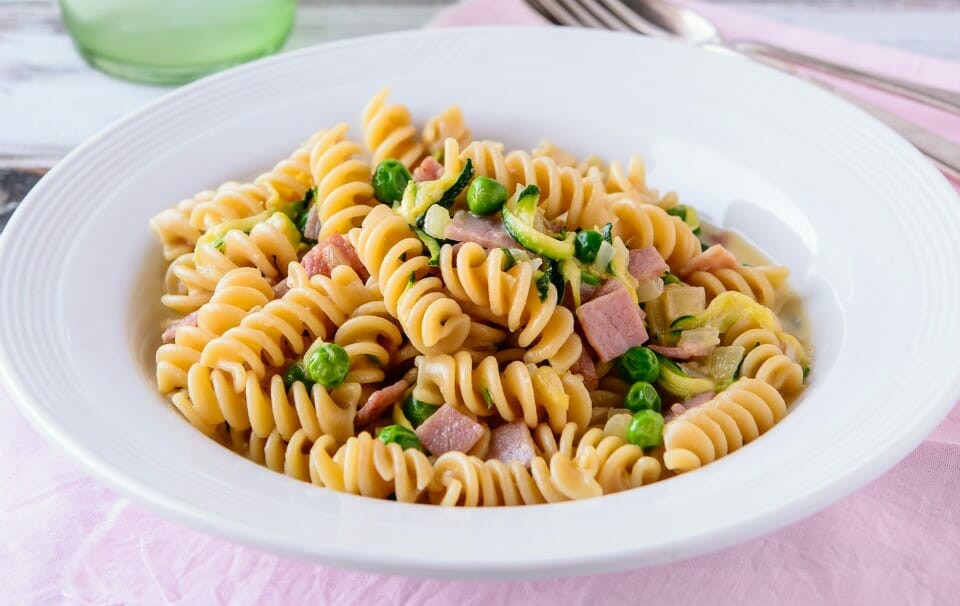 Pasta doesn't need to be off the menu when you are following a healthy eating plan. Just try to use wholemeal pasta if you can, and watch your portion sizes. Why not serve this with a big green salad?
Ingredients
2 cups cooked pasta
2 cloves garlic crushed
1 tbsp oil
1 lemon juiced and zested
1 large handful of chopped parsley
1 cup frozen peas
1 cup diced ham
1 zucchini finely chopped
Some grated parmesan to top
Salt and pepper to season
2 tbsp olive oil extra
Instructions
Cook the pasta as per the instructions.
In a pan, saute the garlic with the tablespoon of oil.
Add in the peas and let them rethermalise and cook off a little moisture.
Add the zucchini, ham, lemon juice, zest and parsley.
When warmed through, stir the ingredients through the cooked pasta.
Dish out the pasta and lightly dress it with some olive oil and some lightly grated Parmesan.
Serves 4 at 370 calories per serve
For more healthy recipes just like this, why not join thousands of other mums on our next 28 Day Weight Loss Challenge?  Our January challenge is the BELLY and BOOTY BUSTER challenge and you can find out more about it here.