Stir fries are so easy to prepare and they are a great healthy option for lunch or dinner when you are following the 28 Day Weight Loss Challenge.
Load them up with veggies and some protein for a tasty, family friendly meal.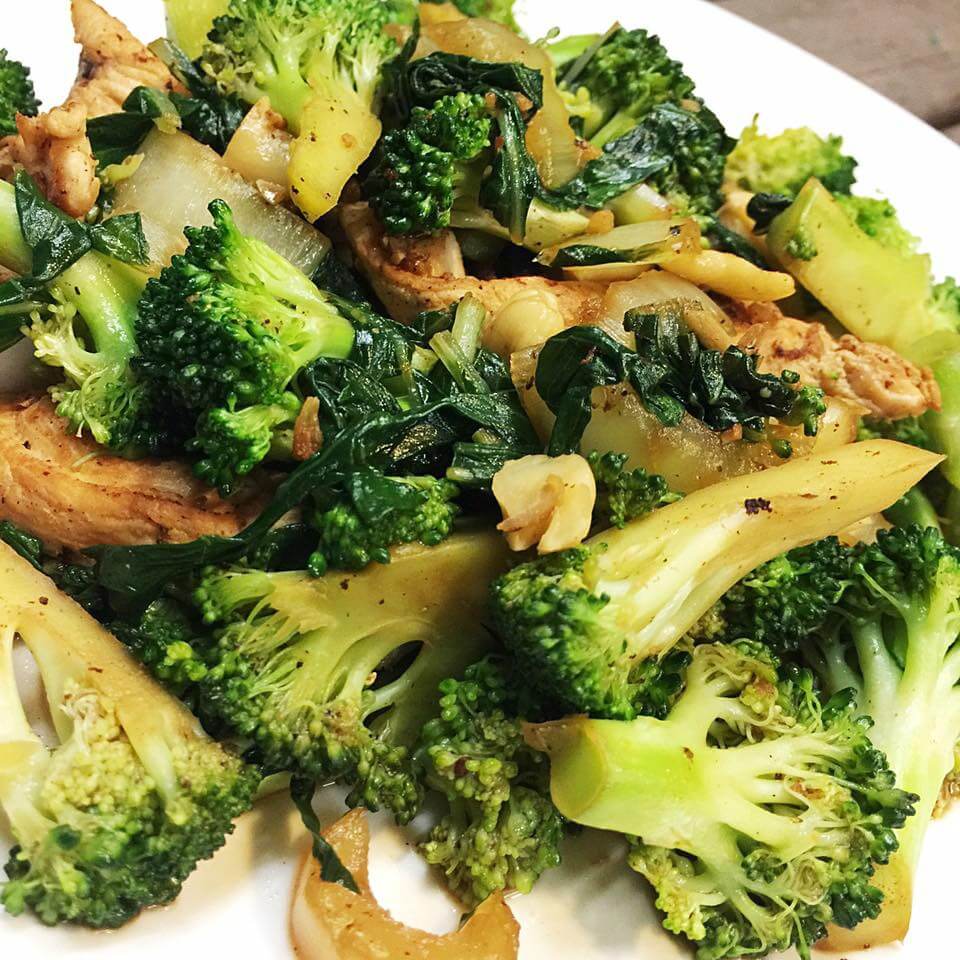 28 Day Weight Loss Challenge member Libby Butler shared this great snap of her stir fry and we loved it so much we asked for the recipe!
28 Day Weight Loss Challenge members have access to so many great stir fry recipes! Some of the most popular ones include the Pork Pineapple and Coconut Stir Fry and the Beef Stir Fry with Broccolini.
15 minute chicken, cashew and broccoli stir fry
Ingredients
240

 

grams

 

chicken breast

2

 

heads

 pak choi (300 grams)

3

 

cups

 

broccoli (300 grams)

1/2

 

cup

 salt-reduced 

liquid chicken stock

 (125 mls)

4 

tsp

 

coconut oil (20 mls)

1

 

clove

 

garlic,

 

crushed (3 grams)

2

 

tbsp

 

unsalted cashew nuts,

 

chopped (20 grams)

1

 

tbsp

 

tamari

 (

gluten free soy sauce) (20 mls)
Method
Cut chicken into pieces and season with salt and pepper. Cut pak choi into quarters and broccoli into florets.

Heat coconut oil in a frying pan or wok over medium-high heat.

Add the chicken pieces and cook for 4-5 minutes or until cooked through. Remove from pan/wok and set aside.

Add the garlic and cashews to the pan and cook for a minute or two, just to brown slightly. Now add the pak choi and broccoli, stir fry for one minute.

Add the chicken stock and cook for another 3 minutes or until the vegetables are bright green and tender crisp.

Return the chicken to the pan, add the tamari and toss all ingredients together and serve.
Recipe serves 2 at 412 calories per serve
More on the 28 Day Weight Loss Challenge
Want access to thousands and thousands MORE healthy recipes just like this family-friendly stir fry? Then be sure to check out our 28 Day Weight Loss Challenge.
Our 28 Day Weight Loss Challenge is a family-friendly, breastfeeding-safe program designed FOR MUMS to help them tackle their health and lose the baby weight. 
Every week you are given a different meal plan to follow and each month we add 100+ NEW recipes to our Challenge Recipe Hub. That way, you'll never get bored and stay on weight loss track while digging into healthy, yummy recipes.
Learn more about our 28 Day Weight Loss Challenge HERE.