Nothing says I love you like a homemade sweet chocolate treat for your loved one.
The best part about these 5 28 Day Weight Loss Challenge recipes is that you don't even need to turn the oven on! They all taste so good that your special someone won't even know that they are healthy.
These recipes are from our  28 Day Weight Loss Challenge. Who says losing weight means no more chocolate treats? Not us!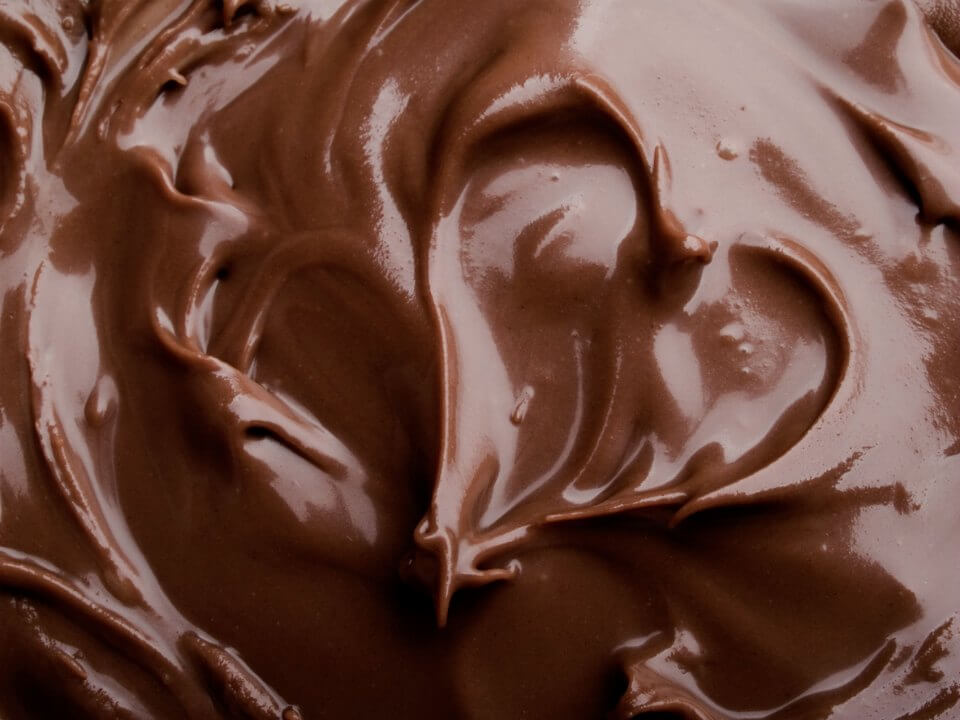 5 delicious and healhty NO BAKE chocolate treats
1. Chocolate Bounty Bites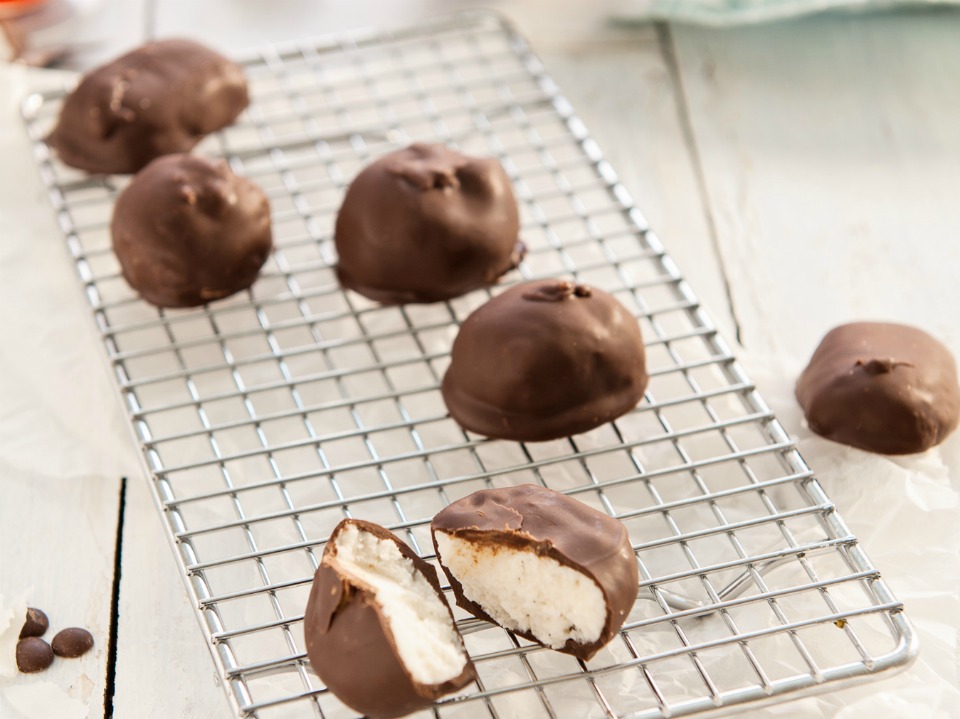 Calories: 130
For a nostalgic sweet treat, try our healthy take on the classic Bounty, from the 28 Day Weight Loss Challenge.
Ingredients (makes 16)
2 cups desiccated coconut (200 grams)
3 tbsp coconut oil, melted (45 mls)
1 tbsp Healthy Mummy Smoothie Mix Vanilla (12.5 grams)
1/4 tsp vanilla extract (1.3 mls)
1/2 cup dark chocolate bits (60 grams)
Method
Add coconut, coconut oil, vanilla extract and smoothie mix to a food processor and blitz until combined well. If mixture doesn't stick together then add a little more coconut oil to reach desired consistency.
Roll into 16 balls, place on a plate or tray and refrigerate for 30 minutes or until set.
Once the bites are set melt the dark chocolate bits in a microwave in 30 second intervals – stirring well every 30 seconds until melted.
Place a toothpick into one of the balls and dip into melted chocolate, coat thoroughly. Repeat with remaining balls and return to plate or tray and place in the freezer for 30 minutes until set.
1 ball is 1 serve. Store leftovers in an airtight container in the fridge or freezer for up to a week. Serve at room temperature.
2. Orange & Chocolate Avocado Mousse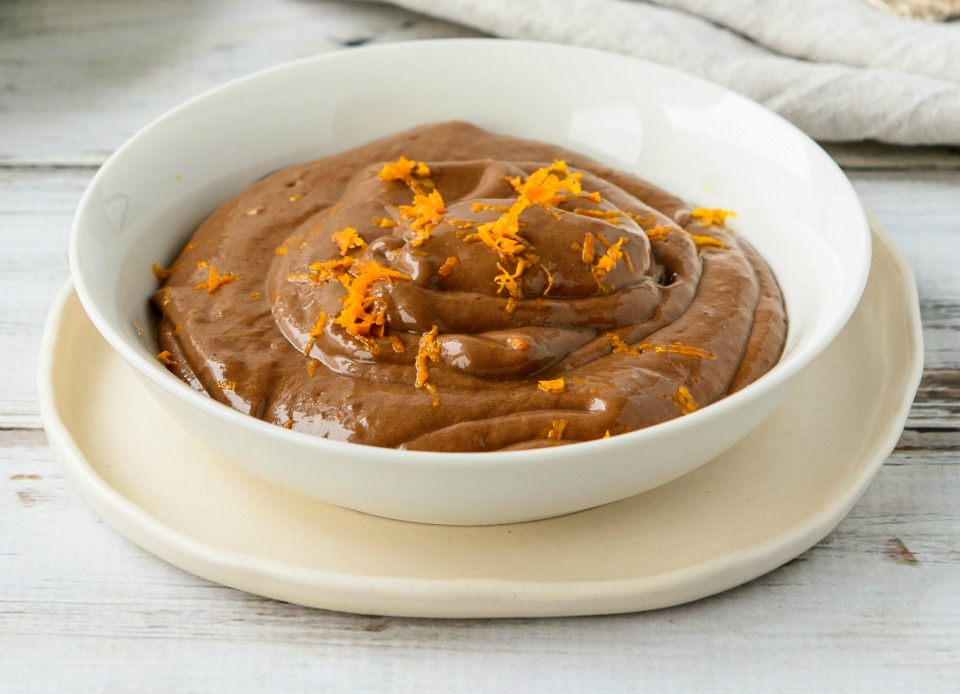 Calories: 205
A five ingredient wonder, this mousse is made light and creamy thanks to the richness of the avocado, but still tastes totally indulgent.
3. Raw Chocolate Mini Cakes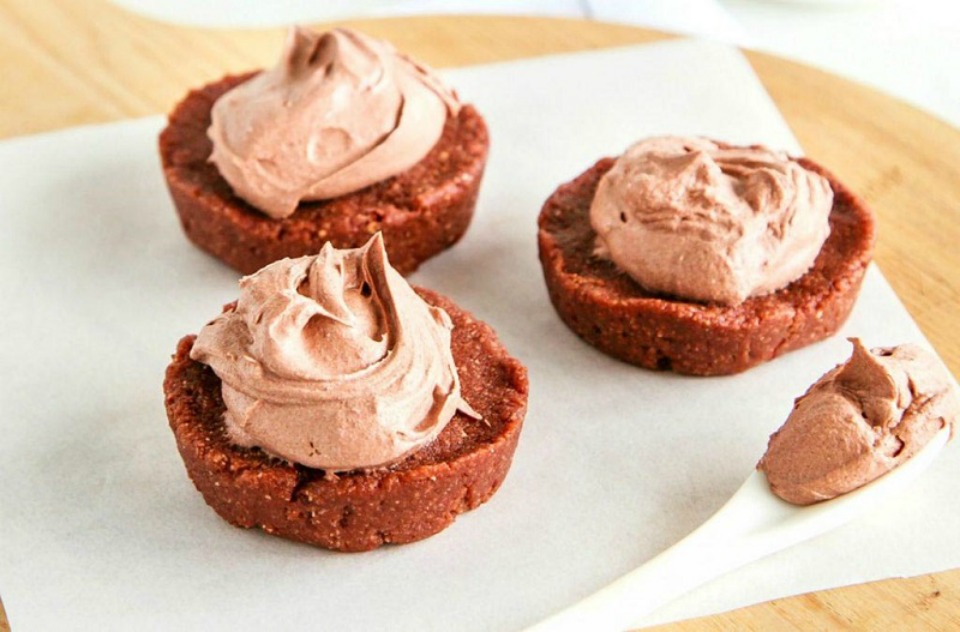 Calories: 195
For a great ending to your Valentine's Day meal, these gorgeous mini cakes from the 28 Day Weight Loss Challenge will fit the bill. A decadent dessert without any added white sugar.
Ingredients (serves 4)
1/3 cup almond butter (80 grams)
1 & 1/2 tbsp cacao/cocoa powder (12 grams)
3 tbsp maple syrup (45 mls)
2 tsp vanilla extract (10 mls)
1 & 1/2 tablespoons coconut flour (15 grams)
2 tbsp coconut cream, chilled (40 grams)
Method
Combine almond butter, 1 tablespoon of the cacao/cocoa, 2 tablespoons of maple syrup, 1 teaspoon of vanilla extract and the coconut flour and mix well.
Divide cake mix into 4 silicone muffin moulds and press into base of moulds. (If you don't have silicone moulds, line 4 muffin tin holes with baking paper or patty cases.) Refrigerate for 30 minutes or until chilled.
Prepare the frosting by combining the remaining cacao/cocoa, maple syrup and vanilla extract with the chilled coconut cream (remember to use the thick layer of coconut cream that settles at the top of the tin to ensure your frosting has a thick consistency).
When ready to serve remove the cakes from the muffin moulds and pipe or spoon the frosting on top.
4. Strawberries with Chocolate Dipping Sauce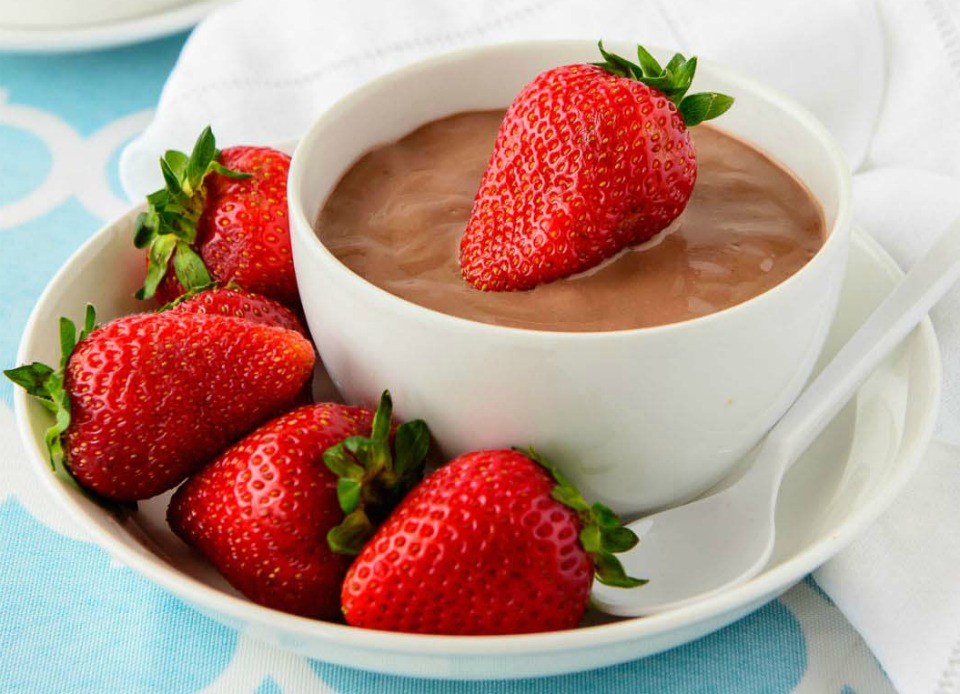 Calories: 226
For a gooey chocolate custard that is just calling out to have fresh fruit dipped into it, this is the recipe you need. Perfect for cherries, strawberries – anything goes.
Ingredients (makes 4 serves)
1L 

reduced-fat milk of choice

1.25

tsp

brown sugar (5g)

4

tbsp

cacao/cocoa powder (24g)

4

tbsp

corn flour (40g)

salt

4

tbsp

water (60ml)

500g strawberries
Method
In a small heavy-based saucepan combine milk, sugar, cocoa/cacao, a pinch of salt and heat until just simmering. Watch carefully as the milk can boil over quite quickly!

Combine cornflour and water in a small dish and stir to dissolve.

Add cornflour mixture to simmering milk, whisking vigorously. Cook, whisking gently, for 3-4 minutes.

Tip into a serving dish, cover surface with cling wrap to prevent a skin from forming, and refrigerate until cold and set, approximately an hour. Setting time may vary depending on serving size and refrigerator temperature.
5. Three Ingredient Chocolate Fudge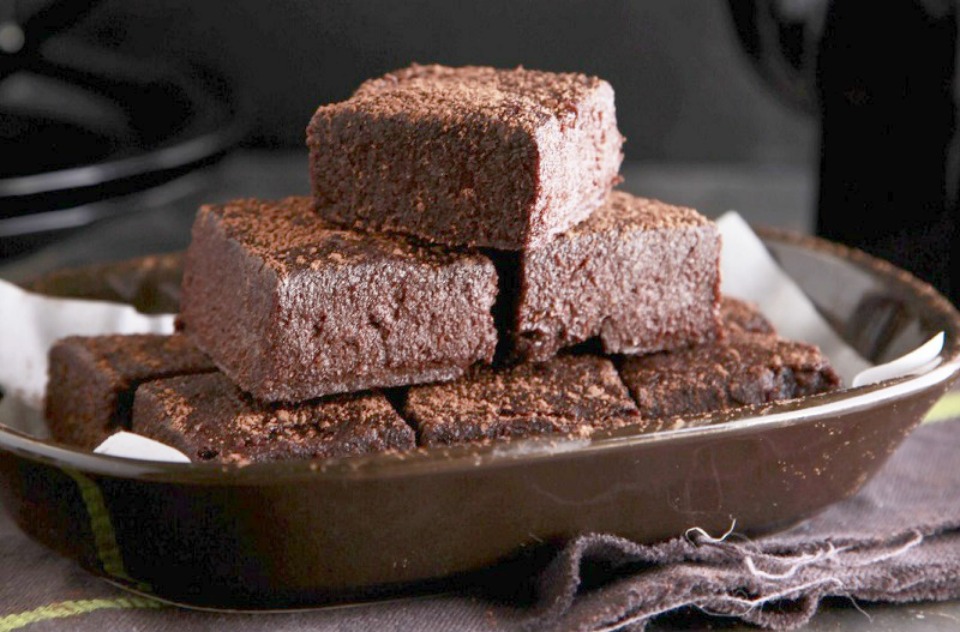 Calories: 170
Perfect to nibble on while you gaze into each other's eyes, this delicious fudge is simple to make. Just three pantry cupboard staples is all you need.
Ingredients (makes 8 pieces)
1

cup

of walnuts (120g)

1/2

cup

cocoa (48g)

1 & 1/4

cup

 (225g) 

of fresh or dried pitted dates (soak dried dates in hot water for 10 minutes first, then drain)

water as needed
Method
Put all ingredients in a food processor and process for several minutes.

If you find your mixture is not binding well you can add in a little water to bind.

Pour into baking tin lined with grease-proof paper. Or for something different press into ice cube trays.
Want more recipes? Join our 28 Day Weight Loss Challenge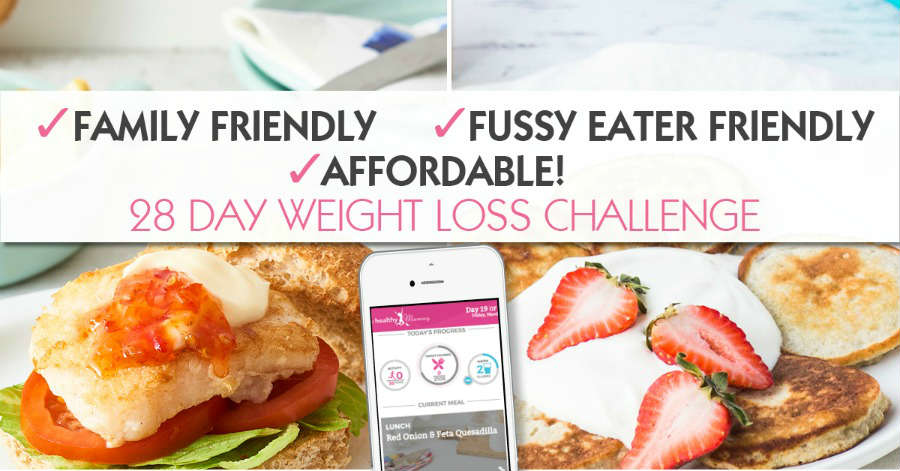 Want to shift your baby weight but feel like you have NO TIME in your day to exercise and eat healthily? That's where the Healthy Mummy's 28 Day Weight Loss Challenge can help.

Our Challenge entails: 
28 days of at home exercise routines (no gym needed) – with video instruction
Customisable and breastfeeding friendly meal plans
Time-efficient exercises for busy mums – under 30 mins
Challenge combines Pilates exercises with interval and circuit training (HIIT)
Suitable for basic to advanced fitness levels.
Home to thousands of EASY-TO-MAKE recipes.
To find out more on the 28 Day Weight Loss Challenge click here.