The humble egg can take your meal from zero to hero, and it's so budget friendly too. Packed with protein, eggs are a great way to stay fuller for longer AND they take next to no time to cook.
Today we've got 5 egg recipes from the 28 Day Weight Loss Challenge, all of which can be prepared in 15 minutes or less.
Are you eggcited?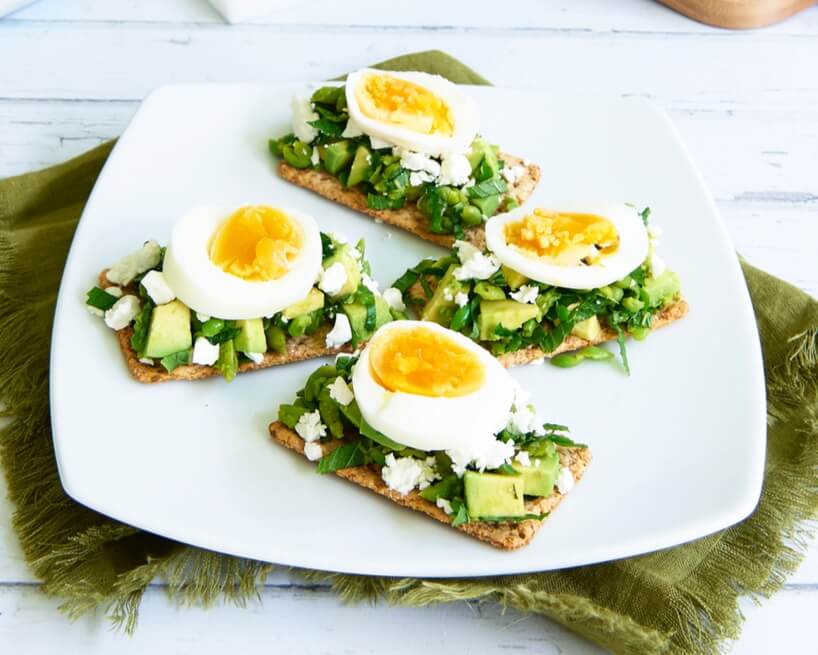 1. Breakfast: Chorizo & Egg Scramble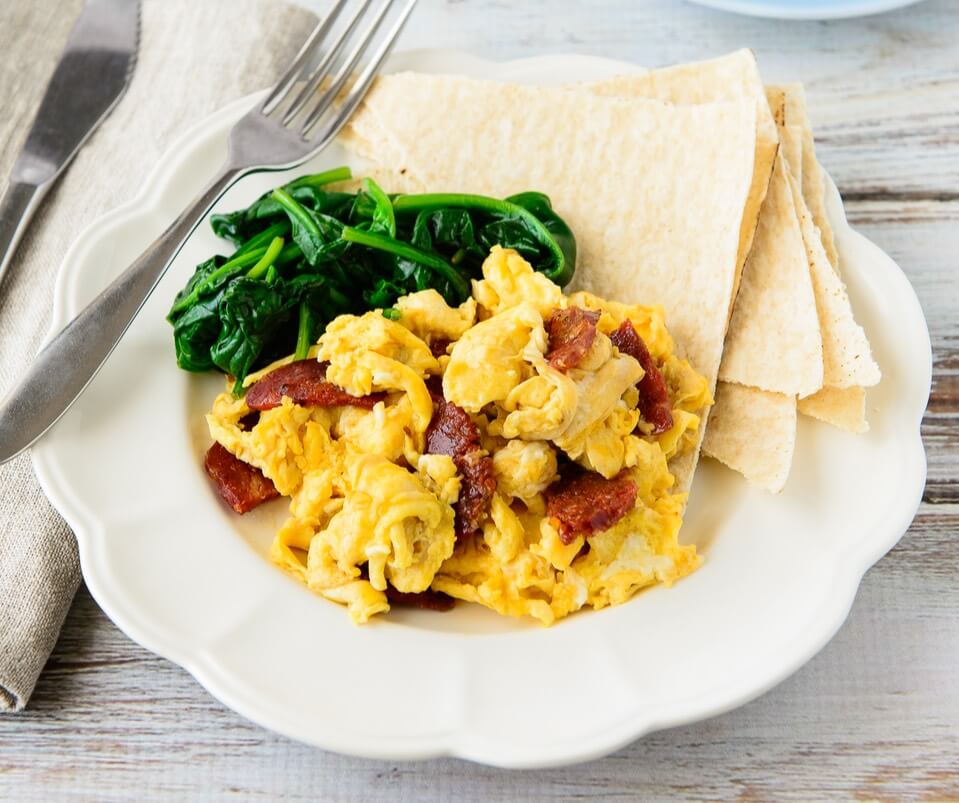 283 calories
A brekky full of flavour, using delicious chorizo sausage for something a little bit different. Increase in quantities so the whole family can enjoy.
Ingredients (Makes 1 serving)
1 wholemeal wrap of choice (60 grams)
15 grams chorizo sausage
2 free-range eggs (100 grams)
1 cup baby leaf spinach (30 grams)
1/4 lemon (3.8 grams)
Method
Slice the chorizo and add to a fry pan over a medium-high heat. Brown the chorizo slices on both sides (no oil should be required as the chorizo will release some of its fat), then set aside.
Whisk the eggs and add to the pan with chorizo and scramble to your liking. Spoon eggs onto a plate and add spinach to the pan. Cook briefly to wilt.
Serve spinach with chorizo eggs, wrap and lemon on the side to squeeze over everything.
2. Snack: Curried Eggs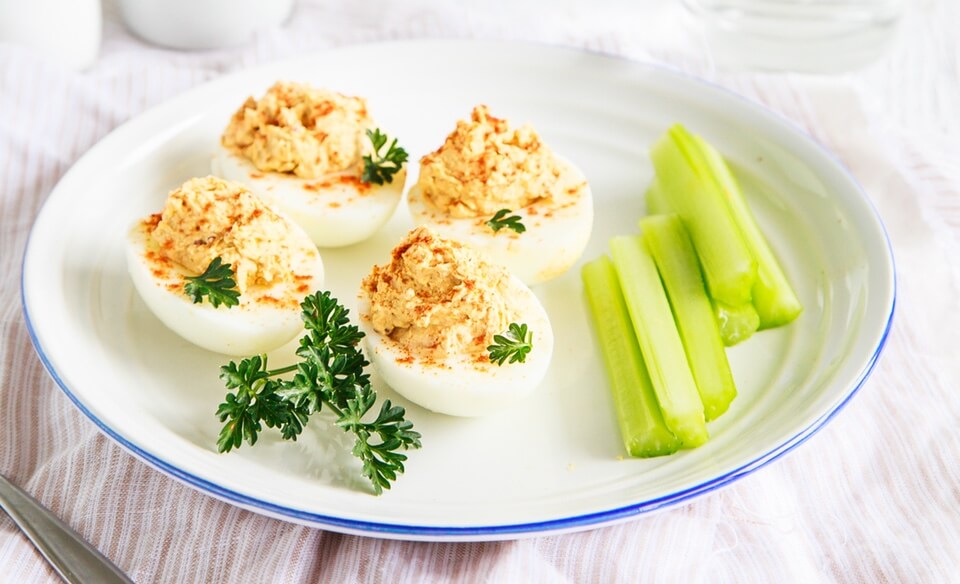 170 calories
Both the white and yolk of an egg are rich in nutrients, protein, vitamins and minerals, with the yolk also containing fat-soluble vitamins and essential fatty acids. Eggs can be boiled ahead of time and stored in the fridge.
Ingredients (Makes 1 serving)
2 free-range eggs, boiled and peeled (100 grams)
1 tsp curry powder (1 grams)
1 tbsp reduced-fat Greek natural yogurt (20 grams)
1/2 tsp wholegrain mustard (2 grams)
smoked paprika
Method
Slice boiled eggs in half lengthways. Carefully scoop out yolks.
In a bowl, mash yolks, curry powder, mustard and yogurt together until smooth.
Spoon curry mixture onto egg whites and sprinkle with a pinch of paprika to serve.
3. Lunch: Smashed Pea, Avocado, Feta and Egg Crackers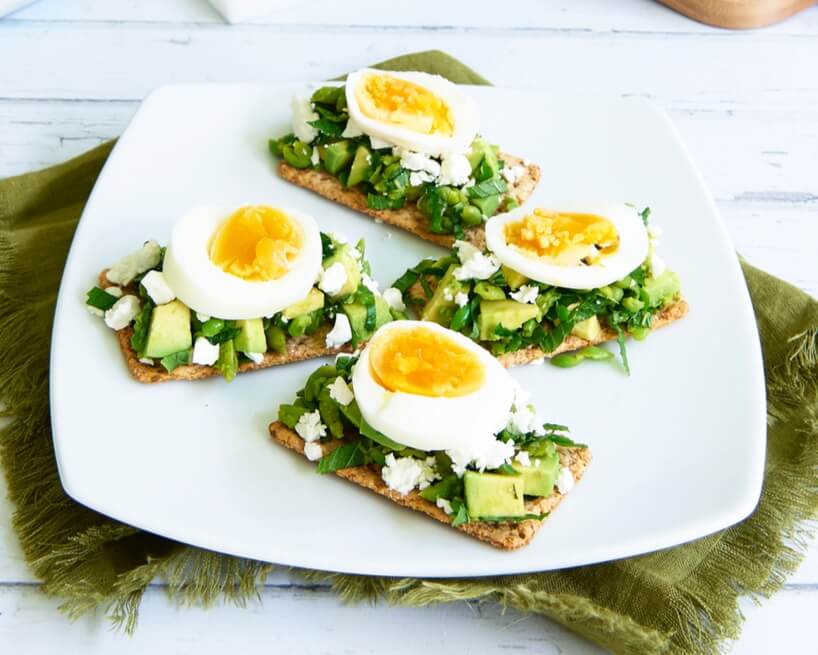 309 calories
This is a great combination of ingredients that will tantalise your tastebuds and keep you full and satisfied.
Ingredients (Makes 1 serving)
1 free-range egg (50 grams)
1/4 cup frozen peas (40 grams)
1/4 medium avocado, chopped (30 grams)
2 tablespoons mint leaves, chopped (10 grams)
2 tsp lemon juice (10 mls)
1 tablespoon reduced-fat feta, crumbled (20 grams)
4 wholegrain crackers (20 grams)
Method
Place the egg(s) in a saucepan of boiling water for 7 minutes. Transfer to a bowl of iced water and set aside for 10 minutes to cool. Remove shell and cut into slices.
Meanwhile, blanch the peas in a saucepan for 1-2 minutes. Drain and refresh under cold running water.
Transfer to a bowl and mash with a fork. Add the avocado, mint, lemon juice and feta. Fold through to combine.
Spread the pea mixture evenly over the crackers and top with egg slices to serve.
4. Dinner: Sunny Side Noodles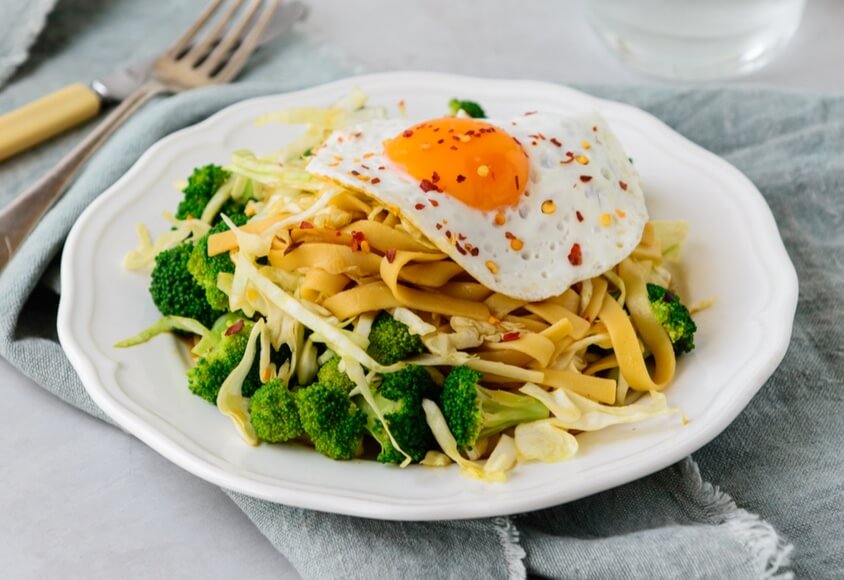 340 calories
A simple and easy to prepare noodle dish that is easy on the budget and will suit the whole family.
Ingredients (Makes 1 serving)
1/2 tsp fresh ginger, peeled & grated (2 grams)
1/2 clove garlic, minced (1.5 grams)
1 tsp soy sauce, salt reduced (5 mls)
1/2 tsp lemon juice (2.5 mls)
2 tsp extra virgin olive oil (10 mls)
1 cup broccoli (100 grams)
40 grams egg noodles
1 cup white cabbage, shredded (50 grams)
1 free-range egg (50 grams)
1/8 tsp dried chilli flakes (0.1 grams)
Method
Combine grated ginger, garlic, soy sauce, lemon juice and olive oil and whisk together to make a dressing.
Cut the broccoli into florets. Cook the noodles according to packet directions and add broccoli to cooking water in the last 3 minutes. Drain well and toss with shredded cabbage and dressing.
Fry the egg(s) in a non-stick frying pan over a medium heat until cooked to your liking.
Serve noodles topped with fried egg and sprinkled with chilli flakes.
5. Dessert: Healthy Vanilla Custard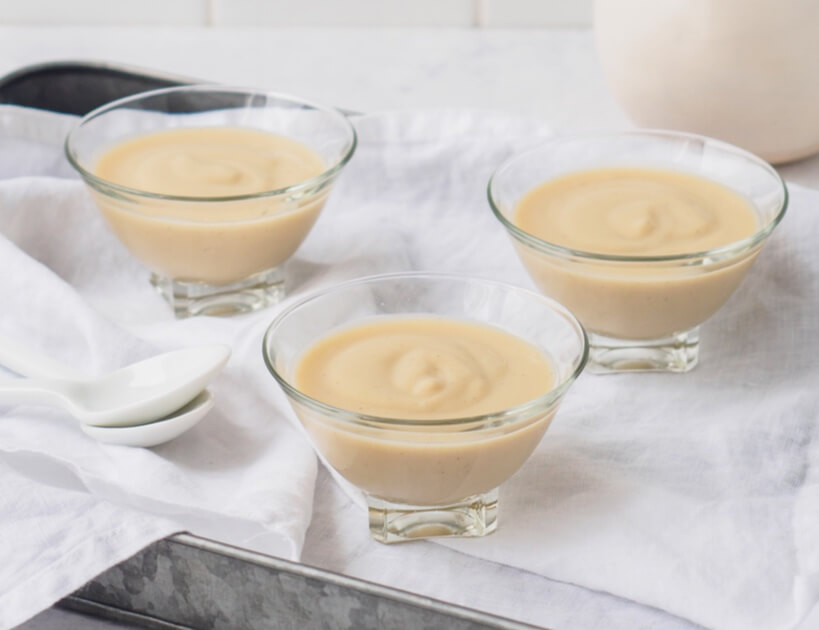 90 calories
A delicious dessert snack. This recipe makes 3 serves so share with the family or store leftovers in the fridge for 2-3 days to enjoy cold or reheat.
Ingredients (Makes 3 servings)
1 cup reduced-fat milk of choice (250 mls)
1 tsp vanilla extract (5 mls)
1 tbsp maple syrup (15 mls)
1 free-range egg (50 grams)
2 tsp cornflour (5 grams)
Method
Heat the milk in a saucepan with vanilla and maple syrup and bring to almost boiling point, then remove from the heat.
Whisk the egg and cornflour in a mixing bowl until smooth. Slowly add hot milk to egg mixture, whisking as you pour.
Pour the egg mixture back into the saucepan and cook over a gentle heat, stirring with a wooden spoon until it thickens, about 4-5 minutes.
Divide between three dishes and refrigerate for a few minutes to cool slightly before serving.
Want to lose weight in a healthy way?
If you are interested in kickstarting your weight loss and want to improve your energy – not to mention – improve your overall health and wellbeing – our 28 Day Weight Loss Challenge is an awesome program to check out. 
Our 28 Day Weight Loss Challenge includes:
28 days of at home exercise routines (no gym needed) – with video instruction
Customisable and breastfeeding friendly meal plans (including a 7 day cleanse)
Time-efficient exercises for busy mums – under 30 mins
Challenge combines Pilates exercises with interval and circuit training (HIIT)
Suitable for basic to advanced fitness levels
Home to thousands of EASY-TO-MAKE recipes!
To learn more about our 28 Day Weight Loss Challenge click on the link.