These healthy choc-chip mini cheesecakes are vegan friendly and taste as good as they look. They are packed full of protein and antioxidants.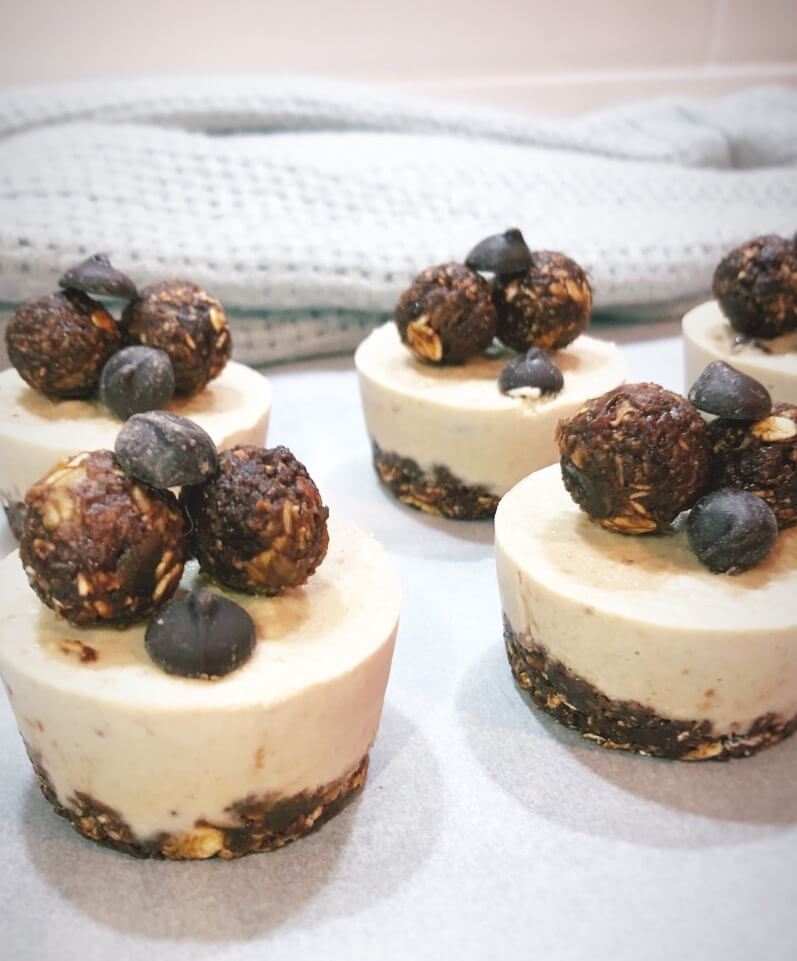 Thank you Healthy Mummy 28 Day Weight Loss Challenge Member Cassie Wight for sharing this DELICIOUS recipe with us (and for allowing us to share it with the rest of the Healthy Mummy community).
Ingredients
Base
1 cup rolled oats
1/3 cup boiling water
1/4 cup pitted dates
2 tbsp cacao powder
Filling
1 cup cashews, soaked in boiling water for 1 hr or overnight
2 tbsp pure maple syrup
1/4 cup dairy free chocolate chips
1 tbsp cacao butter, melted
1/2 tsp vanilla bean paste
1/2 cup warm water
1 scoop/serve vanilla soy protein
Method
Base
Soak dates in 1/3 cup boiling water for 5-10 minutes.
Place dates including water into the food processor.
Add oats and cacao powder and blitz on high for 5-10 second until combined.
Press a spoonful of mixture firmly down in base of each mold.
Roll remaining mixture into small balls for decoration/ topping.
Filling
Drain water from soaked cashews, place in food processor and add salt.
Add water, maple syrup, protein powder and vanilla bean paste.
Blitz on high for approximately 1 minute until smooth paste forms.
Transfer mixture into bowl and fold though chocolate chips.
Spoon fill into molds. Place in the freezer for 1-2 hours until set.
Remove from molds and top with toppings.
Store in air tight container in freezer for up to 3 months.
Allow to stand at room temperature for 5 minutes to soften.
Makes 12 pieces at 135 calories each.