This slice is moist, indulgent and stuffed full of healthy goodness. The only sweetener is natural honey (no nasty added sugar here).
With nuts and dates galore and only 150 calories per serve – this recipe will satisfy any chocolate craving without derailing your weight loss on the 28 Day Weight Loss Challenge.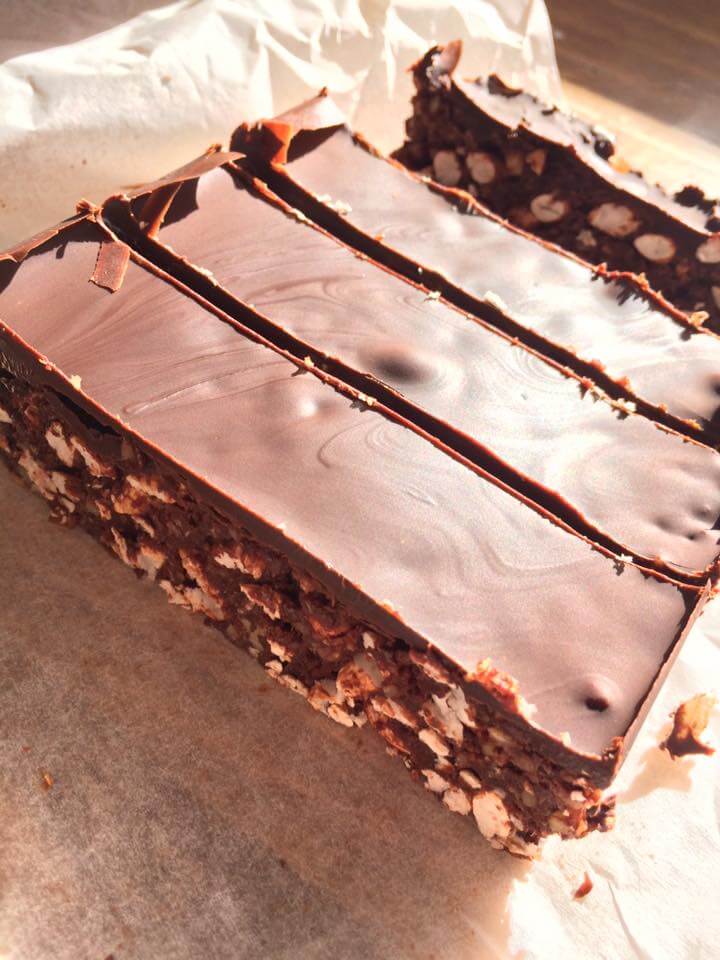 Ingredients
For the base
1

cup

walnuts (160 grams)

1/2

cup

dried dates

 (85 grams) 

– soaked in hot water and drained

2

tbsp

honey (30 mls)

2

tbsp

cocoa (16 grams)

3

tbsp

desiccated coconut (24 grams)

1

cup

puffed rice (25 grams)
For the topping
100

grams

dark chocolate chips or squares

1

tbsp

coconut oil (15 ml)
Method
Line a loaf tin with baking paper. 

In a food processor blend walnuts, soaked dates, honey, cocoa and coconut.

Transfer mix to bowl and mix through puffed rice. Press mix into tin.

Set aside whilst you make the topping.

Melt chocolate chips and coconut oil together in the microwave in 30 second increments.

Stir until combined, then pour over base.

Move tin from side to side so that the topping evenly covers the base.

Tap tin on bench, then put into freezer for ten minutes.

Keep in fridge or freezer in an air tight container.
Recipe makes 16 pieces at 
150 calories per serve