Mum of 3 Beth Henke, who has been following the Healthy Mummy 28 Day Weight Loss Challenge, has sent in a "hidden veggie" recipe for us all to enjoy.
Sausage rolls are a hit with both kids and adults and can be enjoyed all year round, even when losing weight! Even better when the WHOLE family loves them!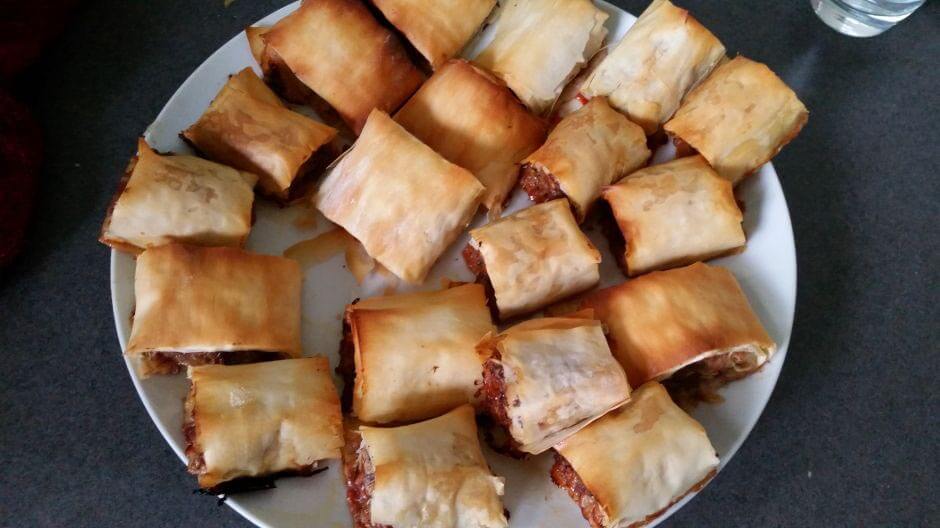 Ingredients
500

g

lean beef mince

100

g

chopped onion,

cooked and cooled (use raw if you don't have time)

2 

grated carrots (140g)

2

 

grated courgettes,

excess moisture removed (220g)

3

tbsp

tomato sauce (45ml)

80

g

low fat cheese,

grated

10

sheets

filo pastry (240g)

Cooking oil spray
Method
Preheat oven to 180C / gas mark 4, and line two trays with baking paper.

Place mince, veggies, cheese and sauce in a bowl and mix together with hands well until combined.

 Take one sheet of filo, spray with cooking spray and place another sheet of filo on top.  Repeat this process until you have 5 sheets of pastry.

 Carefully cut each pile of sheets long ways in two so you have 4 rectangles.

 Divide the meat mixture between 4 rectangles and shape into sausages along the filo.

 Roll the filo and meat mixture up to form one large sausage roll and spray the roll lightly all over to help seal, repeat with other rectangles and then cut into small pieces.

 Pop the sausage rolls onto prepared baking trays and cook for 20-25 mins. They should be golden when cooked.

Please note that there will be some liquid that comes out from the vegetables, so if the bottoms are a bit wet, flip over and bake for 5-10 mins to crisp up if desired.
The recipe makes 28 mini sausage rolls at 70 calories each.
There are thousands of family-friendly recipes on the 28 Day Weight Loss Challenge. Why not download your FREE recipe and exercise pack here to try some more.