Don't these look great? 28 Day Weight Loss Challenge member Sophie whipped up these fantastic chicken and vegetable pies from some leftover roast chicken.
Haven't got leftover chicken? Grab yourself a cooked chicken from the supermarket for dinner one night, and make these the next night. Too easy!
You'll need a pie maker for these, or you could also cook them as one large pie in the oven in a regular pie dish or tin.
Thanks Sophie for sharing your fantastic recipe with us!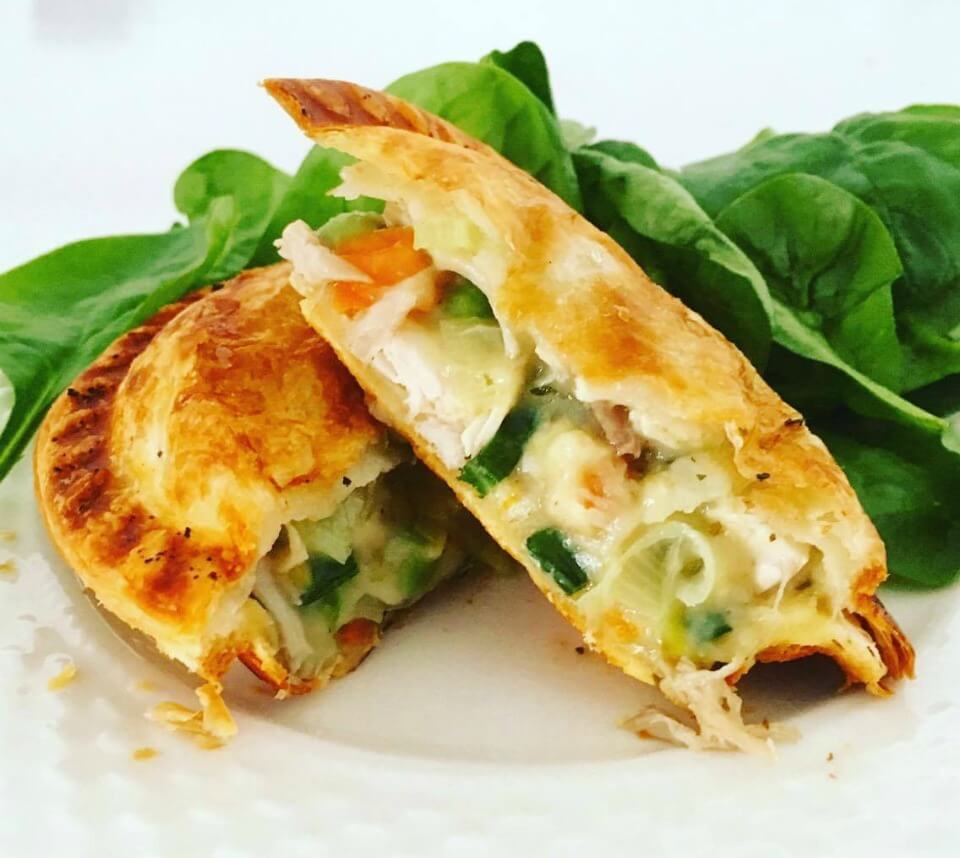 Individual Chicken and Vegetable Pies
Ingredients (makes 6 serves)
1 tbsp butter
1 & 1/2 leeks, finely sliced (120 grams)
400-600 grams leftover chicken meat
1 medium carrot, peeled and diced (70 grams)
1 & 1/2 cups frozen peas (240 grams)
1 cup liquid chicken stock, salt reduced (250 mls)
1/2 cup fresh parsley, chopped (30 grams)

1

 

tbsp

 

plain flour (20 grams)

1 & 1/2 sheets reduced-fat puff pastry, defrosted (252 grams)
Cooking oil spray
1/2 tsp dried oregano (0.6 grams)
Salt and pepper
Method
Shred the chicken breast. Steam the carrot and peas and fry off the leek in a little olive oil spray. You can also add any leftover roast vegetables as well.

To make the gravy, melt the butter in a saucepan and add the flour. Cook for 1 minute. Gradually add the chicken stock, stirring until smooth after each addition, add oregano and pepper to taste then bring to the boil and cook for 2 minutes.

Once gravy is done, mix the chicken and vegetables through the gravy mix and coat well.

Cut short crust pastry circles for the bottom of your pies. Fill your pie case with filling. Cut puff pastry circles for the tops of your pies. Lightly spray pies with oil.

Cook in a pie maker for approximately 20 minutes or until pastry is golden. If using the oven, cook for 20 minutes on 200C/gas mark 6, or until pastry is golden.

Filling can be made ahead of time and left in the fridge.
372 calories per serve
More on the 28 Day Weight Loss Challenge
Want access to thousands and thousands of healthy recipes that will help you to lose weight? Then be sure to check out our 28 Day Weight Loss Challenge.
Our 28 Day Weight Loss Challenge is a family-friendly, breastfeeding-safe program designed FOR MUMS to help them improve their health and lose the baby weight. 
Every week you are given a different meal plan to follow and each month we add NEW recipes to our Challenge Recipe Hub. That way, you'll never get bored and stay on weight loss track while digging into healthy, yummy recipes.
Learn more about our 28 Day Weight Loss Challenge HERE.
If you would like a sneak peek at some of the meals, snacks and exercises from the 28 Day Weight Loss Challenge you can download our FREE recipe packs HERE.