When trying to lose weight, smoothies are a great weight loss tool.
The Healthy Mummy has created a range of smoothies that are not only nutritionally beneficial, but they are also breastfeeding-friendly. Many weight loss smoothies are often little more than protein supplements and can be filled with nasty ingredients, yes you may lose weight but that is from crash dieting.
Using The Healthy Mummy smoothies, which have been carefully formulated, allows busy mums to lose weight in a healthy and long-term manner. Knowing what is in your smoothie is the best place to start when setting off on your weight loss smoothie journey.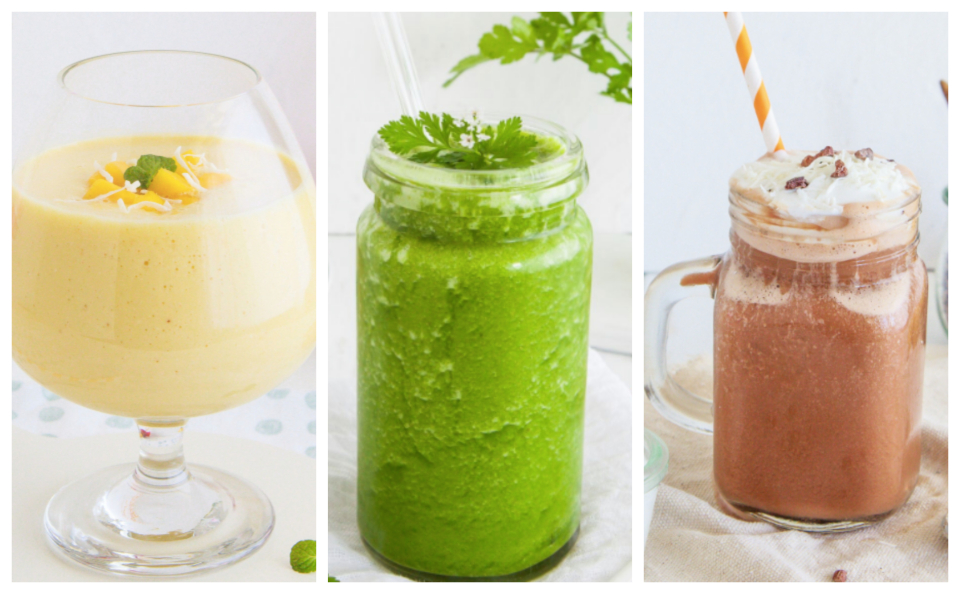 Smoothies have become an alternative for weight loss
Nutritionally dense smoothies are a great way to lose weight. As opposed to crash dieting, The Healthy Mummy smoothies are filled with wholefoods and 22 vitamins and minerals.
The Healthy Mummy smoothies can be used as a meal replacement or a snack on your weight loss journey and leave you feeling confident you are nourishing your body and getting all of the essential vitamins and minerals you need in order to kick your weight loss goals.
But are all of them really healthy?
The simple answer to this is no. There can be and often is many hidden ingredients in smoothie or shake products. The Healthy Mummy smoothies are no ordinary 'weight loss shake'! For starters, they're all natural, do not contain caffeine, artificial sweeteners, colours, fillers, or preservatives.
How to know the good from the bad
There is a big difference between the Healthy Mummy Smoothies and other brands. Read about what makes our smoothies different here.
The good in healthy weight loss smoothies
Many smoothie products are marketed in a way that drinking the smoothies alone will encourage quick weight loss. The Healthy Mummy also urges those who use the weight loss smoothies to have them in conjunction with a healthy meal plan and regular exercise.
Some other shakes on the market are only a protein shake or supplement; this means they cannot be used as a meal substitute, as they do not contain enough nutrients and energy to fuel your body.
No caffeine
Many weight loss smoothie products use caffeine as an ingredient to sustain hunger pangs, give elevated energy to make up for lack of nutrients in the product, and for a metabolism boost. This is not a natural way to lose weight.
No accelerants
Used to speed up weight loss, accelerants are modified ingredients added into weight loss smoothies. These give the impression that you have energy when in fact, the accelerant is giving you energy. These artificial fillers make our tummy feel temporarily full, are not natural and the long-term effects are not known.
The Healthy Mummy weight loss smoothies are packed with natural energy vitamins and minerals which give the body all the energy it needs.
Gluten free
The Healthy Mummy weight loss smoothies are gluten free which means they're coeliac-friendly. The Healthy Mummy understands many people live with gluten allergies and coeliac disease, so made sure the smoothies can be used by everyone!
1% dairy
The Healthy Mummy smoothies contain just 1% dairy and can be made with any dairy milk alternative when blending. We love almond milk or chocolate flavoured soya milk as some tasty options.
No added sugar
Many smoothie products are packed with hidden sugars, but The Healthy Mummy smoothies are free from added sugar as we know that this is a common concern for health-conscious mums. 
High in fibre
The Healthy Mummy Smoothie aids weight loss by providing a calorie controlled, low carbohydrate, high fibre and high protein meal replacement – which is a satisfying meal and keeps you feeling full.
No artificial ingredients
Many weight loss smoothies or shakes contain fillers and weight-loss accelerants to trick your body into short-term and unhealthy weight loss. These artificial fillers make your tummy feel temporarily full, are not natural and the long-term effects are not known.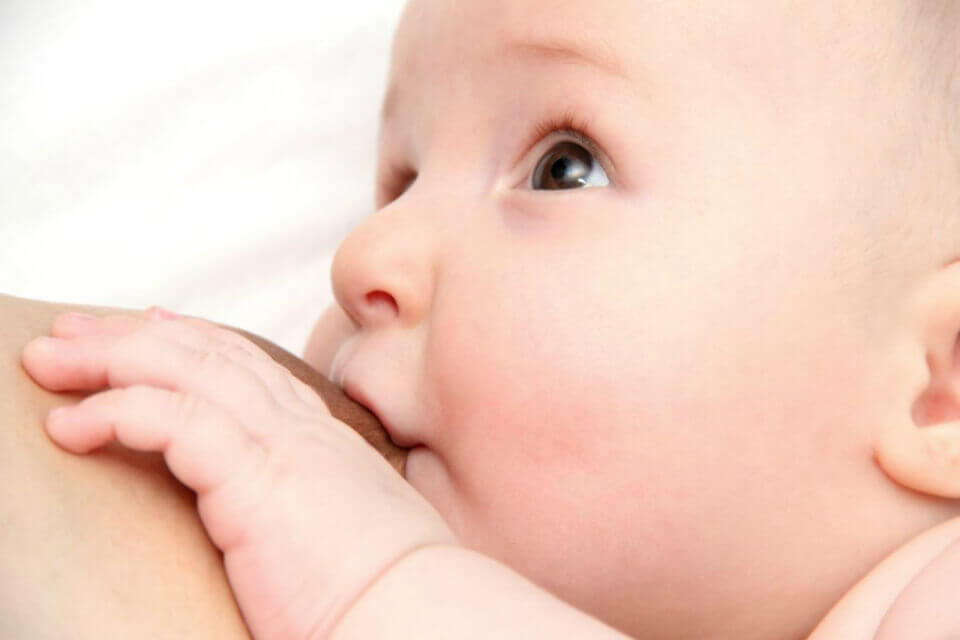 Breastfeeding friendly
Safe for breastfeeding mums! We have included fenugreek into our weight loss smoothies, which is said to boost a mother's milk supply. Made with whole foods, the smoothies have been specially formulated to give you the boost of vitamins and minerals needed to support you if you're breastfeeding.  
The bad weight loss smoothies contain
Many weight loss smoothies and products contain genetically modified ingredients including sugar, caffeine, fructose and preservatives. These artificial fillers make your tummy feel temporarily full, are not natural and the long-term effects are not known.
Too much sugar
Too much of anything is not a good thing, especially when it comes to sugar. Exceeding the recommended intake of sugar can lead to a number of health issues including; ADHD, acne, obesity, gallstones, insulin resistance, Type 2 diabetes, PMS, dental cavities and depression.
Genetically modified ingredients
Added salt can be added to weight loss smoothies, along with many GMO ingredients as cheap fillers.
Fillers
Using fillers can bulk out a product, giving the feeling of keeping the user full when in actual fact, these fillers can be doing more harm than good.
Weight-loss accelerants
These are not natural weight loss ingredients and give the illusion your body has energy.
Caffeine
Products can use caffeine as a source of energy due to lack of whole food ingredients in the product.
Fructose
Like sugar, fructose is a GMO ingredient and does not support long-term results.
Chemicals
Using chemicals in weight loss smoothies promotes unhealthy weight loss and the long-term effects are not known. It is always important to read labels.
They are sold as natural smoothies, but they aren't really
Labels can use the term 'natural' to give the illusion that the product is made with all natural ingredients, which is not the case. The only way to truly know if a product is natural is to read the label and ingredients list.
How to avoid unhealthy smoothies masked as healthy
Ask a professional
Ask around if you are unsure of a certain product or ingredient, a nutritionist or naturopath can tell you if something is good for your body or not.
Pay attention to the ingredients
Reading the label on a product can do wonders, look out for these 4 ingredients and avoid:
Sugar/Sweeteners
Amount of fruits
Exaggerated superfoods
Artificial products
How to get past the marketing speech
Organic, wholefoods and natural are words that are tossed around lightly. If a brand says organic and natural, it may not actually mean that.
Unless the product has been certified and has the symbol that declares this, then it is just a descriptive word used as a marketing ploy.
Customers can also be tricked into thinking a product is healthy as companies can play around with words and their label may say things like 'all natural' when it actually it's not.
Ingredients to look for in your weight loss smoothies
Bulking out your smoothies with more healthy ingredients when blending can make your meal or snack that much more nutritious! You could add some cacao or chia seeds for instance. Why not try some of these ingredients when next blending yours?
Some other ingredients to look out for include:
Psyllium husks – a water-soluble fibre to aid digestion

Flaxseed meal – healthy fats (omega3 fatty acids) & high fibre making it an ideal ingredient for post birth nourishment

Pumpkin seed meal – adds bulk to assist a sense of fullness & contains a high level of essential fatty acids, protein, zinc & iron.

Soy protein isolate (non-GM) – a complete protein low in fat with high digestibility. The protein is a soy protein isolate – which means the protein has been isolated and the oestrogen and hormone part of soy is not included in the product – only the protein part of the soy
Top Healthy Mummy weight loss recipes
Try our top Healthy Mummy weight loss smoothie recipes below, you can use these as a healthy meal replacement or a sustaining snack! Get creative. There are so many smoothie recipes within the recipe hub of the 28 Day Weight Loss Challenge too.
Super Green Smoothie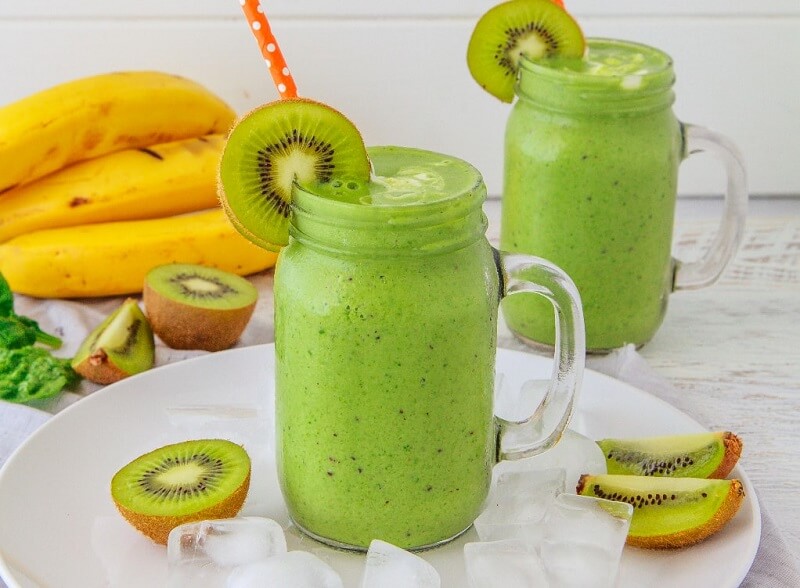 Ingredients:
2 x tbsp of Vanilla

Healthy Mummy Smoothie (25g)

1/4 of an avocado (30g)

2 kiwi fruits (140g)

30g baby leaf spinach

250ml of almond milk (you can use any low-fat milk)
Method:
Craving Buster Smoothie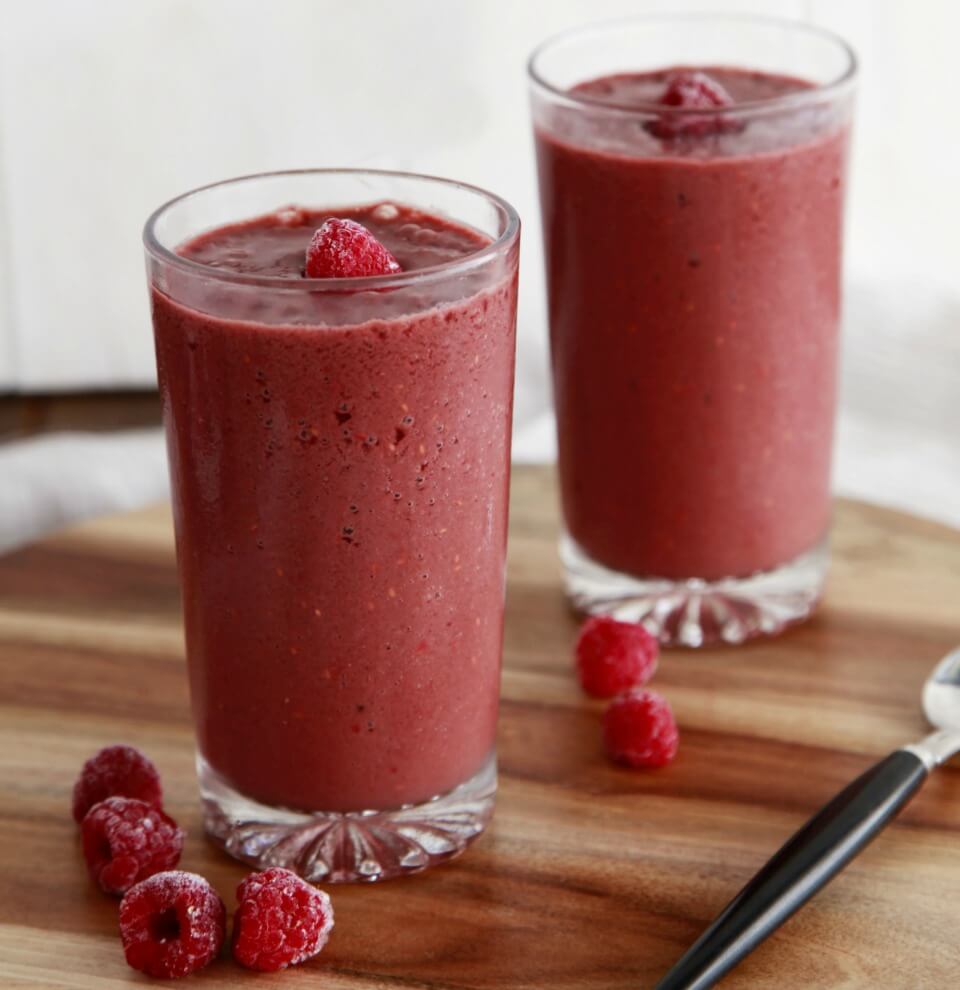 Ingredients:
250ml milk of choice

1/2 cup mixed berries (75g)

2 tbsp Chocolate

Healthy Mummy Smoothie Mix (25g)

Ice
Method:
Blend all ingredients on high until well combined and enjoy!
Belly Fat Blast Smoothie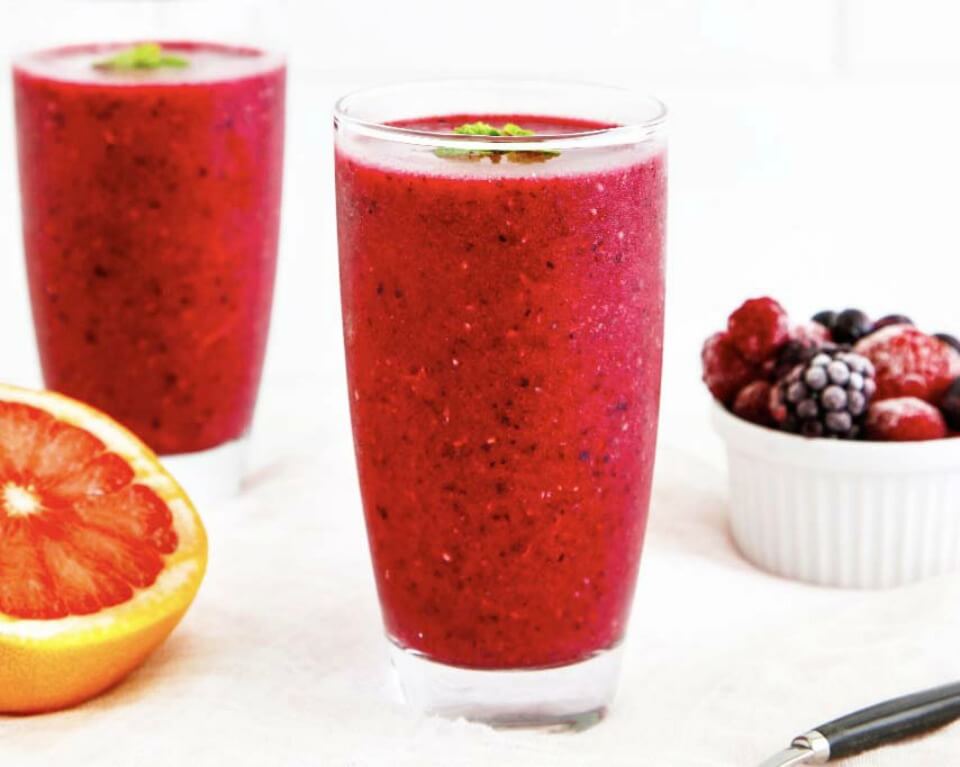 Ingredients:
2 tbsp vanilla Healthy Mummy Smoothie mix (25g)

½ red grapefruit peeled (125g)

½ cup mixed frozen berries (75g)

2 tbsp Greek yogurt (30g)

1 tbsp chia seeds (12g)

200ml filtered water
Method:
Blend all ingredients together in a blender for 1-2 minutes. Enjoy!
Superfood Coconut and Almond Smoothie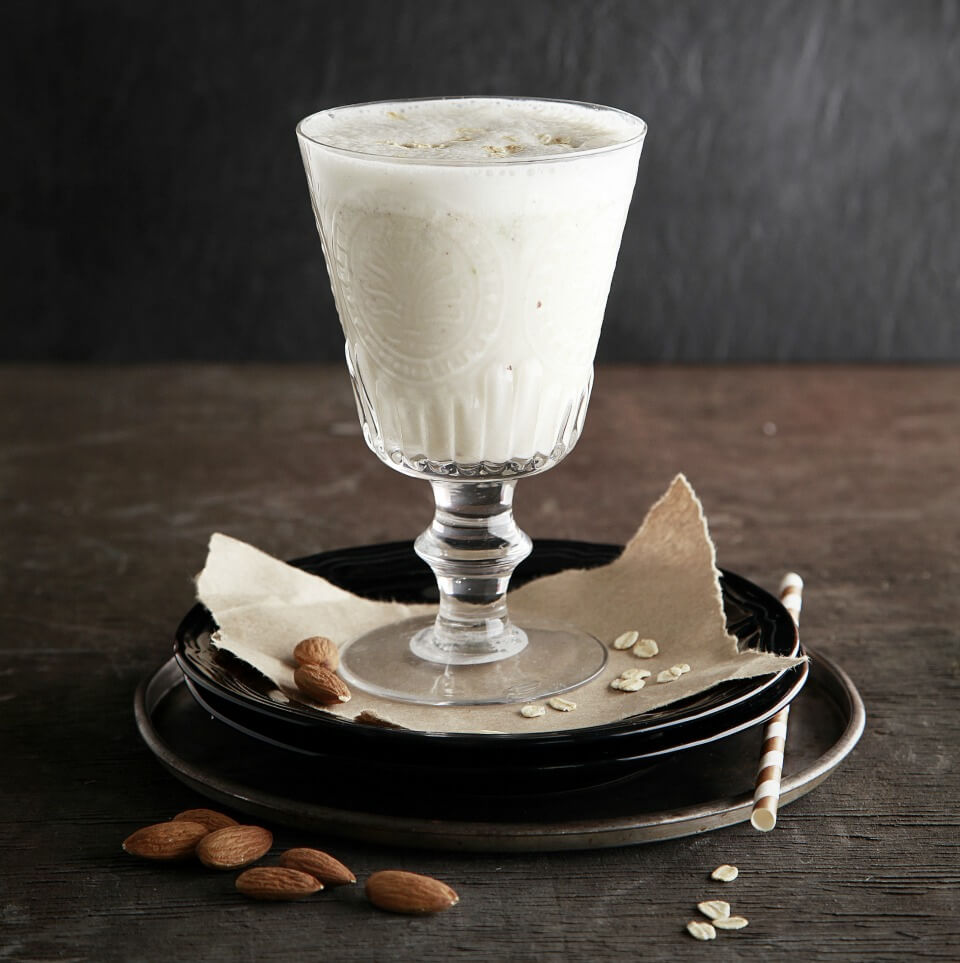 Ingredients:
2 x tbsp of

vanilla Healthy Mummy Smoothie (25g)

1 x tbsp ground almonds (9g)

250ml of almond milk

1 x tbsp of desiccated coconut (7.5g)

A pinch of cinnamon

Few cubes of ice
Method:
Blend for 2-3 minutes

Enjoy!
Cellulite Reducing Smoothie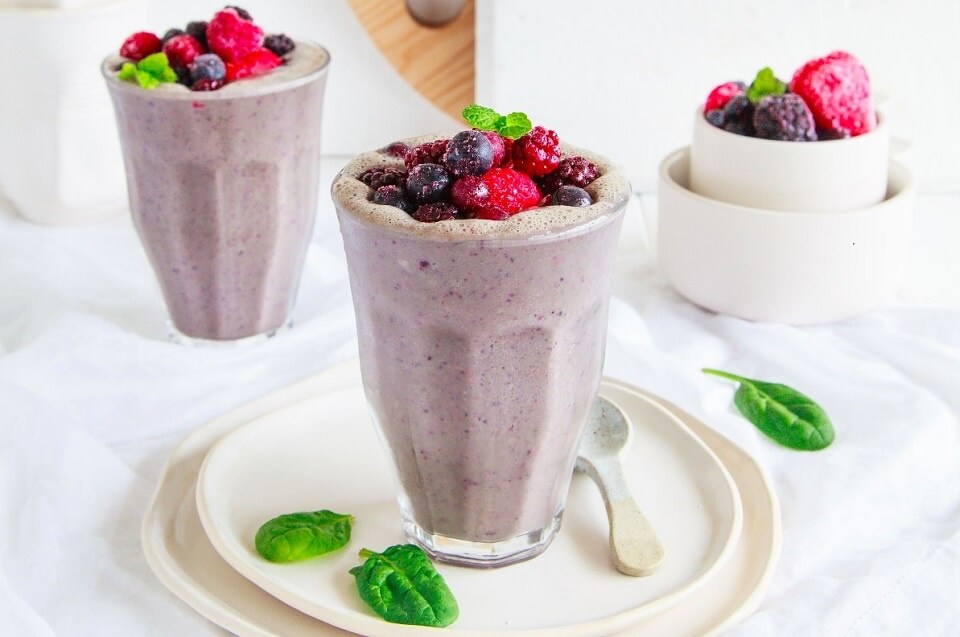 Ingredients:
1 cup baby spinach (30g)

½ cup frozen mixed berries (75g)

2 tbsp Strawberry Healthy Mummy Smoothie mix 25g

250ml low-fat milk of choice

ice cubes
Method:
Combine all ingredients and process until smooth.
Having a Healthy Mummy Smoothie can be a great addition to your day – plus if you are a breastfeeding mum they are safe for use in breastfeeding. You can use them with healthy eating plans on the 28 Day Weight Loss Challenge.
Mums all over the world love our smoothies. And they are great for getting lots of nutrition into your body if you are too time poor or tired to cook a meal. Mums know they can trust our weight loss smoothies and guaranteed optimal health and nutritional benefits from them.