Nothing says 'comfort' quite like a yorkshire pud. Add deliciously caramelised onion and melty brie and we are officially in love.
These little bites of heaven make the perfect side dish to your roast dinner or Christmas spread and with 151 calories per serve, they're the ideal, healthy indulgence.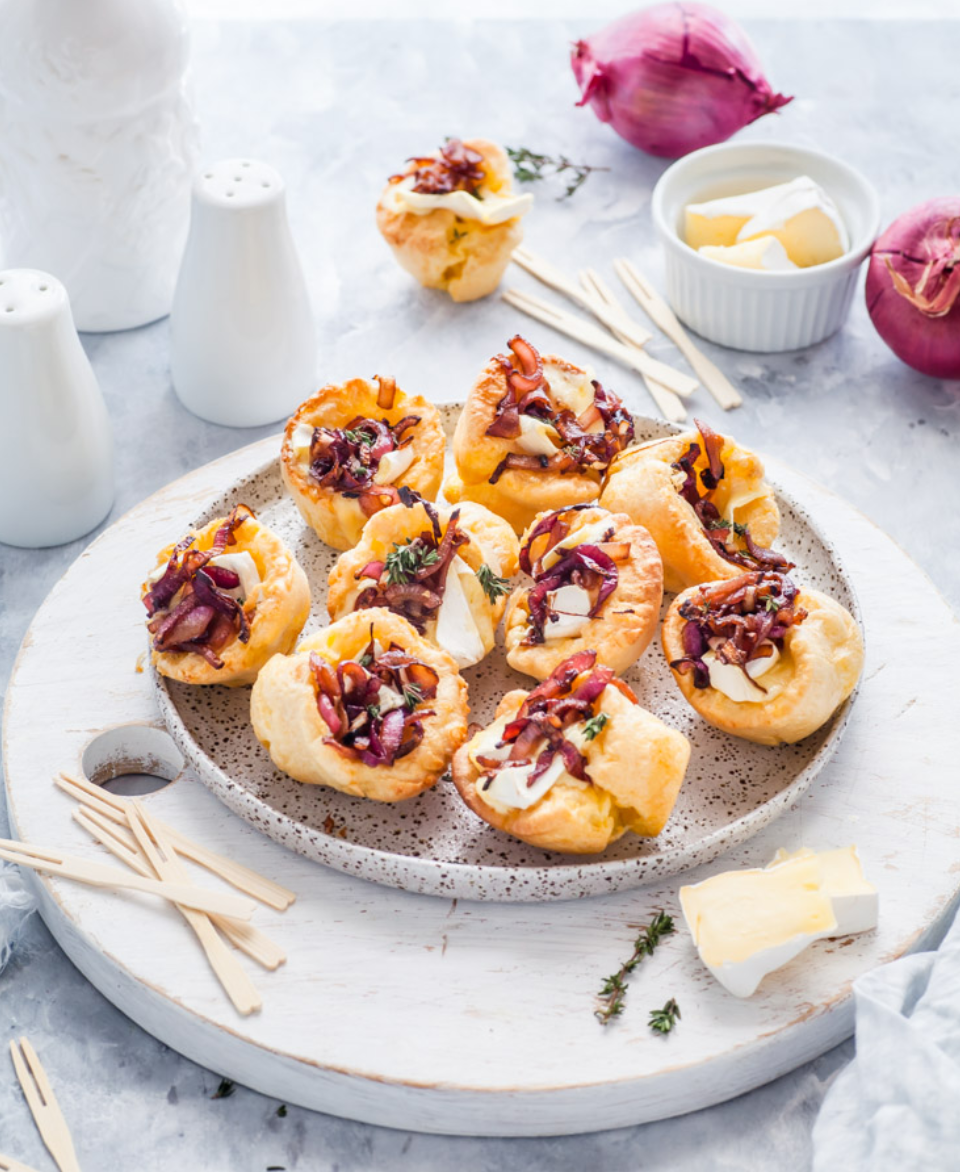 Onion and Brie Yorkshire Pudding Bites
Ingredients (makes 8 serves)
25ml olive oil
120g cornflour
3 eggs (150 grams)
1/2 tsp salt (0.5 grams)
2 tsp onion powder (2 grams)
1/2 cup milk of choice (125 mls)
50ml water
2/3 red onion, thinly sliced (60 grams)
1 tbsp balsamic vinegar (15 mls)
100g Brie, cut into 16 pieces
fresh thyme leaves, to garnish
Method
Preheat the oven to 220C/ gas mark 7.
Using a tablespoon of the olive oil, pour a little of it into the bottom of 16 mini muffin tin holes. Place in the oven for 5-10 minutes until the oil is really hot (smoking).
While the oil is heating, combine the cornflour, eggs, salt, onion powder, milk and water and stir to form a smooth batter.
Divide the batter evenly into each mini muffin tin hole, on top of the hot oil. Reduce the oven to 200C / gas mark 6, and bake the puddings for 15-20 minutes or until golden and risen.
Remove from the oven and allow to cool slightly.
While puddings are baking, add the remaining olive oil in a saucepan over a medium-low heat. Add the onion and vinegar and sauté gently for 5-10 minutes or until onions are caramelised and soft.
Top the puddings with a piece of Brie and some of the caramelised onion. Place under a preheated grill for 2-3 minutes until Brie melts slightly.
Place puddings on a platter and sprinkle with some fresh thyme leaves to serve. Two puddings make one serve.
151 calories per serve
More on the 28 Day Weight Loss Challenge
Want access to thousands and thousands of healthy recipes that will help you to lose weight? Then be sure to check out our 28 Day Weight Loss Challenge.
Our 28 Day Weight Loss Challenge is a family-friendly, breastfeeding-safe program designed FOR MUMS to help them tackle their health and lose the baby weight. 
Every week you are given a different meal plan to follow and each month we add NEW recipes to our Challenge Recipe Hub. That way, you'll never get bored and stay on weight loss track while digging into healthy, yummy recipes.
Learn more about our 28 Day Weight Loss Challenge HERE.
If you would like a sneak peek at some of the meals, snacks and exercises from the 28 Day Weight Loss Challenge you can download our FREE recipe packs HERE.