Recipes
25 Minute Peanut Butter Chicken Curry
If you've got access to a decent spice cupboard at home, you don't need to buy curry paste to make a hearty curry like this one from the 28 Day Weight Loss Challenge.
It's curry meets satay in this dish, packed full of warming spices to fill even the hungriest of bellies.
If you love peanut butter as much as we do, join us on the 28 Day Weight Loss Challenge.
You'll have access to delicious recipes like Peanut Butter Noodles, Tofu Salad with Homemade Satay Sauce, or Nutty Ramen Noodles.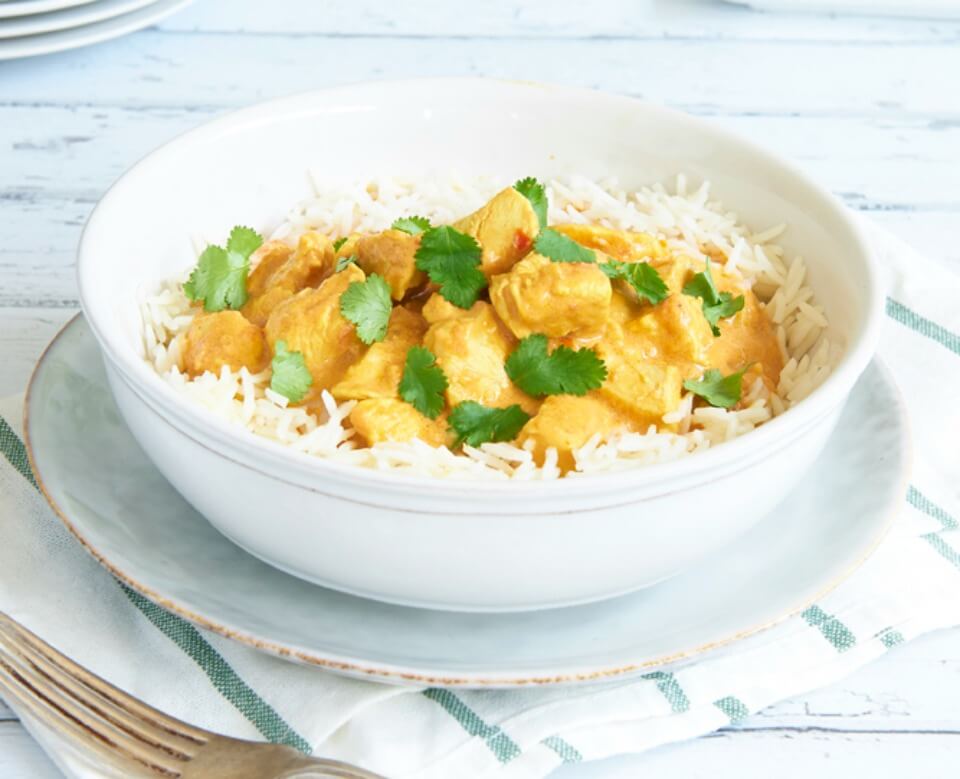 Ingredients
1 cup basmati rice, uncooked (180 grams)
4 teaspoons extra virgin olive oil (20 mls)
1 brown onion, finely chopped (100 grams)
2 cloves garlic, minced (6 grams)
400 grams chicken breast fillets
1 tsp fresh ginger, minced (4 grams)
2 tsp ground coriander (2 grams)
1 tsp ground cumin (1 grams)
1 tsp ground turmeric (1 grams)
1 cup liquid chicken stock, salt reduced (250 mls)
400 grams tinned tomatoes
1/2 cup peanut butter (96 grams)
1 tsp garam masala (1 grams)
1 cup reduced-fat Greek natural yogurt (260 grams)
1 tablespoon fresh coriander, chopped (5 grams)
Method
Prepare rice according to packet directions.
Heat oil in a large saucepan over medium-high heat. Add the onion and garlic and sauté for 1 minute or until tender.
Dice the chicken into cubes and add to the pan. Cook for 3-4 minutes or until browned on all sides.
Add the ginger, ground coriander, cumin and turmeric and stir to combine. Cook for a further 1-2 minutes until spices are fragrant.
Add the chicken stock, tinned tomatoes and peanut butter and mix. Bring to a boil then reduce to a simmer for 5-10 minutes or until chicken is cooked through and sauce has thickened slightly.
Add the garam masala and the yogurt and stir to combine.
Divide the prepared rice evenly between 4 bowls and top with an even amount of the chicken and curry sauce. Sprinkle with coriander to serve.
Recipe serves 4 at 409 calories per serve.
Want to access thousands more healthy recipes like these?
Love the sound of these delicious recipes? Want access to thousands and thousands MORE healthy recipes just like it? Then be sure to check out our 28 Day Weight Loss Challenge.
Our 28 Day Weight Loss Challenge is a family-friendly, breastfeeding-safe program designed FOR MUMS to help them tackle their health and lose the baby weight. 
Every week you are given a different meal plan to follow and each month we add 100+ NEW recipes to our Challenge Recipe Hub. That way, you'll never get bored and stay on weight loss track while digging into healthy, yummy recipes.
Learn more about our 28 Day Weight Loss Challenge HERE. When you join you get instant access to over 4,000 recipes, and 350 workouts.