These delish savoury muffins from the 28 Day Weight Loss Challenge work equally well as a morning or afternoon tea and could even be served as a light lunch with salad.
Packed full of nutrients from diced pumpkin (or butternut squash), baby leaf spinach and with a generous helping of protein and calcium from the two different types of cheese used, these little guys will keep your metabolism burning long after you've finished eating.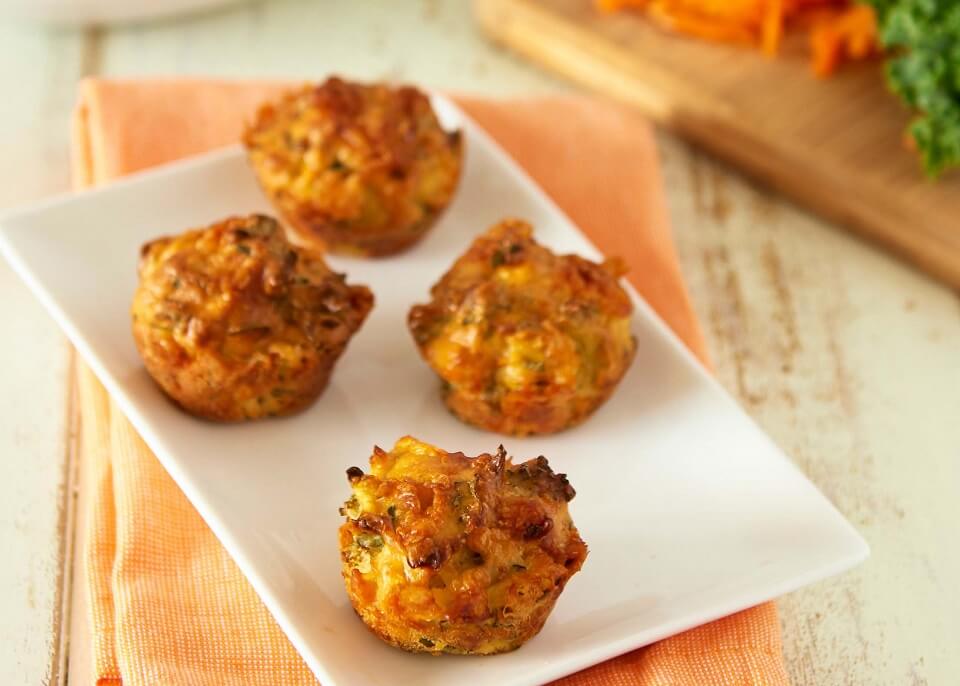 While we've used spinach and pumpkin with goat's cheese and parmesan, you can alternate the ingredients to suit what you like eating or have handy. If you can, stick to using a stronger flavoured cheese. The rich flavours of goat's cheese and parmesan means you end up using less product which cuts down on calories.
Pumpkin, goat's cheese and parmesan savoury muffins
Ingredients (makes 12 muffins)
2

 

cups

 

wholemeal flour

 (

we used spelt flour) (24o grams)

3

 

tsp

 

baking powder (7.5 grams)

1

 

cup

 

diced pumpkin or butternut squash (120 grams)

1

 

cup

 

baby leaf spinach leaves,

 shredded (30 grams)

200

 

grams

 

goat's cheese

100

 

grams

 

parmesan cheese

1

 free range egg, 

lightly beaten (50 grams)

1

 

cup

 

low fat milk (250 mls)

1.5 

tbsp

 

Dijon mustard (24 grams)

2 tbsp olive oil for drizzling and greasing muffin tins (30 mls)
Method
Preheat the oven to 180C/gas mark 4

Place pumpkin on a baking tray and drizzle with 1 tbsp olive oil

Pop in the oven to roast for 30-40 minutes or until soft

While pumpkin is cooking, combine eggs and milk in a large bowl and mix well

Sift in flour and baking powder and stir to combine

Add cheeses, mustard, spinach and when cooked, pumpkin

Gently stir (you want a thick, lumpy texture and don't want the pumpkin to become pureed)

Grease a 12 capacity muffin tin with remaining olive oil or cooking spray

Spoon mixture into muffin tins and place in the oven

Cook for 15-20 minutes or until the tops of muffins become golden brown and mixture is cooked through.
Recipe makes 12 muffins at 110 calories per muffin
More on the 28 Day Weight Loss Challenge
Want access to thousands and thousands of healthy recipes that will help you to lose weight? Then be sure to check out our 28 Day Weight Loss Challenge.
Our 28 Day Weight Loss Challenge is a family-friendly, breastfeeding-safe program designed FOR MUMS to help them tackle their health and lose the baby weight. 
Every week you are given a different meal plan to follow and each month we add NEW recipes to our Challenge Recipe Hub. That way, you'll never get bored and stay on weight loss track while digging into healthy, yummy recipes.
Learn more about our 28 Day Weight Loss Challenge HERE.
If you would like a sneak peek at some of the meals, snacks and exercises from the 28 Day Weight Loss Challenge you can download our FREE recipe packs HERE.