These simple mini frozen treats are a recipe from the 28 Day Weight Loss Challenge and they are the PERFECT sweet treat to stop cravings in their tracks.
Small bites of healthy cheesecake that have a berry burst, what's not to love?! Healthy Mummy Leah Romiti whipped up her first ever batch and couldn't believe how easy they were to make (or how pretty they looked!)
We love frozen goodies and as part of the 28 Day Weight Loss Challenge you'll have access to recipes like Frozen Yoghurt Raspberry Chocolate Bites, Cherry Cheesecake Popsicles or Peanut Butter and Jam Ice Cream.
Frozen treats are not just for summer – they're also perfect to help you with portion control!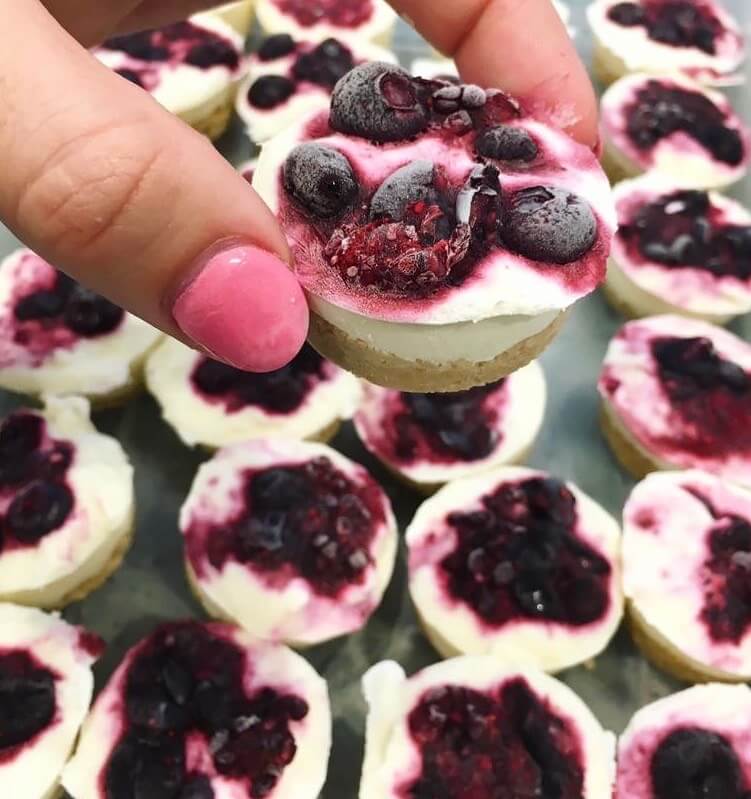 Yogurt berry mini cheesecakes
Ingredients (Makes 8 servings)
1 tsp powdered gelatine (4 grams)
1 tablespoon boiling water (15 mls)
1/4 cup cashew nuts, unsalted (30 grams)
3/4 cup rolled oats (75 grams)
2 tbsp desiccated coconut (16 grams)
2 tbsp butter, melted (32 grams)
cooking oil spray
1/2 cup fresh or frozen raspberries (120 grams)
187.5 grams light cream cheese
1/2 cup vanilla yogurt (120 grams)
Method
Dissolve the gelatine in the boiling water and set aside. Soften the cream cheese.
Place the cashews, coconut and rolled oats in a food processor on high until well combined.
While the processor is running, pour in the butter and continue processing until the mixture begins to come together.
Line or lightly spray 8 holes of a silicone mini muffin tray.
Divide the cashew and coconut mixture evenly between each hole of the tray. Press base down firmly.
If using frozen raspberries, allow to defrost, then place in a bowl and lightly mash with a fork.
In a separate bowl, beat the softened cream cheese and yogurt together until well combined and smooth.
Fold through the dissolved gelatine.
Divide the cream cheese mixture evenly amongst the muffin holes, on top of the bases.
Spoon some mashed raspberries on top of each muffin hole and swirl through gently with a teaspoon to just combine with the cream cheese mix.
Place muffin tray in the freezer for 1-2 hours or until firm and set.
One mini cheesecake is one serve.
Store leftovers in an airtight container in the fridge for up to a week or freeze for up to 2 months.
Makes 8 serves with 111 calories per serve
Want to access thousands of healthy snacks like this one?
Love the sound of this delicious recipe? Want access to thousands and thousands MORE healthy recipes just like it? Then be sure to check out our 28 Day Weight Loss Challenge.
Our 28 Day Weight Loss Challenge is a family-friendly, breastfeeding-safe program designed FOR MUMS to help them tackle their health and lose the baby weight.
Our Challenge entails:
28 days of at home exercise routines (no gym needed) – with video instruction
Customisable and breastfeeding friendly meal plans
Time-efficient exercises for busy mums – under 30 mins
Challenge combines Pilates exercises with interval and circuit training (HIIT)
Suitable for basic to advanced fitness levels
Home to thousands of EASY-TO-MAKE recipes!
To find out more on the 28 Day Weight Loss Challenge click here.