Healthy Mummy best friends Evie May Hebiton and Jess Couper share the importance of having a friend by your side when trying to lose weight. With their constant encouragement and support of each other, these ladies have successfully lost 5.11 stone (combined).
They share their inspiring weight loss journeys below.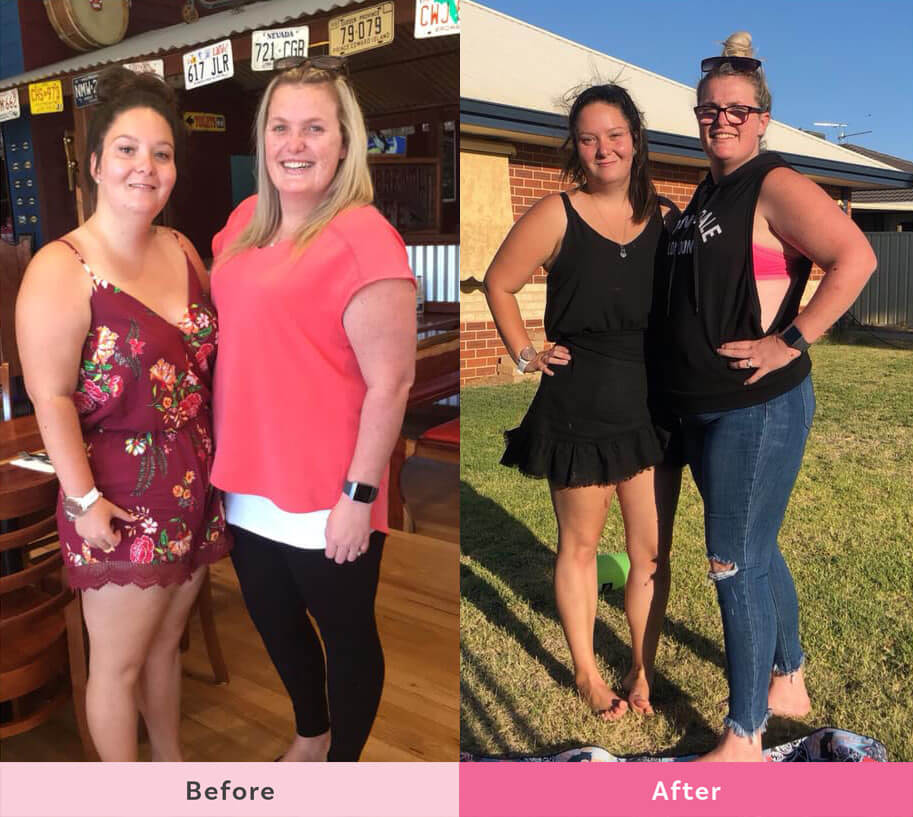 Weight loss BFF's
If you are embarking on your weight loss journey maybe it's time to see if you have a friend who wants to take part too. Healthy Mummy mums and BFF's Evie and Jess prove the power of the whole is greater than the parts.
By encouraging each other every step of the way and during every hurdle, they have lost a combined 5.11 st. in the past year with the 28 Day Weight Loss Challenges and Healthy Mummy Smoothies.
They say they "couldn't be any more proud of us for how far we've come."
The Healthy Mummy team would have to agree with you. Well done ladies!
Evie's weight loss journey
Evie started The Healthy Mummy 28 Day Weight Loss Challenges not long after the birth of her daughter.
She says "My PCOS had flared up in a huge way with more cyst ruptures than I could keep count of. My doctor strongly insisted I try losing weight as we were running out of options and my BMI was classed as obese.
I had been watching so many inspirational transformations in The Healthy Mummy support group so I decided to give it a go."
Results with The Healthy Mummy
Evie has lost almost 3st. with The Healthy Mummy 28 Day Weight Loss Challenges.
She says, "Honestly looking back it was one of the best decisions of my life, it has completely transformed me physically and emotionally to almost unrecognisable.
The Healthy Mummy has taught me how to look after myself, which has spread to every area of my life.
I'm so keen to spend next year getting to my goal weight, toning, gaining muscle and finally see the girl I've always wanted to see in the mirror."
The benefits of losing weight with a friend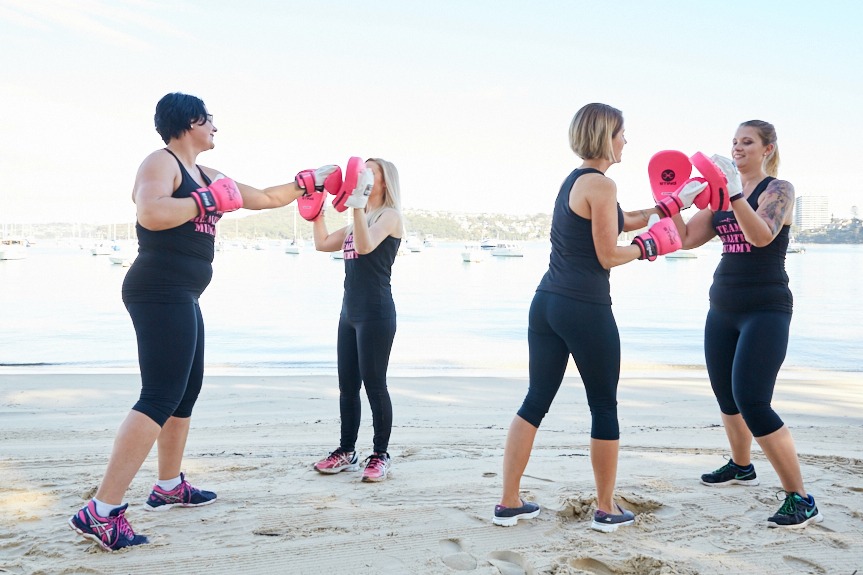 Evie said of having her BFF going through this journey also, "Having Jess by my side to support me helps because we both want to see each other succeed and sometimes she believes in me more than I believe in myself and she reminds me of my why.
Being on this journey with her is infectious and motivating and I've definitely kept myself more on track since she started her journey nine months ago.
We share recipes and workouts and we bounce ideas off each other and it's really reassuring to know no matter where I am in my journey, she's got my back."
Jess's weight loss story prior to The Healthy Mummy
In 2016 Jess gave birth to beautiful twins. Her pregnancy was quite a rollercoaster of a ride.
She suffered from all day morning sickness, preeclampsia, an emergency caesarean and saw her body gain 4.10st. while pregnant.
Jess says "My health took a dive especially while pregnant with the twins. Having preeclampsia and my body rejecting the twins I ended up very sick and unfortunately for months and months after it continued especially the very high blood pressure."
Struggling with how her body looked after having twins she said "once I hit four months after having emergency caesarean I started working out again.
For the first year after having the twins I struggled to lose the weight – it didn't matter what I did or what I ate."
Jess was getting disheartened when the number on the scales didn't move and was questioning why she was putting in all the hard work for no results.
Discovering The Healthy Mummy
After Jess watched her best friend lose weight with The Healthy Mummy 28 Day Challenges and Healthy Mummy Smoothies, she thought maybe it was time to give it a go herself.
She says "I felt like I was in a funk and needed a change." After several months of her friend encouraging her to give a go, Jess decided to sign up to The Healthy Mummy 28 Day Weight Loss Challenge.
"I started off by doing the 28 Day Challenge meal plans and walking once a day I then increased it to twice a day with three times a week workout.
At first, the scales didn't move much but it was the cm that moved and I couldn't believe the difference in my clothes.
Then I swapped out two meals a day for smoothies and absolutely loved them." 
Weight loss results
Jess has lost 3.2st since joining The Healthy Mummy.
She says "Although I still have a long way to go I've found that The Healthy Mummy has helped change my mindset and I now crave feeling fit and healthy, rather than just being focussed on the number on the scales."   
Jess shares the benefits of having a friend on her weight loss journey
Even though Evie and Jess live nearly two hours apart Jess says "Evie was always there. The support was fantastic from pushing me to go walking or staying on track. Or even when I felt like giving up she always knew what to say.
There were times I fell off the bandwagon but no matter what she always had my back especially this year with having a very tough year.
She never gave up on me she always had my best interests at heart."
Why The Healthy Mummy program works
On reflecting on The Healthy Mummy program Jess says "It's not a diet it's a lifestyle change.
The food you are eating it is so yummy and it feels like you are eating naughty at times but you're not."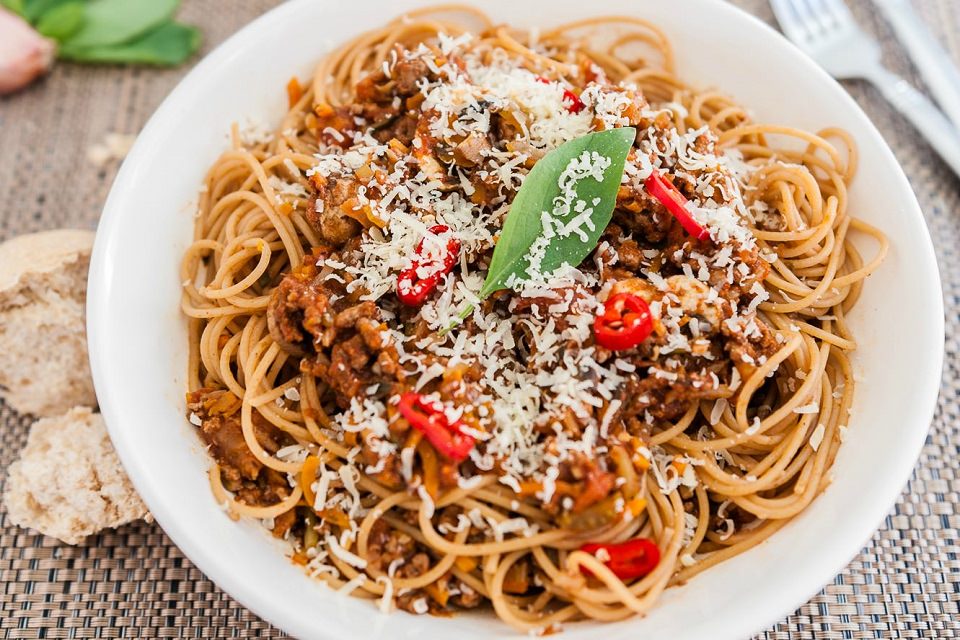 "My family loves the food and it's really easy to cook." 
"I have found my confidence again and I fell in love with my body again instead of picking out everything I hated with it.
If you are sitting on the fence about it just do it if will be the best thing you will do the food is yummy and the support is amazing."
The Healthy Mummy team would like to congratulate these two inspiring mums for sharing their weight loss journeys with us. Well done ladies!
Are you ready to kick-start your weight loss?
If you are interested in kickstarting your weight loss and want to improve your energy – not to mention – improve your overall health and wellbeing – our 28 Day Weight Loss Challenge is an awesome program to check out. 
Our 28 Day Weight Loss Challenge includes:
28 days of at home exercise routines (no gym needed) – with video instruction
Customisable and breastfeeding friendly meal plans (including a 7 day cleanse)
Time-efficient exercises for busy mums – under 30 mins
Challenge combines Pilates exercises with interval and circuit training (HIIT)
Suitable for basic to advanced fitness levels
Home to thousands of EASY-TO-MAKE recipes!
To learn more about our 28 Day Weight Loss Challenge click on the link.