Have you ever had a cooking disaster with a recipe from the 28 Day Weight Loss Challenge that was so bad you took a photo to share on the Healthy Mummy UK Facebook group? These mums have.
All of the mums below tried their hand at a recipe from the 28 Day Weight Loss Challenge and for various reasons didn't end up with quite the finished product that they'd hoped for.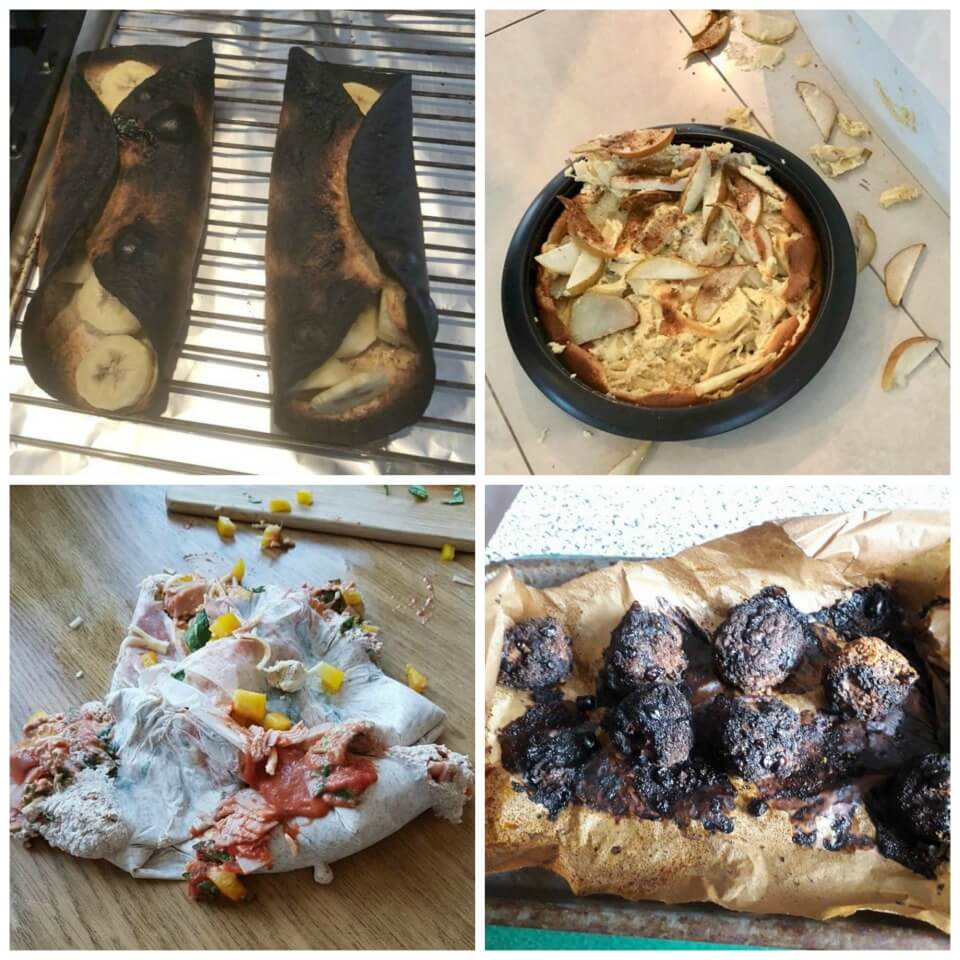 But do you know the best part is? They haven't given up! They haven't let one burnt cake or sloppy snack turn them off healthy eating.
Instead they turned to the Healthy Mummy community on Facebook to share their story and asked for HELP.
And the community responded, with some of our mums below receiving lots of kind comments to help them rectify their food for next time.
And that's what the Healthy Mummy is all about. We're keeping it real so that you know we don't all make picture perfect meals every time.
There's even a #foodfail from our very own Healthy Mummy owner Rhian Allen!
So here they are, with the glorious food fail on the left (and how it should have turned out, in an ideal world, on the right).
Samatha's muffins that got slightly overdone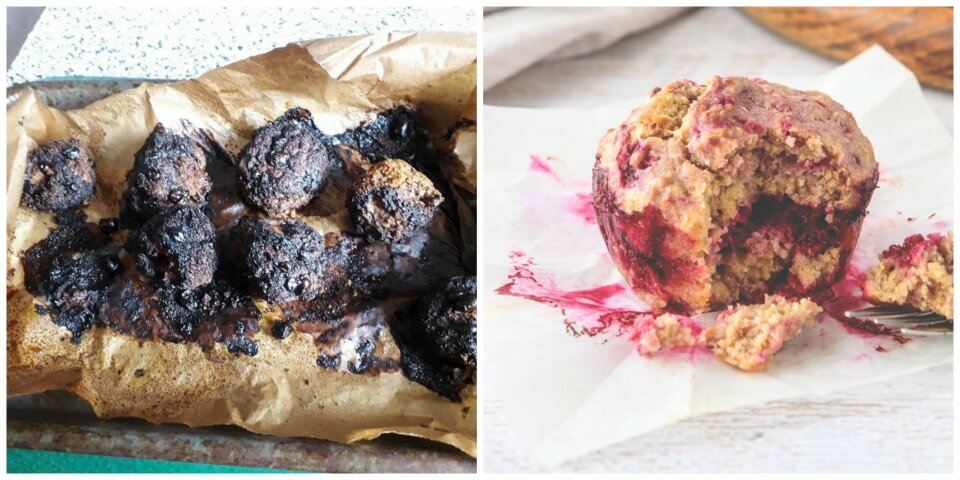 Poor Samantha was trying to get snacks prepared and then got inspired to exercise at the same time.
'Hmmmm epic fail. Went out for a walk and forgot these were in the oven. The house stinks!'
Sarah's Pizza Scrolls that went splat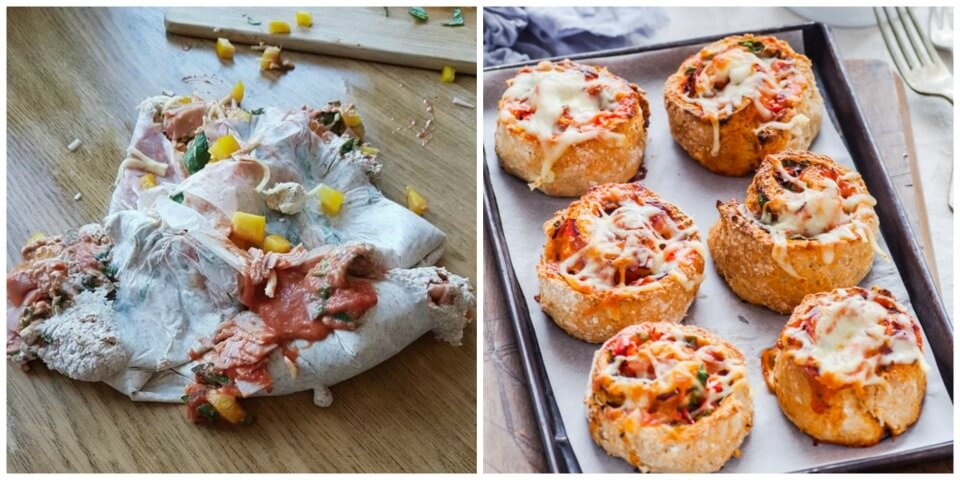 'So, pizza scroll disaster! Trying so hard to make these healthy meals for my family, and this ended in me standing in the kitchen sobbing.'
Sarah, nobody will blame you if you switch these out of your meal plan for something else next time!
Emma's poached eggs that disappeared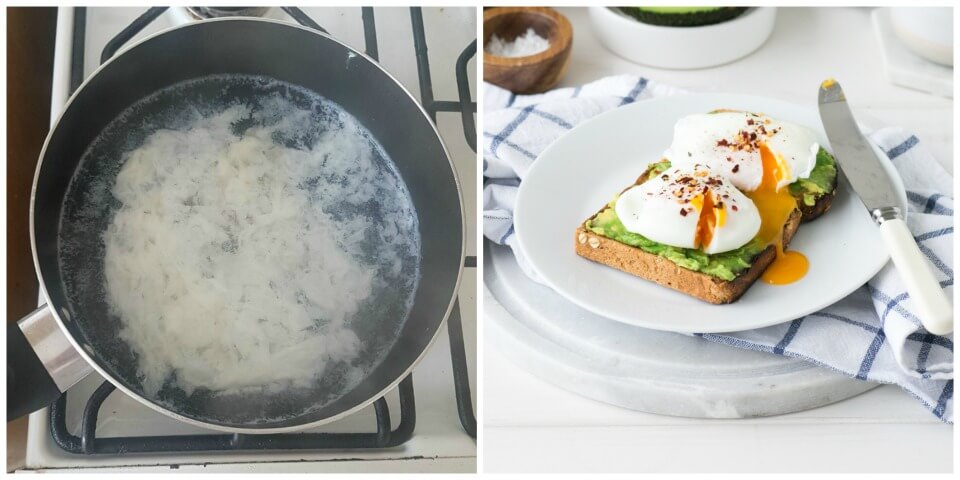 Somebody call the police, Emma seems to have had her poached eggs stolen and replaced with a white fluffy mess…
'I don't tend to have breakfast until 9.30/10 am. This morning I decided to have poached eggs. I think I failed at poaching my eggs….'
Andrea's rather flat Lemon Cake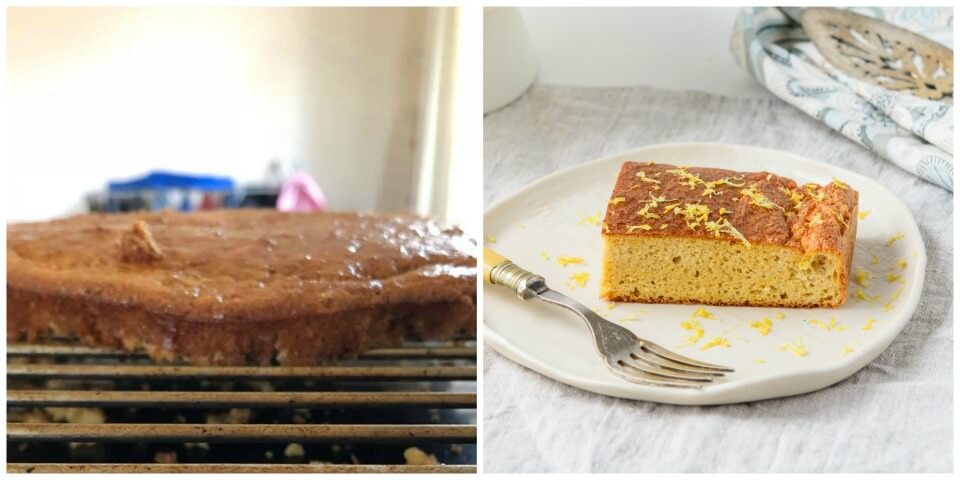 Cakes can go wrong for so many reasons. Sometimes your flour or raising agents are a bit past their best, or you forget the egg, or the oven is too hot, or you use the wrong size pan, or you just have one of those days and this is what happens.
'This morning's efforts include an epic fail of an attempt at the healthy lemon cake.'
Rhian's Baked Pear Custard Pie served off the floor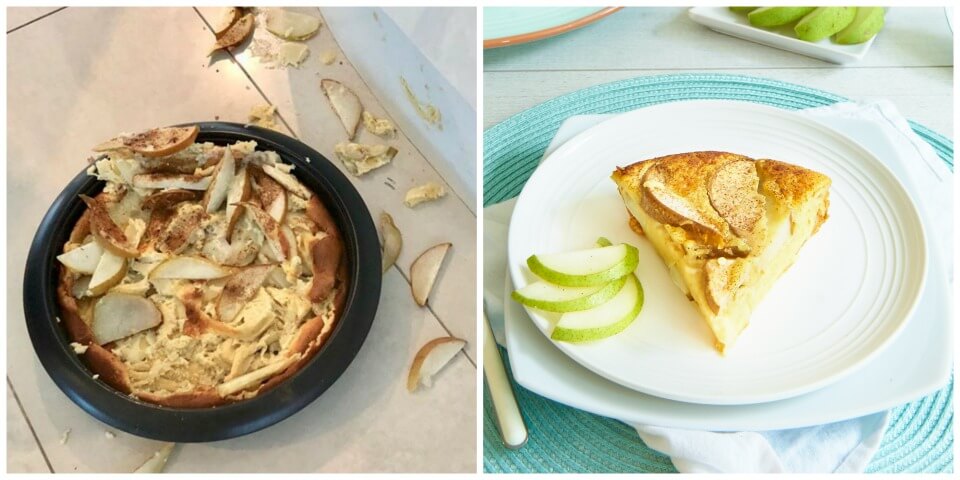 That's right, even Healthy Mummy owner Rhian has a failed recipe now and then. But she didn't let it go to waste…
'Devo! Was practicing the baked pear custard pie recipe as I am on TV cooking it live tomorrow and I took it out of the oven and it looked and smelled delicious – then I dropped it! Still tastes good though!'
Sarah's egg cups with added charcoal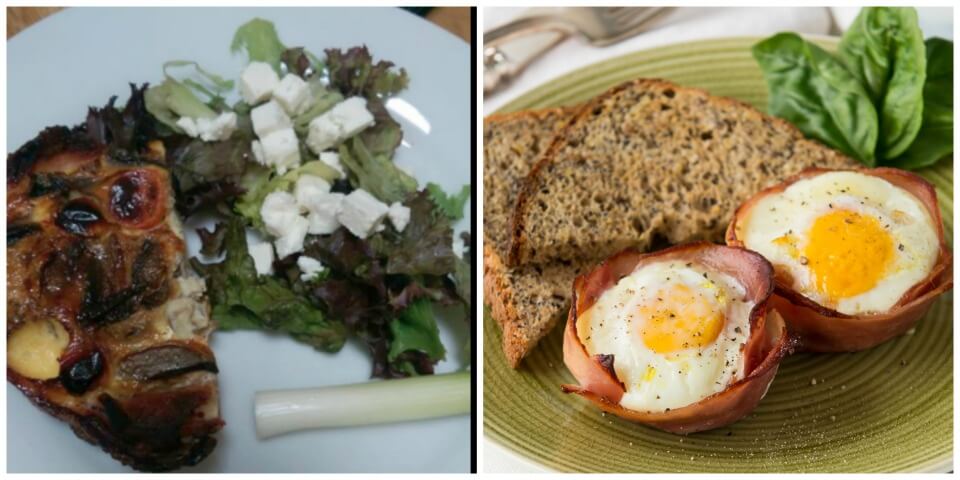 'I burnt my lunch! It's supposed to be the ham with cheese and egg cups, made in a large pot so I have some for tomorrow but then I started cleaning and forgot all about it.  Oops glad I'm only feeding myself this!'
Cleaning and cooking? Sarah you're making us all look bad.
Hazel's Banana Wrap that got cremated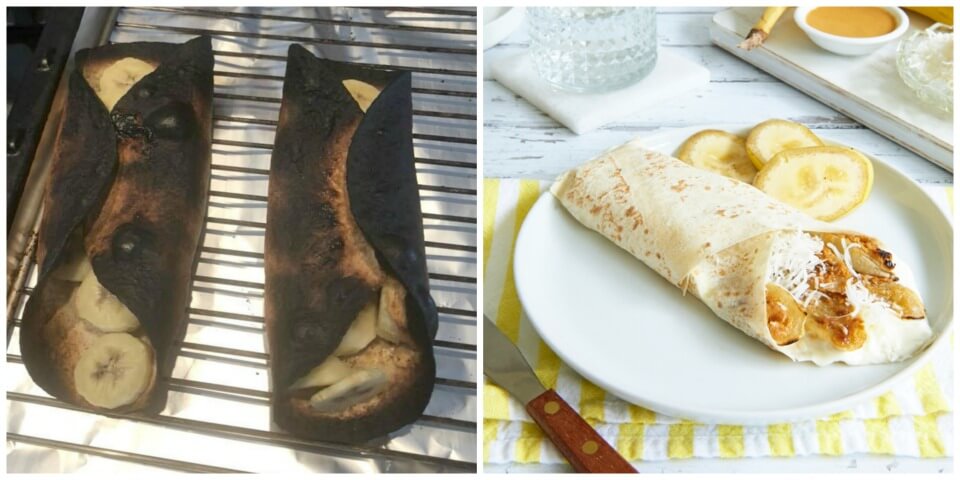 Our personal favourite…when pride comes before the fall.
'I'm no domestic goddess so I was getting a bit cocky with all the cooking I was doing. I didn't fully read the recipe, partly because I was half asleep and partly because I was all for showing off to my other half!
Put all the ingredients together and put it under the grill.  My other half says what is that burning a few minutes later and our poor wraps were cremated! Lesson learnt!'
Want access to thousands of healthy recipes to help you lose weight?
Join the 28 Day Weight Loss Challenge–  it's an affordable, customisable program designed to help mums reach their weight loss goals and improve their health.
Our Challenge entails:
Hundreds of at home exercise routines (no gym needed) – with video instruction
Customisable and breastfeeding friendly meal plans
Time-efficient exercises for busy mums – under 30 mins
Challenge combines Pilates exercises with interval and circuit training (HIIT)
Suitable for basic to advanced fitness levels
Thousands of EASY-TO-MAKE recipes!
To find out more on the 28 Day Weight Loss Challenge click here.