Soups are a great comfort food when you are feeling unwell or just staying indoors, plus the added bonus is they are budget friendly too.
Plus if you want even more immune boosting recipes – our April 28 Day Challenge is the Immune Boosting and Budget round – join here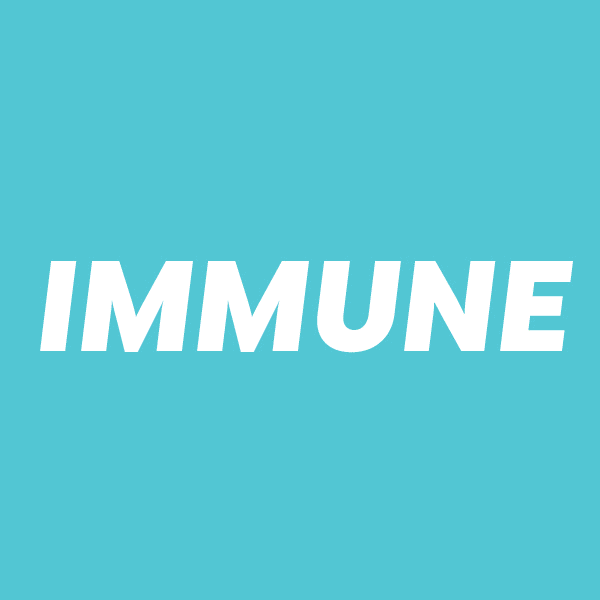 Soups are also a great way to load up on immunity boosting ingredients such as garlic, ginger, tomatoes, red capsicums, turmeric and chicken. These ingredients contain many immunity boosting properties and the right vitamins and minerals to help when you're unwell or to fight off those nasty bugs going around.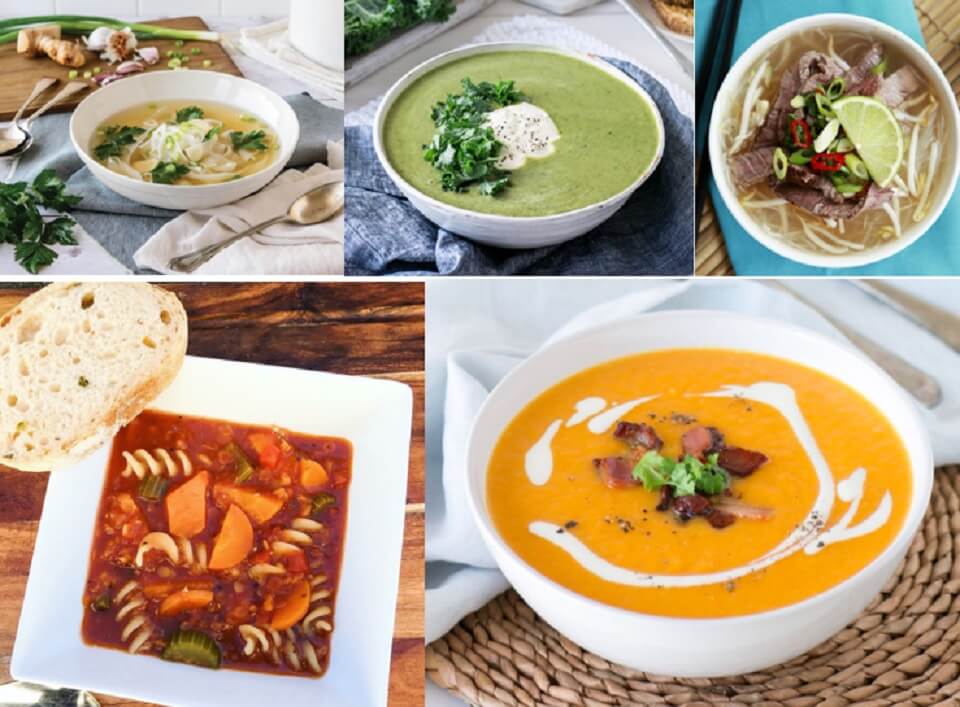 4 Immunity boosting soup recipes
1. Immunity Boosting Chicken Soup
A simple chicken soup like this one from the 28 Day Weight Loss Challenge is ideal to boost your immunity. It contains garlic and ginger which are both known to help the body fight infections plus loads of hydrating stock to keep you feeling your best.
2. Slow Cooked lasagne Soup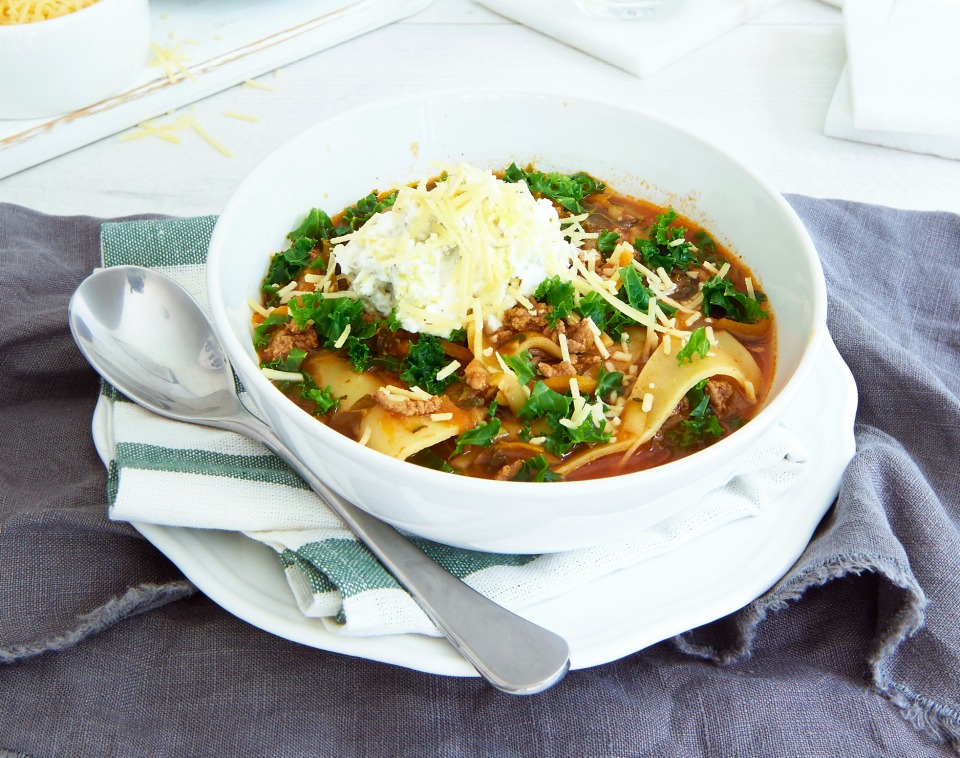 3. Veggie and Quinoa soup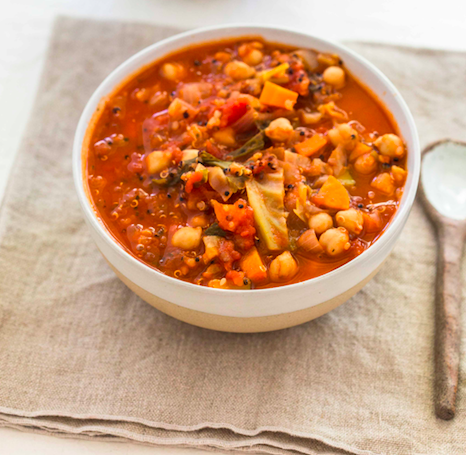 This 28 Day Weight Loss Challenge soup is so good for you it's like a hug in a mug!  Get the recipe HERE
4. Creamy Super Greens Soup
Leafy green vegetables like those found in this delicious soup have more nutrition per calorie than any other food. They are loaded with vitamins including A, C, E and B, are rich in fibre and minerals and are therefore vital in keeping your immunity at its best.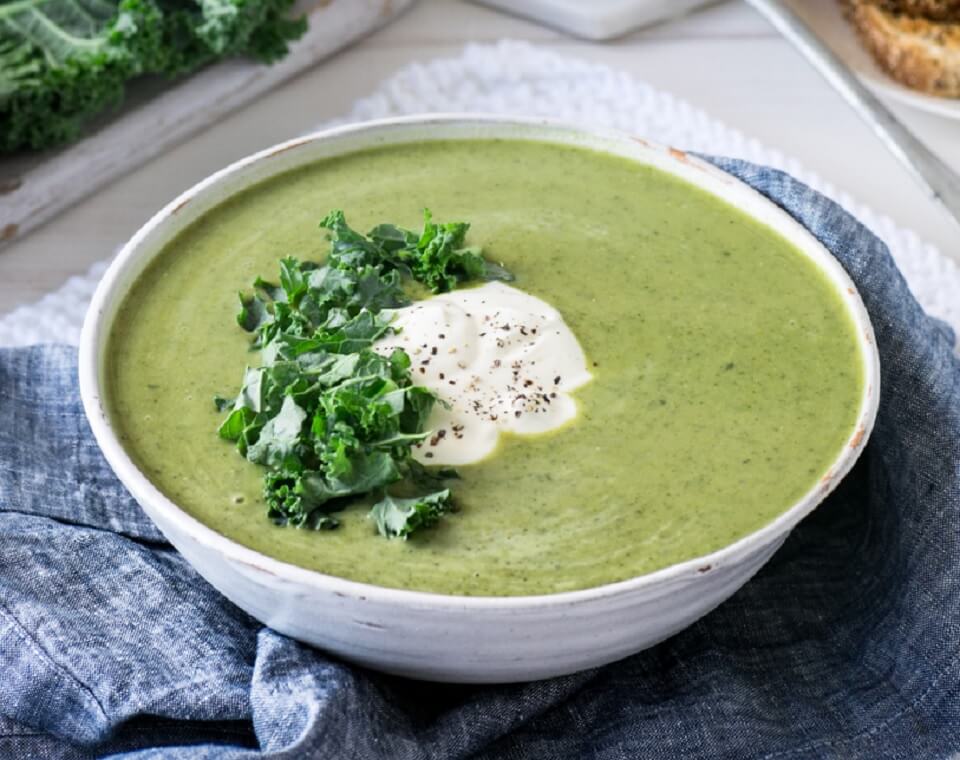 Prep Time: 10 mins
Cooking Time: 20 mins
Ingredients (Makes 1 serve)
1/2 cup broccoli
20 grams of lean smoked ham
1 tsp extra virgin olive oil
1 clove diced garlic
1 cup chopped kale leaves
40 grams of Brussels sprouts
2 cups liquid vegetable stock, salt reduced
60 grams of tinned cannellini beans
1 tbsp reduced-fat Greek natural yoghurt
1 slice wholegrain or gluten-free bread of choice
Method
Cut broccoli into florets. Slice ham.
Heat a saucepan over medium-high heat and add olive oil. Add garlic and sauté for 30 seconds – 1 minute.
Add sliced ham and brown. Then add broccoli, Brussels sprouts and kale. Season with salt and pepper. Sauté vegetables for 2 minutes to colour
and soften slightly.
Add the stock and bring to a boil. Then reduce to a simmer for 8-10 minutes until vegetables are tender. Add some more stock if liquid reduces
a lot.
Add drained beans and using a stick blender or bench top blender, blitz until smooth.
Return soup to saucepan and heat through.
Toast bread.
Serve soup with a dollop of yoghurt and slice of toast.
This recipe contains 283 calories per serve.
Join the 28 Day Weight Loss Challenge for more Immunity Boosting recipes!
All recipe plans are created by our Nutritionists!
Get instant and permanent access to our Healthy Mummy app which includes 4,000 recipes, 400 workout videos, daily support and the 28 Day Weight Loss Challenge.
Get new amazing nutritionist Recipe plan every week.
Get ongoing support and motivation.
Daily indoor exercises videos to keep you fit.
Daily support from The Healthy Mummy team and over 200,000.