Are you looking for a family-friendly recipe that is loaded with healthy fats, carbs and will keep you feeling full? Then look no further than this DELICIOUS Spinach and Pumpkin Curry from the 28 Day Weight Loss Challenge.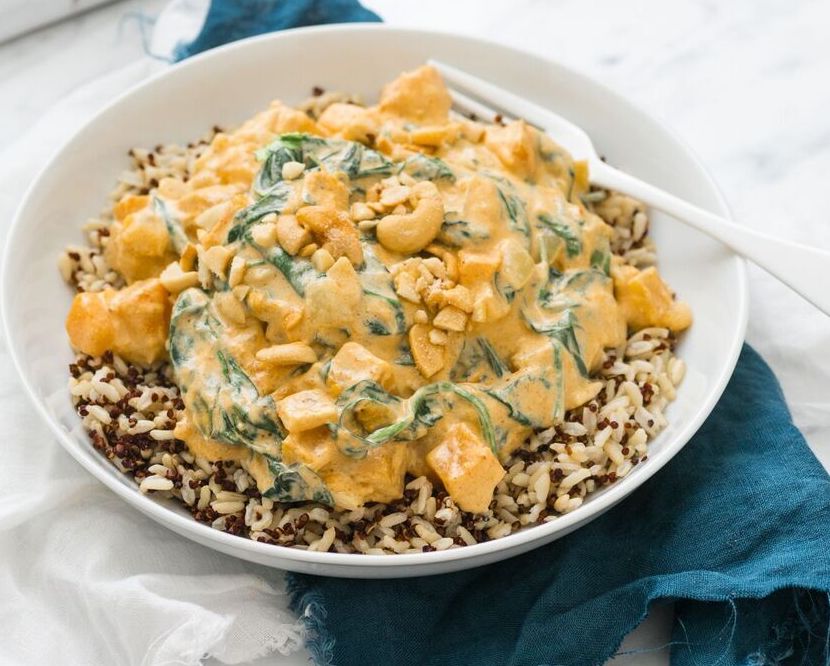 This recipe comes DIRECT from our 28 Day Weight Loss Challenge.
With your choice of curry paste you can make this recipe your own and even repeat with different pastes for different flavour profiles. To make this dish easier to prepare you can use pre-cooked rice and quinoa, simply reheat to steaming when ready to serve. You can even make the curry the day before to let the flavours really develop then just reheat and serve for a quick dinner.
Ingredients
1/4 cup brown rice, uncooked (40 grams) 1/4 cup quinoa, uncooked (45 grams)

1 tsp extra virgin olive oil (5 mls)
1/2 brown onion, diced (50 grams)
1 clove garlic, crushed (3 grams)
1 tsp Indian curry paste of choice (4 grams)
1/2 cup water (125 mls)
1 cup pumpkin or butternut squash, peeled and diced (120 grams) 1 cup baby leaf spinach (30 grams)
1/4 cup coconut cream (60 grams)
1 tbsp cashew nuts, unsalted, chopped (10 grams)
Method
Cook the rice and quinoa separately, according to packet directions. Drain and then combine.
While rice and quinoa are cooking, heat the oil in a saucepan over medium-high
heat.
Add the onion and cook for 1-2 minutes or until translucent. Add the garlic and curry paste and cook for about 30 seconds until fragrant.
Add the water and stir to combine. Add pumpkin, spinach, cashews and coconut cream, and reduce to a simmer for 20-25 minutes, or until pumpkin is tender and the sauce has thickened.
Serve curry over the rice and quinoa.
This recipe serves one. 410 calories per serve.
If you love this recipe you'll also love this 25 Minute Peanut Butter Chicken Curry.
More on the 28 Day Weight Loss Challenge
Want access to thousands and thousands MORE healthy recipes just like this family-friendly curry? Then be sure to check out our 28 Day Weight Loss Challenge.
Our 28 Day Weight Loss Challenge is a family-friendly, breastfeeding-safe program designed FOR MUMS to help them tackle their health and lose the baby weight. 
Every week you are given a different meal plan to follow and each month we add 100+ NEW recipes to our Challenge Recipe Hub. That way, you'll never get bored and stay on weight loss track while digging into healthy, yummy recipes.
Learn more about our 28 Day Weight Loss Challenge HERE.