Beans are a nutrient dense alternative to meat. Beans are loaded with protein, contain antioxidants and are fab for heart health (not to mention are great to eat when following a weight loss plan like the 28 Day Weight Loss Challenge). This Brazilian Black Beans with Greens and Rice recipe – we guarantee your family will love!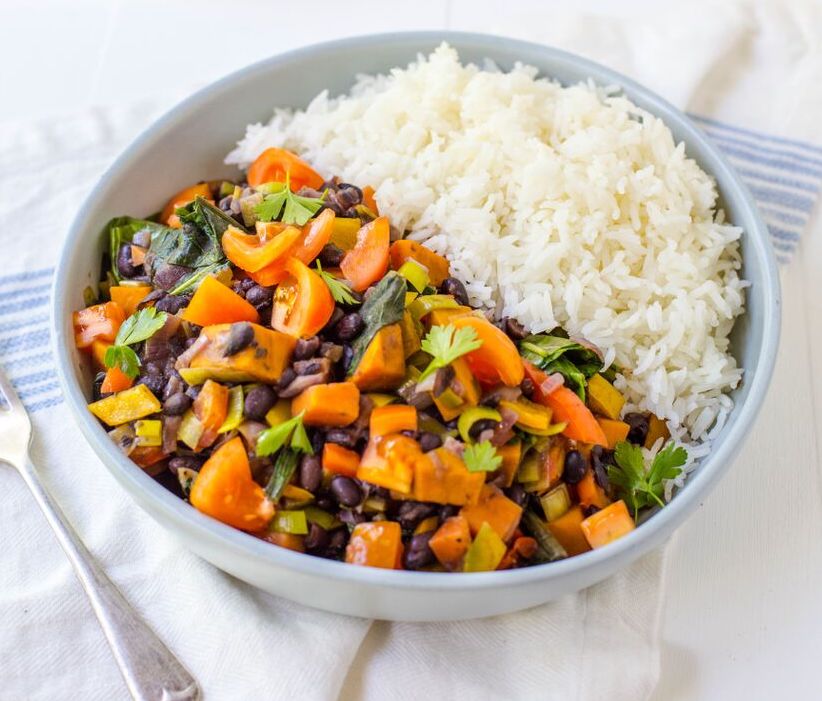 This meal is easy to prepare and great for freezing so you can defrost and reheat as required. You could use tinned beans if you prefer, to save time with meal preparation.
Ingredients
1 & 1/4 cups dried black beans (250 grams) 2 tsp coconut oil (10 mls)
1/2 brown onion, diced (50 grams)
1 clove garlic, crushed (3 grams)
1 red pepper, diced (100 grams)
1 small sweet potato, peeled and diced (160 grams)
1 cup pumpkin or butternut squash, peeled and cubed (120 grams) 1 tsp ground cumin (1 grams)
1 tsp dried thyme leaves (1 grams)
1 tsp dried chilli flakes (1 grams)
1/4 cup liquid vegetable stock, salt reduced (62.5 mls)
1/2 cup basmati rice, uncooked (90 grams)
1 cup kale leaves, chopped (30 grams)
1 cup baby leaf spinach (30 grams)
1/3 cup fresh coriander, chopped (20 grams)
1 tomato, diced (100 grams)
Method
Soak black beans in water overnight.
When ready to prepare, drain and rinse soaked beans. Place in a saucepan of cold water, bring to the boil, turn down to a simmer and cook for 15-20 minutes, until tender.
Heat oil in frying pan, add onion, garlic and peppers. Cook for 2-3 minutes until soft, then add sweet potato, pumpkin, cumin, thyme and chilli. Stir to combine. Add prepared black beans and stock and reduce to a simmer for 20-25 minutes.
While beans are cooking, prepare rice according to packet directions.
Add kale and spinach to beans and cook for a further 3-4 minutes or until wilted and combined.
Divide bean stew evenly between 4 bowls with an equal amount of rice on the side. Top with a sprinkle of coriander and some diced tomato to serve.
Serves four. 450 calories per serve.
For another delicious family-friendly meal try this 15 minute chicken, cashew and broccoli stir fry.
More on the 28 Day Weight Loss Challenge
Want access to thousands and thousands MORE healthy recipes just like this recipe? Then be sure to check out our 28 Day Weight Loss Challenge.
Our 28 Day Weight Loss Challenge is a family-friendly, breastfeeding-safe program designed FOR MUMS to help them tackle their health and lose the baby weight. 
Every week you are given a different meal plan to follow and each month we add 100+ NEW recipes to our Challenge Recipe Hub. That way, you'll never get bored and stay on weight loss track while digging into healthy, yummy recipes.
Learn more about our 28 Day Weight Loss Challenge HERE.