Food is one of our biggest expenses each week and we obviously can't go without it – but we can monitor what we're splashing our cash on. And the good news is you can eat well on the cheap without having to cut up coupons!
We have chosen some recipes from the 28 Day Weight Loss Challenge below to show you how YUMMY and healthy budget food can be!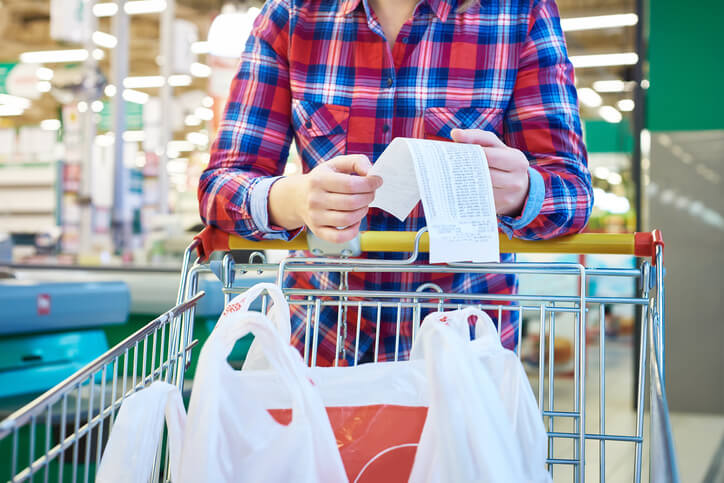 10 Top Tips To Eat Healthily On A Budget
1. Shop at farmers' markets
2. Avoid processed foods where possible
3. Swap prepackaged foods (you get more for your money by cutting up salad than buying it in a bag)
4. Be prepared – eat at home or take your meals out with you
5. Cook from scratch
6. Buy in bulk
7. Reduce portion sizes
8. Shop with a list
9. Eat your leftovers
10. Take part in the 28 Day Weight Loss Challenge where all portion sizes, shopping list and nutrition are taken care of for you and meals are budget and family friendly.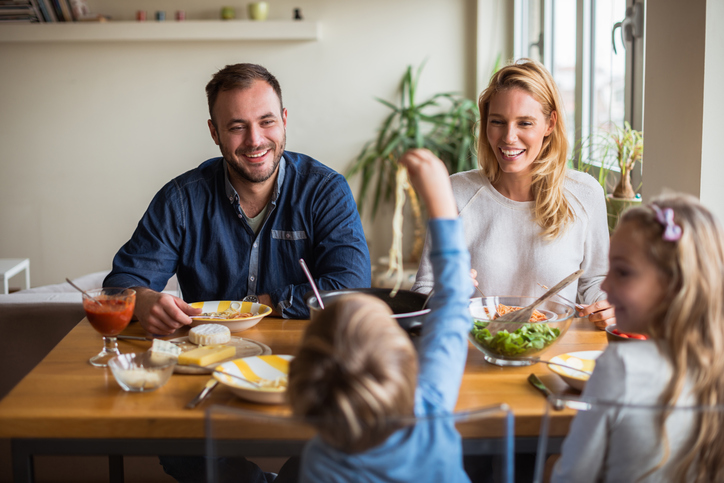 Staples to keep in your cupboard:
Flour
Rice
Stock cubes
Sweet potatoes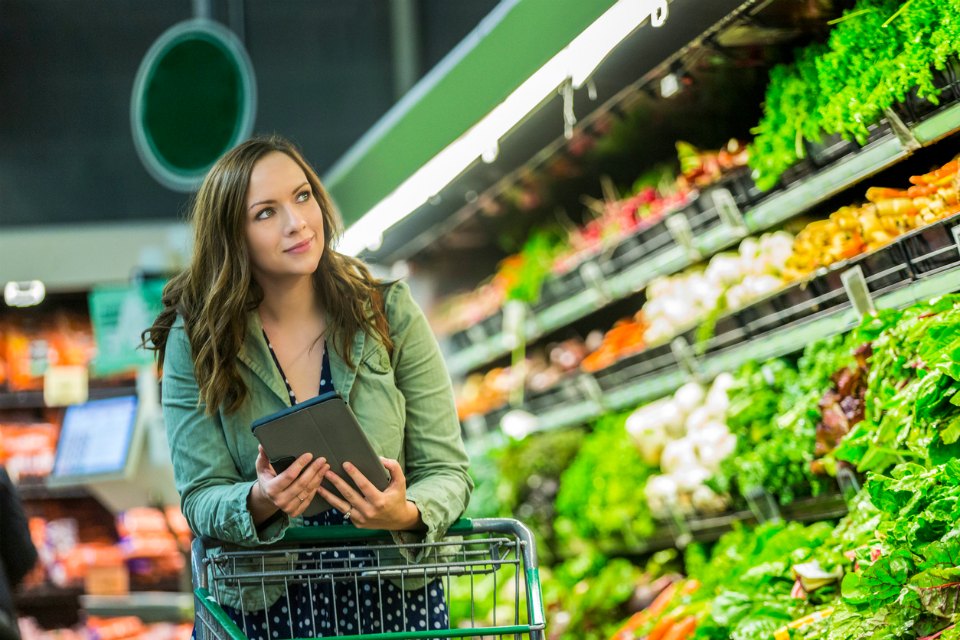 Lifestyle changes to help keep costs down:
Become a flexitarian and swap meat for beans (which are loaded with protein) a couple of times a week.
Rather than throw out leftover veg, why not make a soup or broth?
Even if you just start out by growing your own herbs then veg, it'll save you money and a supermarket run.
Cheap Recipes – all from the 28 Day Weight Loss Challenge:
Lemon and Thyme Roast Chicken
This recipe only includes four ingredients which helps keeps costs down. You can also add whatever veggies you have handy for a wholesome but budget friendly meal.
Ingredients:
1

 

whole large chicken (approx. 1500 grams)

1

 

lemon,

 

try to find unwaxed if possible (100 grams)

4

 

sprigs fresh thyme or rosemary

 

(or use dried thyme, sage or mixed herbs)

2

 

tsp

 

olive oil (10 mls)

Salt and pepper
Method:
Heat your oven to 190C/ gas mark 5

Rinse the chicken under cold water and pat dry with paper towel.

Place the chicken, breast side up, in a roasting pan.

Cut the lemon in half and place one half into the chicken cavity.

Squeeze the juice from the other half of the lemon into a bowl with the olive oil.

Brush the chicken with the oil mix so that it is well covered. Sprinkle over the thyme/rosemary leaves and season to taste.

Bake the chicken uncovered for around 90 minutes, depending on the weight.

Baste the chicken 2-3 times during the cooking process.

Add the roast veggies when there is 60 minutes left. Turn occasionally.

When the bird is golden on top, pull the chicken out and check if it is cooked.

To do this, insert a sharp knife in between one of the legs and the body. The juices should run clear. If there is any pink in the juice, pop it back in to cook longer.

When it is done, wrap the chicken in foil and allow to rest for 15 minutes before carving.
15 Minute Healthy Chicken Satay Salad Tacos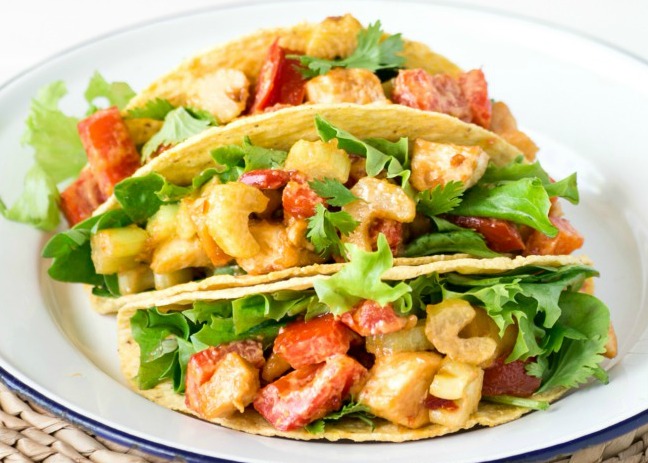 Ingredients:
cooking oil spray

1

 

chopped red pepper (100 grams)

4

 

stalks thinly sliced celery (160 grams)

400

 

grams

 

chicken breast fillets

2

 

tablespoons

 

peanut butter (32 grams)

1

 

tablespoon

 

sweet chilli sauce (15 mls)

2

 

teaspoons

 

soy sauce,

 

salt reduced (10 mls)

12 hard taco shells (120 grams)

4 cups mixed lettuce leaves (120 grams)

1/3

 

cup

 

chopped fresh coriander (20 grams)
Method:
Spray a saucepan with oil and place over a low heat. Add pepper and celery and cook until softened.

Dice chicken and add to the pan. Cook for another 4-5 minutes until browned and almost cooked through.

Stir through peanut butter, chilli sauce and soy sauce. Cook for another 2 minutes until well combined and chicken is cooked through.

Heat the taco shells according to packet directions.

Divide salad leaves between taco shells and top with satay chicken mix and garnish with coriander leaves to serve. 

1 serve is 3 tacos.
This delicious meal only takes 15 minutes to prepare and can be found on the 28 Day Weight Loss Challenge recipe hub.
2 Ingredient Pizza Dough (With Toppings)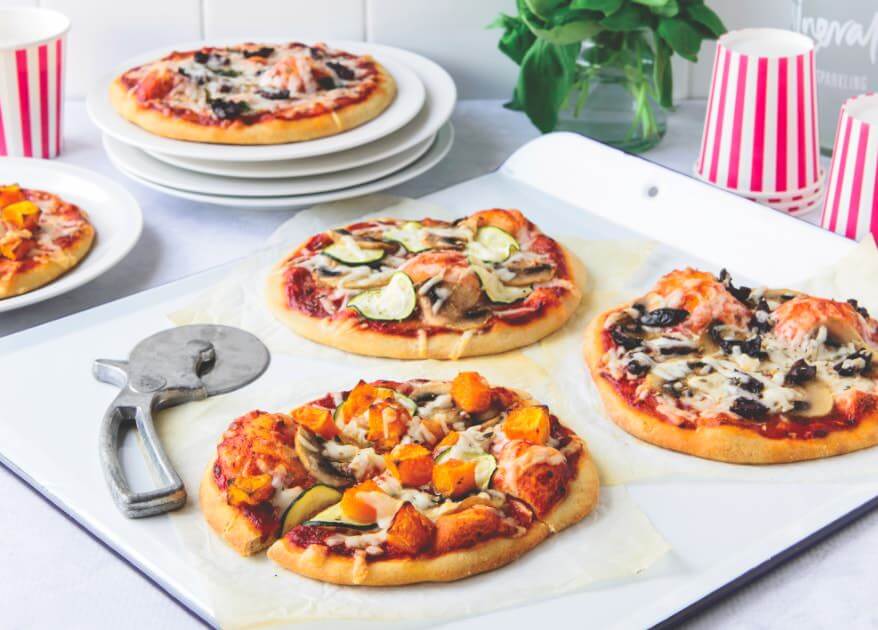 Super cheap, super easy and a hit with the family. What's not to love?
Check out the recipe and topping suggestions HERE.
Lose weight on a budget with the 28 Day Weight Loss Challenge!
If you want to improve your overall health and wellbeing but don't have the budget for a gym membership or fancy pre-made healthy meals – our 28 Day Weight Loss Challenge is an awesome program to check out. 
Our 28 Day Weight Loss Challenge includes:
28 days of at home exercise routines (no gym needed) – with video instruction
Customisable and breastfeeding friendly meal plans
Time-efficient exercises for busy mums – under 30 mins
Challenge combines Pilates exercises with interval and circuit training (HIIT)
Suitable for basic to advanced fitness levels
Home to thousands of EASY-TO-MAKE recipes!
To learn more about our 28 DAY WEIGHT LOSS CHALLENGE CLICK HERE.