Those cooler nights call for wholesome belly warmers. These Tomato and Parmesan Baked Meatballs is one of those tasty dishes that will feed and please the whole family.
Thank you Healthy Mummy 28 Day Weight Loss Challenge member Cassie for creating this recipe!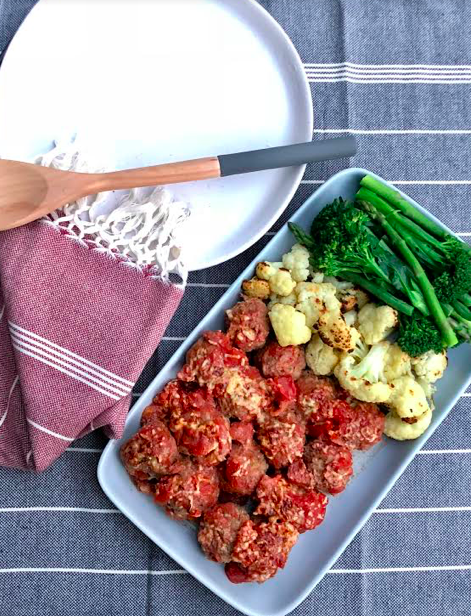 Ingredients
500g lean beef mince
1 egg
1 carrot
½ courgette
400g diced tomatoes
1 tsp Dijon mustard
½ tsp paprika
½ tsp cumin
1 tbsp quinoa flakes
1 tbsp tomato paste
Salt and pepper
¼ cup shredded parmesan cheese
1 tbsp olive oil
¾ cauliflower, cut into small pieces
1 bunch asparagus
100g green beans
Method
Preheat oven to 180 degrees Celsius.
Place carrot and courgette into food processor, blitz until grated.
Add beef mince, tomato paste, quinoa flakes, spices, Dijon mustard salt and pepper into food processor blitz on high until combined.
Transfer mixture into bowl.
Roll mixture into 15 balls.
Place meatballs into baking tray and pour diced tomatoes evenly over.
Place cauliflower into mixing bowl and toss with olive oil and pepper, scatter over lined baking tray.
Place cauliflower and meatball into oven and bake for 15 minutes.
Remove meatballs and pour out any excess liquid from baking dish, sprinkle parmesan cheese over top and return to oven for 5 minutes.
Steam green vegetables.
Serve and enjoy.
Makes 5 serves at 290 calories per serve.
For more delicious recipes like this one download our FREE Takeaway Meal Makeover Guide.