Stuck for dinner ideas? Well, we are here to help. This recipe we are about to share with you comes DIRECTLY from our AUGUST 28 Day Weight Loss Challenge – so you KNOW it's going to be loaded with vitamins, healthy fats, proteins and deliciousness.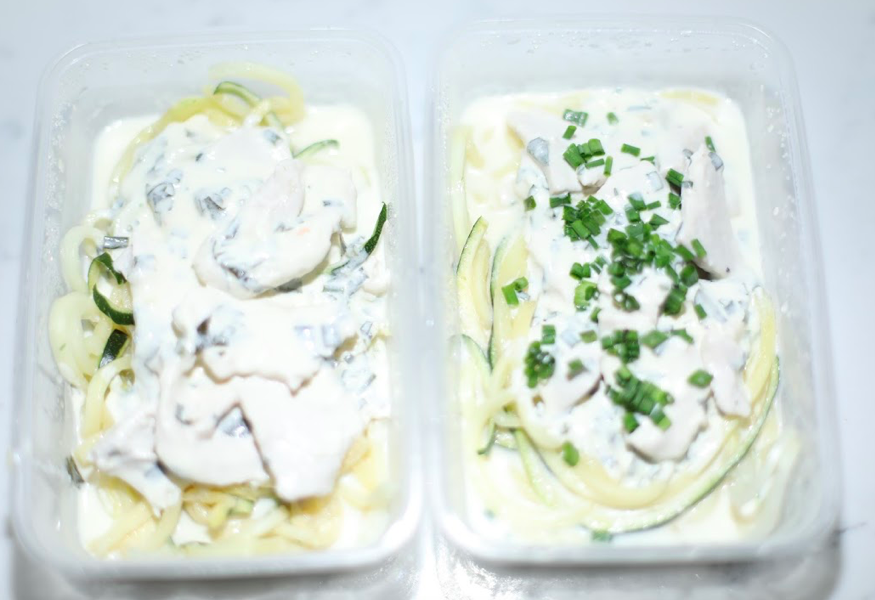 Ingredients (makes 4 servings)
5 small courgette (550 grams)
500 grams chicken breast fillets, sliced
salt
pepper
1 tbsp extra virgin olive oil (20 mls)
2 cloves garlic, crushed (6 grams)
3/4 cup reduced-fat milk of choice (187.5 mls)
1/2 cup grated Parmesan (72 grams)
3/4 cup light cream cheese (195 grams)
1 tbsp fresh chives, chopped (5 grams)
1/4 cup fresh parsley, chopped (15 grams)
Method
Use a peeler or sprializer to slice the courgette into noodles. Set aside.
Season the chicken with salt and pepper.
Heat the olive oil in a frying pan over medium heat. Add the chicken and cook for a minute or two on each side, to brown.
Add the garlic to the pan and sauté for a minute with the chicken.
Add the milk, Parmesan, cream cheese, chives and parsley. Stir to combine.
Reduce heat to low and simmer gently for a few minutes until the sauce thickens and the chicken is cooked through. Season with some more pepper.
Add the courgette noodles to the pan and toss together with the chicken and sauce for about a minute or until noodles are tender and covered in sauce.
Divide between four bowls to serve.
411 calories per serve.
For more delicious recipes like this one check out our recipe packs on our website.
To learn more about the 28 Day Weight Loss Challenge and access HEALTHY, weekly weight loss meal plans click here.