Seriously if there's a better combo than peanut butter and chocolate, we don't want to know.
This recipe is a MUST try and you will be forgiven for not sharing, trust us on this. Plus it's NO BAKE! Hooray!
Using dates and a small amount of maple syrup means the slice is sweet but not full of white sugar. So it's great for 28 Day Weight Loss Challenge members!
If you love peanut butter (always the 100% nuts variety) you'll love this recipe.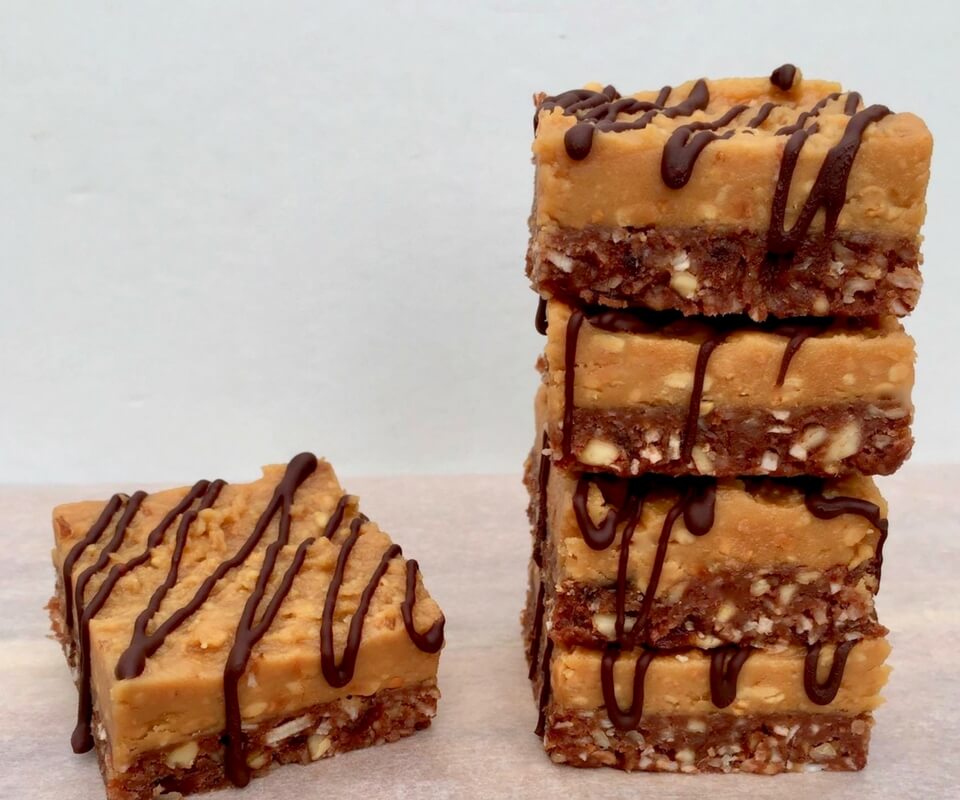 Ingredients
1/2

cup

pitted dates,

soaked in boiling water and drained

1/2

cup

unsalted almonds

2

tbsp

coconut,

shredded or desiccated

1

tbsp

cacao or cocoa powder

1

tsp

coconut oil,

melted
1/2

cup

natural peanut butter, 100% nuts

1

tbsp

coconut oil,

melted

1

tbsp

pure maple syrup

1/2

tsp

pure vanilla extract
13

g

dark chocolate

 (

approx. 2 standard squares), 70% cacao or higher
Method
Line a loaf pan or similar with baking paper and set aside.

Blitz all base ingredients together until broken down and well combined. Leave a little texture.

Press into a loaf pan or similar and set aside on the bench while you make the middle layer.
Combine all middle layer ingredients and mix until well combined.

Pour the mixture over the base layer, using a spoon or spatula.

Place in the fridge or freezer to set.

Once set but not too firm, cut into 10 pieces.
Once the base and middle layer are set and cut, melt chocolate using your preferred method and drizzle over the top of the slice.

Place back in the fridge or freezer to set.

Store in the fridge or freezer in an airtight container.
Recipe makes 10 slices at 207 calories per serve.