Stuck for breakfast ideas? Then why not give this rice and quinoa porridge with tropical fruit a go? We are SURE you'll love it. This recipe comes DIRECT from our 28 Day Weight Loss Challenge. Consider it a 'sneak peak' of all the AMAZING recipes available to members.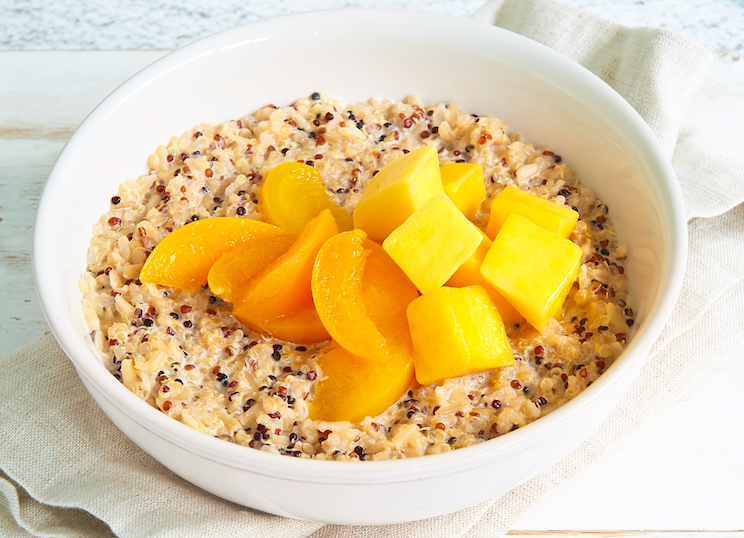 A great way to use up leftover cooked quinoa and brown rice, this delicious porridge will give your family a good start to their day without all the processed sugars often found in sweet breakfasts.
Use whatever milk suits your dietary requirements.
Ingredients
1/4 cup quinoa, uncooked (45 grams)
1 tbsp brown rice, uncooked (10 grams)
1 tsp Natvia (available from Tesco) (4 grams)
2/3 cup reduced-fat milk of choice (160 mls)
1/4 tsp cinnamon (0.25 grams)
1/2 cheek mango (50 grams)
1 apricot halves, canned in natural juice (10 grams) 1 tinned peach halves (20 grams)
Method
Cook quinoa and rice according to packet directions.
Place cooked quinoa, rice, Natvia, milk and cinnamon in a saucepan over medium heat. Bring to the boil and then reduce to a simmer for 5 minutes, to combine. Defrost the mango and slice with the apricot and peach.
Top porridge with mixed tropical fruits to serve.
Serves one. 355 cals per serve.
More on the 28 Day Weight Loss Challenge
Want access to thousands and thousands MORE healthy recipes just like this family-friendly porridge? Then be sure to check out our 28 Day Weight Loss Challenge.
Our 28 Day Weight Loss Challenge is a family-friendly, breastfeeding-safe program designed FOR MUMS to help them tackle their health and lose the baby weight. 
Every week you are given a different meal plan to follow and each month we add 100+ NEW recipes to our Challenge Recipe Hub. That way, you'll never get bored and stay on weight loss track while digging into healthy, yummy recipes.
Learn more about our 28 Day Weight Loss Challenge HERE.