Yummy! These tasty and kid-friendly baked cider apples come direct from our 28 Day Weight Loss Challenge. They are easy to make and the family will LOVE them. Woohoo!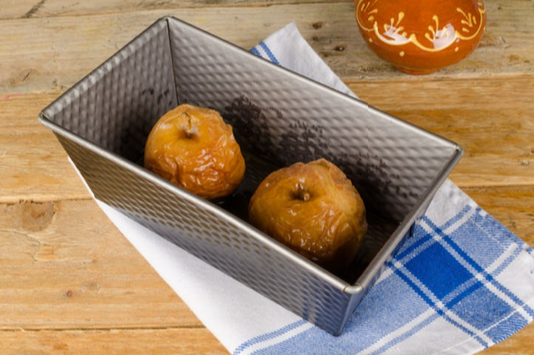 A tasty baked apple that will suit the whole family so make extras to treat everyone. Serve with some natural yogurt to make this a healthy dessert or snack.
Ingredients
1 small apple (100 grams)
1/2 cup apple cider (125 mls)
1/2 tsp cinnamon (0.5 grams)
1 tsp coconut oil (5 mls)
1/4 teaspoon brown sugar (0.6 grams)
Ingredients
Heat the oven to 180C / gas mark 4.
Pour the cider into a small fry pan and bring it to a boil. Continue to boil over medium heat until the liquid reduces by slightly less than half.
Core the apple leaving approx 1 cm of the core intact at the bottom. Place the apple in a pie pan or baking dish.
Mix the sugar, cinnamon and oil into the cider syrup. Pour it into the apple cavity, allowing it to overflow into the baking dish.
Bake the apple for 40 to 50 minutes, until it is pleasantly soft but not collapsing. Baste the apple occasionally in the cider syrup if you happen to think of it, and add more cider if the liquid starts to dry out completely.
The exact cooking time depends on the variety and size of the apple—some take longer than others.
If you like serve with some natural yogurt or ricotta.
Serves one. 128 calories per serve.
More on the 28 Day Weight Loss Challenge
Want access to thousands and thousands MORE healthy recipes just like this treat? Then be sure to check out our 28 Day Weight Loss Challenge.
Our 28 Day Weight Loss Challenge is a family-friendly, breastfeeding-safe program designed FOR MUMS to help them tackle their health and lose the baby weight. 
Every week you are given a different meal plan to follow and each month we add 100+ NEW recipes to our Challenge Recipe Hub. That way, you'll never get bored and stay on weight loss track while digging into healthy, yummy recipes.
Learn more about our 28 Day Weight Loss Challenge HERE.