Want to be inspired to do a big meal prep cook up? Look no further than this story about mum Sarah Cryer, a 28 Day Weight Loss Challenge member who spent some solid time in the kitchen on the weekend.
Sarah says, "I love meal prep, I find it keeps me on plan week in week out but I really felt I needed to up the ante following my holiday where we ate out every day and my meal choices weren't exactly the healthiest!"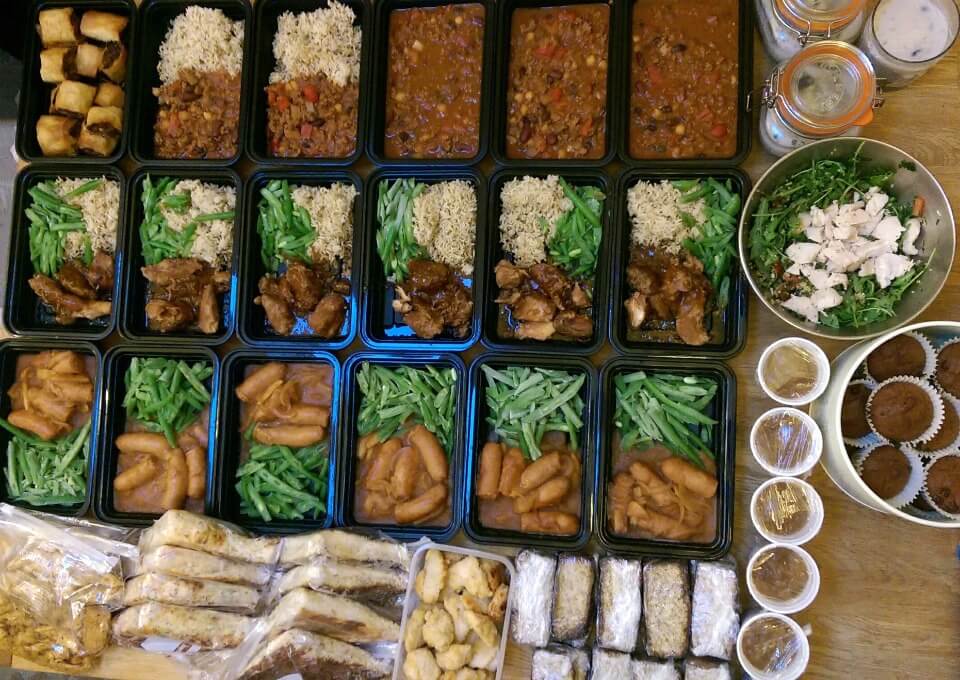 Knowing that being hungry and not having food ready to go could hinder her weight loss efforts on the 28 Day Weight Loss Challenge, Sarah knew just what to do.
Sarah says, "I set to (with the aid of my little helpers) and put together a meal plan from the 28 Day Weight Loss Challenge that I knew would be satisfactory for the whole family, fill up the freezer and save us money in the long run.
It wasn't until I'd finished and counted everything up I realised I'd made 60 snack servings and 73 meal servings!"
If you've got a big enough fridge/freezer, why not do the same thing yourself? You can just reach in and grab a meal to defrost for dinner tonight or for lunch tomorrow.
Lunchboxes will be filled with ease as you've got healthy snacks that you can just defrost for the next day.
You make one BIG mess instead of a mess every night. PLUS you get all that time back to yourself to spend on whatever you like.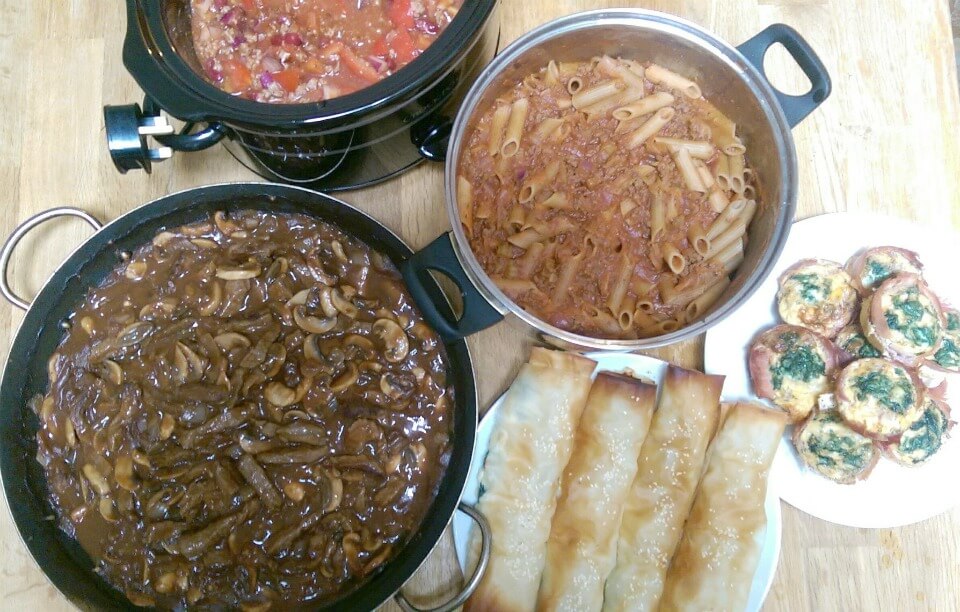 This is what Sarah made in her big cook up:
10 serves one pot spaghetti bolognese (using penne as I ran out of spaghetti)
8 serves courgette and bacon slice
6 serves beef stroganoff
6 serves devilled sausages
6 serves honey soy chicken
6 serves healthy chicken nuggets
6 serves cowboy chilli
5 serves easy chilli con carne (2 with rice 3 to serve with sweet potato boats)
5 serves cajun chicken and chickpea (to add salad later)
4 serves ham, spinach and egg breakfast muffins
4 serves rocket, chicken and pine nut tabouli
4 serves energising greens and cheese filo rolls
3 serves overnight blueberry oats
20 serves homemade almond bread
16 serves choc chip banana muffins
8 serves energy boosting banana pancakes
8 serves hidden veggie sausage rolls
8 serves apple and cinnamon confit
How long did it take to make all that food?
Not as long as you might think. Sarah says "It took me just over 5 hours to make everything, and the clean up from the aftermath was probably an hour to be fair. It cost £120 in total!"
Sarah has lost an amazing 18lb with the 28 Day Weight Loss Challenge and with this kind of effort you can see why she has had such great results.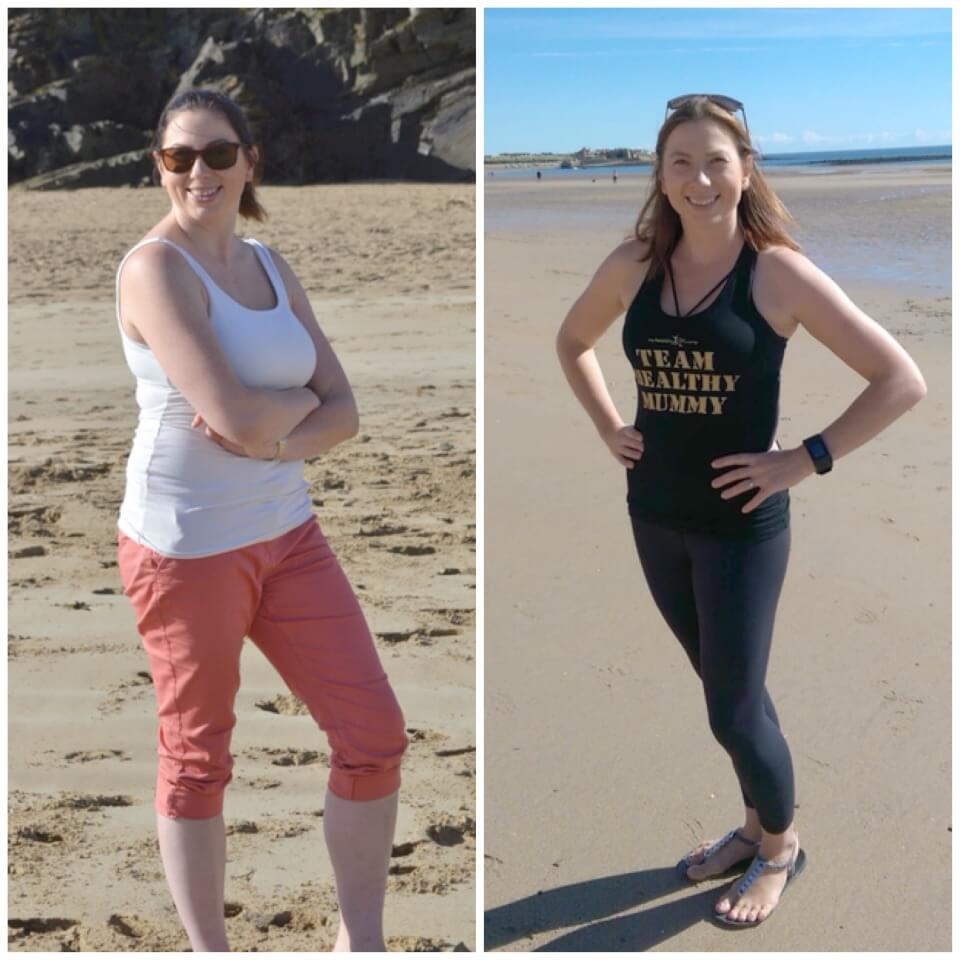 Sarah's meal prep tips:
1) Prep meals that use similar ingredients so that there is no wastage – that way everything gets used up. Look up recipes or specific ingredients that you want to use up on the 28 Day Weight Loss Challenge recipe hub.
2) Get the children involved in choosing 28 Day Weight Loss Challenge meals they would like, ensuring they will at least try new foods! Mine love flicking through the app looking at recipes and helping me in the kitchen too!
3) When doing a large meal prep have things going all at once to save time – it is not uncommon for me to have 2 slow cookers going with different meals, whilst using the cooker, hob, air fryer and grill all at the same time!
Well done Sarah, we know you will continue to lose weight with the 28 Day Weight Loss Challenge and you won't be going hungry any time soon!
Are you inspired to start meal prepping but don't know what to do first? Read our guide here, specifically for mums who want to meal prep but don't know where to start. It's a great way to begin.
You can also read how Rhian prepared a whole day of meals and snacks for under five pounds per person HERE.
More on the 28 Day Weight Loss Challenge
Want access to thousands and thousands MORE healthy recipes just like this recipe? Then be sure to check out our 28 Day Weight Loss Challenge.
Our 28 Day Weight Loss Challenge is a family-friendly, breastfeeding-safe program designed FOR MUMS to help them tackle their health and lose the baby weight. 
Every week you are given a different meal plan to follow and each month we add 100+ NEW recipes to our Challenge Recipe Hub. That way, you'll never get bored and stay on weight loss track while digging into healthy, yummy recipes.
Learn more about our 28 Day Weight Loss Challenge HERE.