For a healthy snack under 100 calories, these Banana, Raspberry And Chocolate Chip Muffins are perfect.
There's no need for a muffin to contain vast amounts of sugar like the ones you find in cafes or at the supermarket – check the label as often there is as much sugar as there is flour.
These muffins are sweetened with fruit and a small amount of maple syrup, making them a much healthier choice.
Want to make these muffins nut free and lunchbox friendly? Swap the almond milk for regular milk or oat milk instead.
Enjoy these muffins as a snack as part of the  28 Day Weight Loss Challenge.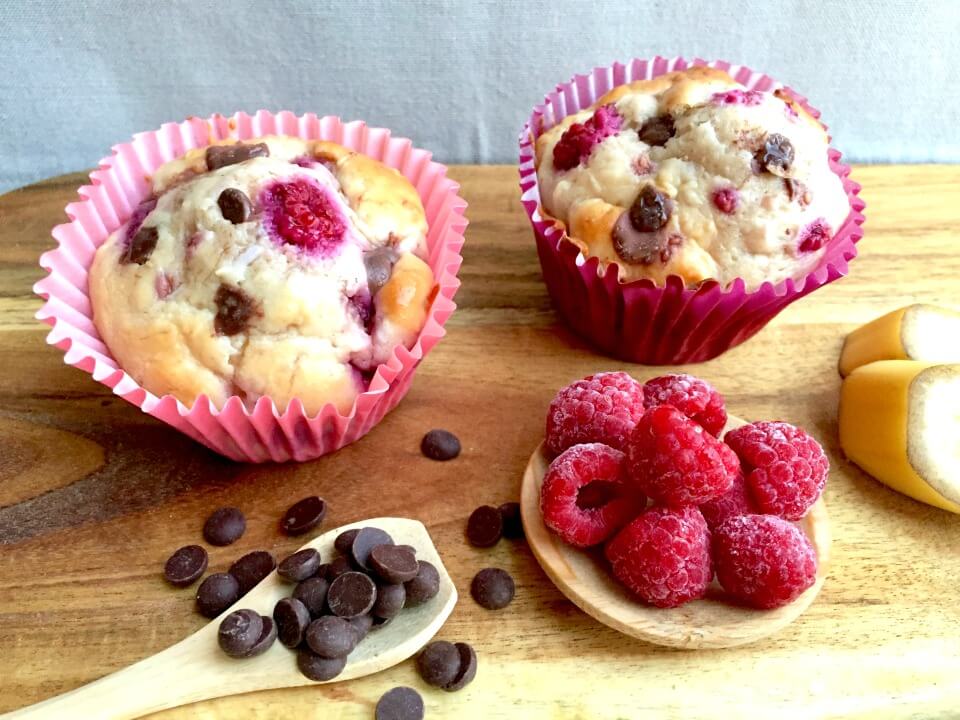 Ingredients
1

large banana (100g)

1

egg,

whisked (50g)

1

teaspoon

vanilla extract (5ml)

3/4

cup

unsweetened almond milk (180ml)

1/4

cup

Greek yogurt (60g)

2

tablespoons

pure maple syrup (30ml)

2

cups

self raising flour (240g)

1

teaspoon

baking powder (2.5g)

3/4

cup

frozen raspberries (180g)

2

tablespoons

dark choc chips (20g)
Method
Preheat oven to 180C / gas mark 4, and line 14 holes of a muffin tray with patty cases.

Mash banana, then add the egg, vanilla, milk, yogurt and maple syrup.

Sift in the flour and baking powder and mix gently until combined – don't over mix, it will make the muffins tough.

Fold through raspberries and choc chips.

Spoon mixture into patty cases and place in the oven for 15 minutes or until cooked through and slightly browned on top.

Cool on a wire rack before storing in an airtight container.
Recipe makes 14 muffins at 97 calories each.