Here's a fantastic lunch or dinner option that is fast and PACKED with flavour.
Satay sauce when homemade can be full of healthy ingredients like spices, peanut butter and coconut milk. It's a great way to give yourself a boost of energy when you're following the 28 Day Weight Loss Challenge.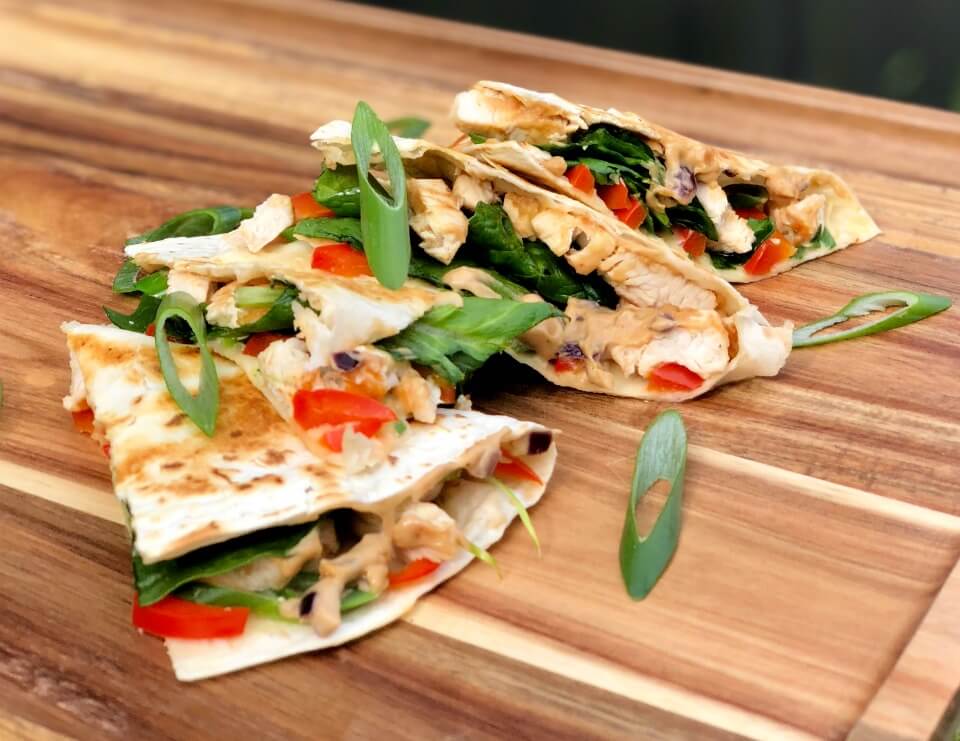 This recipe comes from 28 Day Weight Loss Challenge member Cassie Wight.
Cassie says 'These Satay Chickens Quesadillas are not only filling and full of flavour but they only take only 20 minutes to make. A perfect mid-week dinner for the whole family.'
If you love satay, check out the recipes on the 28 Day Weight Loss Challenge. There's Satay Chicken with Noodles, Satay Pizza, as well as Satay Vegetables and Quinoa.
20 Minute Satay Chicken Quesadillas
Ingredients
2

 

tbsp 100%

 

natural peanut butter

 (32 grams)

1/2

 

cup

 

water (125 ml)

1/4

 

cup

 

light coconut milk (62.5 mls)

1/4

 

red onion,

 

finely diced (25 grams)

1/4

 

tsp

 

cumin (0.3 grams)

1/4

 

tsp

 

chilli paste (0.3 grams)

1

 

tsp

 

olive oil (5 mls)
400

 

grams

 

chicken breast,

 

sliced into strips

1

 

cup

 baby leaf 

spinach (30 grams)

1

 red pepper, 

sliced (100 grams)

2

 

tsp

 

olive oil (10 mls)

4

 

wholemeal wraps/tortillas (240 grams)

1/4

 

cup

 

grated Parmesan cheese (36 grams)
Method
In a small saucepan, heat 1 tsp olive oil on medium heat, add onions and sauté until soft.

Add remaining satay ingredients.

Simmer on low heat, stirring continuously for 1 minute.
Heat the olive oil in a frying pan on high heat.

Place chicken strips into pan, and cook on both sides until cooked through.

Roughly chop the cooked chicken strips.

Spread 1 tbsp of the satay sauce onto the base of each wrap.

Place chopped chicken, red pepper, Parmesan cheese, spinach and spring onions on one half of the wraps.

Fold wraps in half and toast in a sandwich press. If you don't have one, cook them one at a time in a frying pan with a heavy pan placed on top to help them crisp up.

Once toasted, cut into slices and enjoy.
Makes 4 serves at 420 calories per serve.
More on the 28 Day Weight Loss Challenge
Want access to thousands and thousands MORE healthy recipes just like these? Then be sure to check out our 28 Day Weight Loss Challenge.
Our28 Day Weight Loss Challenge is a family-friendly, breastfeeding-safe program designed FOR MUMS to help them tackle their health and lose the baby weight. 
Every week you are given a different meal plan to follow and each month we add 100+ NEW recipes to our Challenge Recipe Hub. That way, you'll never get bored and stay on weight loss track while digging into healthy, yummy recipes.
Learn more about our 28 Day Weight Loss ChallengeHERE.