As the temperature warms up as we head into summer, now is the perfect time to fire up your weight loss goals with the June Booty & Belly Blasting 28 Day Weight Loss Challenge!
Get a sneak peek of some of the delicious, healthy and easy to make recipes that will be available as a part of the June Challenge.
7 recipes from our June 28 Day Weight Loss Challenge
1.Spinach Feta Puffs (320 calories)
These crispy, healthy puffs with only 5 ingredients make a delicious breakfast or light lunch. Make a large batch and store in the freezer so you have an easy breakfast ready to go when needed.
2.Korean Beef Noodles (304 calories)
Kimchi is a fermented cabbage condiment that can be found in most large supermarkets. It is great to improve your gut health and help beat belly bloat.
Try this recipe today in the 28 Day Weight Loss Challenge recipe hub!
3.Strawberry Sundae Cupcakes (154 calories)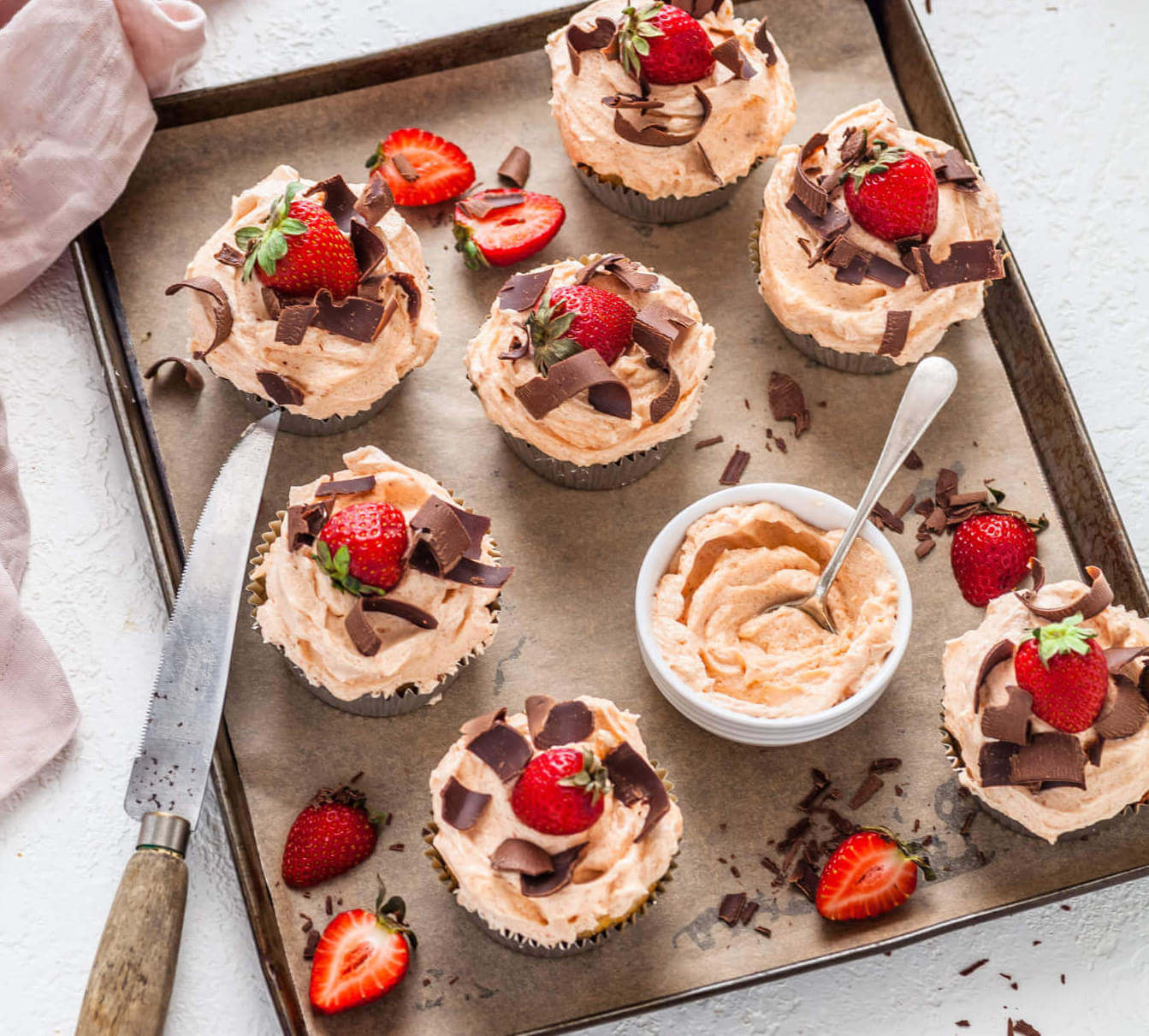 Delicious, family-friendly cupcakes that contain whole grains and protein to help you blast belly fat. Freeze-dried strawberries can usually be found in the dried fruit section of the supermarket.
Ingredients (Makes 12 servings):
1 cup plain wholemeal flour (120 grams)
1 tsp baking powder (2.5 grams)
4 tsp Natvia (available from Tesco) (16 grams)
1 free-range egg (50 grams)
2 tsp vegetable oil (10 mls)
1 tsp vanilla extract (5 mls)
1/3 cup reduced-fat Greek natural yogurt (80 grams)
1/4 cup reduced-fat milk of choice (62.5 mls)
3/4 tbsp dried strawberries, freeze-dried (15 grams)
1/2 cup butter, room temperature (125 grams)
1/4 cup (for icing) Natvia (48 grams)
12 medium strawberries (180 grams)
50 grams dark chocolate (70%), grated
Method:
Preheat oven to 180C / gas mark 4, and lightly grease or line with cases, 12 holes of a cupcake tin.
Combine flour, baking powder and 4 tsp Natvia together in a bowl.
In a separate bowl whisk together egg, oil, vanilla extract, 1⁄4 cup of the yogurt and all the milk.
Add the wet ingredients to the dry and mix together until just combined.
Divide evenly into the prepared cupcake cases and bake for 15-20 minutes, until golden on top and a skewer inserted into the centre comes out clean. Place on a wire rack to cool completely.
Place the freeze-dried strawberries into a food processor and process until a powder is formed. Set aside.
Beat the butter and 1/4 cup Natvia using an electric mixer for a few minutes until creamy. Add the strawberry powder and remaining yogurt and beat for another few minutes to combine.
Pipe or spoon the butter icing onto the cooled cupcakes.
Top each cupcake with a fresh strawberry and some grated chocolate to serve.
One cupcake is one serve. Store leftover cupcakes in an airtight container in the fridge for 3-4 days.
4. Mediterranean Chicken & Vegetable Pasta (425 calories)
A delicious Mediterranean inspired chicken and vegetable pasta dish that's packed full of flavour and ideal for the cooler months. It's easy to improve your digestive health and in turn reduce belly bulge by just making some simple swaps with your cooking. Choosing wholemeal pasta instead of white will increase your fibre intake and improve your digestion.
Try this recipe today in the 28 Day Weight Loss Challenge recipe hub!
5. Salted Caramel Bliss Balls (75 calories each)
These delicious morsels of yumminess are great to have on hand when you are really in the mood for something sweet, or if you want a little dessert with your cup of herbal tea.
They're also super easy to make with literally no prep time at all.
Try this recipe today in the 28 Day Weight Loss Challenge recipe hub!
6. Pizza Scrolls (103 cals)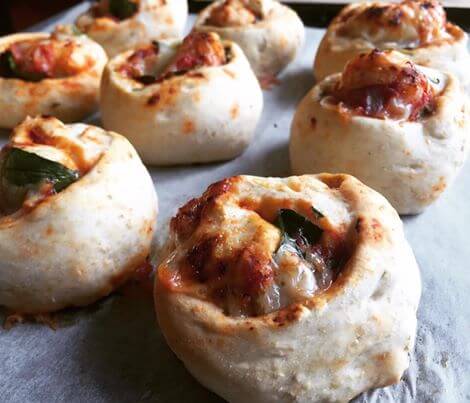 Complex carbohydrates from this wholemeal version of favourite savoury snack will keep you energised and satisfied for longer. Natural yoghurt is a probiotic that can help to reduce symptoms of conditions like PCOS.
7. Snickers Slice (184 calories)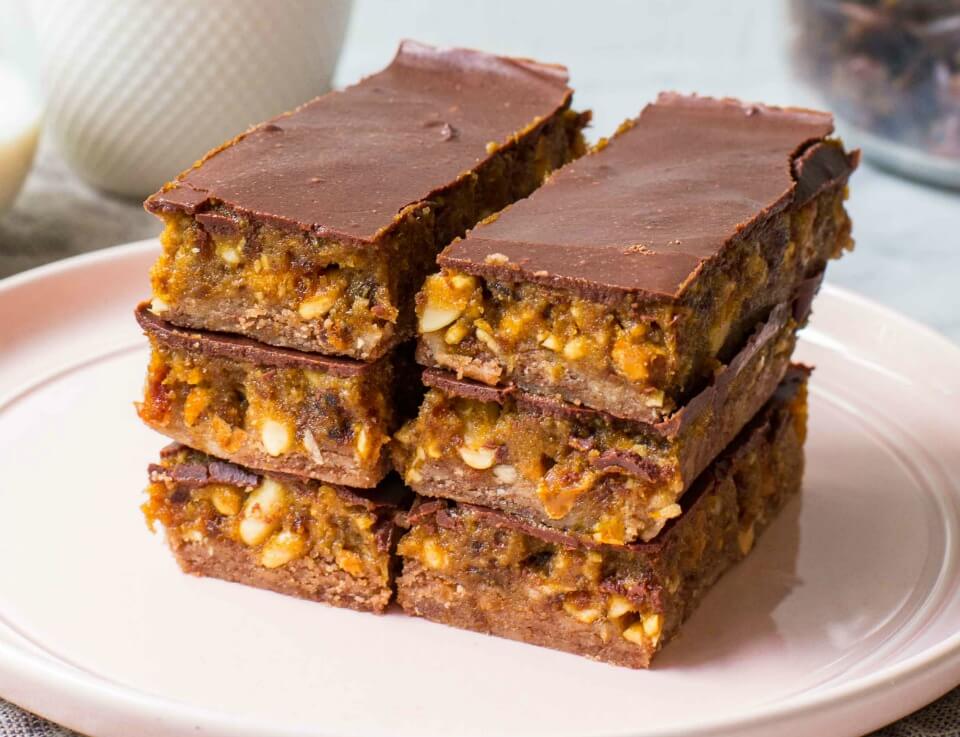 Who needs to buy chocolate bars when you can make healthier versions of your favourite sweet treats at home!?  This one requires no baking either, so it's easy to throw together. One taste and you'll see why it's one of the most popular recipes on the 28 Day Weight Loss Challenge.
Ingredients (Makes 24 servings)
250 grams cashew nuts, unsalted
1 cup ground almonds (150 grams)
1/3 cup cacao/cocoa powder (33.3 grams)
2 tsp vanilla extract (10 mls)
1/4 cup maple syrup (62.5 mls)
200 grams pitted, dried dates
1/3 cup coconut oil, melted (80 mls)
1 cup roasted peanuts, chopped (140 grams)
Method
Line a 20cm x 20cm square baking dish with baking paper.
Soak the cashews and the dates separately in boiling water for 20 minutes. Rinse and drain. Add cashews only to a food processor and pulse until smooth. Divide cashew mixture in half.
Add one half of the cashew mixture to the almond meal, 1 tablespoon of the cacao/cocoa powder, 1/2 of the vanilla extract and 1 tablespoon of the maple syrup and mix well. Press into the lined dish evenly and flatten.
Place remaining cashews, soaked dates, remaining vanilla, a tablespoon of maple syrup and 1 tablespoon of the coconut oil, into a food processor and pulse until smooth. Stir through chopped peanuts. Smooth mixture over base and place in refrigerator for 30 minutes to set a little.
Add the remaining coconut oil, remaining cacao/cocoa powder and remaining maple syrup into a small saucepan and stir over a low heat until melted. Pour over the top of the slice and return to the fridge to set, approximately 20 – 30 minutes.
When set gently cut into 24 small rectangles with a sharp knife. 1 rectangle is 1 serve.
Leftovers can be stored in an airtight container in the fridge for up to 2 weeks or freeze for up to 3 months.
Want to kick-start your weight loss and gain access to all these recipes and thousands more?
If you are interested in kickstarting your weight loss and want to improve your energy – not to mention – improve your overall health and wellbeing – our 28 Day Weight Loss Challenge is an awesome program to check out.
Our 28 Day Weight Loss Challenge includes:
28 days of at home exercise routines (no gym needed) – with video instruction
Customisable and breastfeeding friendly meal plans (including a 7 day cleanse)
Time-efficient exercises for busy mums – under 30 mins
Challenge combines Pilates exercises with interval and circuit training (HIIT)
Suitable for basic to advanced fitness levels
Home to thousands of EASY-TO-MAKE recipes!
To learn more about our 28 DAY WEIGHT LOSS CHALLENGE CLICK HERE