Mum Aimee has learned not to obsess about the scales and has lost 3 stone in just over 2 years. She is stronger, happier and more confident in her own skin, thanks to living a Healthy Mummy lifestyle and discovering a love of exercise.
She says, "Without The Healthy Mummy and supportive family and friends, I would have never lost the weight and be as fit as I am today. I no longer worry about what the scales say but how strong I feel mentally and physically." 
Here is Aimee's incredible story.
Aimee Clark is mum to three boys aged 7, 4 and 2. With each pregnancy, she put on at least 11 pounds, and never lost the extra weight. After three babies, she'd gained 2.3 stone.
Four months after having her third baby, she was feeling miserable with no clothes fitting, frustrated and disheartened with her reflection in the mirror.
My turning point – 'trying to hide my body'.
She says, "There was a defining moment was when I was trying to post photos on social media of my son's sports day and I spent ages trying to crop my body (arms and legs out) so I didn't look big in the photos with my kids. That was my breaking point that I knew I had to do this for me."
"I had tried to do the same thing only a month prior when we took our 2-month-old to the beach for the first time. I remember trying to 'hide my body' behind a little baby…. it didn't work. I couldn't hide how big I had become."
Making a change
Aimee was at her heaviest at 11.3 stone (she is 53cm tall) and knew she had to make a change. Lucky for Aimee, her sister in law was already a Healthy Mummy Consultant.
"I contacted her and she encouraged me to take some photos. I did and was SO embarrassed with my reflection in the mirror, but I sent them to her anyway"
"My sister in law Sue's exact reply was 'Good girl! Takes a brave person to do. Now use it to drive yourself. You've got the right attitude and I know what happens when you decide to dig your heels in about something!!!"
Getting that message reminded Aimee what a strong and determined woman she is and encouraged her to throw herself into her weight loss adventure. She ordered two Healthy Mummy Smoothies tubs and was on her way.
Aimee's Weight Loss Results – 3 stone in 25 months
Aimee started tracking her calorie intake, having  Healthy Mummy Smoothies daily and started getting active. Soon the pounds began to fall off.
"Lots of sweat, sore muscles from hard workouts, tears, falling off the wagon and then getting back on again several times over the last 2 years has made me a stronger person and better mum."
Now weighing in at 8.3 stone, Aimee says that the weight loss has made her a better wife and mum.
"I have more energy to play with the kids and the husband loves having a happy and active wife."

Learning to Love exercise
Despite getting active and going to the gym, there was a point in Aimee's journey where the scales wouldn't budge, as her weight loss plateaued.
Disheartened, a friend suggested to focus on a new goal, rather than the scales and encouraged her to take part in a local 5Km Park Run.
"I laughed at her telling her I would never be able to run more than 1km let alone 5km. But I plucked up the courage and did the whole 5kms without stopping in under 30mins."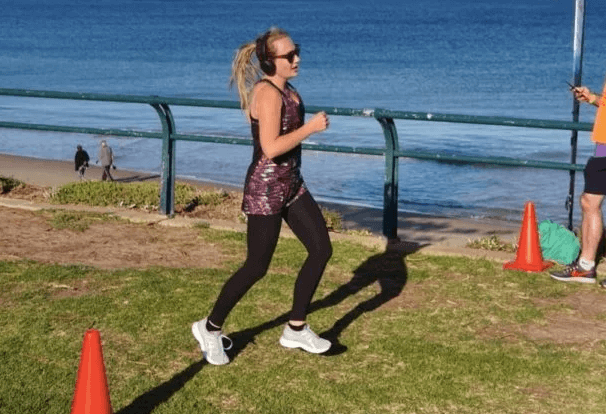 "I was gobsmacked that I did it. My brain was full of negative thoughts doubting myself I could do it before it started but seeing a friendly face and some encouraging words changed my mindset from 'I can't do this' to 'try your best, give it your all and do this for you!'
Now I am running 25-30kms a week in addition to my regular workouts. I don't obsess about that the scales say and now worry about getting faster and stronger."
Living the Healthy Mummy Lifestyle
Aimee continues to follow the Healthy Mummy 28 Day Weight Loss Challenges and her local community support group where she gets meal ideas and inspiration from others.
She enjoys using Healthy Mummy Smoothies each day for breakfast.
"Lunch is a toasted sandwich/wrap with meat (chicken or ham) with cheese and sauce."
"Dinner is what the rest of the family is having however I am always conscious of portion size and quite often eat off a side plate so I don't fill a large plate up and overeat. I always eat by 5:30pm so my body has time to digest food and not go to bed with a full bloated tummy."
"Snacks I am a shocker! I figure I can treat myself as long as I stick to my total calories for the day. My average calorie intake is approx 1500 calories."
Health Benefits
Physically Aimee admits that she has never felt better at the age of 35 and being a mum of 3 very active boys.
"I have reduced upper back pain from a large bust. I was a size 12FF/G bra size and now wear a 10D/DD. Less migraines and headaches now as well mainly due to increased fluid intake and less stress."
Surrounding yourself with Support
Aimee believes that surrounding herself with supportive family and friends has been key to her weight loss success and lifestyle change.
"They pick me back up when I fall off the wagon and get discouraged. Surrounding yourself with positive and like-minded people has meant I have been able to achieve things I only dreamt about.
"I am starting to train for a massive runDisney event for 2022 in Disneyworld. You run a 5km, 10km, 1/2 marathon then full marathon in 4 consecutive days eeeek! Bucket list item for me being a mad Disney person!"
Aimme says, "You need your family/ loved ones on board with your weight loss journey so they can make sure to keep you focused, motivated and on track when you are having a bad week or lose your way.
"Having your partner 100% back you and realise sacrifices need to happen for old bad habits to change. That may mean you are in bed early at night time so you get enough sleep to wake up early for your workout at 5am or 6am before kids get out of bed/ you head off to work."
Aimee's Advice for other mums
Set achievable goals, mine was 2 pounds a month. Reward yourself when you reach big milestones. My rewards are always something that encourages me to be stronger either mentally / physically and is fitness related.
Find a workout friend or buddy that holds you accountable. When the alarm goes off at 5am and you don't want to get out of bed, if you are meeting someone for a run, zoom workout or gym class then you have to because you have committed and it is always too late to cancel.
Never underestimate the power of being nice and supportive to somebody. All it could take is one sentence you say encouraging a person to stay strong, you can do this, call me if you need help, want to work out together, that could change that persons' weight loss and fitness journey. Having a support network of some great people is the only reason I am this person today.
Aimee has some wise words of encouragement for anyone thinking about making a change.
"To all you Mum's wondering if you can do it…. YOU can!!! With determination, hard work and encouragement from this amazing community, we can do this together."
Congratulations to Aimee and thank you so much for sharing your incredible story with us.
Ready to get in the best shape of your life?
Real mums. Real results!
We've proudly helped millions of mums transform their health. Mums just like you completely transforming their health and bodies. You can do it too (and it's easy!)
The 28 Day Weight Loss Challenge is the mums only 5 star rated app with over 1.6k reviews in 8 weeks!!
You get unrestricted access to :
● Nutritionist & chef designed weekly meal plans
● Personal Trainer crafted At-home workouts- 28 minutes and under
● Daily Motivation from My Coach
● Personalised Shopping lists to make life easy
● Over 4,000 healthy and delicious recipes at your fingertips
● REAL TIME support from The Healthy Mummy Team and OVER 200,000 other mums