When you're trying to lose weight on the 28 Day Weight Loss Challenge, you'd be forgiven for initially thinking that:
snacking between meals would be a no-no
there would be nothing sweet allowed on the meal plans (especially not chocolate), and
healthy food would be expensive and difficult to prepare
Well thanks to the 28 Day Weight Loss Challenge we have proven all of the above fears WRONG!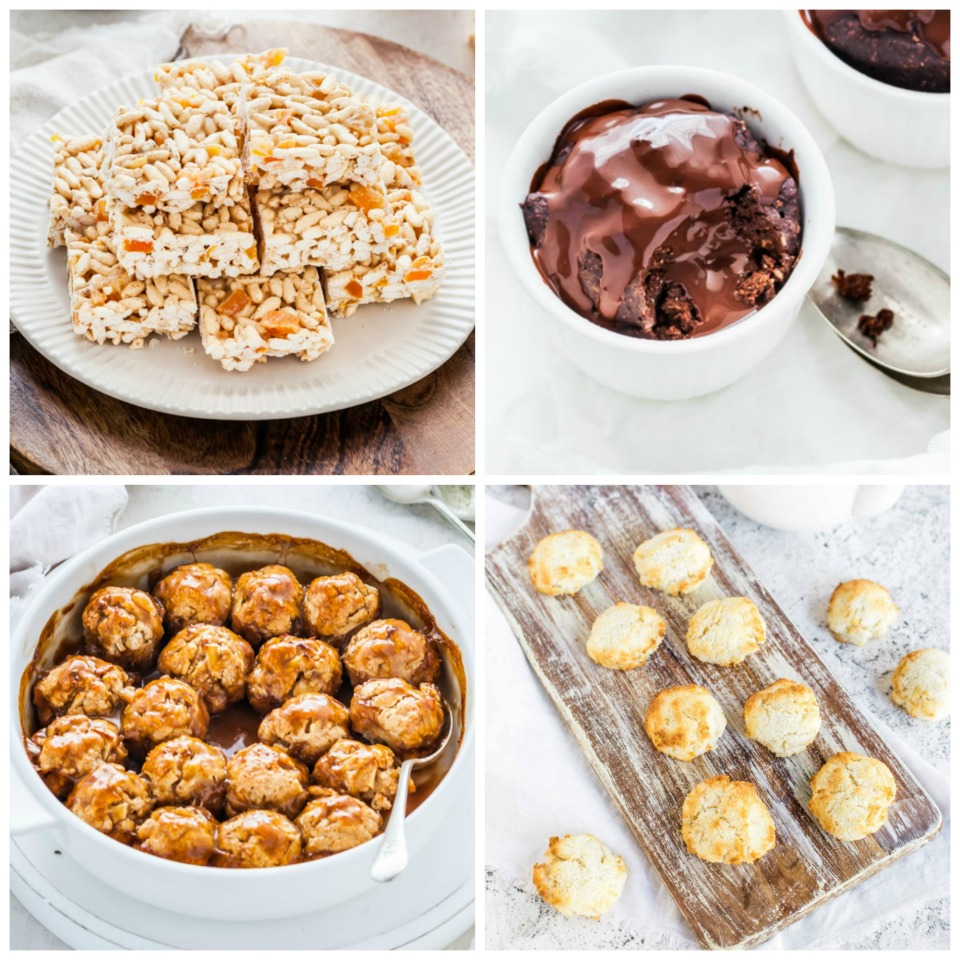 That's right! You can lose weight in a healthy way with 3 meals and 3 snacks per day on the 28 Day Weight Loss Challenge.
There is no starving yourself, no skipping meals, no missing out on treats, and no need to spend a fortune doing it! In fact snacking can help you LOSE WEIGHT as you don't get so hungry that you end up overeating your main meals.
5 sweet snacks all WELL UNDER £1 per serve
With the 28 Day Weight Loss Challenge you can make SO MANY of the snacks for under a pound per serve. As you can see below, many of them are waaaaay below that. One is just 19p per serve!
Why not join us on the 28 Day Weight Loss Challenge and lose weight with thousands of other mums across the UK.
1) Rum & Raisin Chocolate Lava Cake
72p per serve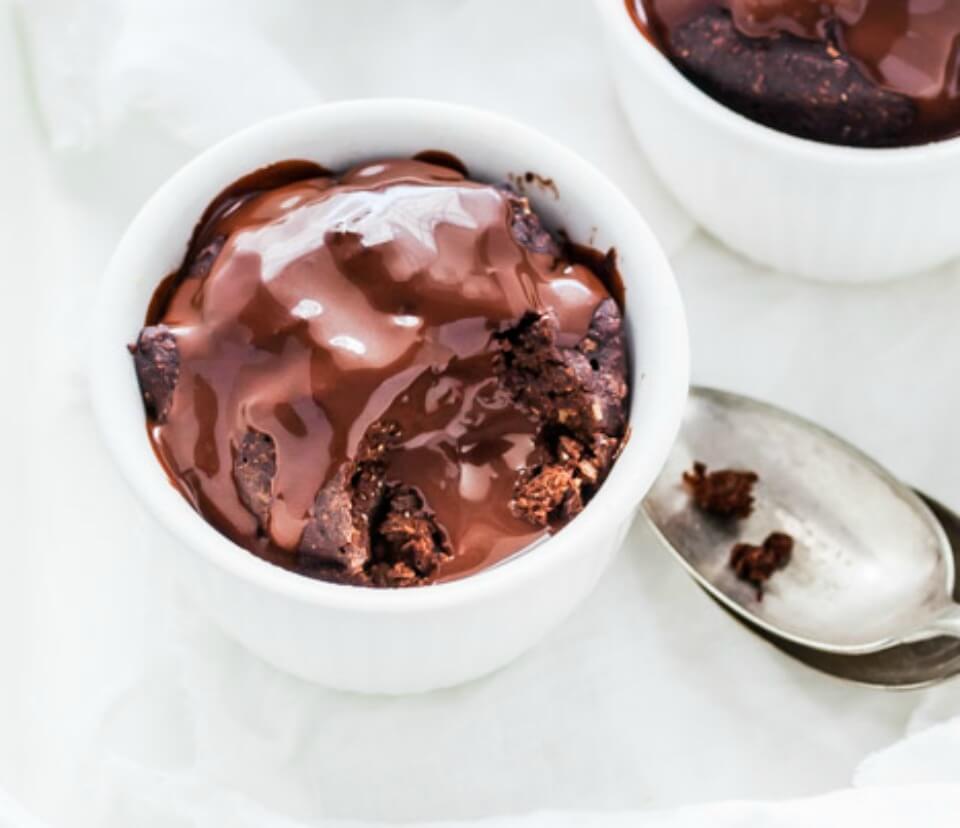 This feels like SUCH an indulgent dessert, and at just 72p per serve you can enjoy it knowing that you are saving your pennies.
Compared to the less-than-healthy desserts sold at the supermarket, this 28 Day Weight Loss Challenge cake is much better for you, and doesn't compromise on taste.
Ingredients (Makes 2 servings)
2 tsp raisins (10 grams)
4 tsp brown rum, or use rum essence (20 mls)
1/2 cup plain wholemeal flour (60 grams)
1/2 tsp baking powder (1.25 grams)
2 tsp Natvia (available from Tesco) (8 grams)
3 tbsp cacao/cocoa powder (18 grams)
1 tsp vanilla extract (5 mls)
1/2 cup water (125 mls)
1/2 cup reduced-fat coconut milk (120 mls)
40 grams dark chocolate (70%)
Method
Soak raisins in the rum for 10 minutes.
Heat coconut milk, half the cocoa/cacao powder and the dark chocolate in a microwavable cup for a minute. Stir contents until smooth and heat for a further 30 seconds to a minute until warm and runny. Set aside.
Combine soaked raisins and rum with flour, baking powder, Natvia, remaining cocoa/cacao, vanilla extract and water and place in an individual ramekin (one per serve).
Microwave on high for 1 and 1⁄2 minutes, checking to see if cooked through. If not, cook for a further 30 seconds until cooked through.
Serve immediately drizzled with the chocolate sauce.
308 calories per serve
2) Vegan Dumplings with Salted Caramel Syrup
19p per serve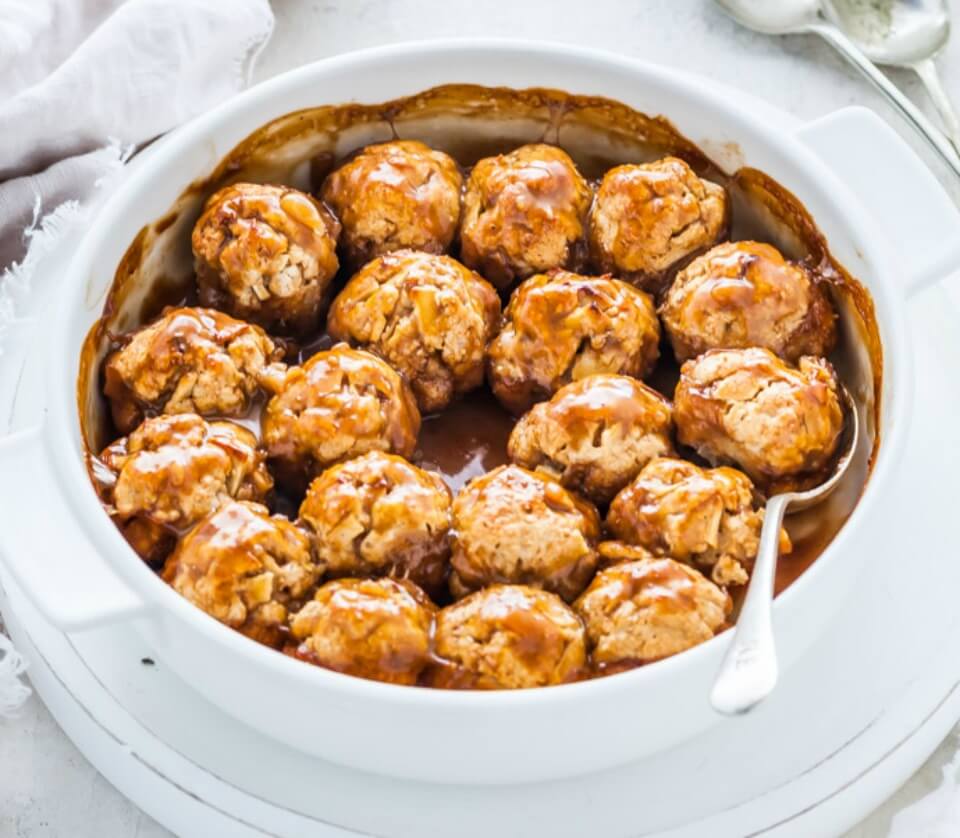 Want to cook a healthy dessert for friends or the whole family? This sweet and sticky option from the 28 Day Weight Loss Challenge ticks all the boxes. Tasty? Check. Impressive? Check. Budget friendly? Double check. Members can access this recipe in the hub.
3) Coconut & Almond Macaroons
41p per serve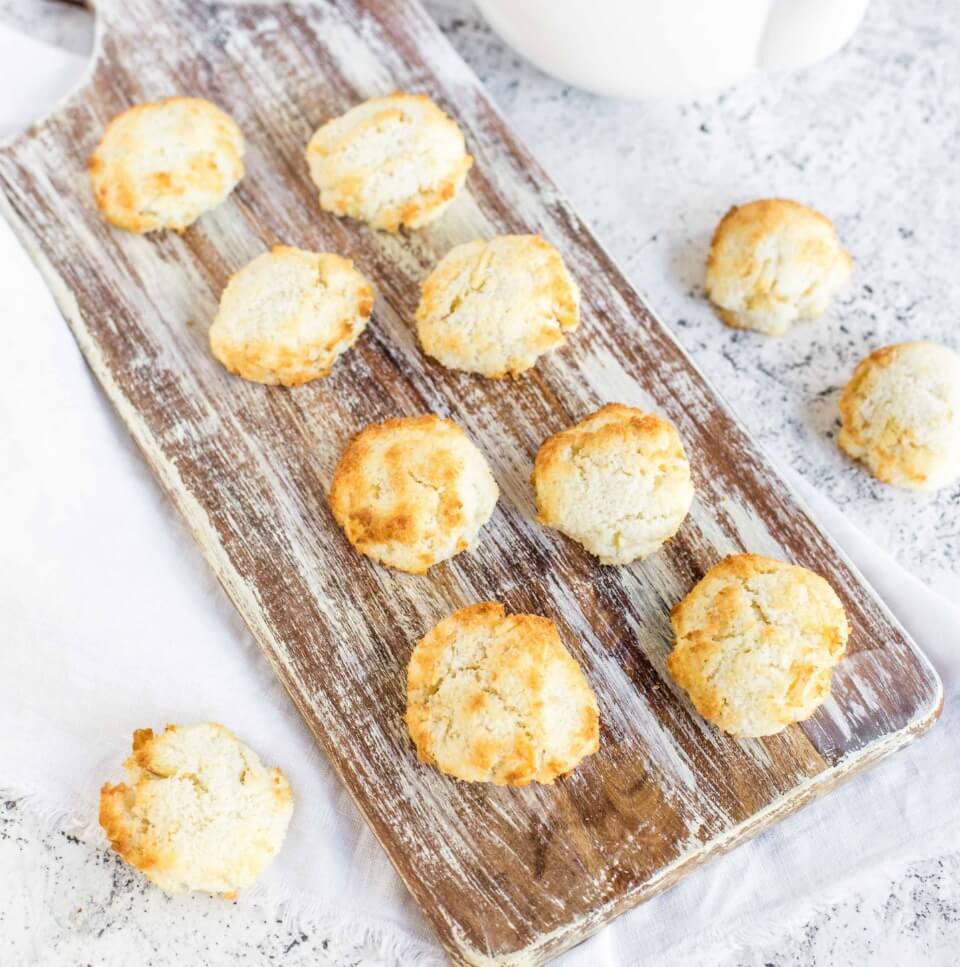 Both dairy AND gluten free, these delicate little biscuits from the 28 Day Weight Loss Challenge are perfect with a cup of tea. With only 6 ingredients, they're also a cinch to prepare. Get the recipe when you join.
4) Vanilla Slice
22p per serve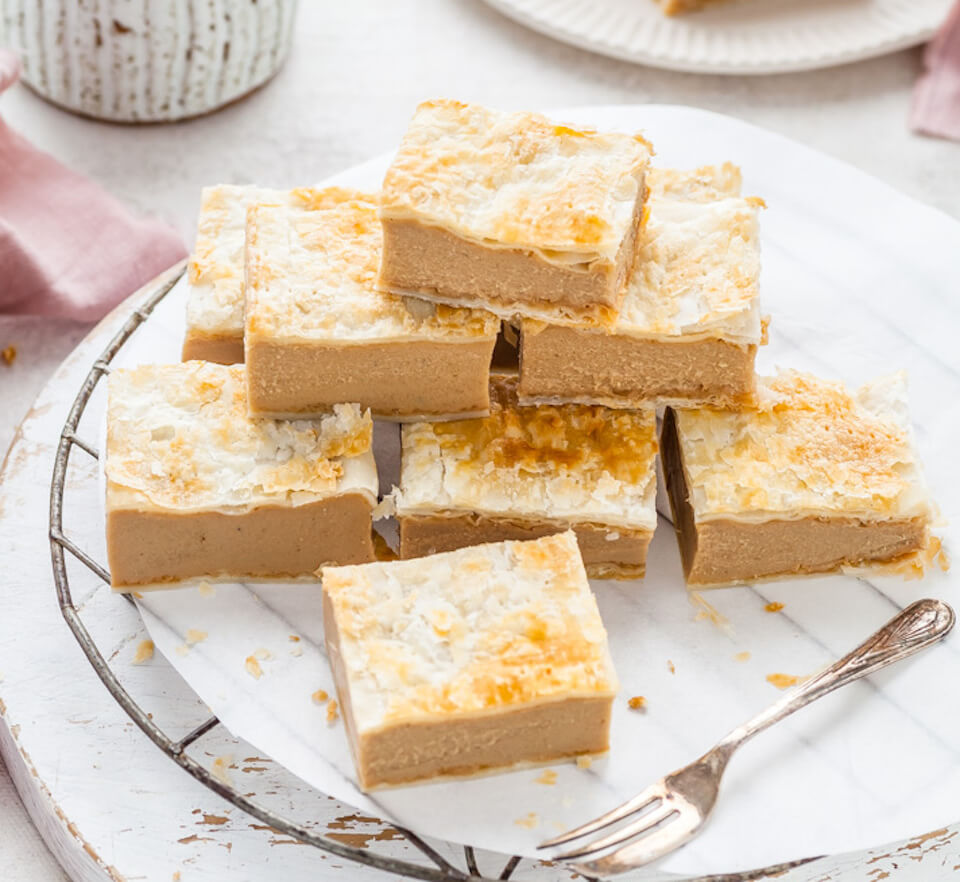 No need to hit the bakery for a sweet pastry snack when you can prepare your own at home for just 22p each!
This recipe serves 16 so it's perfect to prepare as a healthy snack for the week, or for when friends are coming to visit (or hungry kids!).
Get the recipe for Vanilla Slice here.
5) White Chocolate & Apricot Slice
29p per serve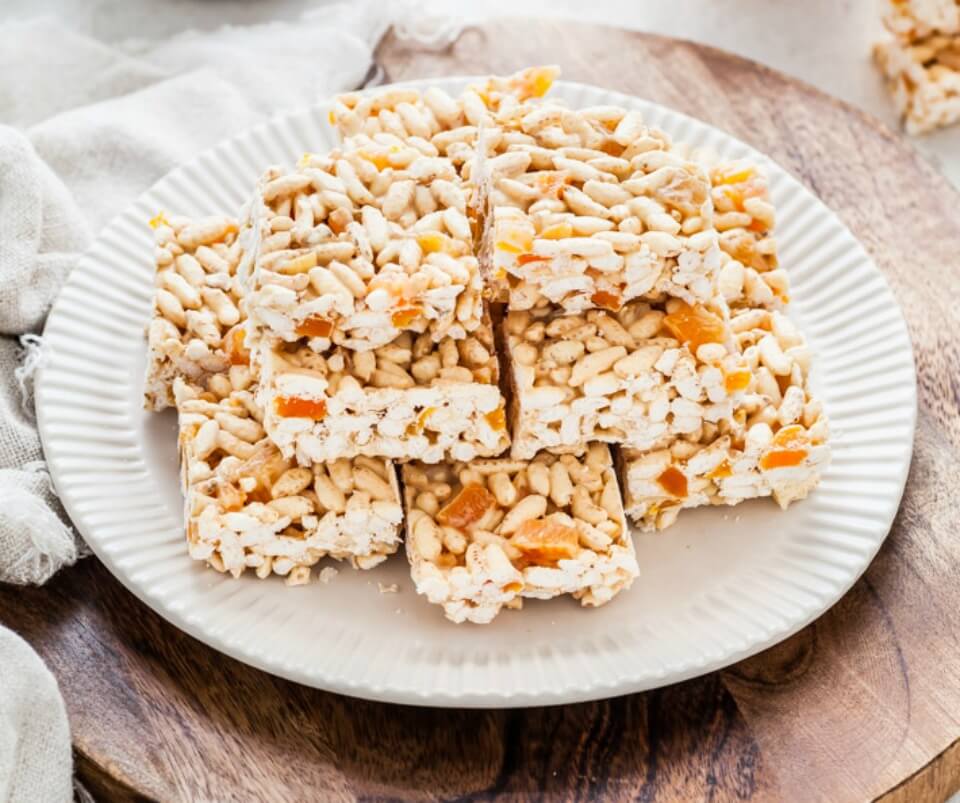 Just five simple ingredients are all you need to throw together this sweet snack (the kids will love this after school too!).
Today we are giving away the recipe for this sweet slice, so that you can see just how good the recipes are on the 28 Day Weight Loss Challenge before you decide to join.
Ingredients
2 & 1/2 cups puffed rice, available from health food shops (62.5 grams)
1/3 cup dried apricots, diced (80 grams)
1 cup white chocolate chips (120 grams)
4 tsp peanut butter (16 grams)
1 tsp coconut oil (5 mls)
Method
Line a baking dish with baking paper.
Combine puffed rice and apricots in a bowl.
In a saucepan melt the white chocolate chips with the peanut butter and coconut oil. Pour over the puffed rice and apricots and mix until combined and everything is coated well.
Spread the mix into the prepared dish, and using wet hands, press down firmly. Set in the fridge for 2 hours then slice into 8 pieces.
One piece is one serve. Leftovers can be stored in the fridge for 4-5 days in an airtight container or freeze for up to 2 months.
Recipe serves 8, at 147 calories per serve.
Are you ready to kick-start your weight loss?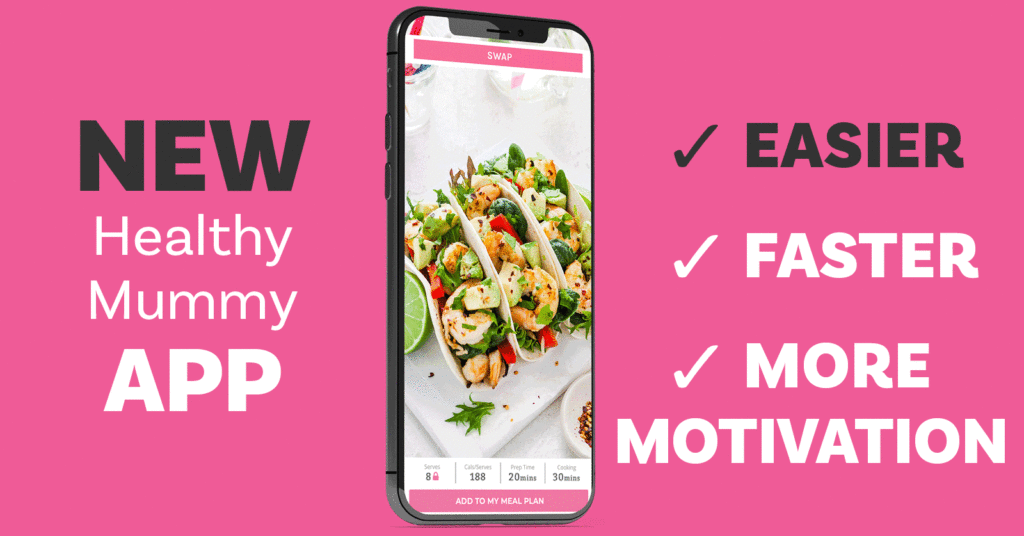 Want to shift your baby weight but feel like you have NO TIME in your day to exercise and eat healthily? That's where the Healthy Mummy's 28 Day Weight Loss Challenge can help.

Our Challenge entails: 
28 days of at home exercise routines (no gym needed) – with video instruction
Customisable and breastfeeding friendly meal plans
Time-efficient exercises for busy mums – under 30 mins
Challenge combines Pilates exercises with interval and circuit training (HIIT)
Suitable for basic to advanced fitness levels.
Home to thousands of EASY-TO-MAKE recipes.
To find out more about joining the 28 Day Weight Loss Challenge for £1 click here.
PLUS – connect with THOUSANDS of other mums on the 28 Day Weight Loss Challenge by joining our free support community here.