No need to hit the bakery for a sweet pastry snack when you can prepare your own at home for just 22p each!
This 28 Day Weight Loss Challenge recipe serves 16 so it's perfect to prepare as a healthy snack for the week, or for when friends are coming to visit.
There's no reason to believe that healthy eating needs to cost more. Thanks to the 28 Day Weight Loss Challenge you can enjoy sweet snacks like this Vanilla Slice which cost very little (but taste delicious).
Join the next round of the 28 Day Weight Loss Challenge and see for yourself – losing weight never tasted so good!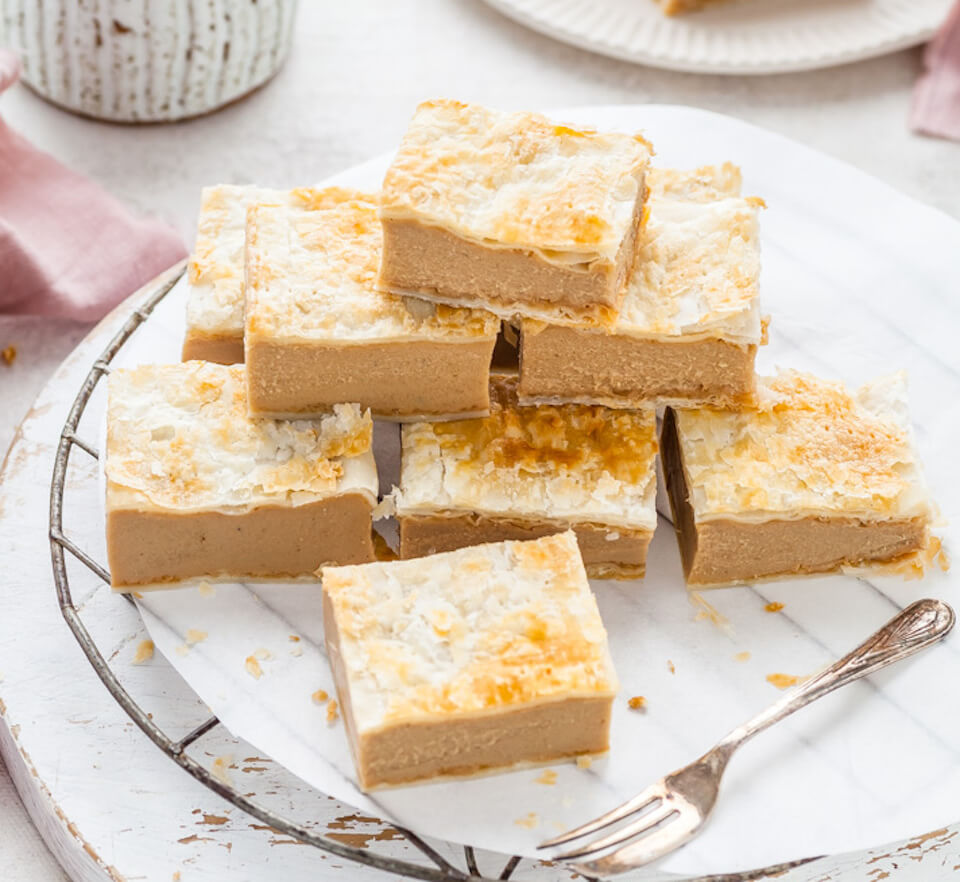 Ingredients (Makes 16 servings)
2 sheets reduced-fat puff pastry (336 grams)
3 cups reduced-fat milk of choice (750 mls)
4 tsp powdered gelatine (16 grams)
1/4 cup cornflour (30 grams)
1/2 cup coconut sugar (96 grams)
1 tsp vanilla extract (5 mls)
4 egg yolks (80 grams)
Method
Preheat oven to 180C / gas mark 4 and line two baking trays with baking paper.
Place one pastry sheet on each tray and brush each with a teaspoon of milk. Bake for 20 minutes, keeping an eye on it after 10 minutes, in case it's golden and baked early. Baking time will depend on your oven.
Remove from the oven, top with a baking tray to reduce the "puff" of the pastry and set aside to cool.
Add the powdered gelatine to 1⁄2 cup of cold milk and set aside for 5 minutes.
Combine cornflour with another 1⁄2 cup of cold milk, stirring until dissolved. Place the remaining milk in a saucepan with the sugar and vanilla extract. Heat over medium-high heat, until hot.
Add the cornflour mix to the hot milk in the saucepan, stirring to combine.
Add the gelatine mix to the saucepan and combine well.
Place the egg yolks into a bowl and gently whisk. Pour the hot milk mix over the top and stir to combine.
Return the mix to the saucepan over a medium-high heat and whisk for a further 4-5 minutes to thicken, until it coats the back of a wooden spoon. You want the consistency to be like a thick custard so it will set properly.
Place one of the cooked pastry sheets into a deep baking dish.
Pour over the custard mix and top with the remaining pastry sheet.
Place in the fridge to set overnight.
Use a serrated knife to slice into 16 pieces. One piece is one serve. Leftovers can be stored, covered in the fridge for 3-4 days.
151 calories per serve
Want MORE recipes? Grab our FREE recipe packs here, featuring delicious and budget friendly recipes from the 28 Day Weight Loss Challenge.
Are you ready to kick-start your weight loss?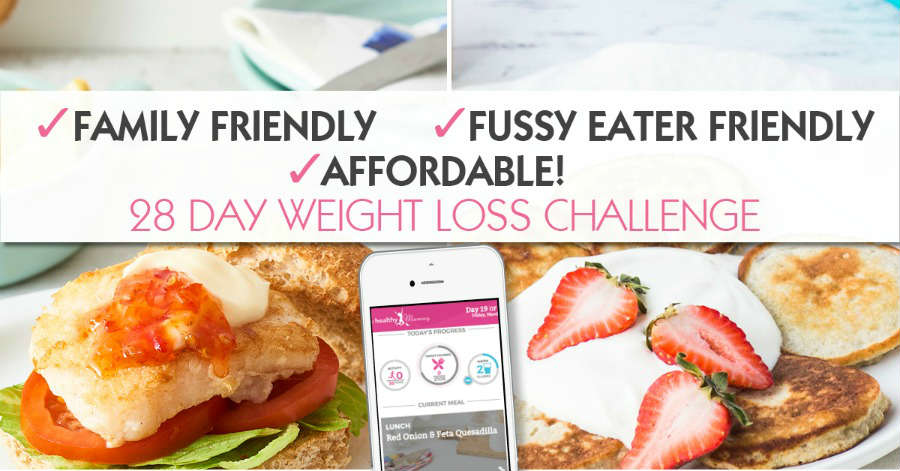 Want to shift your baby weight but feel like you have NO TIME in your day to exercise and eat healthily? That's where the Healthy Mummy's 28 Day Weight Loss Challenge can help.

Our Challenge entails: 
28 days of at home exercise routines (no gym needed) – with video instruction
Customisable and breastfeeding friendly meal plans
Time-efficient exercises for busy mums – under 30 mins
Challenge combines Pilates exercises with interval and circuit training (HIIT)
Suitable for basic to advanced fitness levels.
Home to thousands of EASY-TO-MAKE recipes.
To find out more about joining the 28 Day Weight Loss Challenge for £1 click here.
PLUS – connect with THOUSANDS of other mums on the 28 Day Weight Loss Challenge by joining our free support community here.