28 Day Weight Loss Challenge member Aniek's personal weight loss journey hasn't been without its mishaps.
Since kicking her five-cans-a-day soda habit and incorporating a healthy eating plan she has dropped 4 dress sizes and lost a staggering 5.2st in weight in 11 months. Here is her story: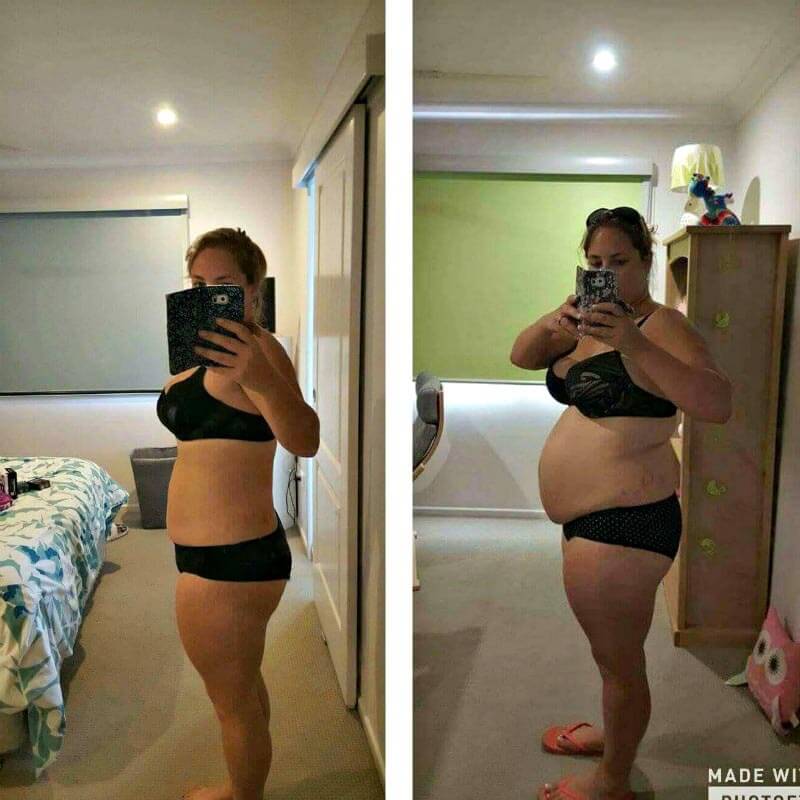 Aniek's story
Before her 21st birthday, Aniek had always been skinny and toned and ate whatever she wanted. Unfortunately from there, her weight started going downhill (or uphill however you want to see it)!
"I had a fast food addiction, drinking up to five cans of soda a day and multiple burgers a week," says Aniek.
Before falling pregnant, Aniek had tried different diets, tablets and shakes, but nothing worked! The low carb diet only made her crave carbs and once she started eating them, she immediately gained back all the weight she had lost.
"I started my pregnancy at a weight of 14.6st and being only 167 cm tall, I was technically obese. By the end of my pregnancy I weighed in at 18.8st and was hoping that the weight would just fall off thanks to breastfeeding. IT DID NOT!"
Within a week of her daughter Noemi's birth, Aniek dropped down to 17 stone, but her daughter's night feedings were also her night feedings and three weeks after she was born, Aniek was back up to 17.9st. And that was the final straw!
Discovering The Healthy Mummy
"A friend had told me about The Healthy Mummy and added me to the Facebook support group. I was amazed by the results so I joined the 28 Day Weight Loss Challenge and in the first week I lost almost 5lbs! I was so happy and I couldn't believe it!"
With tens of thousands of other women doing the 28 Day Weight Loss Challenge with her, Aniek never felt alone in her journey and their encouragement kept her going.
"As a picky eater, I loved all the QUICK and EASY meal options to choose from, which I could make with things that I usually had in my fridge."
"I am certainly no Superwoman and have had a few setbacks along the way like last December when I lived on take away food and cider.  But that doesn't really matter now, because I got back on track! We all have bad days, sometimes even bad weeks, but as long as you get back on the program, you WILL reach your goal."
11 months on and Aniek has lost 5.2st and over 120cm off her body and gone down from a size 20 to a size 12.
"I have so much more energy and my skin is glowing. I love the new me and although I am still 2.5st away from my goal, but I know I will get there."
"Honestly if I can do this, so can everyone, you just have to believe in yourself."