These mums have been following The Healthy Mummy 28 Day Weight Loss Challenge and say that they have grown in confidence and are doing things they never thought they would be doing before they embarked on their healthy weight loss journey.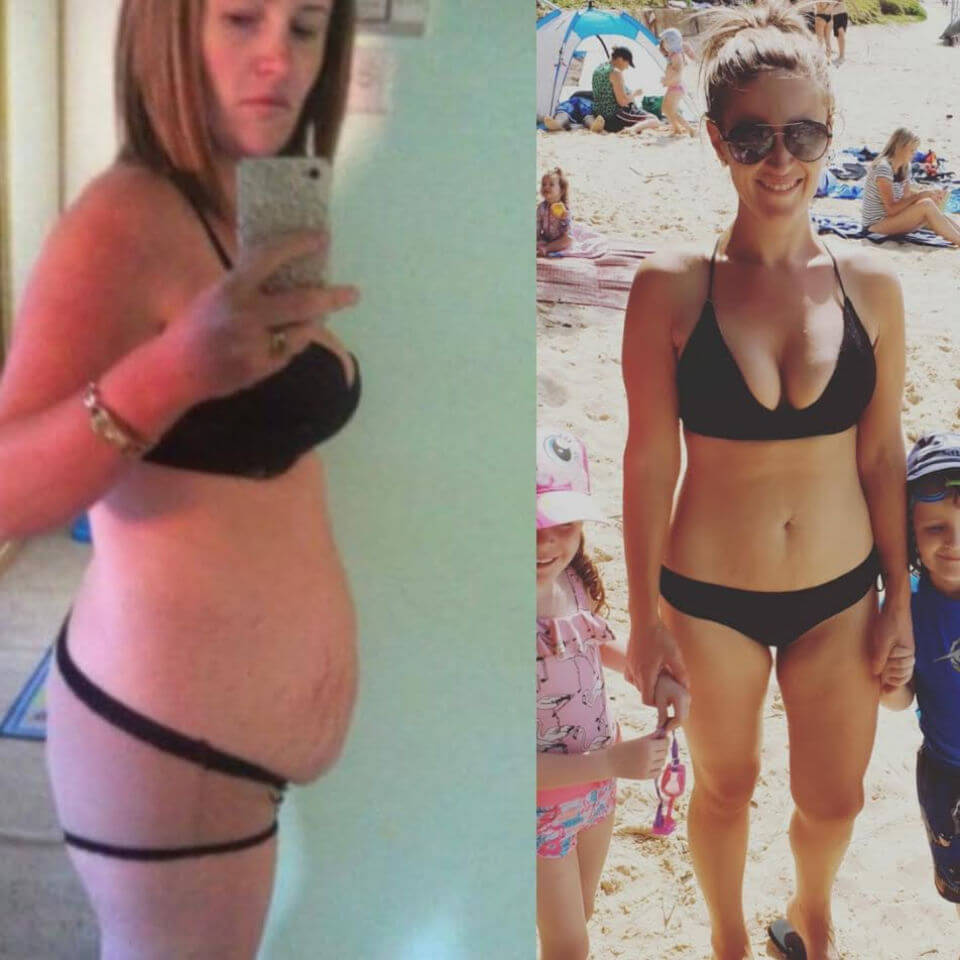 These mums have transformed their bodies and reclaimed their confidence
Shanyn Gray has lost 3.10st.
Shanyn says, "Earlier this week I got up early, before my family was awake and went for a run. During my run, I thought I was going to sweat to death and without giving it much thought, I tucked my singlet up into my bra and continued on. It wasn't until I was home (and more sure I wasn't going to need medical intervention) that I thought about what I'd done."
"Two years and 5 stone ago, I'd wear knee-length shorts and baggy T-shirts through summer. Running would never have happened, let alone doing it half naked (not really but it kinda felt like it)."
"So here's to being unconsciously confident in one's body! Yup, all thanks to the 28 Day Weight Loss Challenge!" 
Sarah Gilling has lost 4.7st.
Sarah says, "17.13st – 13.5st., was it easy? NO!" Did I fall off the wagon? Many times and still do!"
"Did I starve myself? Nope!"

"Did I eat nutritious, delicious foods? Yes!"

"I even got to eat chocolate!"

"Was it worth it? HELL YES!"

"Am I done yet? Nope!"

"Am I happy? Yes! So happy within myself and I think my confidence shows now too!"

"Thank you The Healthy Mummy for creating an amazing weight loss plan that is real and achievable and isn't a diet it's a lifestyle change! Stay tuned for more updates as I'm not finished working on myself yet!" 
Lozzie Jones has lost 2.12st.
Lozzie says, "So I haven't done one of these for a while, I have been just going about my 28 Day Weight Loss Challenge lifestyle and kicking goals quietly, but this comparative has to be shared!"
"The first picture was taken eight weeks postpartum. I was the heaviest I had ever been. I hated the way I looked. I had always been a pretty confident person pre-kids and for the most part, would rock any outfit or the two piece I chose."
"Fast forward to that day and I didn't recognise myself, I'd lost me."
"That day I began using the smoothies and following the 28 Day Weight Loss Challenge and I have never turned back."

"The second pic was taken on the weekend, a last minute decision to go to the beach, I threw on the first bikini I found and ran out the door. The kids loved having me in the water and in pics with them, and I feel like me again. Confident, happy and energetic."

"What started out feeling like 'just another diet' has become my daily lifestyle and I wouldn't have it any other way."

"Thank you Healthy Mummy, you helped me find myself once more."
Rach has lost over 2.5st.
Rach says, "I stumbled across this before photo a few days ago, it was taken about a month before I got pregnant with my first child. I never realised how unhealthy I was until I Iooked back."
"Three children later here I am today."
"I am 12 months into my Healthy Mummy journey on the 28 Day Weight Loss Challenge, I haven't reached goal yet but I'm so close."
"The Healthy Mummy has changed my life in so many ways and given me the confidence to do things I never thought I would!"
Lauren Kolstad lost over 1.8st. since having bub number two.
Lauren says, "The thought of going on a plane, sitting next to someone on a bus or sitting in a seat with armrests used to fill me with dread. I struggled to squeeze into the seat and always felt so embarrassed to be taking up part of someone else's seat next to me. Seats with unmovable armrests were just not going to happen."
"Today I'm flying to Panama. I'm excited to be going on a plane, I fit comfortably into the seat. The seatbelt fits and doesn't cut off my circulation."
"It's not just about the weight lost, but about the things, I don't miss out on now that I can fit."
Zena Mason has lost 3.13st.
Zena says, "That girl on the left decided one day that enough was enough. It was three months after the birth of her son and she had just completed a five hour hike and she knew at that very moment that she would keep putting one foot in front of the other and achieve her goals!"
"It's been 20 months, since I joined the 28 Day Weight Loss Challenge. The journey I have had hasn't been easy. I have a 23 month old breastfeeding toddler who doesn't sleep, I still struggle with emotional eating and lack of sleep, but it's been very rewarding."
"The Healthy Mummy has taught me about body confidence, to love the skin I'm in, I'm teaching my son everyday about healthy eating and exercise, I'm taking the time to learn what is working and what is not!"
"I'm still trying to work out what the end looks like for me but I know that I won't give up till I'm there!"
"Don't give up ladies no matter what."
Hannah Grace Fazldeen has 4.5st.
Hannah says, "I'm not going to write a long post as the proof is in the pudding (well smoothies!)"  

"I've had the smoothies religiously for the last 11 months and completed two rounds of the 28 Day Weight Loss Challenge."  
Jenni Wright has lost 5.7st.

Jenni says, "My first bikini ever. Never in my wildest dreams did I think I'd come this far and gain this type of confidence but with The Healthy Mummy dreams can come true." 
"5.7st. lost with the 28 Day Weight Loss Challenge but geez the gains certainly outweigh that!"
"Believe you can do anything ladies because you really can."

"Amazing things do happen."
Amy Baxter has lost 5.7st.

Amy says, "21 months between photos."
"16.5st. down to 10.12st = size 18 down to size 10."

"Loving the way I look and feel now."
"I never felt particularly self conscious in my appearance even at my biggest, I was always fun and the loudest in the room but it wasn't until I realised I didn't have the energy to keep up with two children under two that I decided to make a change, my goal was 12.8st. and a large size 12 – small size 14."
"I honestly believed that's where I'd look my best but those goals have since come and gone and I have continued losing weight and gaining life along the way. It wasn't until I made the change and committed to the 28 Day Weight Loss Challenge lifestyle that I realised being the loudest in the room didn't mean I was confident, I was actually compensating for my unhappiness in my appearance!"
"I am proud to say I am now confident inside and out, I love the way I look and feel and I'm not ashamed to say I look great."
"Thank you The Healthy Mummy, the program, the support group, the community, it's all amazing and it's helped me to succeed when I had always failed before!"
 Nic Marnell has lost 8.5st.
Nic says, "The gym manager said to me,'Wow are you looking fit' this morning. And it felt good."
"Going from a size 26 to a 14-16. From 22.13st. to 14.9st.
No one has ever said this to me."
"I have so much energy. Doing things I never would of dreamed of before. I've put in the hard work. But it's words like this that keep you motivated. I couldn't have done this with out the Healthy Mummy's 28 Day Weight Loss Challenge or the ladies in the groups encouraging and inspiring me every day."
"It's changed my life and that of my family. We all enjoy the 28 Day Weight Loss Challenge meals and treats. I love that my kids think they are getting something naughty in their lunch box but it's actually healthy for them."
"We are active together now. Even mr 5 and mr 8 join park run with me every Saturday."
"Thank you, thank you. I love my new lifestyle and everything it brings." 
Sarah Mills-James has lost 2.9st.

Sarah say, "Hi I'm Sarah and I have been addicted to the 28 Day Weight Loss Challenge for 10 months."
"This has been a massive learning curve for me and I'm officially 2.9st. down. My start weight was 15.10st. with a total goal of a 4.10st. loss.
I'm just past half way and another 12 months from now I will hopefully be closer to my bigger goals but for the mean time I will focus on the every day and smash some smaller ones first."
"Progress is progress, no matter how small." 
Are you ready to kick-start your weight loss?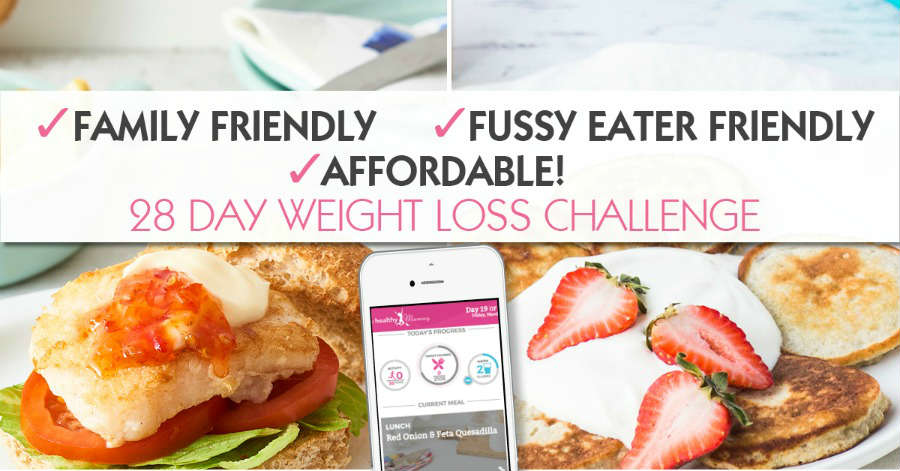 Want to shift your baby weight but feel like you have NO TIME in your day to exercise and eat healthily? That's where the Healthy Mummy's 28 Day Weight Loss Challenge can help.

Our Challenge entails: 
28 days of at home exercise routines (no gym needed) – with video instruction
Customisable and breastfeeding friendly meal plans
Time-efficient exercises for busy mums – under 30 mins
Challenge combines Pilates exercises with interval and circuit training (HIIT)
Suitable for basic to advanced fitness levels.
Home to thousands of EASY-TO-MAKE recipes.
To find out more on the 28 Day Weight Loss Challenge click here.