If you're following the 28 Day Weight Loss Challenge and don't already know what a macro bowl is – here's the scoop.
Basically it's a bowl of goodness with ALL of the ideal nutrients for a healthy meal in the one spot. And they're PERFECT to add to your meal prep to make lunches a breeze!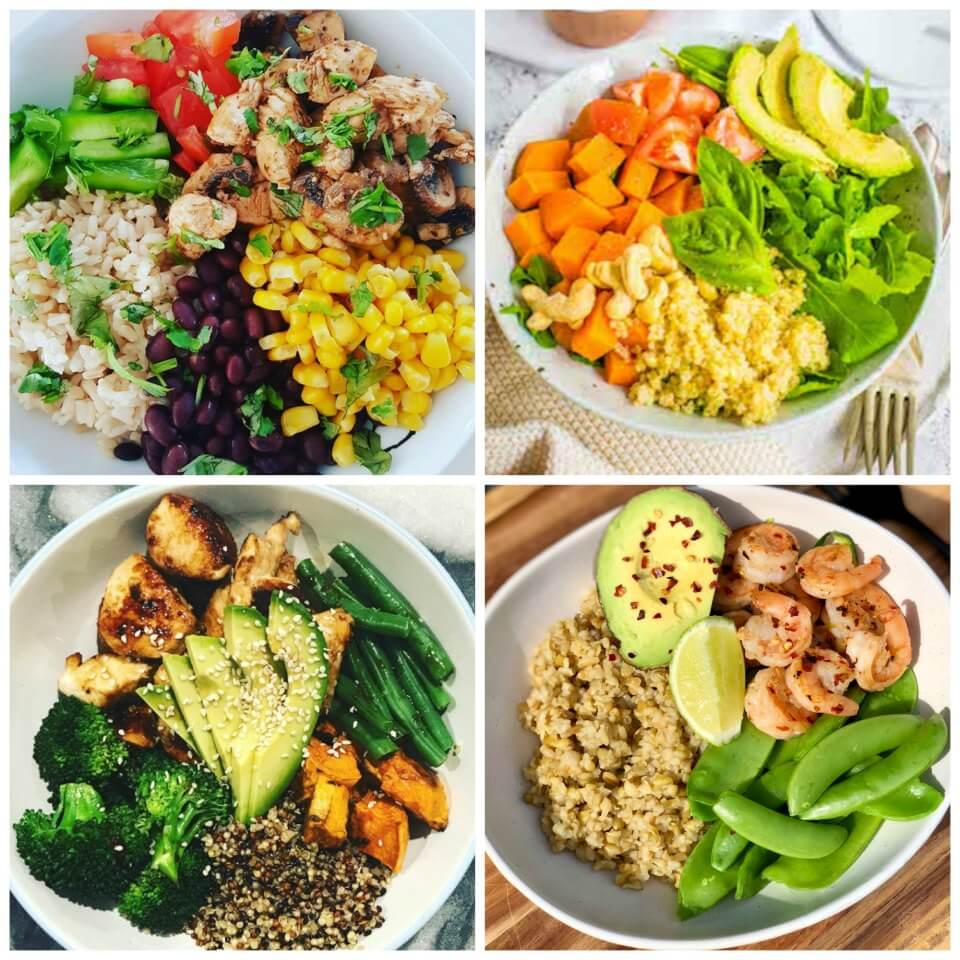 Here's what is in a macro bowl:
healthy wholegrains: such as such as quinoa, brown rice, freekeh, buckwheat, wholemeal couscous or pasta.
protein of choice: think chicken, beef, tofu, prawns, legumes, boiled eggs, tuna.
veggies: anything goes, but it could be fresh, tinned, raw, cooked, roasted, steamed, pickled, grated or chopped.
healthy fats: for instance you might add avocado, cashews, pesto, flaked almonds, pepitas, sesame seeds, or olive oil.
As part of the 28 Day Weight Loss Challenge we have stacks of these healthy bowls of nourishment.
How to prepare a week's worth of lunches in one step:
healthy wholegrains: cook a big batch of your grains and allow it to cool completely.
protein: poach some chicken, roast some beef, grill some tofu, get your legumes ready, boil plenty of eggs, or make a tower of tuna cans! Any meat can be stored for 2-3 days in the fridge, so freeze any portions that you won't use in time and just defrost as needed.
veggies: open a tin of corn, shred some cabbage, grate some carrot, roast a few beetroots, wash some spinach, steam some greens or cauliflower, trim your mange tout or green beans, roast some chunks of sweet potato.
healthy fats: ensure you have some avocadoes ripening in the fruit bowl, top up your nut stash (cashews, flaked almonds, walnuts, anything goes really), buy some pesto, ensure you've got some seeds such as pepitas/sunflower seeds/sesame seeds ready to go, or check that you have enough olive oil to make dressing. One or more of these will need to be added just before serving.
Have you tried the Spinach, Mushroom, Avocado Buckwheat Bowl yet (pictured below) from the 28 Day Weight Loss Challenge? It's a winner!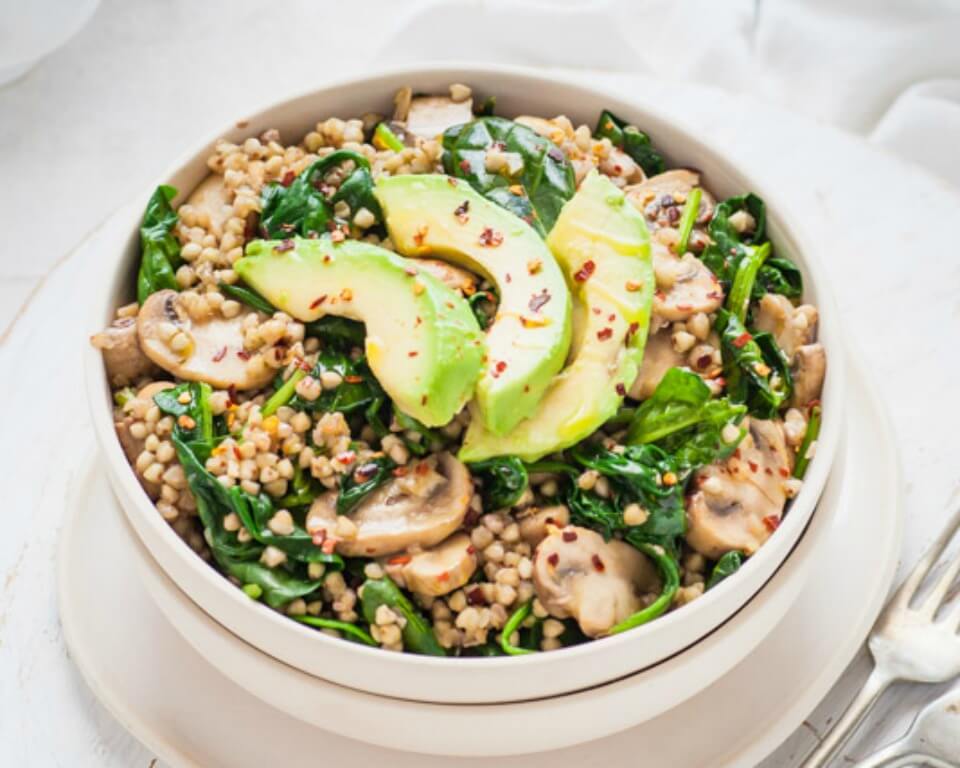 From there you can either:
make and store your lunches in the fridge for the next few days
store the separate ingredients in the fridge to grab on the day you want to eat them (especially good if you use veggies that could go limp when you reheat the grains and protein).
freeze the wholegrains and protein to defrost as needed, then add the veg and healthy fats on the day.
You can also cook extra veggies or grains at dinner time to use the next day for lunch, just to mix things up a bit so you don't get bored.
Here are SEVEN delicious macro bowl recipes for you to try out, from the 28 Day Weight Loss Challenge and the Healthy Mummy website.
1. Fibre rich Korean-style veggie rice bowl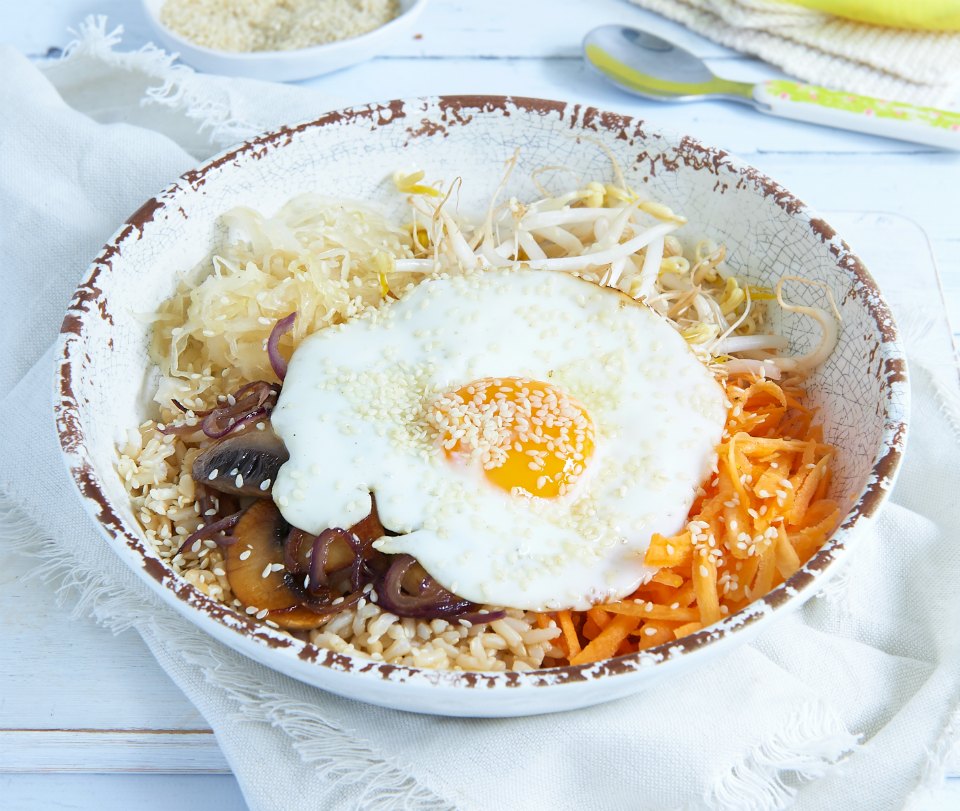 438 calories
Don't spend your hard-earned cash at a Korean restaurant when you can make a super healthy version at home. This delicious rice bowl dinner is filling as it's packed with healthy veggies and the goodness of brown rice.
Grab the recipe for the Fibre rich Korean-style veggie rice bowl from the recipe hub on the 28 Day Weight Loss Challenge.
2. Spiced chickpea nourish bowl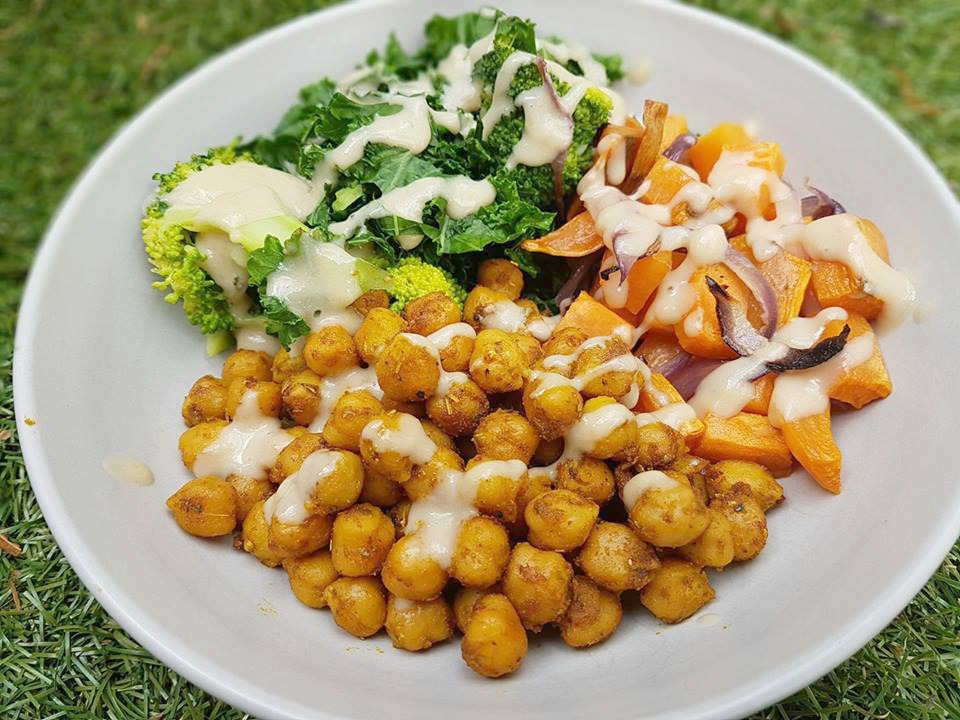 410 calories
Need something warm and filling for dinner tonight? Looking for a meat free meal option? Try this delicious Spiced Chickpea Nourish Bowl.
3. Quinoa, avocado and sweet potato bowl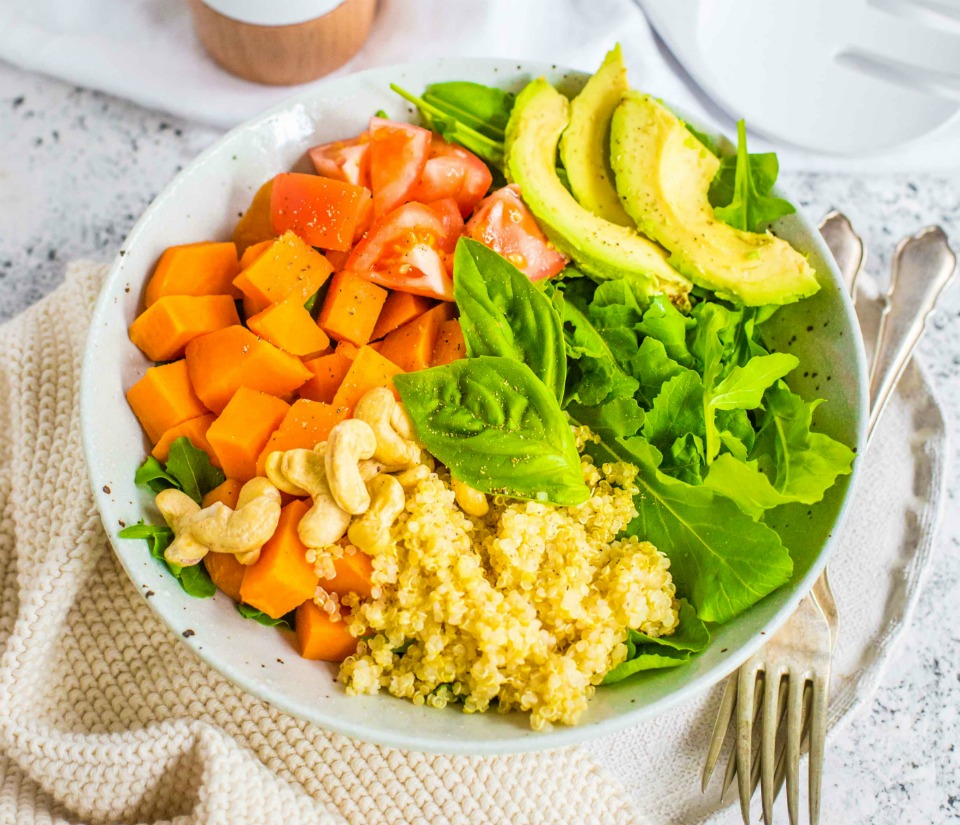 340 calories
Here's a great vegetarian option with protein rich quinoa and crunchy cashews. Members of the 28 Day Weight Loss Challenge can grab the recipe for this one from the recipe hub.
4. Protein packed chicken and avocado macro bowl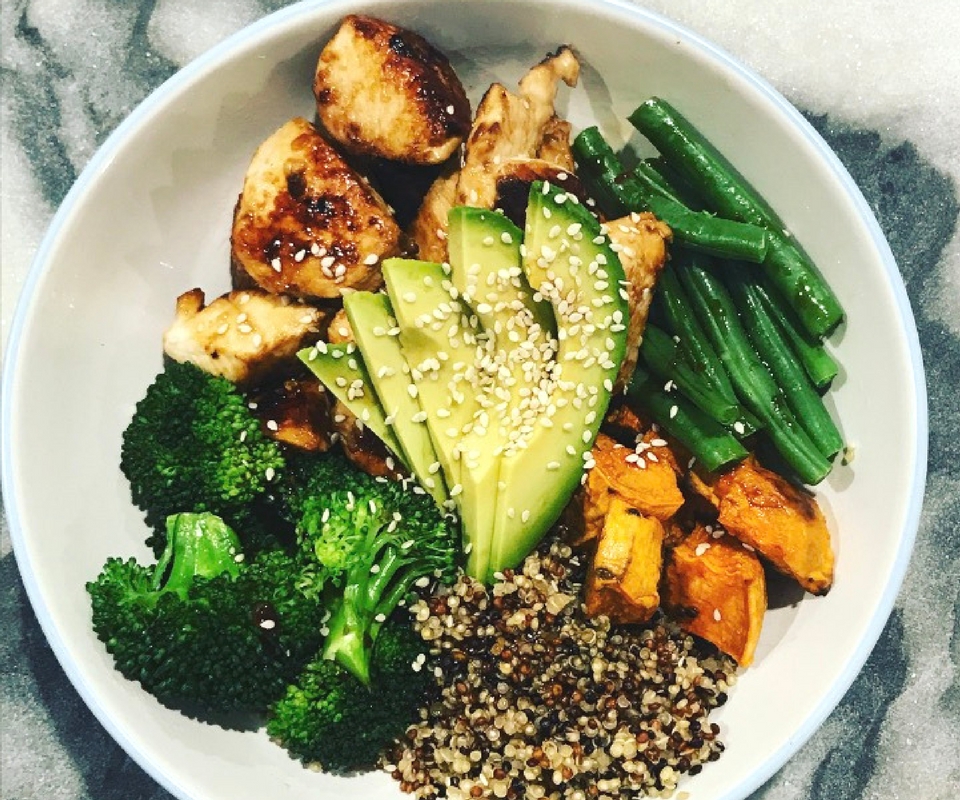 600 calories
Need a filling dinner after a busy day? This macro bowl is a perfect way to quickly prepare a protein packed nutritious meal, and will keep you full for hours.
To prepare, use leftover roast chicken and sweet potato, cooked quinoa, steamed broccoli, sliced avocado, steamed green beans and a smattering of sesame seeds.
5. Chilli prawn and avocado macro bowl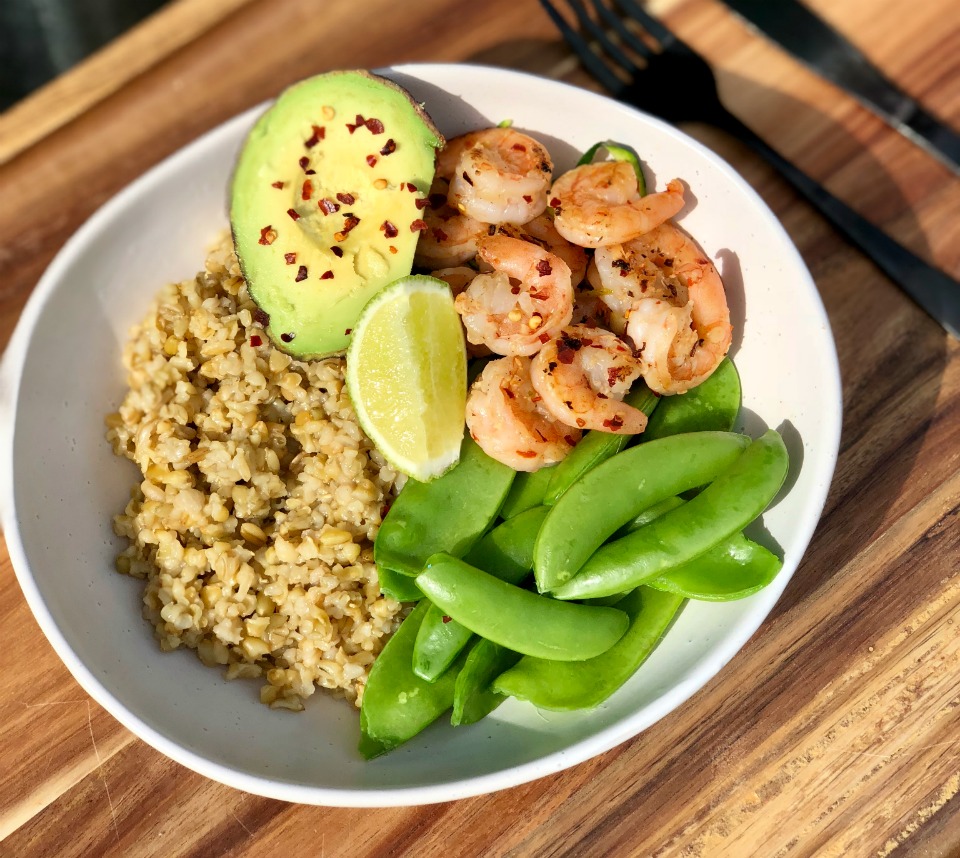 320 calories
This bowl only takes 20 minutes to make and is packed full of natural protein. Prawns are best cooked fresh, so feel free to switch them out for any other protein you love if you want to make it in advance (tuna is a good choice).
See below for the recipe.
Ingredients (serves 4): 
1

cup

uncooked freekeh (160g)

300g

 

raw peeled prawns

1 pinch of 

chilli flakes (1g)

1

clove

garlic, minced (3g)

1

lime,

zested

1

tbsp

sesame oil (15ml)

200g

 

mange tout

200g

 

sugar snap peas

1

avocado,

peeled and de-seeded (120g)
Method:
Cook freekeh as per packet instructions.

Place the raw prawns into a bowl with the chilli flakes, garlic, lime zest and sesame oil.

Heat a large fry pan, and once the pan is hot carefully tip the prawns into the pan. Cook for 1-2 minutes on each side.

Steam the snow peas and sugar snap peas on the stove or in the microwave until tender crisp.

Portion the freekeh, prawns and greens across 4 bowls, and serve with fresh lime and avocado.

Store leftovers in an airtight container in the fridge for up to 4 days.
6. Chicken Mexican burrito bowl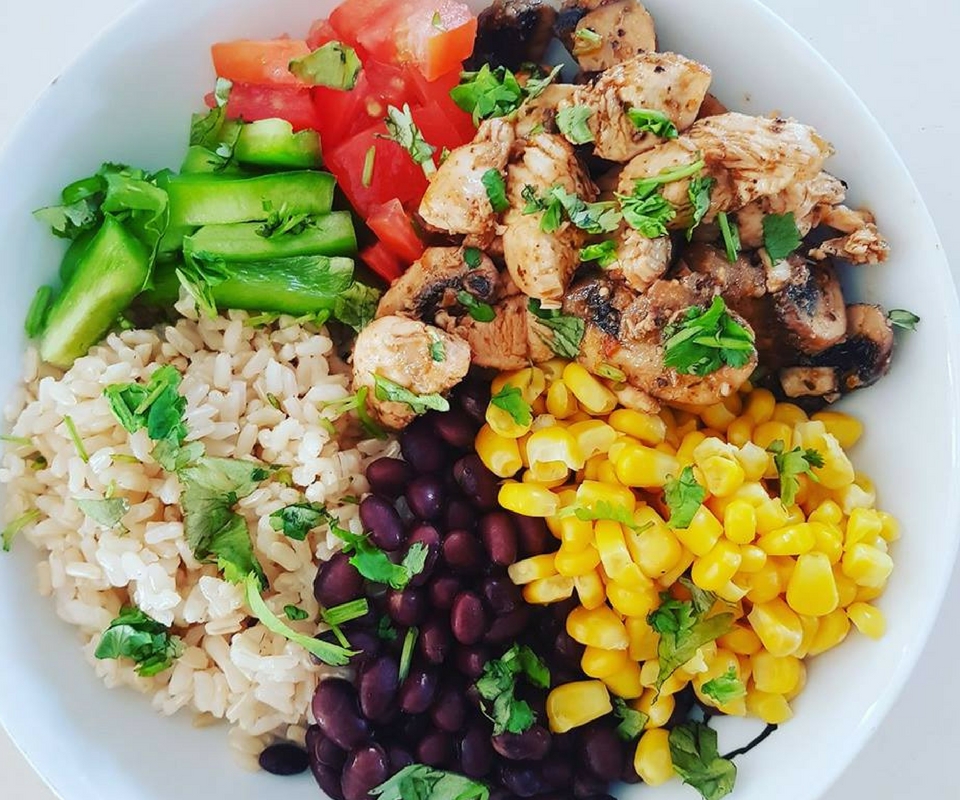 451 calories
This colourful burrito bowl is packed with protein and a kick of Mexican spice. Speed up the cooking process by using pre-cooked rice or leftover chicken. This is such a colourful meal!
Ingredients (serves 4)
1

cup

brown rice, uncooked (160g)

320g

 

chicken breast fillets

4

tsp

olive oil (20ml)

1

tsp

cayenne pepper (1g)

4

tbsp

lemon juice (60ml)

1

cup

mushrooms,

sliced (75g)

1

cup

corn kernels,

fresh or tinned (160g)

320g

 

tinned black beans,

drained and rinsed

4

ripe tomatoes,

diced (400g)

1

green bell pepper, diced (100g)

15g fresh coriander,

chopped
Method
Cook rice according to packet directions. Slice chicken.

While rice is cooking, heat oil in a frying pan over medium-high heat. Season chicken with cayenne pepper and add to the pan with the lemon juice. Cook for 5-7 minutes or until cooked through. Add mushrooms to the pan in the final couple of minutes of cooking the chicken. Cook until tender.

When rice is ready, place in one section of the serving bowl. Place chicken and mushrooms in another section. Place corn, beans, tomato and peppers separately in different sections of the bowl.

Sprinkle everything with coriander to serve.
7. Protein packed turkey burrito bowl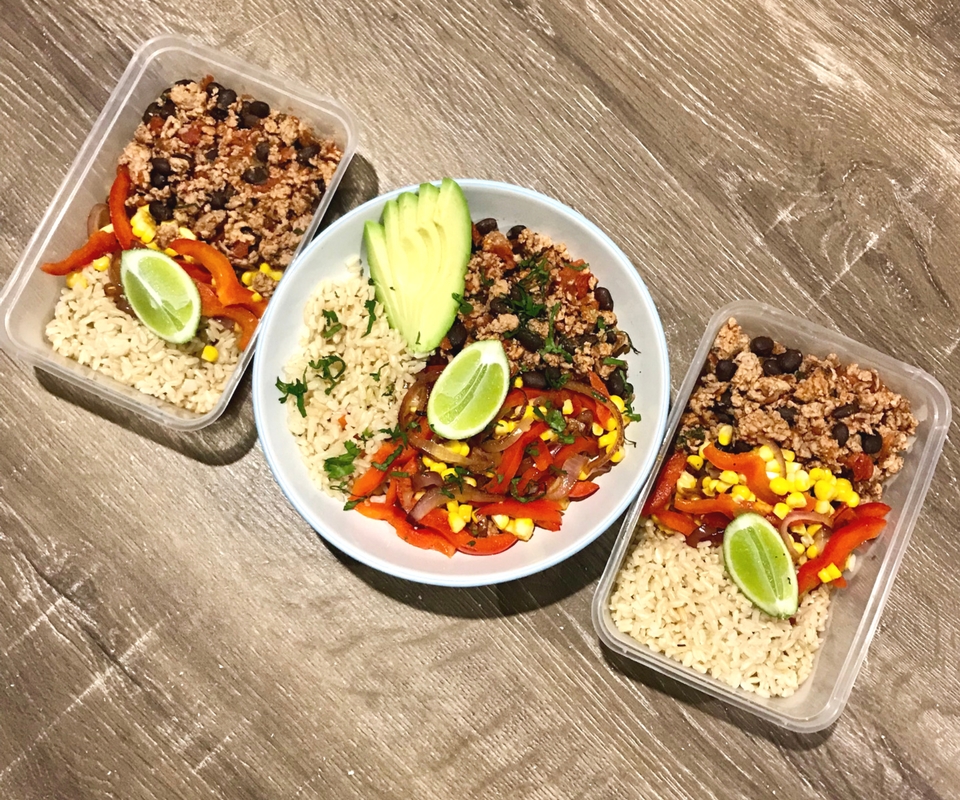 440 calories
Turkey is an underrated protein source (and it's often cheaper than chicken). Here's a great recipe that packages up well and freezes beautifully as a complete meal, so you can make it in advance and then defrost for lunch whenever you need something in a hurry.
Ingredients (serves 4):
1/2

cup

brown rice,

uncooked (80g)

1

avocado,

sliced (120g)

400g

 tinned 

diced tomatoes

200g

 

black beans,

tinned

500g

 

turkey mince

1

tbsp

coconut oil (15ml) 

1

 red pepper, sliced (100g)

1

red onion,

peeled and sliced (100g)

1

corn cob,

with kernels cut off (60g)

1/2

tsp

ground coriander (0.5g)

1/2

tsp

ground cumin (0.5g)

1/4

tsp

cayenne pepper (0.25g)

1

tbsp

fresh coriander,

chopped (4g)

2

 

limes,

one zested and one quartered
Method: 
Cook rice as per packet instructions.

In a hot fry pan heat half of the coconut oil. Add peppers, onion and corn and sauté until soft. Place in bowl and set aside.

In the same fry pan heat the rest of the coconut oil, then add mince, spices, lime zest and fresh coriander.

Cook until mince is browned.

Add the tinned tomatoes and black beans, and simmer for 5 minutes.

Portion out rice, turkey mince, and capsicum mix into bowls. Add fresh lime and sliced avocado to serve.

If freezing, leave out the fresh lime and avocado. Pop into plastic tubs with lids once cooled and freeze for up to 2 months.
More on the 28 Day Weight Loss Challenge
Want access to thousands and thousands MORE healthy recipes just like this family-friendly porridge? Then be sure to check out our 28 Day Weight Loss Challenge.
Our 28 Day Weight Loss Challenge is a family-friendly, breastfeeding-safe program designed FOR MUMS to help them tackle their health and lose the baby weight. 
Every week you are given a different meal plan to follow and each month we add 100+ NEW recipes to our Challenge Recipe Hub. That way, you'll never get bored and stay on weight loss track while digging into healthy, yummy recipes.
Learn more about our 28 Day Weight Loss Challenge HERE.