Mums of the world can generally agree on a few things about feeding their family dinner every night.
The meals have to be TASTY. They have to be FAMILY FRIENDLY. And they can't cost a BOMB!
The 28 Day Weight Loss Challenge can help with healthy eating on a budget. We know you want to eat well without spending a fortune, and that's what we had in mind when we made the 4,000+ recipes on the challenge meal plans.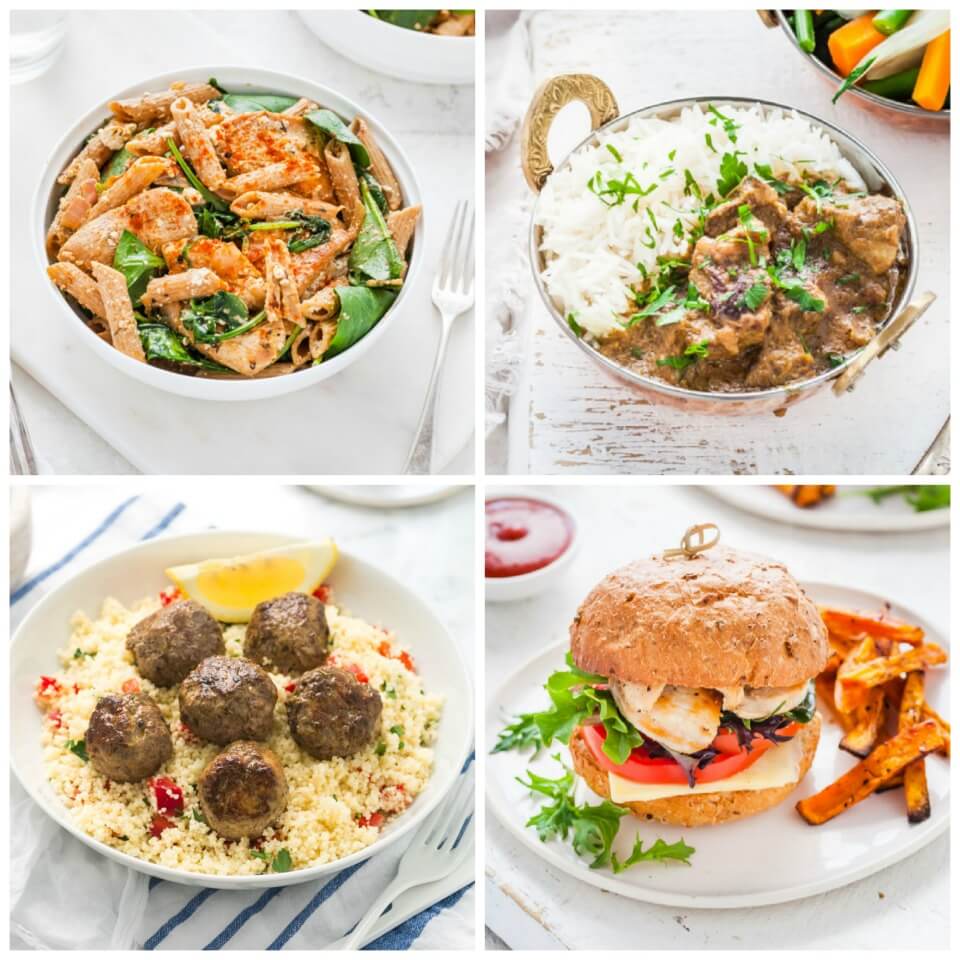 So if you want to lose weight, save money, and prepare meals that the whole family can enjoy together, the 28 Day Weight Loss Challenge might just be for you.
Five DELICIOUS meals under £1.50 per serve
Here is a taster of FIVE delicious main meals from the 28 Day Weight Loss Challenge that all come in under £1.50 per serve.
PLUS we are giving away one of the recipes below – because seeing is believing!
1. Chicken and Spinach Pasta
97p per serve 
Dried spices add a nice kick of flavour to this simple pasta meal without breaking the bank.
Want to make it even cheaper? Switch out the chicken breast for chicken thighs instead. Why not make a double batch and use leftovers for your lunches for the week?
2. Moroccan Beef Rissoles with Couscous Salad
£1.39 per serve
You can have these gently spiced meatballs on the table in just 25 minutes and they're mild enough for the kids too.
Couscous is a great healthy carbohydrate choice for your meals, plus it's super quick to prepare.
3. Beef Rendang and Rice
£1.49 per serve
Cheaper cuts of meat like lean chuck steak are perfect for long slow cooked curries like this beef rendang from the 28 Day Weight Loss Challenge.
When served with rice and veggies, a small amount can go a long way and feed the whole family at a low cost per serve.
This freezes well too so you can always make a double batch of the curry and squirrel it away in the freezer for a family meal another night.
4. Turmeric Chickpea Patties with Minted Yoghurt
£1.14 per serve
There's nothing like a vegetarian option on the 28 Day Weight Loss Challenge to bring the costs RIGHT DOWN. Wallet-friendly chickpeas and egg are your source of protein here, and the kids will love dunking them in the minty yoghurt sauce.
If you've got any leftover they reheat well the next day too for a quick snack or light lunch.
5. Chicken and Pesto Burger with Sweet Potato Fries
Just 73p per serve – get the recipe below!
Instead of spending your hard-earned cash on a burger from the take away, make these instead (and save BIG on the calories and fat content!).
Sweet potato chips are a fun way to get the kids to eat their veg (be warned – they're a little bit moorish!).
Here's the recipe so that you can try out a recipe from the 28 Day Weight Loss Challenge and decide for yourself whether it suits you and your family. Just 73p per serve!
Ingredients
2 small sweet potatoes (320 grams)
4 tsp extra virgin olive oil (20 mls)
salt
pepper
320 grams chicken breast fillets
cooking oil spray
4 wholegrain rolls (320 grams)
4 tsp basil pesto, store-bought (16 grams)
4 slices cheddar cheese, reduced-fat (40 grams)
1 cup mixed lettuce leaves (30 grams)
1 tomato, sliced (100 grams)
Method
Preheat the oven to 180C / gas mark 4 and line a baking tray with baking paper.
Slice the sweet potato into fries and spread over the prepared tray. Drizzle with the olive oil and season with salt and pepper. Bake in the oven for 25-30 minutes or until cooked through and golden.
While the sweet potato fries are cooking, slice the chicken breast thinly lengthways, to make it faster to cook. Season with salt and pepper.
Heat a frying pan or barbecue hot plate to medium-high and lightly spray with cooking oil spray.
Add the chicken and cook for 3-4 minutes each side or until cooked through.
Slice the roll(s) in half and place in the oven for the final few minutes of cooking the fries, to toast slightly.
Spread the bottom half of the roll (per serve) with the pesto. Top with chicken slices, cheese, tomato, lettuce and remaining half of the roll (per serve).
Remove the sweet potato fries from the oven and serve alongside the chicken burger.
Recipe makes 4 serves at 461 per serve.
Are you ready to kick-start your weight loss?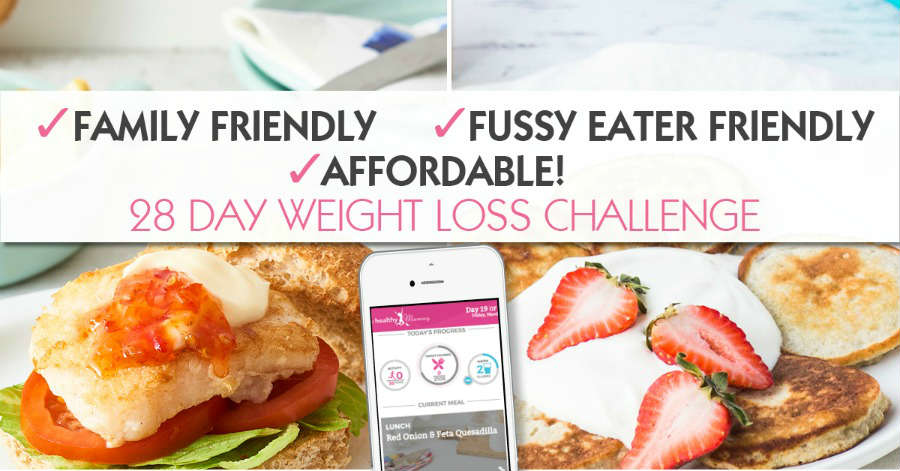 Want to shift your baby weight but feel like you have NO TIME in your day to exercise and eat healthily? That's where the Healthy Mummy's 28 Day Weight Loss Challenge can help.

Our Challenge entails: 
28 days of at home exercise routines (no gym needed) – with video instruction
Customisable and breastfeeding friendly meal plans
Time-efficient exercises for busy mums – under 30 mins
Challenge combines Pilates exercises with interval and circuit training (HIIT)
Suitable for basic to advanced fitness levels.
Home to thousands of EASY-TO-MAKE recipes.
To find out more about joining the 28 Day Weight Loss Challenge for £1 click here.
PLUS – connect with THOUSANDS of other mums on the 28 Day Weight Loss Challenge by joining our free support community here