You'll probably recognise her from our 28 Day Weight Loss Challenge App exercises, but for the VERY first time we are sharing the story of our INCREDIBLE Healthy Mummy Personal Trainer Wendy Smith.
Being a mum and finding herself in a similar situation to many of the mums in our community, Wendy has overcome so much and now she's here to HELP YOU. We sat down with our bubbly fitness fanatic to find out more about her journey to health, happiness and fitness.
Meet Wendy, our awesome Healthy Mummy personal trainer!
"I've been a PT for over 17 years and I absolutely love it," says Wendy. "I'm passionate about making the whole planet healthier and happier and feeling better. Especially mums, because I am a mum. I've been where you are before."
'I get what it feels like to feel broken'
However, Wendy has had her dark days and she reveals she struggled with her weight at one time following a tragic accident.
"About 10 years ago a heavy door landed on my back," says Wendy. "That incident really put a break on it for me and I put on weight. It was depressing and I get what it's like to feel broken. I had to rebuild. I had competed in bikini competitions in the past and I suddenly had a broken back and three bulging discs."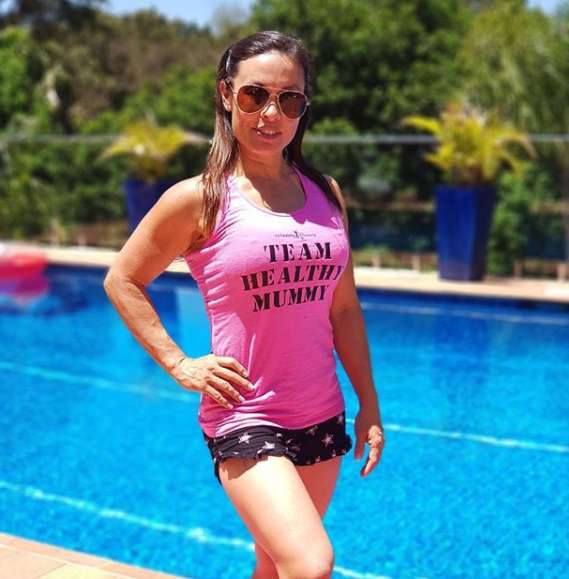 Wendy's road to recovery
Wendy says after the accident she felt like giving up on herself. "After the accident I had put on weight and was completely out of shape. I was over 40 and I thought, 'This is me forever. Oh well, I've got two kids, I'll just sit on the couch'," she admits. "Then I thought, 'No, why should I just clock off out of life'. My journey has gone back to feeling better than ever. I've got so much energy to spend with the kids and having that life and fun.
"I went from not being able to walk to going to water parks all day with my family and going up and down the rides. My kids are like, 'Can we go home now, Mum?' But I'm the one who is saying, 'Just two more rides!' I had to go back to strengthen my core and build myself back up again."
Working with the 28 Day Weight Loss Challenge in our new HIIT workouts
Wendy is now healthier than ever and back to her best, and you can see her enthusiasm as she works out in our new HIIT workouts on the 28 Day Weight Loss Challenge.