Very often we see follow a journey that will change our lives forever.  This happened to our wonderful mums when they chose to embark on The Healthy Mummy 28 Day Weight Loss Challenge.
Nikki Lea Eckley
"3 months with the The Healthy Mummy and:
4.5kg gone
A respect for healthy balanced eating learned
Negative self-view turned around… only positivity allowed now 
Fitness and strength gained
I've found a new sense of purpose and direction
All thanks to The Healthy Mummy" 
Lindsey Combes
" I started The Healthy Mummy in August but only really start my journey in the September 28 Day Weight Loss Challenge. I've lost 1 inch from my thighs and 2 inches from my waist. The scales didn't move much – I only lost 5lb but I'm happy with my results so far. I can't wait to see what results the October 28 Day Weight Loss Challenge brings. We can smash this challenge together."
Fiona Constable
"First photo is just before I started The Healthy Mummy, second photo is from a couple of weeks ago. Even though I still have a long way to go, I feel so much more confident in myself."
Kate McCallion
"I have hunted high and low for a full length standing before shot and there are just not that many to be found.  I'm very good at taking a flattering selfie lol.  I hope you'll forgive me that for me first transformation Tuesday that the first photo is me sitting down.  I hate this photo I look awful, so feel it's a good photo to show my start point.
The photo was taken back in June and I started The Healthy Mummy mid July.   I have lost 1st 3lbs and 6 inches in total.  I feel better in myself and have more energy, my skin is healthier and I have a definite spring in my step.  It's not just about how I look for me, it's about how I feel too.
If you'd have told me 3 months ago I'd enjoy eating quinoa and I'd I miss it when I couldn't exercise, I would have laughed in your face.
The second photo I took this morning, I've figured out I can balance my phone on the wardrobe handles."
Sian French
"July to Sept this year. Not a huge change on the scales but feeling much better and clothes are starting to fit again!"
Well done, ladies – keep up the most amazing work!
Inspiring Weight Loss Stories from Real Mums
Read inspiring stories from our Healthy Mummy community members who've followed our weight loss meal plans designed for busy mums like you. Here you'll find healthy weight loss tips, real results, encouraging advice, and Healthy Mummy motivation!
Sometimes, that's all you need to start transforming your mindset, your body, and your life. Inspiration, motivation, and practical tips you can turn into action right away.
Ready to take the first step? Start your weight loss journey – join our community and sign up for our next 28 Day Weight Loss Challenge.
Looking for the best weight loss meal plan?
You're in the right place. Here are 5 of our favourite tips for planning healthy meals when you're a busy mum on a budget.
1) Adapt to your needs
Your body, lifestyle, and situation are unique to you. So, adapt your diet to match! This is especially important for mums who are pregnant or if you're breastfeeding your baby. After all, you need to sustain two people with your diet! So, make sure you get a customisable meal plan suitable for pregnant women or a program that can adapt to your needs as a breastfeeding mum.
2) Become a meal prep pro
Ever come home from work, a shopping trip, or a day out with the kids and just grabbed takeaway because you had no time or energy to cook? Yep, we've all been there. It's not the best option for our health OR our bank accounts. That's why the best way to stay on track with your weight loss meal plan is to plan ahead and meal prep so you've always got something in the fridge or freezer that's ready to go.
3) Get support
It's always easier to achieve a goal (like sticking to your healthy meal plan!) when you've got someone doing it with you. Surround yourself with a tribe of other mums who want to make positive, healthy changes in their lives too. You'll always have a safe place to share your wins (and struggles) and get a boost when you need it. Plus, you'll be able to see what's possible for you and your family because others have done it too.
4) Change up your ingredients
Do you ever get bored with cooking the same old meals? It's easy to get stuck in a rut with recipes and ingredients – same old, same old. Sometimes, finding new recipes can inspire you to make healthier choices and cook meals that are good for you and that your whole family is happy to eat. Check out our weight loss recipes to find some new go-to meals and healthy ingredient options.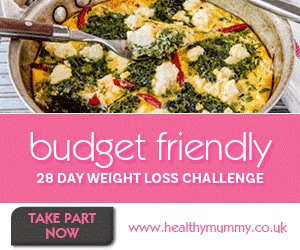 5) Embrace the tech
These days, there are plenty of tools you can use to make it easier than ever to follow a weight loss meal plan. The Healthy Mummy app, for example, helps you manage your recipes, meal plan, and shopping lists on-the-go (so you never end up at the shops without a list again). Embrace the tech to make planning meals quick and easy.
Feeling inspired? You can check out our free weight loss recipes, create your own weight loss meal plan, and start your journey right away.