If you're looking for a nice refreshing pasta dish for lunch look no further than this Chunky Tomato Spaghetti.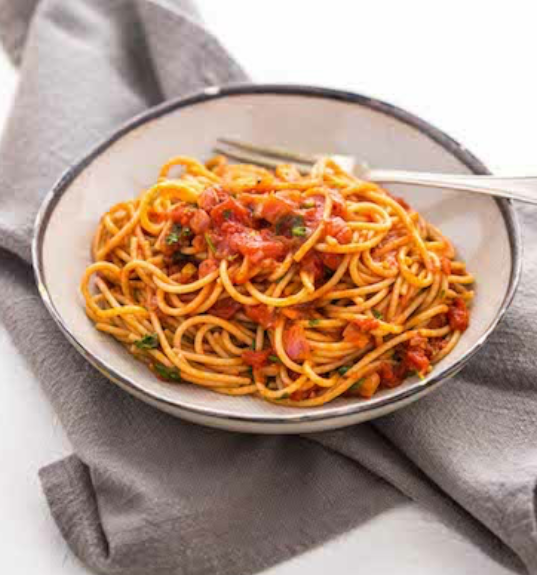 Quick and easy to prepare this is a delicious lunch option. You could even prepare the sauce ahead of time and just cook the spaghetti to make lunch time a breeze. A great vegetarian dinner option too.
This recipe comes DIRECT from our 28 Day Weight Loss Challenge – CONSIDER it a SNEAK PEAK to all the incredible recipes Challenge members can access and enjoy while sticking to a weight loss plan.
Ingredients
1 tsp extra virgin olive oil (5 mls)
1/4 brown onion, finely chopped (25 grams)
1/2 clove garlic, finely chopped (1.5 grams)
150 grams tinned tomatoes
1 tsp dried oregano (1 grams)
salt
pepper
50 grams wholemeal spaghetti
1/3 cup fresh parsley, roughly chopped (20 grams)
1/3 cup fresh basil leaves, roughly chopped (20 grams)
Method
Heat the olive oil in a saucepan over medium-high heat. Add the onion and garlic and sauté for 1-2 minutes, until tender.
Add the tinned tomatoes and break up with a wooden spoon if not already crushed. Add oregano and season with salt and pepper.
Reduce heat to simmer sauce for 15 minutes or until thickened slightly.
While sauce is cooking, cook spaghetti according to packet directions.
Remove sauce from heat once ready and stir through fresh herbs. Toss spaghetti with sauce and serve.
Serves one. 180 calories per serve.
If you love pasta check out this one pot spaghetti bolognese recipe.